Get ahead in your league with Fantasy 411's Cheat Sheet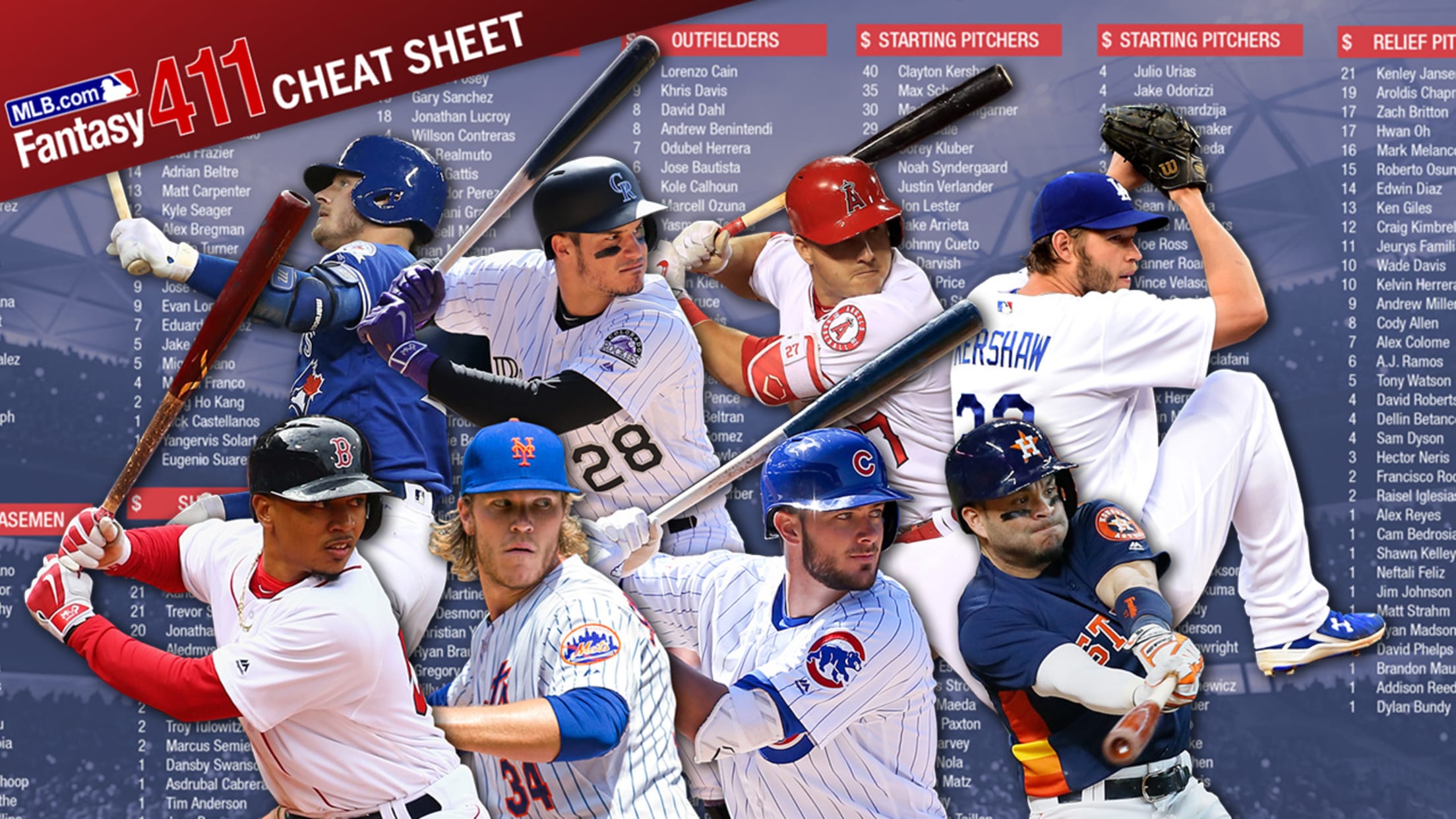 Baseball, both real and fantasy, is more a marathon than a sprint. As a fantasy owner, you work 162 games across 180-plus days.But the thing is, your full-time job isn't to run a fantasy team. And that championship trophy on your mantel isn't paying the phone bill, shiny as it
Baseball, both real and fantasy, is more a marathon than a sprint. As a fantasy owner, you work 162 games across 180-plus days.
But the thing is, your full-time job isn't to run a fantasy team. And that championship trophy on your mantel isn't paying the phone bill, shiny as it is.
That's where MLB.com/fantasy comes in to help. Zachary Finkelstein, Fred Zinkie and crew put together a cheat sheet for fans in need of expert advice or a little extra help this spring. Make sure to have this one-stop information shop on hand during your auctions or snake drafts.
• Download the Fantasy 411 Cheat Sheet (PDF)
• How to prepare for your fantasy draft
The cheat sheet covers the following bases:
Positional ranks and auction values: The primer's premier feature, MLB.com's position-by-position ranks, will help you make snap calls when you have 10 seconds left to pick in your draft.
For those in auction formats, dollar values are listed, too. But even if you're playing in a snake format, the prices listed can help highlight the precise worth of each player in relation to his peers.
For instance, top-ranked starting pitcher Clayton Kershaw is priced $5 ahead of any other hurler. Meanwhile, Paul Goldschmidt ($11 ahead of the first-base pack) and Jose Altuve ($9 ahead of any second baseman) also eclipse their competition by significant margins.
Top prospects: Built by MLB.com prospect guru Jim Callis, this list highlights the stars of tomorrow with the best chances of making a fantasy contribution in 2017.
Picks to click: Want fantasy advice from a former big league general manager? The cheat sheet has just that courtesy of MLB.com analyst Jim Duquette, who shares his favorite breakout picks, comeback candidates and value options.
Worth the price: Straight from the database of MLB.com fantasy guru Fred Zinkie (@FredZinkieMLB), this list is comprised of players who should keep you happy all season long. Zinkie has won more fantasy expert leagues than we can count, so trust him.
Buyer beware: These players certainly have value, but Zinkie recommends that they may be getting picked higher than they should in many drafts.
Sleepers: A staple of fantasy-draft season, this list is comprised of players who are poised to break out in 2017. Buy low and enjoy their surprising production all year.
Comeback candidates: For myriad reasons, talented players sometimes have subpar seasons. MLB.com spent all offseason examining fallen stars and picked 10 who could resemble their old, superior selves in 2017.
Zachary Finkelstein is a fantasy editor for MLB.com.