Shark goes K-less for 1st time in 214 starts
Right-hander allows 3 runs in 5 1/3 innings as D-backs shut out Giants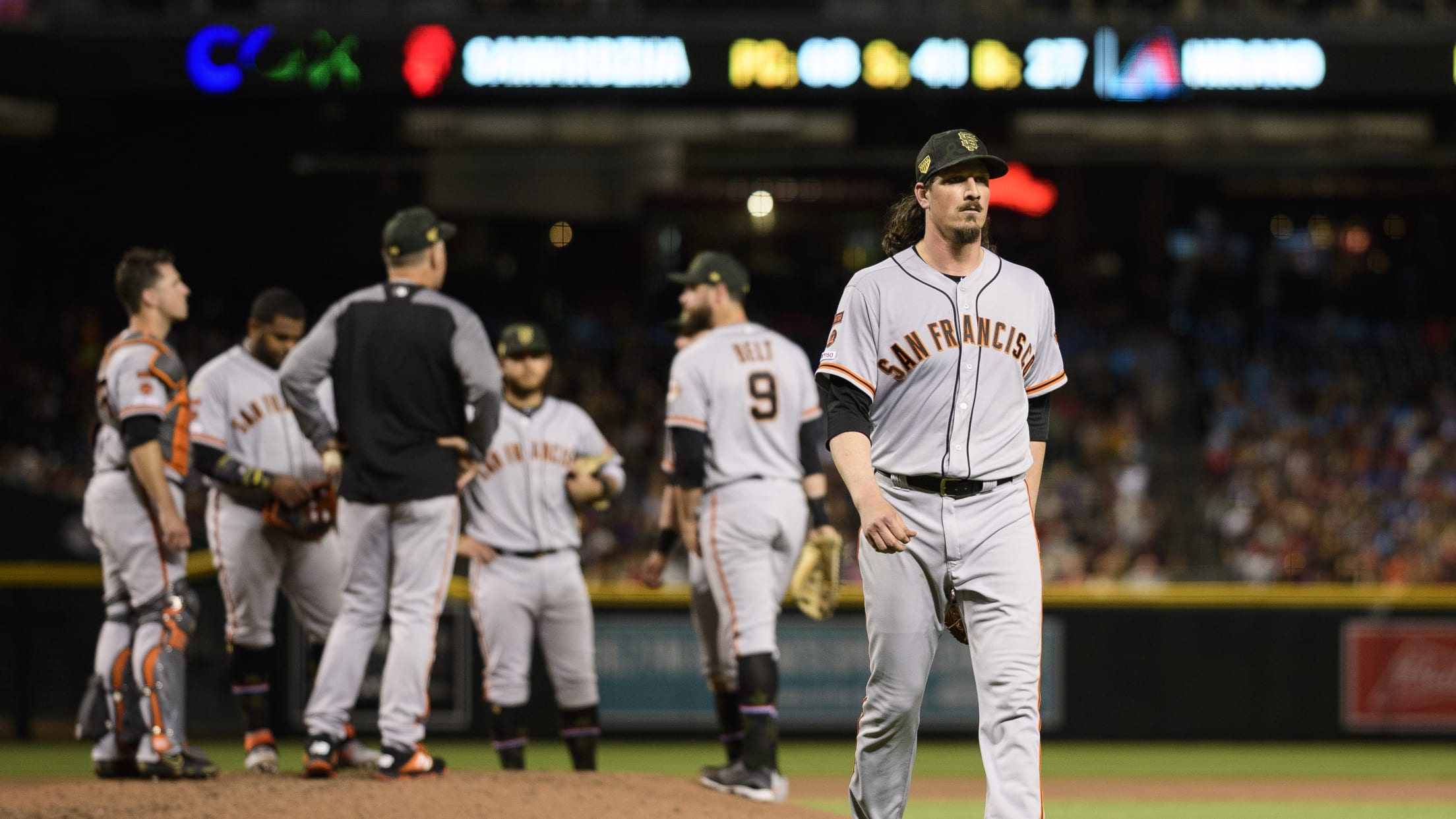 PHOENIX -- The Giants are struggling to string together wins early in the season, and their starting pitchers aren't putting them in the best position to do so. Friday's 7-0 series-opening loss to the D-backs at Chase Field marked their fifth loss in seven games and their 27th straight game
PHOENIX -- The Giants are struggling to string together wins early in the season, and their starting pitchers aren't putting them in the best position to do so. Friday's 7-0 series-opening loss to the D-backs at Chase Field marked their fifth loss in seven games and their 27th straight game in which their starter did not complete seven innings.
Veteran right-hander Jeff Samardzija remains optimistic that things will turn around.
"It's just a group effort that needs to happen with everybody showing they're resilient and fixed in," Samardzija said. "I have confidence that they know they can get the job done. I think we have that, for sure. We need a couple things to go our way. We've been playing better baseball here in the recent past, and we need to just keep going, keep grinding and not let a game like this get to us."
Samardzija showed encouraging signs that his prediction could come true. Despite not recording a strikeout for the first time in 214 career starts, he turned in one of his better outings of the season, a start that, early on, looked like it could be San Francisco's best in more than a month.
Samardzija needed only 55 pitches to get through the first five innings, and his lone blemish to that point was a one-out solo homer by David Peralta in the fourth. But in the sixth, the righty issued a leadoff walk to Jarrod Dyson, who stole second, and intentionally walked Peralta to put two runners on with one out.
Adam Jones ended Samardzija's night with an RBI double on the right-hander's 68th pitch. Then, Ketel Marte put Arizona ahead, 3-0, with an RBI single off reliever Reyes Moronta.
The last San Francisco starter to complete seven innings was Madison Bumgarner on April 13.
"[Samardzija] gave up a hit there, so we're trying to keep it close," Giants manager Bruce Bochy said. "We ended up just giving up one more run there, so it was still a ballgame. Then it got away from us."
The last time Samardzija made an appearance without recording a strikeout was a relief outing for the Cubs on Sept. 23, 2011.
"They were aggressive out there, I felt we were making good pitches, which kind of created that atmosphere that it did," Samardzija said. "It just kind of was moving along there. I left that pitch to Peralta, who's hot. I'd like to have that one back, obviously. The walk to Dyson hurts a little bit more than that even."
The Giants have the second-worst rotation ERA in the National League at 5.20, behind only the Rockies (5.65). San Francisco's starters have totaled only 216 1/3 innings, the fewest in the NL.
While Dereck Rodriguez was demoted to Triple-A Sacramento, Derek Holland was moved to the bullpen and the Giants' first attempt at using an opener was unsuccessful, Samardzija has been consistent. He has a 3.69 ERA in nine outings. However, his only quality start came April 11 vs. the Rockies.
San Francisco's offense didn't do much to help, collecting nine hits but going 1-for-9 with runners in scoring position and leaving 10 runners on base as it was shut out for the fifth time this season.
Bochy tossed
Bochy was ejected from the game in the seventh for arguing whether Dyson pulled back his bunt attempt when he was hit by a pitch from Holland.
The umpires ruled that Dyson pulled it back and he was hit by the pitch. Bochy thought it was Dyson leaning out that caused him to be hit on the hand.
"That's not the right call there," Bochy said. "I don't know how much that played into the game, but the call was not right. He was attempting to bunt that ball."
It was Bochy's third ejection this season and the 77th of his career.