Monday's top prospect performers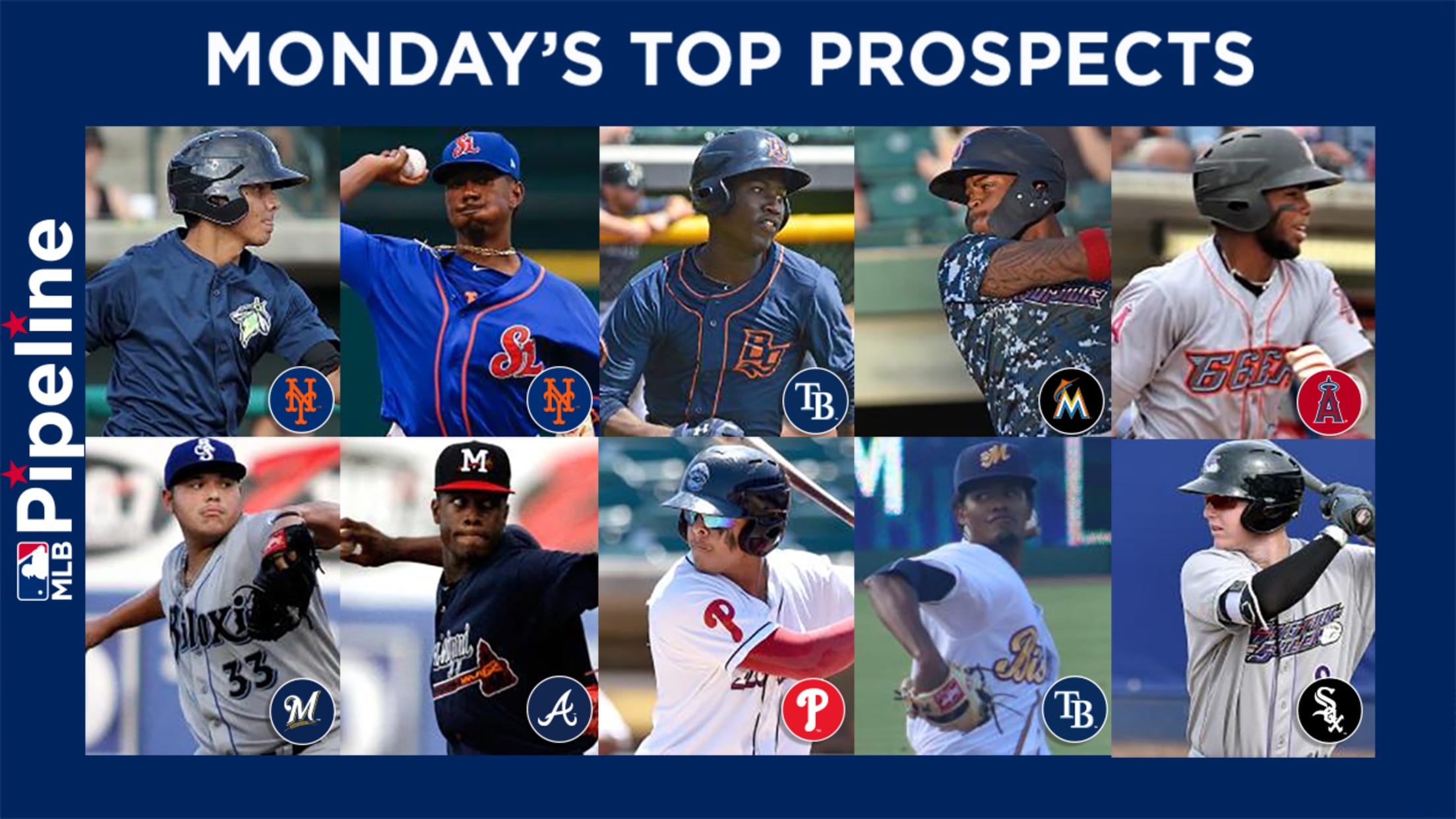 Here's MLB Pipeline's roundup of the top prospect performances in the Minor Leagues on Monday.Mets prospects stole the show on Monday as Andres Gimenez hit a pair of key late-inning home runs to back a career-best performance from Justin Dunn as Class A Advanced St. Lucie defeated Tampa, 6-2, in
Here's MLB Pipeline's roundup of the top prospect performances in the Minor Leagues on Monday.
Mets prospects stole the show on Monday as Andres Gimenez hit a pair of key late-inning home runs to back a career-best performance from Justin Dunn as Class A Advanced St. Lucie defeated Tampa, 6-2, in 10 innings.
:: Complete prospect coverage ::
Gimenez, the Mets' top-ranked prospect, broke a scoreless tie when he connected on a two-out solo shot in the top of the eighth inning before putting his club ahead for good with a three-run homer in the 10th. It marked the first career multi-homer performance for Gimenez, who finished 2-for-5 with four RBIs.
A 19-year-old shortstop signed in July 2015, Gimenez continues to check every box this season as a younger player in the pitcher-friendly Florida State League. He's hitting .291/.362/.463 after Monday's performance, with 19 extra-base hits (four homers), 30 runs scored and 19 steals in 49 games.
As for Dunn, the Mets' No. 3 prospect received a no-decision for St. Lucie despite registering a career-high 10 strikeouts in seven scoreless innings. He allowed two hits (both singles) and one walk while throwing 58 of his 93 pitches for strikes.
The Mets' first-round pick in 2016, Dunn pitched to a 5.00 ERA with 75 strikeouts and 48 walks in 95 1/3 innings in his full-season debut with St. Lucie. This season, however, the 22-year-old righty has shown more consistent stuff and has fared considerably better as a result, posting a 2.36 ERA with a 51-to-15 strikeout-to-walk ratio in 45 2/3 innings (nine starts) in his second tour of the FSL.
The rest of the best performances from top prospects Monday
• No. 50 overall prospect Jesus Sanchez (Rays' No. 4) smashed a two-run homer and finished 2-for-4 as Class A Advanced Charlotte fell to Dunedin, 5-4. After putting himself on the map in 2017 with an impressive full-season debut, the 20-year-old outfielder has continued to boost his stock in the pitcher-friendly Florida State League by slashing .333/.347/.521 with seven homers, 13 doubles and 35 RBIs in 47 games.
• No. 63 overall prospect Monte Harrison (Marlins' No. 1) and Isan Diaz (No. 7) combined for five hits and six RBIs in Double-A Jacksonville's win against Birmingham. Harrison recorded a season-high four RBIs in the victory, finishing 2-for-5 at the plate, while Diaz tallied a double, two RBIs and a stolen base in a 3-for-5 performance. Right-hander Nick Neidert (No. 8) paced the Jumbo Shrimp on the mound by tossing seven innings of one-run ball to improve to 6-3 in 11 starts this season. The 21-year-old allowed three hits, walked four and struck out eight. Neidert has given up a combined three earned runs in his past four starts, during which he's racked up 34 strikeouts in 21 2/3 innings.
MILB Video - Title: Harrison's two-run single - Url: http://www.milb.com/r/video?content_id=2120251783
• Angels No. 28 prospect Luis Rengifo collected four hits to improve his average to .341 in 11 games since his promotion to Double-A Mobile. He drove in a pair and also stole a base in the contest, his 26th steal in 52 games this season between two levels. Altogether, the 21-year-old infielder is batting .327/.423/.468 with 20 extra-base hits and more walks (30) than strikeouts (24).
• Brewers No. 4 prospect Luis Ortiz permitted one hit over four innings in his second straight scoreless outing for Double-A Biloxi. The 22-year-old righty struck out four and induced six ground-ball outs, throwing 39 of his 56 pitches for strikes in the performance. Ortiz has allowed just three hits over seven innings in his past two starts, during which he's lowered his ERA from 3.91 to 3.00.
• Braves No. 11 prospect Touki Toussaint allowed just an unearned run in six innings in a tough-luck loss for Double-A Mississippi against Montgomery. The 21-year-old righty allowed just four hits and two walks while striking out four and recorded another 11 outs via ground balls. A somewhat overlooked prospect in a deep Braves system, Toussaint has pitched to a 3.52 ERA with 76 strikeouts in 61 1/3 innings (12 starts) this season in his return to the Southern League.
• Phillies No. 8 prospect Arquimedes Gamboa had a perfect night at the plate as he reached base five times out of the leadoff spot for Class A Advanced Clearwater. The 20-year-old shortstop recorded a double, two walks and two stolen bases in the contest, finishing 3-for-3 in his third multi-hit performance in his past four games.
• Rays No. 21 prospect Genesis Cabrera was lights-out for Double-A Montgomery as he scattered five hits and set a career high with 12 strikeouts in seven scoreless innings. He did not issue a walk in the outing and threw 73 of his season-high 109 pitches for strikes. The 22-year-old southpaw has been impressive in his return to the Southern League, as Monday's performance gives Cabrera a 3.24 ERA with 74 strikeouts and a .190 BAA in 66 2/3 innings (12 starts) for the season.
MILB Video - Title: Cabrera rings up 12th strikeout - Url: http://www.milb.com/r/video?content_id=2120167883
• White Sox No. 9 prospect Zack Collins was a bright spot for Double-A Birmingham in a loss against Jacksonville, going 2-for-4 with a double and an RBI. The 21-year-old backstop has produced a .333 average over his last 31 games and now sports a .282/.455/.491 slash line, with eight home runs and 52 walks through 51 games this season.