How the Voit trade got Cards an elite reliever
Gallegos has lowest relief OBP (.211) in Majors
Last July, the Cardinals and Yankees got together on a somewhat under-the-radar three-player trade that featured veteran reliever Chasen Shreve as the most prominent name. Shreve didn't do all that much for St. Louis, but that's not really the point, is it? As everyone knows by now, the real impact
Last July, the Cardinals and Yankees got together on a somewhat under-the-radar three-player trade that featured veteran reliever Chasen Shreve as the most prominent name. Shreve didn't do all that much for St. Louis, but that's not really the point, is it? As everyone knows by now, the real impact of this move was that an up-and-down Minor Leaguer broke out in his new home and helped to fuel a playoff run.
"We already know about Luke Voit," you're saying, but we're not talking about Luke Voit. We're talking about Giovanny Gallegos, who has been one of the best relievers in baseball this year and is the unlikely anchor of a very effective Cardinals bullpen, part of the reason St. Louis is a first-place team. In any other year, he would be a possible Rookie of the Year candidate.
For all that, Gallegos didn't even make St. Louis' Opening Day roster. When he was called up on April 7, he appeared in just two games before being sent down to Triple-A Memphis on April 15 (though that was reversed the next day when he replaced the injured Mike Mayers).
Now? The man not viewed as one of the seven best St. Louis relievers back in March has a 1.95 ERA over 60 innings pitched. He's got 79 strikeouts and a Top 15 whiff rate. No qualified reliever has allowed a lower OBP than his .211, meaning that nearly 80% of the hitters who come to the plate turn right back around. He's been... great. Gallegos has been the most important reliever in a bullpen that lost Jordan Hicks and received nothing (or close to it) from Alex Reyes, Luke Gregerson, and Mayers.
While Wins Above Replacement somewhat oversimplifies things for relievers, he's been worth 1.7 WAR (via FanGraphs), while Voit has been worth 1.6, which is to say they've been equally as valuable, which is to say: Hey, maybe that Voit trade won't look so bad after all.
For all the great relievers the Yankees currently have in their bullpen, this isn't the first time they've let one go who blossomed elsewhere -- just look at Kirby Yates, Chris Martin, Richard Bleier, Blake Parker, Nick Goody and so on. Gallegos might be the latest, but what we need to find out first is how he's doing this. How an unheralded arm who just turned 28 is making this happen, and if the Yankees erred in letting him go.
There's a saying in prospecting: Don't scout the stat line. It means that you can't simply trust the numbers in the same way you would in the Majors, because there's a vast amount of additional context necessary. If a Class A hitter is considerably older than his peers, a huge offensive performance might not mean as much. The variation in quality of defense and park effects is much larger in the Minors than in the big leagues, which can affect pitchers. A pitcher might receive instructions to shelve their best pitch in order to work on a lesser one, for example. Voit is a good example of teams not looking for finished products so much as players with raw skills that can be improved via different training methods.
It's sage advice. And yet, in the face of it, if you follow such things, Gallegos has been on your radar for at least two years, thanks to this:
I can't stop looking at the 41% K% rate Gallegos had to lead the International League last year. https://t.co/pJ1bXaAdmU

— Mike Petriello (@mike_petriello) January 18, 2018
Perils of the scouting the stat line aside, Gallegos put up a few consecutive years of absolutely destroying Minor League batters, and shouldn't that mean something?
In parts of eight Minor League seasons after signing with the Yankees in 2011, Gallegos struck out 453 hitters in 410 2/3 innings, walking only 82. He posted a 2.78 ERA and, as that tweet notes, found himself at or near the top of some very impressive Minor League strikeout leaderboards.
2016
36 percent strikeout rate, best of 890 Minor League pitchers with 70 innings or more.
2017
40.8 percent strikeout rate, third-best of 2,093 Minor League pitchers with 40 innings or more.
2016-18, combined
36.4 percent strikeout rate, sixth-best of 2,272 Minor League pitchers with 100 innings or more. (Among the five ahead of him: San Diego's Chris Paddack and Tampa Bay's Colin Poche, who has 57 strikeouts in 38 innings for the Rays as a rookie this season.)
So, in those three years, Gallegos had a higher strikeout rate than 99.7 percent of regular Minor League pitchers, and two of that 0.3 percent who were better than him succeeding in the big leagues right now. (It might also be time to look into these names: Patrick Ruotolo, Zac Houston, and Jovani Moran.)
Dominating in the Minors doesn't guarantee Major League success, obviously. One of the two pitchers who topped him in strikeout rate in 2017 is Tanner Rainey, who has elite bat-missing skills paired with an equally terrifying inability to throw strikes.
But that hasn't been Gallegos' problem, because across those three seasons his 5.8 percent walk rate remained well above average. As you can see, that combination of elite bat-missing and few walks is an extreme outlier, and the two names nearest him are Paddack and Poche, who have each shown bursts of dominance this year in the Majors.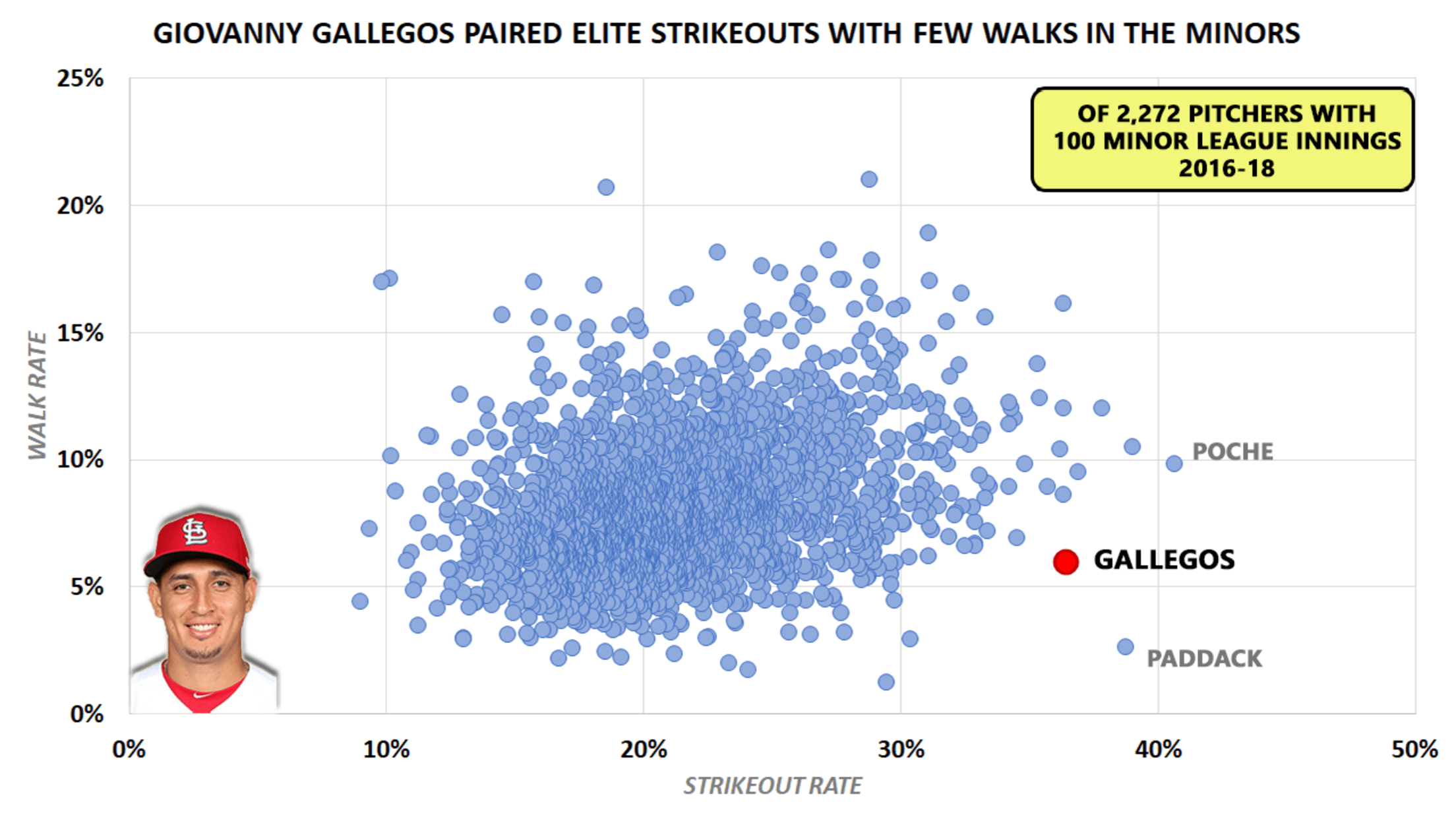 Now that he is in the bigs, look where Gallegos ranks among the 278 relievers with at least 20 innings pitched in 2019.
.211 OBP: 1st
.266 SLG: 7th
.155 average: 3rd
.203 Weighted On-Base Average: 1st
35.4 percent strikeout rate:18th
5.4 percent walk rate: 28th
That's a lot of bests or near-bests. He's legitimately been one of the best relievers in baseball, backing up all of those shiny Minor League numbers. But how?
You'd expect game-changing velocity. He doesn't have it. You'd think maybe there's world-class spin rate. Not really. Maybe his pitches move more than anyone else's. They don't.
He's not elite at avoiding hard contact, since his hard-hit rate is about average. He doesn't stand out notably in terms of inducing grounders or avoiding balls in the air. It's a little about the Cardinals' good infield defense -- he's allowed a .195 batting average on grounders, better than the .228 expected average his quality of contact would suggest, though the 33 point difference doesn't stand out much -- and he's allowed only five homers. He's done a good job at preventing damage in other ways, but his performance is mostly about the whiffs and the walks.
Gallegos primarily throws two pitches, a four-seam fastball (55 percent) and a breaking pitch he calls a slider (45 percent), along with an infrequently-used changeup, and by investigating them we might be able to see why he escaped any particular notice on his way through the Yankees' system.
Start with his fastball. It comes in at an average of 93.7 mph, which is nice, but hardly notable in today's game. (It's in the 63rd percentile, which means it's slightly above average.) It's got above-average spin and gets about 2 inches more rise than average, which isn't a standout number. If you're a scout looking at Double-A pitchers, none of this stands out terribly much. You probably see a half-dozen of these guys per week at that level.
And yet, in terms of outcomes, it's the most effective four-seamer in the game this year because he's thrown it 493 times and allowed only five extra-base hits, along with 38 strikeouts. That's probably not the same thing as "best fastball," but it's played that way.
2019's best four-seam fastballs (min. 100 plate appearances ending on fastball)
.211 weighted on-base average: Gallegos, STL
.233 wOBA: Trevor May, MIN
.235 wOBA: Emilio Pagan, TB
.251 wOBA: Liam Hendricks, OAK
.255 wOBA: Trevor Gott, SF
MLB average: .361 wOBA
If we remove the walks and strikeouts -- and just look at what happens when batters make contact -- Gallegos' is still sixth best. It's not that he gets a ton of swing-and-misses on it -- he's only about league-average there. It's that when contact is made, there's not a ton of damage.
To understand how that's happening, we have to look at his slider... thing. We call it that because that's what he calls it, but it doesn't act like a slider -- at 85.2 mph, it's thrown harder than the league average of 84.6 mph. It's got slightly more drop than similar sliders at his velocity, but only a half-inch of horizontal break, making it a 12-6 kind of pitch. If that sounds at all familiar, here's a paragraph we wrote just last week about another late-blooming righty reliever, Tampa Bay's Nick Anderson:
It's not, however, his curveball ... or slider ... or splitter ... or whatever that is. He calls it the curve, so we do too, but it's not really a traditional curve, because it's thrown much harder (83 mph, where league average is 78.9 mph) and it has seven inches less drop than an average curve at his velocity does. What it does appear to do is go straight up-and-down -- it has just one inch of horizontal break -- and because it's neither a true curve nor a real slider, it appears to be a pitch unto itself.
As we wrote at the time, Anderson was testing the limits of pitch classification, because his breaker could easily be called one of a number of things. That's sort of true for Gallegos as well. Is his "slider" the same as Anderson's "curve?" Is it even one pitch, or slightly different variations of two?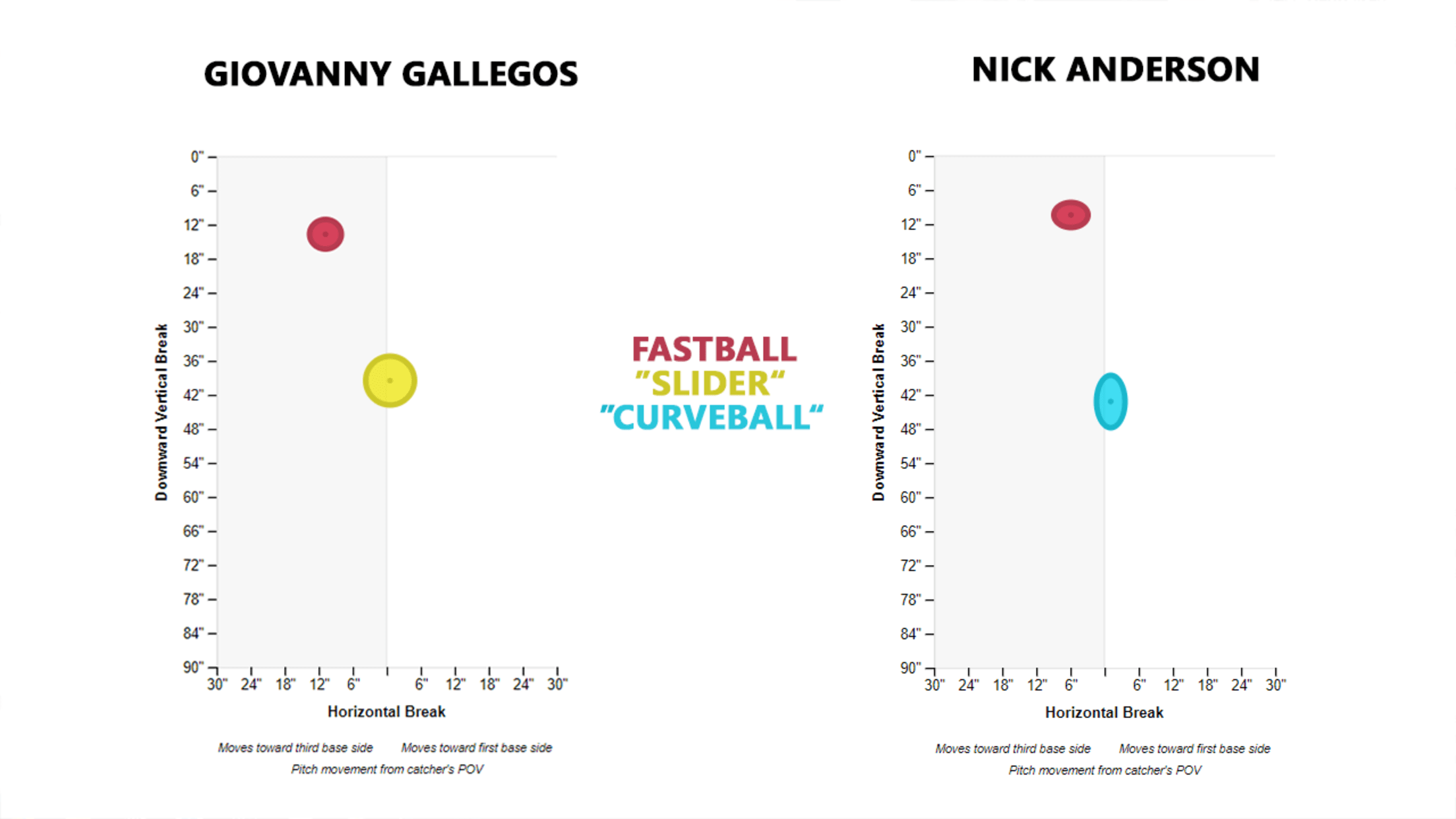 Whatever you want to call it, the pitch has been dominant. Look what it did to Addison Russell in the dirt:
Look what it did to Eugenio Suarez just below the zone.
And look what the two pitches look like together:
Giovanny Gallegos, the forgotten piece in the Luke Voit trade, is a real weapon, folks. Tunnel scopic gif via @cardinalsgifs: pic.twitter.com/7yKFYHjFNu

— stlCupofJoe (@stlCupofJoe) April 13, 2019
If we call it a slider as he does, then only five other relievers' sliders (minimum 75 plate appearances ending on a slider) have been more effective, including Ken Giles and Will Smith. Only five other reliever sliders, topped by Giles and Amir Garrett, have a higher swing-and-miss rate than his 49.2 percent. Call it what you want. This pitch, thrown for strikes and low in the zone, pairs exceptionally well with his touch-of-rise fastball. That it has almost no side-to-side movement might be a benefit here. It might make it harder for the batter to differentiate between the two.
What this all means -- all the strikeouts, the lack of walks, the positive outcomes on balls in play -- is that on a per-pitch basis, Gallegos keeps finding success in various ways. To that end, we looked at 417 pitchers with at least 500 pitches thrown and checked out which pitchers had the highest rates of strikes/batted ball outs. That is, who throws the most pitches that aren't balls or hits or runs, i.e., the things you don't want?
65.5 percent: Poche, TB
65.2 percent: Pagan, TB
65.1 percent: Gallegos, STL
64.6 percent: Josh Hader, MIL
64.4 percent: Ryan Pressly, HOU
MLB average -- 57.4%
That is an exceedingly impressive list. It's a list of relievers you want.
In other years, a performances like this would garner Gallegos some Rookie of the Year buzz. (Though some sources say he exhausted his eligibility last year, Gallegos fell just short of attaining the 45 pre-September service days required to lose his rookie status, so he still qualifies.) That probably won't happen this year, especially in the NL. Not with Pete Alonso, Fernando Tatís Jr., Bryan Reynolds, Keston Hiura, Mike Soroka, and others all having fantastic debut seasons.
But that doesn't matter much. That Gallegos has no saves this season doesn't matter. What matters is that the Cardinals are in first place, and that their bullpen has been baseball's best. The Cardinals may or may not have known exactly what they were getting or giving up in the Voit deal at the time, but it's a deal that initially seemed marginal and now has a constantly changing perception. That deal is actually one of the biggest reasons the Cardinals are where they are atop the NL Central.
Mike Petriello is an analyst for MLB.com and the host of the Statcast podcast.