Gleyber Torres: A bottle poppin' Baby Bomber
Yankees rookie developed love for Baby Bottle Pop candy thanks to Gregorius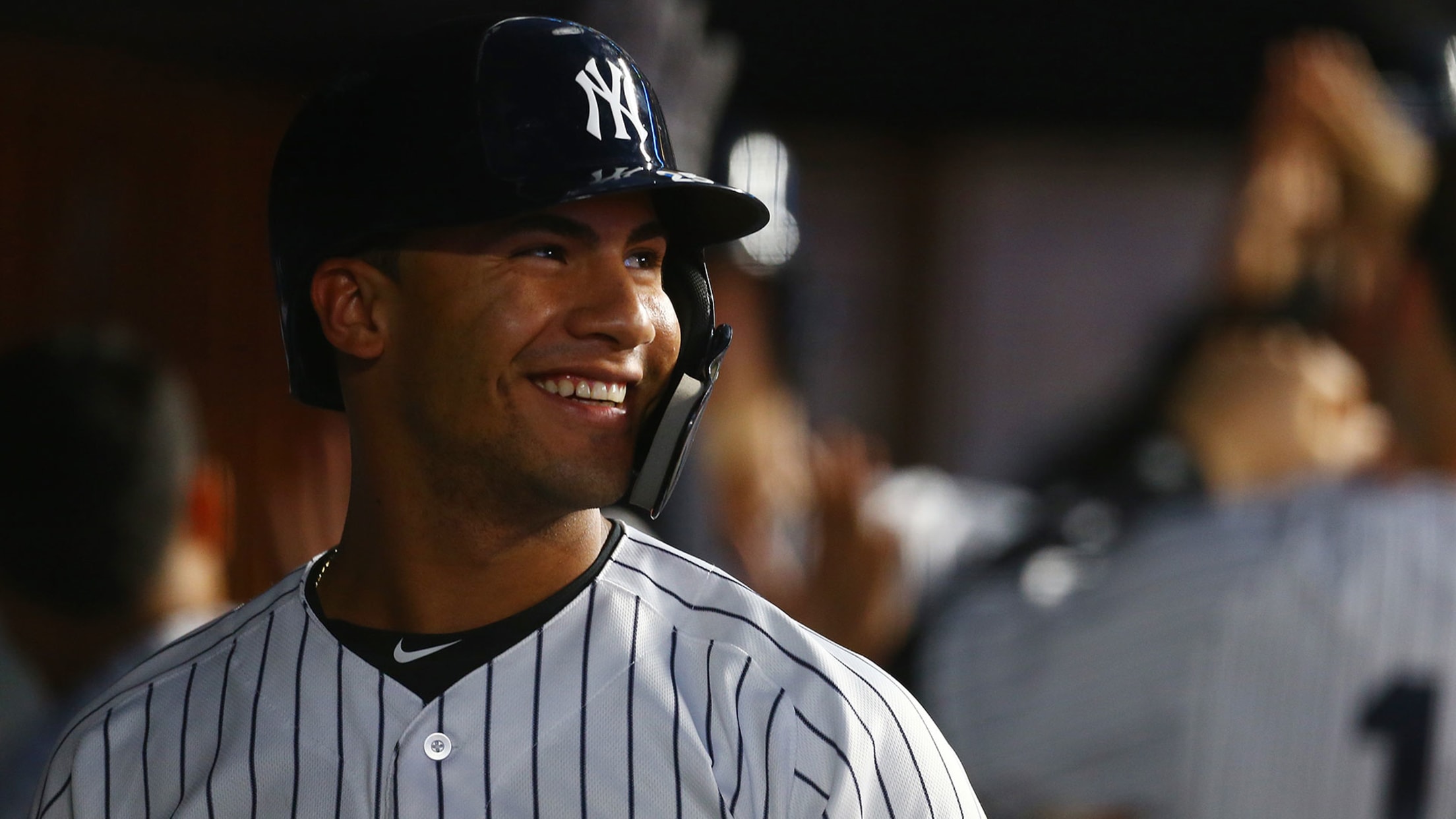 NEW YORK -- Didi Gregorius slaps hands with his teammates in the center of the diamond, jogs to the dugout and puts away his gear. He makes his way to the Yankees' clubhouse and strides to his locker. Gregorius whips out his cell phone, opens the Twitter app and describes
NEW YORK -- Didi Gregorius slaps hands with his teammates in the center of the diamond, jogs to the dugout and puts away his gear. He makes his way to the Yankees' clubhouse and strides to his locker. Gregorius whips out his cell phone, opens the Twitter app and describes a Yanks win in 280 characters or less. Though, for him, the emphasis is never on himself, and always on emojis.
Every Bronx Bomber has his own emoji. Carsten Sabathia is a Santa Claus, Giancarlo Stanton is a volcano, Gary Sanchez is an octopus, Brett Gardner is a clown, Aaron Judge is, well, a judge, and the list goes on.
So when it came time for Gleyber Torres' highly anticipated big league debut at the end of April, fans patiently awaited and constantly refreshed Gregorius' Twitter page for the big reveal. But not even Gregorius could predict the sugar-induced events he set in motion.
The emoji emerged a day after Torres' Major League debut, during a Monday night game against the Twins in the Bronx. The rookie stroked an eighth-inning single to center for his first career hit on April 23, and Gregorius was ready to show us what he had in mind.
Enter: A baby bottle.
The Yankees shortstop introduced the red-hot rookie as a white baby bottle emoji with a light blue rim and a curved yellow spout. It was then decided Torres, 21 years old and the youngest Yankee on the 25-man roster, would be dubbed the baby of the team.
#StartSpreadingTheNews yankees win Great start by Tanaka⏱ going 6+ innings ... 🍼 with his first major league hit... 👹 with solo homerun 🌋 with a solo homerun and 🚓 with a 2run homer .. 🔥🔥bullpen🔥🔥 all around great game ... WHAT A GAME!!

— Sir Didi Gregorius (@DidiG18) April 24, 2018
Besides fun and games, Gregorius' emoji choice had a larger impact on Torres -- one involving cavities.
Torres is breaking into history books and turning heads across coasts for putting up video-game numbers in his first Major League season. Then at the end of the day, he's going back to his locker and eating … Baby Bottle Pops. It's a lollipop candy introduced by the manufacturer Topps in a baby bottle shape, near identical to Torres' namesake emoji.
So what came first, the chicken or the egg?
After Gregorius started using the baby bottle emoji for Torres in his tweets, the Baby Bottle Pop company (founded in 1998, just two years after Torres was born) sent both players boxes of the candy. Gregorius, not a fan of the candy itself, handed his portion of the Baby Bottle Pops to Torres.
Prior to the company's kind gesture, Torres had never tried the candy. Now, he can't get enough of it. Torres discovered his favorite flavors (watermelon and strawberry) and started dipping the pop into the accompanying sugar compartment for the full Baby Bottle Pop experience. And he's ordering more boxes.
🍼🍼🍼🍼🍼🍼🍼🍼🍼🍼🍼🍼🍼🍼🍼🍼🍼🍼🍼🍼🍼🍼🍼🍼🍼🍼🍼🍼🍼🍼🍼🍼🍼🍼🍼🍼🍼🍼🍼🍼🍼🍼🍼🍼🍼🍼🍼🍼🍼🍼🍼🍼 With the Walkoff Homerun

— Sir Didi Gregorius (@DidiG18) May 6, 2018
Torres is unusually gifted at accepting whatever comes his way. From taking the big leagues by the reins to poking fun at his own youth by snacking on Baby Bottle Pops, Torres embraces challenges and self deprecation alike. Instead of feeling as if he's been demoted to sitting alone in the school cafeteria, Torres embraces his "baby" title in the Yanks' clubhouse with open arms.
"I enjoy everything, I think that's the most important thing," Torres said. "Just enjoy."
Asked if he'll consider a possible sponsorship or small advertisement for the Baby Bottle Pop company, the rookie didn't rule it out.
"Not yet, I'll wait," Torres said.