Tracing the trade tree that led Gleyber to Yanks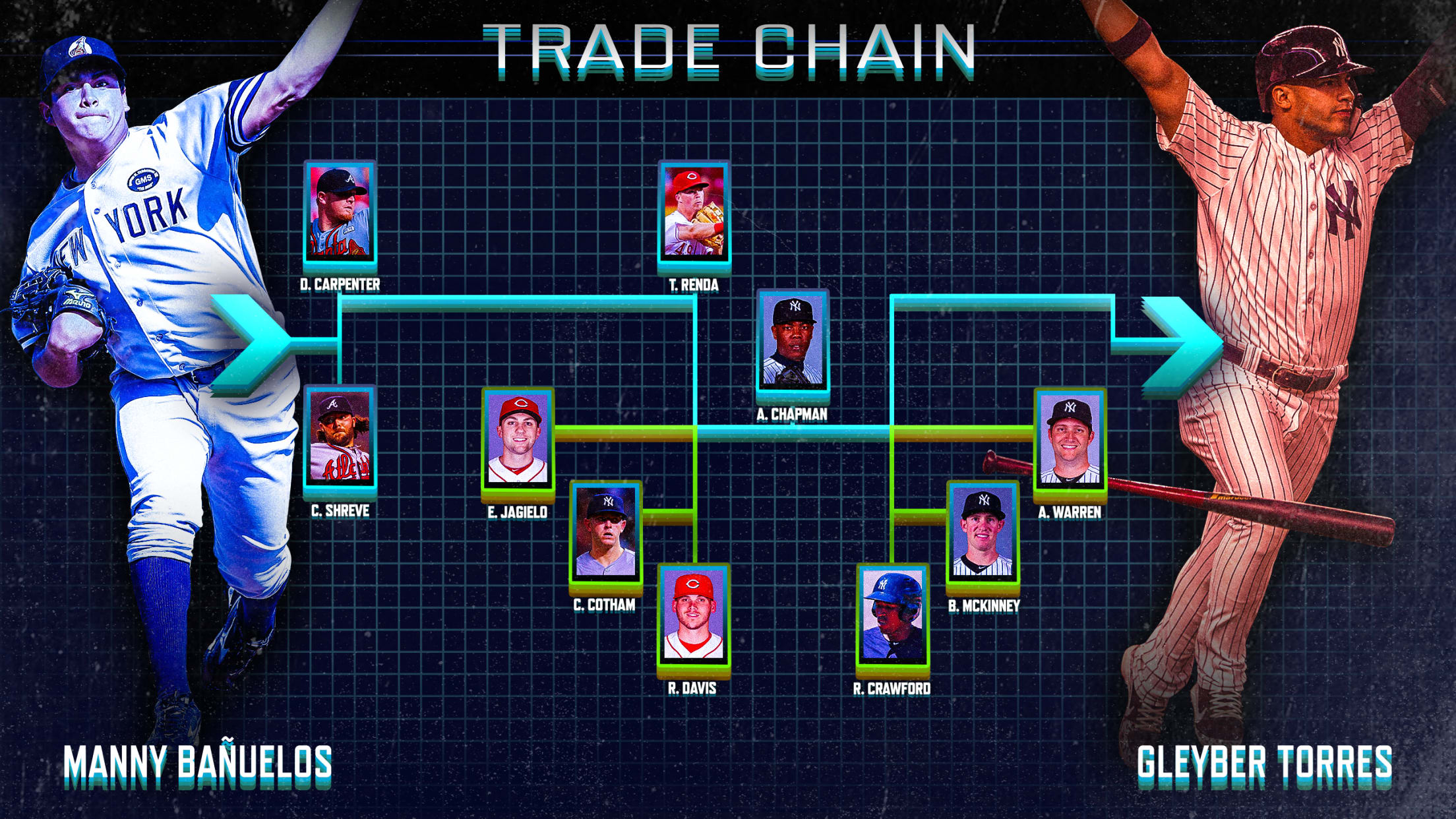 Gleyber Torres is one of the brightest young stars in baseball, but he wasn't always a Yankee. New York acquired him in a trade with the Cubs for Aroldis Chapman in July 2016 -- a trade that eventually helped Chicago seal its first World Series title since 1908. Many fans
Gleyber Torres is one of the brightest young stars in baseball, but he wasn't always a Yankee.
New York acquired him in a trade with the Cubs for Aroldis Chapman in July 2016 -- a trade that eventually helped Chicago seal its first World Series title since 1908. Many fans know that much -- Torres was a top Cubs prospect, but trading him away was ultimately worthwhile since the club won it all.
But if we trace the trade tree to its roots, Torres' arrival in the Bronx stretches further back than just July 2016. It all started with another much-hyped Yankees prospect, one who didn't pan out nearly as well as Torres.
Here's how the Yankees turned him into a potential franchise player.
March 30, 2008: Yankees sign Manny Bañuelos as amateur free agent
The left-hander reached Triple-A as a 20-year-old in 2011, shot up prospect lists and even made quite an impression on a certain future Hall of Famer in the Yankees organization. Mariano Rivera told ESPN New York in March 2011 that Bañuelos was one of the best pitching prospects he'd ever seen.
"I like everything about him," Rivera told ESPN at the time. "The makeup and how he keeps his composure. I notice situations and how you react in situations. Where you make your pitches in tough situations, where you spot your pitches, he has the ability to do that."
By 2012, he was the No. 13 prospect in baseball entering the year according to MLB Pipeline, and the No. 2-ranked left-handed pitcher behind only Matt Moore, who was No. 1 overall. But Bañuelos' 2012 season consisted of just 24 innings before he was sidelined by elbow injuries, eventually leading to Tommy John surgery. He didn't pitch again until 2014, after a 22-month recovery, and never lived up to the hype before the Yankees cashed him in for some bullpen help.
Jan. 1, 2015: Yankees trade Bañuelos to Braves for David Carpenter and Chasen Shreve
Shreve pitched for the Yankees from 2015-18, with a 3.92 ERA in 180 appearances. His Yankees career ended in July 2018, when he was traded to the Cardinals in a deal for Luke Voit -- but that's not part of our trade tree here.
The focus instead is Carpenter, the other reliever acquired in the deal. His tenure with the Yankees was much shorter than Shreve's; he recorded a 4.82 ERA in just 22 appearances with the club in 2015, prompting New York to designate him for assignment and then trade him.
June 11, 2015: Yankees trade Carpenter to Nationals for Tony Renda
Renda played just 33 games in the Majors -- 32 in 2016 and one in 2018 -- but his presence in the Yankees' organization led to another acquisition that ultimately brought Torres to the Bronx.
Renda was a utility player, appearing at second base and in the outfield. At the time of the trade, though, he hadn't even reached the Majors. The Nats selected him in the second round of the 2012 MLB Draft out of UC Berkeley. He was at Double-A for the Nats when he went to the Yankees' organization, where he remained at that level for the rest of the year, hitting .270 in 73 games for Trenton.
Dec. 28, 2015: Yankees trade Renda, Eric Jagielo, Caleb Cotham and Rookie Davis to Reds for Aroldis Chapman
Now, the path becomes clearer. After his half-season in the Yankees' organization, Renda headed to Cincinnati in a deal for the team's All-Star closer. The Reds had previously tried to trade Chapman to the Dodgers that offseason, but that deal fell apart. Had it gone through, who knows if Torres would've still found his way to the Yankees.
But Chapman was indeed dealt to the Yankees, in a trade that included two players from MLB Pipeline's Yankees' Top 10 at the time -- Jagielo and Davis. Renda wasn't even in the Top 30, but his role in the trade helps trace the roots of this tree.
Chapman arrived in the Bronx and performed as expected -- a steady closer, notching 20 saves in 21 opportunities with a 2.01 ERA. But the Yankees weren't competitive that year: Entering July 25, they were in fourth place in the American League East, 7 1/2 games behind the division-leading Orioles, and 4 1/2 games out of the second Wild Card spot, too. Chapman was set to be a free agent at the end of the year, and trade talk began swirling. According to reports at the time, he had shown a desire to test free agency.
July 25, 2016: Yankees trade Chapman to Cubs for Gleyber Torres, Billy McKinney, Rashad Crawford and Adam Warren
And here's where Torres finally became a Yankee, eight years after former Yankees top pitching prospect Bañuelos signed with the club. Torres had signed with the Cubs as an amateur free agent in 2013, working his way up in the Minors. Entering the 2016 season, he was the top-ranked prospect in the Cubs' system and the No. 28 overall prospect in baseball -- the clear main piece in the deal.
"We knew we had a legitimate chance to win the World Series," Cubs president of baseball operations Theo Epstein told MLB.com's Mark Feinsand in 2018. "And we also knew there were some things happening in our 'pen where it was going to be obvious to everyone real soon that it was our Achilles' heel. We didn't think we could win the World Series without adding a dominant back-end guy. We tried a lot of different ways to do it without giving up a guy like Gleyber, but we didn't have that opportunity. So that was a trade we made in order to win the World Series. A lot of us, before we hit the pillow every night, are thankful that we won the World Series so that we don't ever have to look back on that trade with regret."
Torres was at the Class A Advanced level when the Yankees acquired him, and he played the rest of the 2016 season there before making his way to Double-A and Triple-A in 2017. He made his Major League debut for the Yankees on April 22, 2018, and went on to play 123 games for the club that year, finishing third in AL Rookie of the Year voting while making the All-Star team.
In 2019, he was an All-Star yet again and received MVP votes in a year when he hit 38 homers. The only Yankees to be two-time All-Stars before turning 23 are Mickey Mantle and Joe DiMaggio, according to Elias.
And he's now just 23, as you may have heard, with quite the career ahead of him, by many projections.
Beyond Torres
Torres is the crown jewel of this tree, the potential franchise player who has already done things in a Yankees uniform not seen since Mantle and other greats. But there's still a bit more to the tree, and the players involved in it.
Chapman signed the largest contract by total value for a reliever in the offseason after the 2016 season, returning to the Bronx after winning his World Series title with the Cubs.
And the tree added another branch when McKinney, one of the prospects acquired from the Cubs, was traded to the Blue Jays in a deal for J.A. Happ in July 2018. Happ's contract expired after that season, but he re-signed with the club. If he's ever traded from the Yankees, we can continue tracing this line.
Another branch that could continue to grow is the one that goes from Shreve to Voit. Voit has now played 157 games for the Yankees since the July 2018 trade that sent him to New York, with 35 homers and a .517 slugging percentage. If he ends up as a chip in a future deal, who knows what this other branch of the trade tree may yield.