Mazara, Choo help construct Globe Life Field
Outfielders assist building framework for ballpark set to open in 2020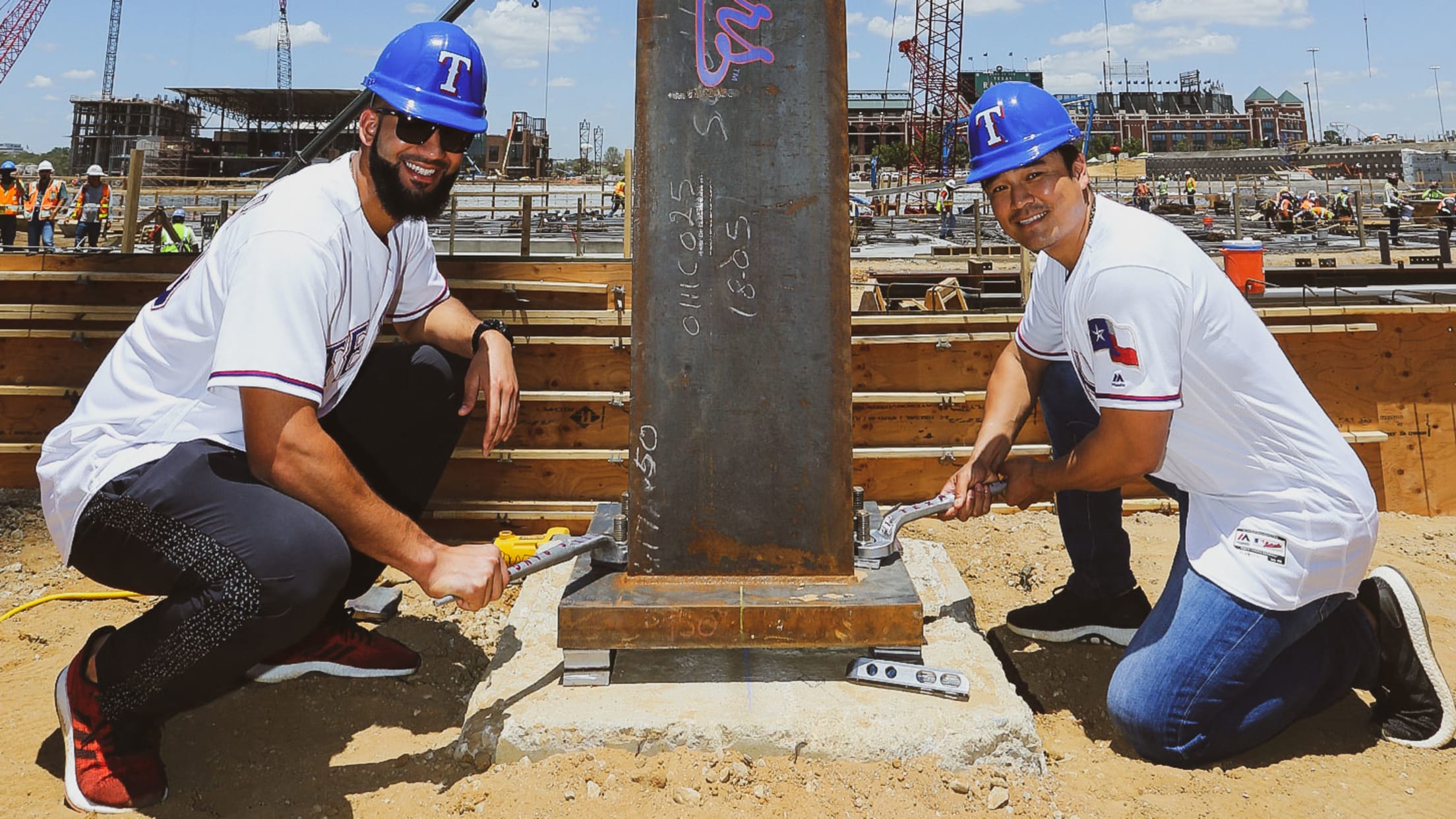 ARLINGTON -- A 9,200-pound piece of steel was inserted into the ground at the future site of Globe Life Field on Friday afternoon.Rangers outfielders Shin-Soo Choo and Nomar Mazara were both there to wield a wrench and help bolt the steel beam into place.• Globe Life Field info"I can say
ARLINGTON -- A 9,200-pound piece of steel was inserted into the ground at the future site of Globe Life Field on Friday afternoon.
Rangers outfielders Shin-Soo Choo and Nomar Mazara were both there to wield a wrench and help bolt the steel beam into place.
• Globe Life Field info
"I can say that I helped a little bit," said Choo, who used a hard hat instead of a batting helmet for his duties. "I think baseball is a lot easier. I really appreciate these people building a beautiful ballpark."
The temperature was well into the 90s as Mazara and Choo did their work, and the heat was a reminder of why everybody was there. Globe Life Field will open in 2020 with a retractable roof for climate control. The Rangers will be able to play in air-conditioned comfort rather than in the summer heat, as they will on Saturday and Sunday against the Rockies.
"It's going to be so much better for us," Mazara said. "It will be better for our bodies and it will be better for the fans. It's going to be so cool. I'm looking forward to it. It's going to be fun."
Friday was a significant day for the construction. Groundbreaking took place on Sept. 28, 2017, and up to this point, most of the work has been below ground -- with excavation and the pouring of the concrete into the bowl.
The piece of steel that Mazara and Choo helped put in place was the first of 9,700 such pieces that will be inserted by large cranes and construction workers across from Randol Mill Road.
"This is the first above-grade structural member," Rangers vice president of project development Jack Hill said. "Our structure, from the main concourse up, is primarily steel, and this is the first [piece] going in, so that's a big step in the life of a project."
This is the frame for the new ballpark. From this point forward, fans will actually be able to see the facility come to life, step by step, with so much more to come.
"It is an amazing process to actually see things come up out of the ground," Rangers vice president of business operations Rob Matwick said. "It becomes much more significant for fans, because so much of the work has been below grade to this point. Unless you are able to get up to the edge of the bowl, you don't really have a feel for it. Now, as we set the main concourse up, it begins to come to life and it becomes more realistic for everybody."
The new ballpark will open in 2020 at a shared cost of $1.1 billion between the Rangers and the city of Arlington. The facility will sit on 13 acres and cover 1.7 million square feet. Approximately 35,000 tons of steel will be used when the project is complete. Approximate capacity is 40,000, and so far, everything has proceeded as planned.
"We have had some great weather -- hot, dry weather," Hill said. "The crews are doing an awesome job. Very pleased with the progress."
The new ballpark is just one of the construction projects underway. Texas Live! remains on course to open later this summer, and the Live by Loews! Hotel should be ready in 2019.
Globe Life Field will be the centerpiece of it all.
"It is going to be a great baseball facility, and it gives us the flexibility to do things year round," Matwick said. "With the roof, we will be able to control climate. A lot more opportunity to engage not only baseball fans, but all fans to come to Globe Life Field and the Entertainment District year-round for a wide variety of events."