Hahn hopes White Sox positioned as buyers
GM says goal is 'to look to add' before Aug. 1 Trade Deadline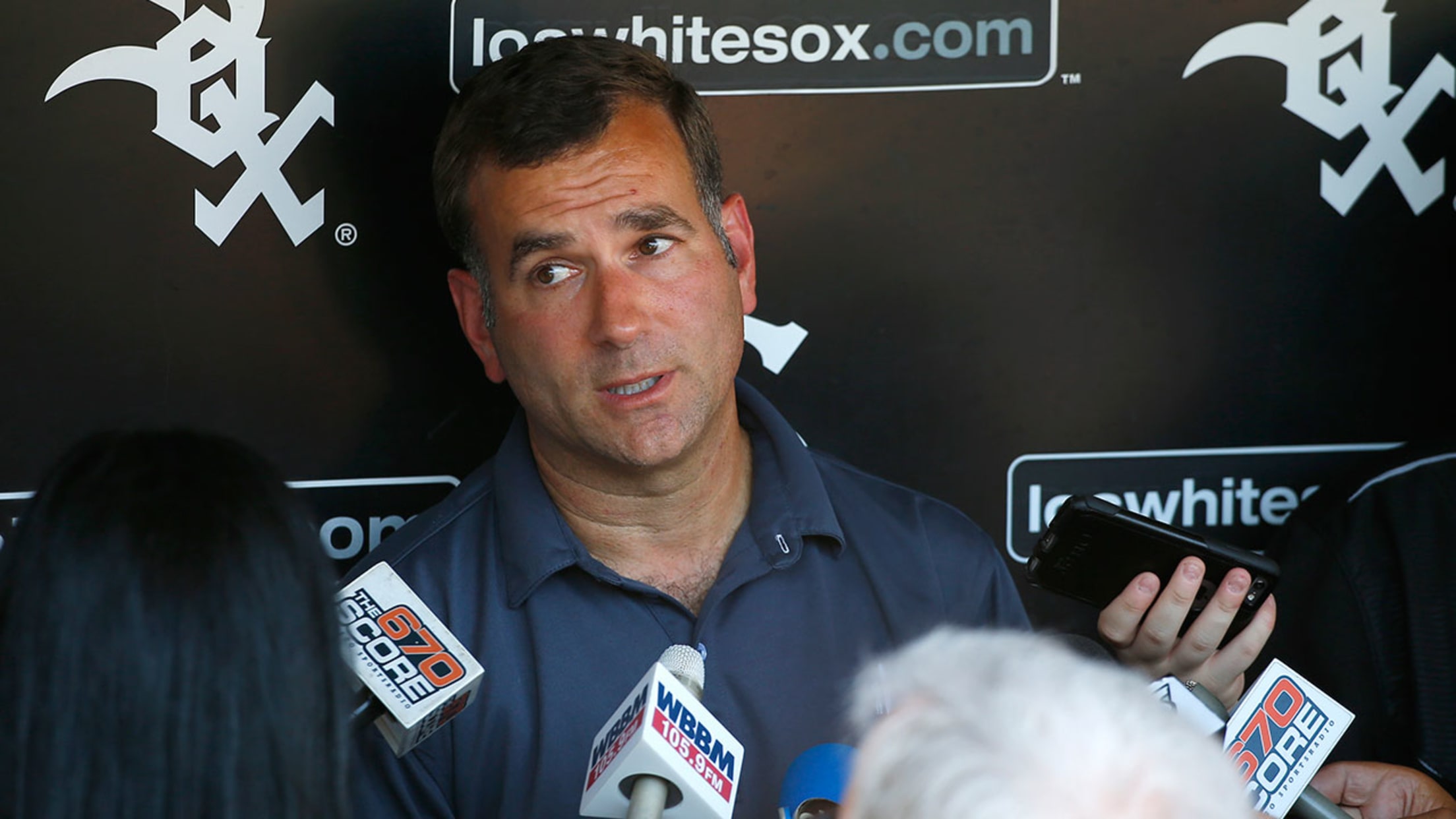 "We look at each scenario as the course of the season unfolds," Rick Hahn said. (AP)
CHICAGO -- Rick Hahn readily admits that calls have come into the White Sox front office from other Major League teams in pursuit of players from the South Side."And I say, 'We like our players too,'" said the general manager with a laugh when talking to the media Friday afternoon.The
CHICAGO -- Rick Hahn readily admits that calls have come into the White Sox front office from other Major League teams in pursuit of players from the South Side.
"And I say, 'We like our players too,'" said the general manager with a laugh when talking to the media Friday afternoon.
The White Sox have proven to be consistently inconsistent through the first 73 games this season. They opened the campaign with an impressive 23-10 run, went 10-26 over the next 36 with a 5-17 stretch against the American League Central mixed in, and then won three of four at Fenway Park this week.
They also have proven to be a resilient group, even in the tough times, and Hahn sounds like someone who is looking to add as opposed to trade off players as the non-waiver Trade Deadline approaches on Aug. 1.
"We look at each scenario as the course of the season unfolds," Hahn said. "There's no magic date, there's no magic distance either from first place or outside the playoff picture that we have to declare ourselves one way or the other.
"We've had years where we've been able to add players that helped for the short term but also the long term, arguably buying and selling at the same time you could say. It's certainly our hope that we continue on this upswing and put ourselves in a very clear position of buyers.
"But it is the responsibility of the front office to be aware of what the alternatives are and the potential to focus more on the long term," Hahn added. "Again, our expectations, our hope and our goal is to look to add."
A left-handed bat and a hard-throwing reliever could be two of the targets for Hahn when the end of July approaches. The White Sox have Justin Morneau in the mix and hopefully on the field after the All-Star break, but it won't stop them from looking for other left-handed additions.
"There's other areas where we can get ourselves better as opposed to strictly the first base/DH role that Justin would play," Hahn said.
Teams are still figuring out whether they are contenders, with Hahn surmising it will take another couple of weeks for teams on the fence to decide if they are buying or selling. Even as buyers, the White Sox might have to make a decision regarding the trade of a key future prospect for a piece they need to win now.
"It's really no different than the exercise we normally undergo. There just happens to be a deadline out there that gets a little more attention," Hahn said. "We were able to move on James [Shields] to hopefully solidify the back of the rotation. We were able to move on Morneau to have at least a left-handed bat on hand if we weren't able to do some other moves along the way.
"Obviously we brought up Timmy [Anderson] to address the shortstop situation. We're being proactive when the situation arises, but a lot of these transactions probably won't take place until a lot closer to the deadline than right now."