Goldman Sachs plays Wiffle ball for DREAM
Investment bank employees raise awareness for non-profit org. focused on inner-city youth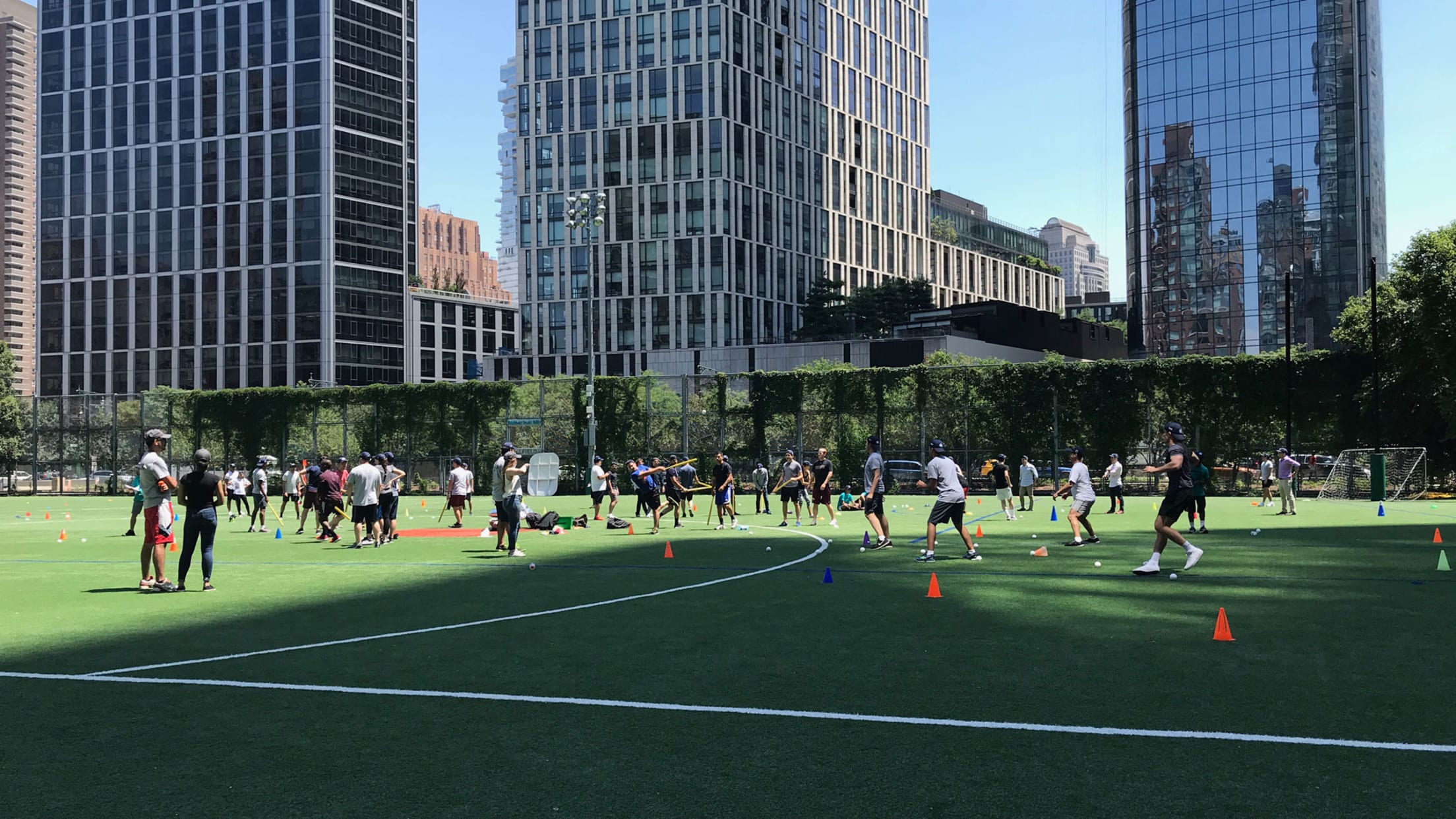 NEW YORK -- For the third consecutive year, Goldman Sachs and the DREAM foundation collaborated to raise awareness and inspire inner-city youth by playing a friendly game of Wiffle ball on Friday at Battery Park City Ball Fields.Goldman Sachs employees took a break from their daily office life full of
NEW YORK -- For the third consecutive year, Goldman Sachs and the DREAM foundation collaborated to raise awareness and inspire inner-city youth by playing a friendly game of Wiffle ball on Friday at Battery Park City Ball Fields.
Goldman Sachs employees took a break from their daily office life full of banking and trading to suit up and play the most casual form of baseball to raise money for a serious cause. It wasn't your ordinary game of Wiffle ball -- Goldman Sachs employees created unique rules for a different spin.
"We have 120 teams today, it's mostly by division," Brian Levine, a Goldman Sachs organizer said. "We have eight fields and play three games, each game takes 10 minutes with a five minute break. You pitch to yourself and the opponent is in the field. Depending on where it goes in the cone, the DREAM folks are keeping score based on however many points you can get in that span. The top two teams for each hour advance to the tournament."
DREAM, originally Harlem RBI, was founded in 1991 and has since grown to serve over 2,200 youth per year. Seventeen years ago, a group of volunteers transformed an abandoned lot into two baseball diamonds for the youth in East Harlem. Over time, DREAM addressed the greater needs of the community, like low literacy and high school graduation rates, through summer and after-school activity. The DREAM Charter School opened in 2008 to further impact the kids and community of East Harlem. Now, DREAM uses a unique program model emphasizing team-based methods to prove a comprehensive, fulfilling experience for youth.
Though the game on Friday was casual, the hundreds of employees participating played competitively. Some jogged onto the field sporting personalized T-shirts from the film "The Sandlot," complete with "The Jet," "Ham" and "Yeah Yeah" name-branded jerseys. Former Major League baseball players Doc Gooden and John Flaherty stopped by to check out the game. DREAM representative Richard Berlin stood along the first-base line, watching the event grow from 200 participants in its first year, to nearly 1,000 in its third year.
"The larger cause here is about helping kids and educating them and as they grow into self-sufficient healthy citizens, then the ballplayer part just becomes a tool," Berlin said. "But it's very powerful and a great way to bring people together. Baseball is the best team game and DREAM, Major League Baseball and places like Goldman Sachs are all about the power of teams, so it's a good mix."
The idea for this unique blend of Goldman Sachs employees raising money for DREAM with a game of Wiffle ball began six years ago in London. In 2012, Goldman Sachs held a basketball and ping pong tournament to raise money for a charity called Greenhouse, where Olympic sprinter Michael Johnson served as master of ceremonies. Two years later, the idea shipped overseas as Goldman Sachs continued its partnership with DREAM for philanthropic work and initiatives at the senior leadership level.
Mike Casey, both an employee of Goldman Sachs and a volunteer coach for a DREAM team, said the event has grown larger than he could've imagined. Casey said coaching high schoolers in the organization is his way of giving back in a way that isn't monetary, but instead makes a direct impact on kids.
"They can be anywhere else, they don't have to do to this," Casey said of the youth in DREAM volunteering on Friday. "It shows they're sticking with the program, and the program is giving them resources that may not have been available to them before. Awareness for DREAM and what the program is doing in this very large city grows with this event.
"Hopefully DREAM can replicate this with other banks or broader institutions that are interested in helping out, because their mission is big. They're not just a baseball-softball program anymore. The fact that they have Charter Schools in the middle of the city, in Bronx, Harlem and New Jersey is truly incredible. It just continues to grow scale."