Beckham playing shortstop to show versatility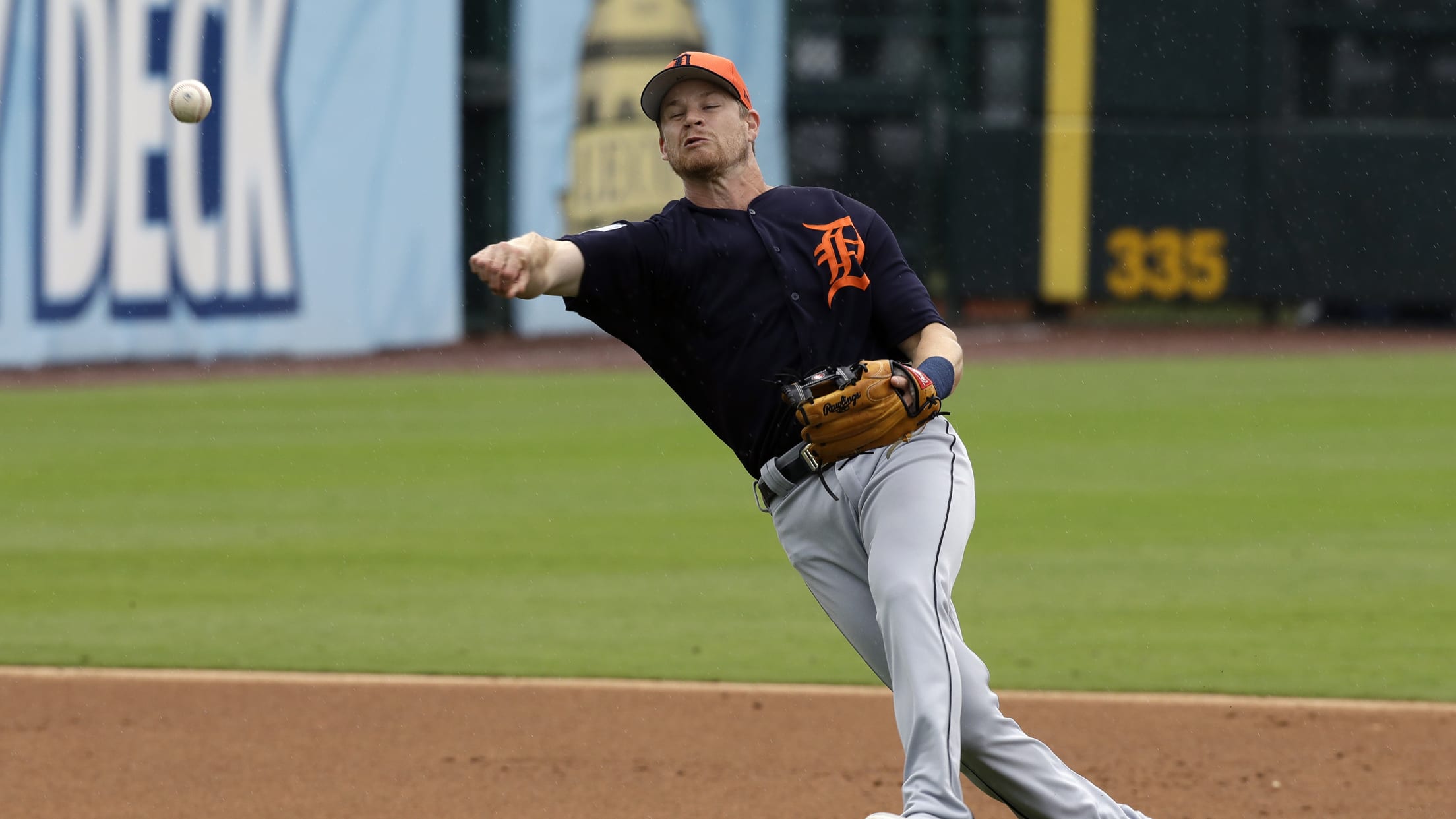 LAKE BUENA VISTA, Fla. -- Gordon Beckham started Friday night at shortstop for the third time this week, as Tigers manager Ron Gardenhire gauged how versatile the former White Sox second baseman might be as a utility infielder. He handled it well, making a nice turn on a double play
LAKE BUENA VISTA, Fla. -- Gordon Beckham started Friday night at shortstop for the third time this week, as Tigers manager Ron Gardenhire gauged how versatile the former White Sox second baseman might be as a utility infielder. He handled it well, making a nice turn on a double play while going 0-for-2 at the plate with a walk and a run scored.
"I grew up as a shortstop, so I actually feel just as comfortable there as I do second," Beckham said. "Defensively, I've always kind of like gone out there and made it work. But shortstop's fun. It's a challenge."
It could well be the last test for Beckham to pass.
"He's just what I thought he was," Gardenhire said after the Tigers' 4-3 loss to the Braves on Friday at Champion Stadium.
Though the Tigers don't have to finalize their roster until next week, they face a big roster decision Saturday with Beckham. As a non-roster invite with eight years of Major League service time, Beckham can opt out of his Minor League contract on Saturday unless the Tigers inform him he'll be on their Opening Day roster. Catcher Bobby Wilson is in a similar situation.
If the Tigers do not plan to put Beckham on their 25-man roster, they can offer him a $100,000 bonus to accept a Minor League assignment. The Tigers can also release Beckham and try to re-sign him as a free agent to a Minor League deal.
"I don't know what their plans are," Beckham said. "All I know is I feel like I've done what I can do. I feel like I have impressed. I feel like I've had fun. I feel like I've put my best foot forward in every aspect of the game."
A month ago, it didn't seem like much of a decision. Once the Tigers signed Josh Harrison to play second base and moved Niko Goodrum back to a utility role, Beckham's fate looked grim. But once games started, Beckham kept playing, and playing, and playing.
Beckham is tied for the team lead in games played. He shares the lead with Ronny Rodriguez, the other remaining contestant for the open utility infield spot.
"You want people in those roles that you don't have to worry about," Gardenhire said. "They know how to play. I don't have to go looking for them saying you have to be ready here. He's every bit of that. And Ronny Rodriguez, he's been there, too.
"Those are the kind of guys that we're looking at here who [are] left in camp. We're just trying to figure out the right way to go here."
Beckham is batting .279 (19-for-43) with four doubles, a home run, five RBIs, nine walks and 12 strikeouts.
The 32-year-old said at the start of the spring that he might have to consider his future in baseball if he doesn't make the Major League roster. That seems less likely now.
"I've had a lot of people tell me I can't stop playing if I don't make the team," Beckham said. "I don't know. I've got a good feeling about it. I think it's going to work out. I don't want to even go there, but I'm not ready to stop playing. I think I've got a lot of baseball left in me. We'll see. If it's not here, it'll be somewhere else."
Quick hits
• Closer Shane Greene and setup man Joe Jimenez each threw a hitless inning in a Minor League game against the Blue Jays on Friday afternoon on the backfields at Tigertown. Both were pitching back-to-back days after throwing in the Tigers' Grapefruit League game Thursday. Jimenez threw seven pitches, six for strikes, and struck out one batter. Greene walked one and struck out two on 13 pitches, eight for strikes.
• The last time Drew VerHagen pitched at Champion Stadium, he had a miserable outing that included three earned runs, three walks, a wild pitch and a bout of shoulder tightness that reminded him of his thoracic outlet syndrome from a few years ago and sidelined him for nearly two weeks. He returned Friday with two-thirds of an inning, a walk and a two-RBI double. He looked much more effective and should be ready for Opening Day.
Up next
The Tigers return to Lakeland for three straight games beginning Saturday, when the Rays come to town for a 1:05 p.m. ET game at Joker Marchant Stadium. Jordan Zimmermann makes his final tuneup ahead of a possible Opening Day start. Expect most of the Tigers regulars to play. Listen on 97.1 FM in Detroit and MLB Gameday Audio online.