Hernandez keeping positive mindset
Giants outfielder hopes to break camp in backup role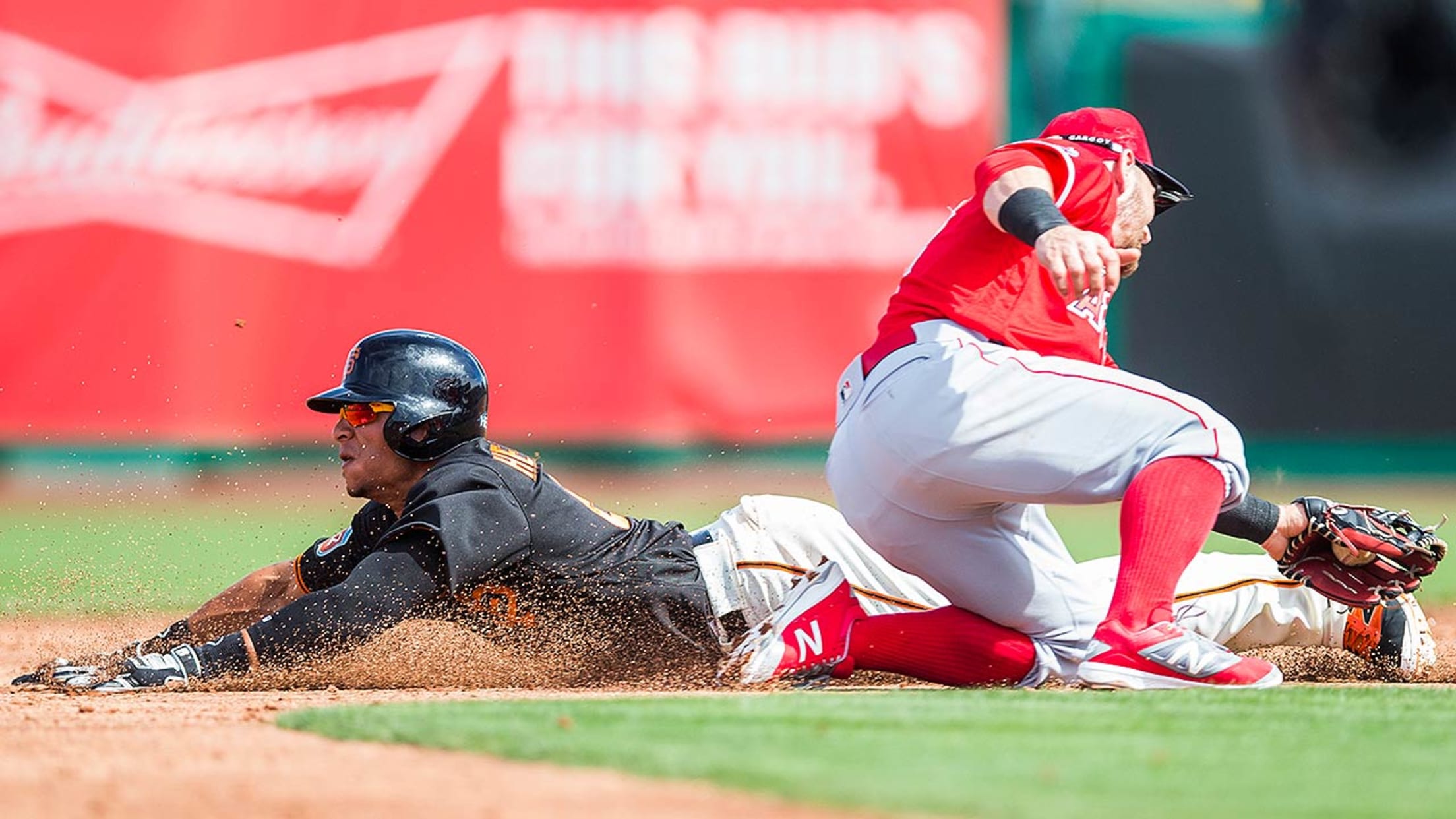 Gorkys Hernandez successfully steals second base Wednesday in a Cactus League game vs. the Angels. (Getty)
SCOTTSDALE, Ariz. -- Trying to make a good first impression for his new team is nothing new to Gorkys Hernandez.The 28-year-old Giants outfield hopeful was traded twice before reaching the Major Leagues in 2012, and he has been dealt twice since then as well. Hernandez was then signed twice and
SCOTTSDALE, Ariz. -- Trying to make a good first impression for his new team is nothing new to Gorkys Hernandez.
The 28-year-old Giants outfield hopeful was traded twice before reaching the Major Leagues in 2012, and he has been dealt twice since then as well. Hernandez was then signed twice and released twice -- with some time in the Mexican League sprinkled in.
Put simply, there are journeymen, and then there's Hernandez, who probably epitomizes the term as well as any 28-year-old could.
But Hernandez -- once a highly touted prospect -- has kept a positive mindset through it all, harkening back on his brief time spent in the Majors as motivation.
"Being in the big leagues for a couple months -- it was exciting for me," said Hernandez, who split time between Pittsburgh and Miami in 2012, "but the goal is for me to stay for a long time. Things haven't gone like that, but now [the Giants] have given me an opportunity."
To be sure, it's a tight race for the Giants' fifth outfield spot, and Hernandez appears to be on the outside looking in. But he's off to a scorching start to Spring Training, with five hits in 11 Cactus League at-bats entering play Monday.
Hernandez's promising opportunity with San Francisco comes in stark contrast to his lowest professional moment two seasons ago, when he was released midseason after struggling at Triple-A for the White Sox.
Unsure whether he'd get another big league shot, Hernandez signed with Quintana Roo of the Mexican League.
"When I was in Mexico, mentally, I just thought I had to get back to the United States, back to the big leagues," Hernandez said. "So I thought, 'What do I have to do?'"
Hernandez promptly tore up the Mexican League, batting .378/.463/.478. After the season, he was given a contract by the Pirates -- who had traded him to Miami for Gaby Sanchez in 2012.
Being dealt was nothing new for Hernandez, who was also packaged in the deals that sent Edgar Renteria to Detroit and Nate McLouth to the Braves.
Fellow Venezuelan outfielder Gregor Blanco has known Hernandez for nearly a decade from winter ball, and he believes the Giants could be a perfect fit. And Blanco -- a journeyman himself, before he caught on with San Francisco in 2012 (also at age 28) -- should know.
"As soon as he got here, I talked to him," said Blanco. "And I said, 'This team is just going to let you play the way you play. They're going to let you be who you are. Just play hard.'"
Hernandez posted a solid .288/.365/.406 slash line for Triple-A Indianapolis last year, and he even got five at-bats for the big league club. The Giants took notice and inked him to a Minor League deal.
Hernandez's biggest challenge regarding an Opening Day roster spot might be logistics. In all likelihood, San Francisco is looking for a power threat who can come off the bench. Hernandez -- a good defender who can play all three outfield spots and a speed threat -- is not that guy. He has never hit more than six dingers in a season.
But if Hernandez doesn't break camp with the club, he believes that opportunity will come soon enough.
"I'm here to try to make the team," Hernandez said. "But if things don't go however I want, I'll just keep doing my job, keep working [at Triple-A]. I'll have a chance to be in the big leagues soon."