HOF players and managers, broken down by team
Cap choices accompany legends' Cooperstown plaques for eternity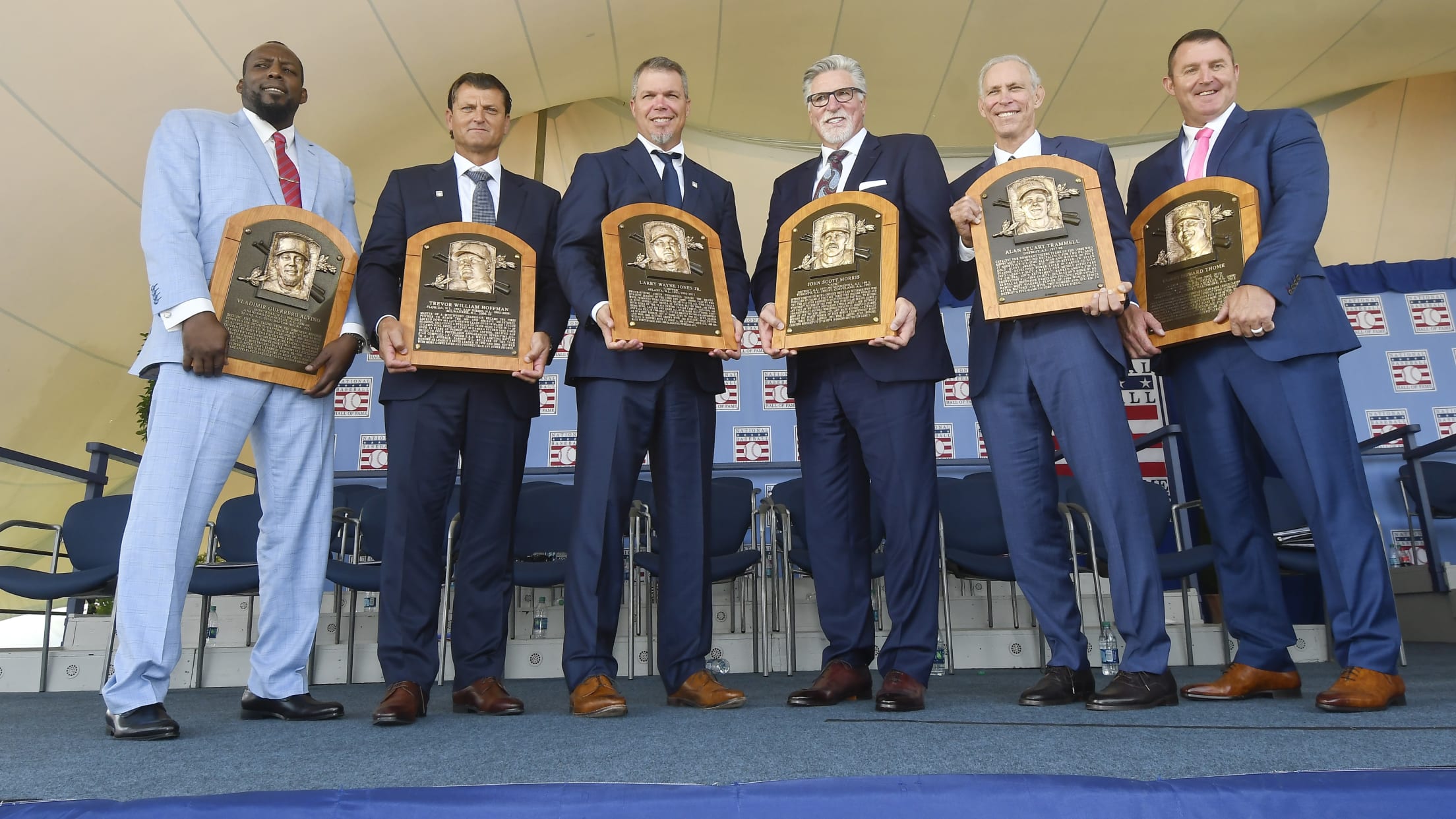 Baseball Hall of Famers from left, Vladimir Guerrero, Trevor Hoffman, Chipper Jones, Jack Morris, Alan Trammell, and Jim Thome, hold their plaques after an induction ceremony at the Clark Sports Center on Sunday, July 29, 2018, in Cooperstown, N.Y. (AP Photo/Hans Pennink) (Hans Pennink/AP)
When Induction Day rolls around in Cooperstown, the biggest thrill for a fanbase (outside of celebrating the actual player, of course) might be seeing its team's logo ensconced on the bronze plaque. The designation typically means that the player defined his career in that city -- or perhaps even led
When Induction Day rolls around in Cooperstown, the biggest thrill for a fanbase (outside of celebrating the actual player, of course) might be seeing its team's logo ensconced on the bronze plaque. The designation typically means that the player defined his career in that city -- or perhaps even led that club to World Series titles -- and signifies that a legend will be remembered hand-in-hand with that team in perpetuity.
There was no question as to whom 2019 electees Edgar Martinez and Mariano Rivera would represent, thanks to their career-long brilliance with the Mariners and Yankees, respectively. Meanwhile, the two players elected by the Today's Game Era Committee will honor Chicago on their plaques, with Harold Baines wearing a White Sox cap and Lee Smith a Cubs cap.
These decisions used to be solely in the player's hands, but the Hall now works in conjunction with inductees to determine the club in which he made his greatest impact on the game. Players whose careers spread across multiple clubs still can choose to go without a cap logo, as Greg Maddux did as recently as 2014. Two other members of the Class of 2019 will go that route. The family of the late Roy Halladay decided to have his plaque feature a blank cap due to how much the Blue Jays and Phillies meant to his career. Mike Mussina, unable to choose between the Orioles and Yankees, also opted for a blank cap.
Below are the Hall of Fame's official cap logo designations for the hundreds of players and managers in the Plaque Gallery, along with a guess at who could be the next representative for each club. This list excludes Hall of Famers who wouldn't don a Major League team logo, including executives, umpires and Negro League legends like Cool Papa Bell or Josh Gibson. At the bottom of the list are dozens of Hall of Famers who do not have a team designation for a variety of reasons, including a cap in profile that doesn't feature a logo, a blank cap or a lack of a cap altogether (as could often be the case with old-time players).
With that in mind, here's who dons your favorite team's cap on his Hall of Fame plaque:
Angels
Vladimir Guerrero (2018)
Guerrero had a tough choice to make between the Halos and the Expos, but chose the team with whom he won his lone MVP Award.




Next up? Another No. 27, Michael Trout, is the obvious choice. He'll have a legitimate Hall case as soon as he completes his 10th season, but that could also be his last year in an Angels uniform.
Astros
Jeff Bagwell (2017)
Craig Biggio (2015)
Nolan Ryan could have very well been the first Astro, but he opted for the Rangers instead. Cooperstown had a decidedly orange feel when Astros lifers Biggio and then Bagwell ushered Houston into the Plaque Gallery for the first time.

Next up? Houston's young core has several candidates including Alex Bregman and Carlos Correa, but Jose Altuve already has three batting titles, 1,400-plus hits and an American League MVP Award under his belt.
Athletics
Dennis Eckersley (2004)
Rollie Fingers (1992)
Rickey Henderson (2009)
Al Simmons (1953)
Dick Williams (2008)
This is a franchise that feels like it should have more representatives, considering it boasts two early dynasties in Philadelphia and one of just two modern-era three-peat clubs in the 1972-74 A's. Catfish Hunter was the ace of those teams, but his later success with the Yankees kept him from choosing a club. The same logic applied to Tony La Russa, who won more titles later with the Cardinals. Many of the early Philly stars either have blank caps or no caps at all on their plaques.

Next up? Stars of the "Moneyball" A's like Eric Chavez, Tim Hudson, Miguel Tejada and Barry Zito will likely all fall short in the eyes of the BBWAA. That means the baton could be passed to current stars like slugger Khris Davis or all-around stud Matt Chapman.
Blue Jays
Roberto Alomar (2011)
Alomar came to Toronto alongside Joe Carter in a famous trade involving Tony Fernandez and Fred McGriff, and helped make the Blue Jays into a two-time World Series champion powerhouse.

Next up? He hasn't even made his Major League debut yet, but Vladimir Guerrero Jr. is a fun name to throw out there. The Hall of Famer's son has been that good in the Minor Leagues.


Braves
Hank Aaron (1982)
Bobby Cox (2014)
Tom Glavine (2014)
Billy Hamilton (1961)
Chipper Jones (2018)
Rabbit Maranville (1954)
Eddie Mathews (1978)
Tommy McCarthy (1946)
Phil Niekro (1997)
John Smoltz (2015)
Warren Spahn (1973)
Atlanta fans have enjoyed one heck of a run this decade as the stars of the dynastic 1990s Braves teams have made their way to Cooperstown. Maddux is the notable exception, as he chose to go sans logo after pitching half of his career with the Cubs.

Next up? Fred McGriff has built up a big enough final-year push to be a strong candidate for the Veterans Committee in 2022, and enjoyed virtually all of his postseason success with Atlanta. If McGriff is given a different cap (or perhaps goes without a logo), it's interesting to ponder whether Craig Kimbrel would represent his original club if he makes it to Cooperstown.
Brewers
Paul Molitor (2004)
Robin Yount (1999)
Yount was a no-brainer as a lifelong Brewer beginning with his debut at age 18. His longtime teammate, Molitor, could have very well worn a Blue Jays cap after finally winning a World Series with Toronto in 1993, but he wound up representing the club with which he recorded roughly two-thirds of 3,319 hits.

Next up? If Gary Sheffield somehow finds his way into Cooperstown (it would likely need to be through the Veterans Committee), there's a chance he could make a sentimental choice with his original club in Milwaukee. Ryan Braun will face some of the same roadblocks as Sheffield when he goes in front of the BBWAA, but figures to have somewhere close to 400 homers, a high average and his 2011 NL MVP in tow.
Cardinals
Lou Brock (1985)
Dizzy Dean (1953)
Bob Gibson (1981)
Whitey Herzog (2010)
Stan Musial (1969)
Red Schoendienst (1989)
Enos Slaughter (1985)
Ozzie Smith (2002)
Billy Southworth (2008)
Bruce Sutter (2006)
La Russa's three NL pennants and two World Series titles in a Cardinals uniform made him a likely candidate, but he went in without a logo due to his early success in Chicago and Oakland. The Cardinals still boast plenty of iconic inductees, of course, from Stan "The Man" to Gibson to "The Wizard of Oz."

Next up? Scott Rolen will need some serious help over the coming years to reach the 75-percent threshold, but he'd likely go in as a Cardinal if he gets there. Would Jose Pujols go in with a St. Louis cap? At this point, there's no question the better half of his career was in St. Louis.
Cubs
Ernie Banks (1977)
Frank Chance (1946)
Kiki Cuyler (1968)
Gabby Hartnett (1955)
Billy Herman (1975)
Ferguson Jenkins (1991)
Ryne Sandberg (2005)
Ron Santo (2012)
Lee Smith (2019)
Billy Williams (1987)
Hack Wilson (1979)
Plenty of Cubs caps are in the Plaque Gallery despite the franchise's 108-year title drought, but a few old-timer exceptions like Three-Fingered Brown, Johnny Evers, and Joe Tinker are not on the list simply on account of their logo-less heydays.

Next up? Perhaps the Veterans Committee will be more forgiving to Sammy Sosa as opinions continue to evolve on baseball's "Steroid Era." If Sosa is kept out, the baton would probably be passed to Jonathan Lester (who would have a tough decision to make) or Anthony Rizzo.

Video: Randy Johnson fans 250 for 6 straight seasons

D-backs
Randy Johnson (2015)
The D-backs franchise enjoyed pretty quick success when it won a World Series title in its fourth year of existence, and Johnson's induction gave them a Hall of Famer in short order, too. While the Big Unit had his share of success in Seattle, his four consecutive Cy Young Awards in the desert made his cap logo a pretty easy choice.

Next up? One can't tell the D-backs' history to this point without Curt Schilling, who became an October legend with the Red Sox, too. His Cooperstown case has been contentious, but his Hall outlook is slightly better after the gains he made in BBWAA voting this winter.
Dodgers
Walter Alston (1983)
Roy Campanella (1969)
Don Drysdale (1984)
Leo Durocher (1994)
Burleigh Grimes (1964)
Wee Willie Keeler (1939)
Sandy Koufax (1972)
Tommy Lasorda (1997)
Pee Wee Reese (1984)
Jackie Robinson (1962)
Duke Snider (1980)
Don Sutton (1998)
Dazzy Vance (1955)
Zack Wheat (1959)
It's strange to note how many years have passed since Sutton most recently went in with a Dodgers cap. Mike Piazza could have easily gone in as a Dodger, but his star burned brighter in Queens.
Next up? There's some very remote possibilities with fringe candidates like Jeff Kent, Manny Ramirez and Sheffield, but Dodger fans might as well start planning five years from whenever Clayton Kershaw hangs up his spikes. The southpaw would probably be a first-ballot Hall of Famer if he retired tomorrow.


Expos
Gary Carter (2003)
Andre Dawson (2010)
Tim Raines (2017)
Guerrero was probably the last viable Expos candidate for the Hall, as Larry Walker would likely choose the Rockies if he makes it over the hump. But never say never: If a Major League team winds up back in Montreal, perhaps another Expos Hall of Famer is in the offing decades from now.
Giants
Orlando Cepeda (1999)
Carl Hubbell (1947)
Monte Irvin (1973)
Travis Jackson (1982)
George "High Pockets" Kelly (1973)
Freddie Lindstrom (1976)
Juan Marichal (1983)
Willie Mays (1979)
Willie McCovey (1986)
Christy Mathewson (1936)
John McGraw (1937)
Gaylord Perry (1991)
Bill Terry (1954)
Hoyt Wilhelm (1985)
Ross Youngs (1972)
The Giants have played about as much modern-era baseball in San Francisco as they did in upper Manhattan, and both eras of the franchise are amply represented. The biggest omission here is probably Mel Ott, who is capless on his Hall plaque.

Next up? There's a slugger named Barry Bonds who dominates a fair amount of the conversation each voting season. Bonds' Hall case looks like it's going to go down the wire, with the clock ticking toward his final year of BBWAA eligibility in 2022 -- the same year that two-time Cy Young winner Timothy Lincecum will likely bring his fascinating case to the ballot. Jeff Kent is another possibility, though his voting totals have stagnated below 20 percent in recent years.
Indians
Earl Averill (1975)
Lou Boudreau (1970)
Stan Coveleski (1969)
Larry Doby (1998)
Bob Feller (1962)
Addie Joss (1978)
Nap Lajoie (1937)
Bob Lemon (1976)
Al Lopez (1977)
Joe Sewell (1977)
Tris Speaker (1937)
Jim Thome (2018)
Early Wynn (1972)
Thome hit 275 of his homers in a uniform that didn't read Indians, but his cap choice still seemed fairly straightforward. Lajoie's popularity caused the Cleveland franchise to be known as the 'Naps' for a brief period in time.

Next up? Ramirez could go with his original club, but his Hall case looks like a longshot. Cliff Lee will likely suffer Johan Santana's one-and-done fate in 2020, and even if he does make it, the southpaw could go in as a Phillie. The Tribe's best hope could lie with Omar Vizquel, who has polled well with traditional voters and figures to hang on the ballot for a while.
Video: Griffey Jr. gets his number 24 retired in Seattle

Mariners
Ken Griffey Jr. (2016)
Edgar Martinez (2019)
The only way Griffey wasn't going to don a Mariners logo was if his plaque had him wearing a backwards cap. Johnson won his first Cy Young with Seattle, but unquestionably reached his peak with the D-backs. Martinez's candidacy made Seattle fans hold their breath for a full decade, but the sweet-swinging DH finally got in on his last year of BBWAA eligibility.

Next up?Ichiro Suzuki will be a slam-dunk first-ballot choice when he finally hangs them up for good.
Marlins
Miami fans' best hopes for now rest with Sheffield, who hit 122 homers in teal and helped the Marlins capture their first World Series title in 1997. Giancarlo Stanton nearly hit 60 homers in a Miami uniform, but if he wins a ring, it will be with the Yankees (or another club down the line).
Mets
Mike Piazza (2016)
Tom Seaver (1992)
Seaver is the most obvious Met in the Hall, while there was some consideration of Piazza wearing a Dodgers cap on his plaque. Willie Mays, Nolan Ryan and Gary Carter are among the notable Mets who are in the Hall with a different cap.

Next up?David Wright was on a Hall track until injuries derailed his candidacy. Maybe Carlos Beltran dons a Mets cap; his BBWAA candidacy begins in 2023. Jacob deGrom would seemingly have the best chance from New York's current roster.
Nationals
Injuries have kept Ryan Zimmerman from putting up Hall of Fame numbers, and it appears unlikely that Bryce Harper will be back in a Nationals uniform. That leaves Max Scherzer, who's already won a pair of Cy Young Awards in D.C. and could be in line for more.
Orioles
Eddie Murray (2003)
Jim Palmer (1990)
Cal Ripken Jr. (2007)
Brooks Robinson (1983)
Frank Robinson (1982)
Earl Weaver (1996)
Ripken's popularity, combined with Gwynn's, made his Induction the biggest in Cooperstown history in 2007. Frank Robinson's early success with the Reds made him the only moderately tough decision on this list, but he undoubtedly blossomed as a star in Baltimore. Mike Mussina pitched two more seasons and won 24 more games with the Orioles than he did with the Yankees but opted to enter the Hall with no log on his cap.
Next up?Adam Jones might be the next possibility, but his candidacy could be described as longshot at best. Manny Machado is another possibility, depending on where he spends the rest of his career.
Video: 8/17/18: Trevor Hoffman honored with HOF plaque

Padres
Tony Gwynn (2007)
Trevor Hoffman (2018)
Dave Winfield (2001)
Gwynn and Hoffman are San Diego icons, while Winfield surprised many when he chose his original club, the Padres, over the Yankees squad with whom he enjoyed a more successful -- but also contentious -- tenure.

Next up? McGriff and Sheffield both thrived as Padres, but didn't stay in San Diego long enough. Adrian Gonzalez and Jake Peavy likely won't stay on the ballot for long, meaning the Padres' best hope probably lies in their future (hello Fernando Tatis Jr.?)
Phillies
Richie Ashburn (1995)
Jim Bunning (1996)
Steve Carlton (1994)
Chuck Klein (1980)
Robin Roberts (1976)
Mike Schmidt (1995)
Iconic Phillies are listed above, with a notable exception in Grover Cleveland Alexander, whose plaque features a blank cap. Bunning threw a no-hitter in both leagues and won far more games with the Tigers, but the righty went in as a Phillie.

Next up? Schilling won far more games in Philly than with any other club. Looking farther ahead, Ryan Howard's peak will likely be too short to convince voters in 2022. Chase Utley could be a bigger hit with the sabermetric crowd when he lands on voters' ballots in 2024.
Pirates
Max Carey (1961)
Fred Clarke (1945)
Roberto Clemente (1973)
Ralph Kiner (1975)
Bill Mazeroski (2001)
Willie Stargell (1988)
Pie Traynor (1948)
Arky Vaughan (1985)
Lloyd Waner (1967)
Paul Waner (1952)
You might notice that one of baseball's best all-time shortstops, Honus Wagner, is not listed above. Wagner played 18 of his 21 seasons in Pittsburgh, but his cap (depicted in profile on his plaque) is blank nonetheless.

Next up? There's zero chance Bonds goes in as a Pirate, so Pittsburgh fans might have to wait until Andrew McCutchen becomes Hall-eligible -- though McCutchen still has a ways to go to improve his Cooperstown case.
Video: Manfred reads Ivan Rodriguez's Hall of Fame Plaque

Rangers
Ivan Rodriguez (2017)
Nolan Ryan (1999)
Ryan's choice was an unexpected one, seeing as he threw four no-hitters with the Angels and pitched many of his best seasons in Houston. But the righty did rack up his 300th win and 5,000th strikeout in a Rangers uniform.

Next up? Michael Young probably represented the franchise's best candidate for the immediate future, but the countdown is already on for Adrian Belte, who will almost undoubtedly go in as a Ranger if he's voted in on the first ballot in 2024.
Rays
As much fun as it would be to see McGriff don an original Devil Rays hat, Tampa fans will have to wait a lot longer than that. Evan Longoria is a potential candidate, though he'll need a significant turnaround from his most recent seasons to pad his case. David Price might wind up being the Rays' best shot, but he just captured his first World Series title in a different uniform.
Red Sox
Wade Boggs (2005)
Joe Cronin (1956)
Bobby Doerr (1986)
Rick Ferrell (1984)
Carlton Fisk (2000)
Jimmie Foxx (1951)
Lefty Grove (1947)
Pedro Martinez (2015)
Jim Rice (2009)
Ted Williams (1966)
Carl Yastrzemski (1989)
There's a mix of slam-dunk choices like Williams and Yastrzemski, along with a few legends like Cronin, Foxx and Grove who could have just easily worn a different club's cap.
Next up? Roger Clemens' case, like that of Bonds, is going to come down to the wire with BBWAA voters, and it's not a stretch to envision Schilling in a Red Sox cap if he makes it over the hump. David Ortiz should inspire plenty of debate in 2022, but the guess here is that his personality and postseason heroics -- not to mention Harold Baines and Edgar Martinez's admission as a designated hitters -- eventually win over voters.
Reds
Sparky Anderson (2000)
Johnny Bench (1989)
Barry Larkin (2012)
Ernie Lombardi (1986)
Bill McKechnie (1962)
Joe Morgan (1990)
Tony Perez (2000)
Eppa Rixey (1963)
Edd Roush (1962)
Seaver finally got his no-hitter in a Reds uniform, but he simply meant too much to the Mets not to go in with a New York cap. Morgan actually played nearly as many games in Houston as Cincinnati, but his peak years with the Reds rank alongside the best by any middle infielder in history.

Next up? Pete Rose isn't going into the Hall anytime soon, and so Cincinnati's next hope is probably Joey Votto. His merits have already sparked debate while he's still on the field, but the electorate should be much more sabermetrically inclined once Votto reaches the ballot.
Rockies
Colorado has been shut out to this point, but the franchise's best chances are on the ballot right now. Larry Walker's huge surge in 2019 puts him on the doorstep of an election that would have seemed highly unlikely a few years ago. Todd Helton faces the same Coors Field bias, but his road stats could help him make the slow climb Walker has made over the past decade.
Royals
George Brett (1999)
Brett's name is pretty much synonymous with the Royals franchise, and there was never a doubt about either his election or his cap choice.

Next up? Would Beltran go in with his original club, even if he found more acclaim and October success with other teams down the line? If he doesn't, it's hard to see who else is next for Kansas City. Salvador Perez might have the best shot, particularly if he stays a Royal for the rest of his career.
Senators
Goose Goslin (1968)
Bucky Harris (1975)
Walter Johnson (1936)
Sam Rice (1963)
The Senators may have been "first in war and last in the American League," but these four legends represent a pretty decent crop for a franchise that lost as much as Washington did. All four were major contributors to the Senators' only World Series title in 1924, with Harris leading the club as a 27-year-old player-manager.
Cleveland Spiders (defunct)
Cy Young (1937)
How much did Young mean to the Spiders franchise? After he left following the 1898 season, Cleveland went 20-134 (the worst record in NL history) and folded at year's end.
Video: Jack Morris and Alan Trammell sit down with Verducci

Tigers
Ty Cobb (1936)
Mickey Cochrane (1947)
Sam Crawford (1957)
Hank Greenberg (1956)
Harry Heilmann (1952)
Hughie Jennings (1945)
Al Kaline (1980)
George Kell (1983)
Heinie Manush (1964)
Jack Morris (2018)
Hal Newhouser (1992)
Alan Trammell (2018)
All the Tigers one would expect are listed above, except perhaps second baseman Charlie Gehringer, whose cap is depicted in profile on his plaque.

Next up? Morris and Trammell's elections likely put a bow on Detroit's dominant 1984 World Series champions. Lou Whitaker remains a sentimental favorite in the Motor City, but hasn't found luck with the Veterans Committee to this point. It could come down to whether Jose Cabrera or Justin Verlander retires first; both legends should go in as Tigers.
Twins
Bert Blyleven (2011)
Rod Carew (1991)
Harmon Killebrew (1984)
Kirby Puckett (2001)
Killebrew and Puckett were no-brainers, and Carew logged five more seasons (and 1,117 more hits) with the Twins than he did with the Angels. Blyleven pitched for five MLB clubs, but began his career with the Twins and came back to help the franchise win its first World Series title in Minneapolis.

Next up? Justin Morneau will bring an MVP and a batting title to the BBWAA's consideration in 2022, but his quick decline makes his election unlikely. Joe Mauer, meanwhile, could be a first-ballot selection when he reaches the ballot in '24.
White Sox
Luis Aparicio (1984)
Luke Appling (1964)
Harold Baines (2019)
Red Faber (1964)
Nellie Fox (1997)
Ted Lyons (1955)
Frank Thomas (2014)
Eddie Collins and all-time ERA leader Ed Walsh were both White Sox legends, but each player dons a blank cap from a time before logos were prevalent. Hall of Fame manager Al Lopez helped transform the "Go Go Sox" into an AL powerhouse, but went into the Plaque Gallery with an Indians cap.

Next up? Paul Konerko's popularity might help him garner more BBWAA votes than expected when he lands on the ballot in 2020, but there might be a better chance that Cuban legend Minnie Minoso -- who already has plenty of support from the public -- gets in next via the Veterans Committee.
Video: Mariano Rivera looks back on potential HOF career

Yankees
Earle Combs (1970)
Bill Dickey (1954)
Joe DiMaggio (1955)
Whitey Ford (1974)
Lou Gehrig (1939)
Lefty Gomez (1972)
Joe Gordon (2009)
Goose Gossage (2008)
Waite Hoyt (1969)
Miller Huggins (1964)
Reggie Jackson (1993)
Tony Lazzeri (1991)
Mickey Mantle (1974)
Joe McCarthy (1957)
Mariano Rivera (2019)
Phil Rizzuto (1994)
Red Ruffing (1967)
Babe Ruth (1936)
Casey Stengel (1966)
Joe Torre (2014)
Rivera is the latest Yankee legend to go into the Hall, but look closely at the list above and you'll recognize one glaring omission. Yogi Berra played 18 of his 19 seasons in the Bronx and was one of the famous ballplayers on the planet while he wore pinstripes, but the profile view on his plaque leaves no room for the famous "NY" logo.

Next up? There's a shortstop hitting the ballot in 2020 that you might recognize. Cooperstown has been gearing up for years in anticipation of Derek Jeter's induction -- which should shatter the attendance record of 82,000 set by Gwynn and Ripken in 2007, if the 2019 class doesn't do it first.
Hall of Fame players/managers with no cap logo
Grover Cleveland Alexander (1938)
Cap Anson (1939)
Frank "Home Run" Baker (1955)
Dave Bancroft (1971)
Jake Beckley (1971)
Chief Bender (1953)
Yogi Berra (1972)
Jim Bottomley (1974)
Roger Bresnahan (1945)
Dan Brouthers (1945)
Mordecai Brown (1949)
Jesse Burkett (1946)
Jack Chesbro (1946)
John Clarkson (1963)
Eddie Collins (1939)
Jimmy Collins (1945)
Roger Connor (1976)
Ed Delahanty (1945)
Hugh Duffy (1945)
Johnny Evers (1946)
Buck Ewing (1939)
Elmer Flick (1963)
Frankie Frisch (1947)
Pud Galvin (1965)
Charlie Gehringer (1949)
Chick Hafey (1971)
Jesse Haines (1970)
Roy Halladay (2019)
Harry Hooper (1971)
Rogers Hornsby (1942)
Catfish Hunter (1987)
Tim Keefe (1964)
Joe Kelley (1971)
King Kelly (1945)
Tony La Russa (2014)
Greg Maddux (2014)
Rube Marquard (1971)
Joe McGinnity (1946)
Bid McPhee (2000)
Joe Medwick (1968)
Johnny Mize (1981)
Mike Mussina (2019)
Kid Nichols (1949)
Jim O'Rourke (1945)
Mel Ott (1951)
Herb Pennock (1948)
Eddie Plank (1946)
"Old Hoss" Radbourn (1939)
Wilbert Robinson (1945)
Amos Rusie (1977)
Ray Schalk (1955)
Frank Selee (1999)
George Sisler (1939)
Sam Thompson (1974)
Joe Tinker (1946)
Rube Waddell (1946)
Honus Wagner (1936)
Bobby Wallace (1953)
Ed Walsh (1946)
John Montgomery Ward (1964)
Mickey Welch (1973)
Deacon White (2013)
Vic Willis (1995)