Here are Twins' Players' Weekend nicknames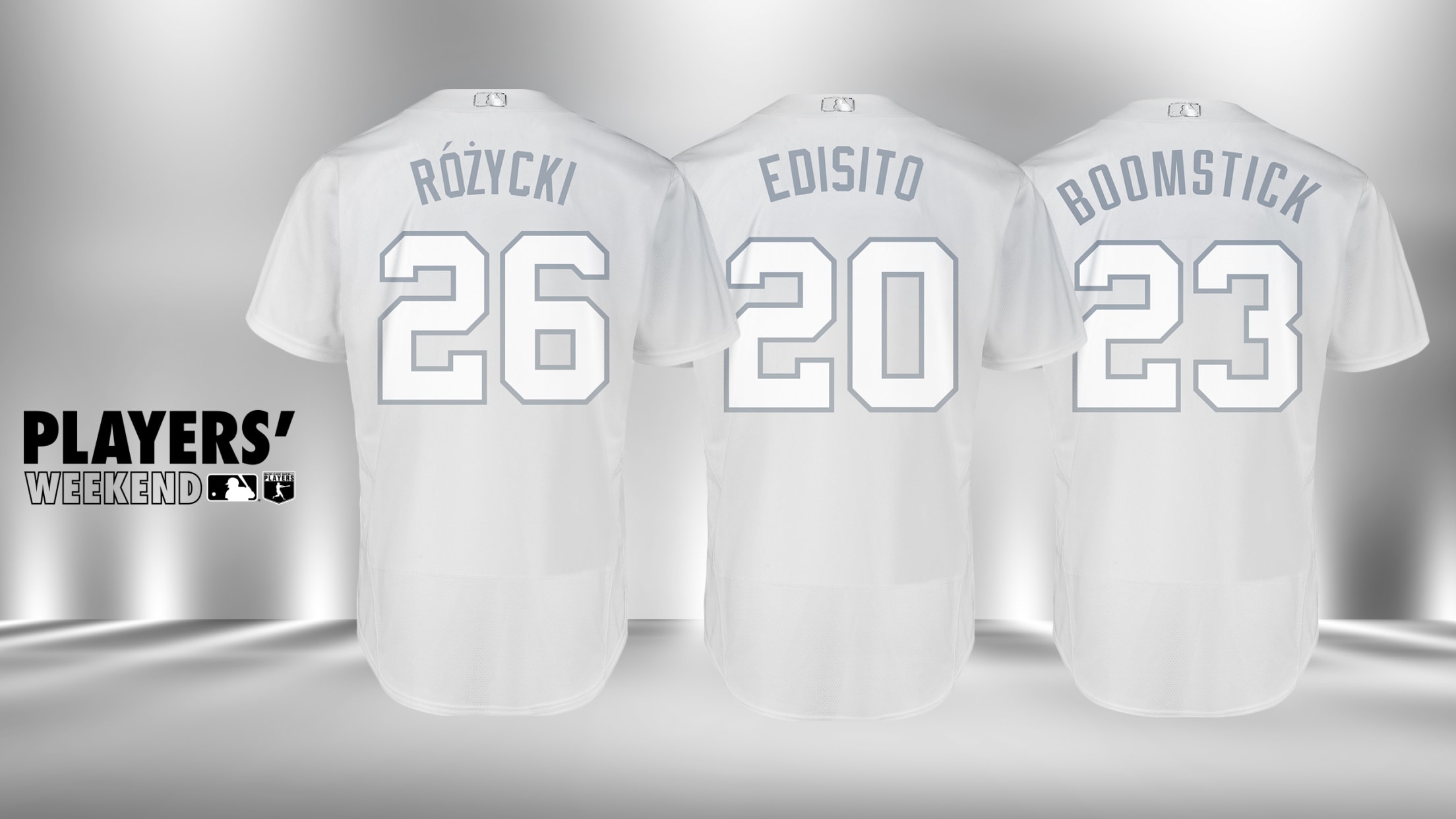 Players' Weekend will return for the third straight year when the Twins host the Tigers at Target Field next weekend, giving big leaguers an opportunity to connect with the fans in fun and engaging ways through their jerseys and equipment. • Every team's Players' Weekend nicknames Here's a look into
Players' Weekend will return for the third straight year when the Twins host the Tigers at Target Field next weekend, giving big leaguers an opportunity to connect with the fans in fun and engaging ways through their jerseys and equipment.
• Every team's Players' Weekend nicknames
Here's a look into the stories of several of the nicknames Twins players will wear on their backs from Aug. 23-25.
Ehire Adrianza: "GUARENERO"
Adrianza's nickname is a nod to his hometown of Guarenas, Venezuela.
Luis Arraez: "LA REGADERA"
Meaning "The Sprinkler," Arraez's nickname was given to him two years ago by fans in the Venezuelan Winter League because of his penchant for spraying line drives all over the field, a skill that Twins fans have grown quite familiar with over the last several months. Arraez trailed only Kirby Puckett, Tony Oliva and Rod Carew in hits for the Twins through his first 55 career games.
Willians Astudillo: "ASTUDILLO"
José Berríos: "LA MAKINA"
The actual spelling of the Spanish translation of "machine" is "maquina," but Berrios has adapted it into "La Makina," with the "K" in the middle signifying strikeouts. The nickname originated with longtime trainer Josue Lionel Rivera, who gave a young Berrios the title when the pitcher was 16 years old.
"You're like a machine," Rivera told Berrios. "They don't stop if they're disconnected."
Berrios was shy and didn't immediately take to the moniker, but he became more comfortable with it when it quickly caught on with fans and children in Puerto Rico.
Byron Buxton: "BUCK"
Jason Castro: "STRO"
Jake Cave: "CAVEMAN"
C.J. Cron: "CRONY"
Nelson Cruz: "BOOMSTICK"
The legend of the "Boomstick" began when Cruz filmed a commercial promoting the MLB 2K10 video game with 2K Sports in 2009. He and former American League Rookie of the Year Andrew Bailey were tasked with trash-talking each other, and the folks at 2K Sports came up with the name "Boomstick" to describe Cruz's bat. Once the commercial aired, the name stuck with Cruz's teammates.
"This is me, with my Boomstick," Cruz says to Bailey in the commercial as he points to a crudely drawn cartoon. "This is you, sad and sweaty and nervous."
(No, Cruz has not eaten the "Boomstick" hot dog at either Target Field or Globe Life Park.)
Tyler Duffey: "THE DOOF"
The nickname originated as "Duff" but morphed into "Doof" because of the way many of Duffey's Latin American teammates pronounced his last name.
Sam Dyson: "RED FINGER"
Some things are just difficult to explain.
"I don't know," Dyson said with a laugh. "I really have no idea. I just was like, 'This is funny,' when I came up with it."
Mitch Garver: "GARV SAUCE"
Even though many Twins players and staff members walk around the Minnesota clubhouse in "Garv Sauce" T-shirts these days, the origin of the saucy nickname is actually somewhat hazy for the Twins' breakout star. He thinks it originated in high school, when "Garv" combined with the usage of slang terms like "cool sauce."
Either way, it became first his Twitter handle and then, last year, his Players' Weekend nickname.
Kyle Gibson: "GIBBY"
Marwin Gonzalez: "GONZO"
Ryne Harper: "HARP"
• Shop for Players' Weekend gear
Max Kepler: "RÓŻYCKI"
Kepler's full name is actually Maximilian Kepler-Rozycki, and he uses Players' Weekend as an opportunity to don a jersey with the last name of his Polish father, Marek Rozycki. When he first came to the United States and began his baseball career, he considered using the hyphenated last name but stuck with only Kepler, his mother's name.
Zack Littell: "LIT"
Trevor May: "IAMTREVORMAY"
May moonlights as an eSports streamer with more than 137,000 followers on the popular streaming service Twitch.tv, Also an entrepreneur in the field, he has the username "iamtrevormay."
Jake Odorizzi: "ODO"
Martin Pérez: "EL DE LAS MATAS"
Perez previously used "El de Guanare" as a reference to the city where he was born, but he later decided that he should instead pay tribute to Las Matas, the tiny four-street town in Venezuela where he actually grew up, surrounded by family and friends.
"When you come from something small and then you make what I make at this time in my career, I'm never scared to say where I come from," Perez said. "It's one thing that pushes me a lot, and I have all my people from that town in my heart. When I go to the mound, I always try to do my best because if I'm good here, I can help people down there."
Michael Pineda: "BIG MIKE"
Jorge Polanco: "CHULO"
Polanco's uncle started calling the shortstop "Chulo," meaning "pretty boy," when he was very young. All of Polanco's family members and neighbors in the Dominican Republic know him by that name.
"It makes me remember being back in the Dominican," Polanco said.
Taylor Rogers: "LEFTY PIECE"
During much of the season, when the powers that be in the Twins' dugout wanted Rogers to warm up, they would call assistant pitching coach Jeremy Hefner in the bullpen and ask for the "lefty piece," since Rogers was the only left-handed reliever on the 40-man roster. For the record, the lanky southpaw would have preferred to go with "Mr. Rogers."
"That's trademarked," Rogers said, "even though it's my name."
Sergio Romo: "EL MECHÓN"
During his fourth Major League season in 2011, Romo decided that he wanted to change his entrance music to something from Mexico, and he thought that "El Mechon" would be a good fit. The term "mechon" can refer to highlights in one's hair -- a feature of Romo's appearance for a while -- and is also used as slang for "padlock," which fit Romo's role as the closer.
He actually forgot that he had changed the music when he first took the mound to it -- but once he saw how energized the Giants fans were by the music, his trademark entrance stuck rather quickly.
"I looked up and everybody was dancing," Romo said. "Everybody was going nuts."
Eddie Rosario: "EDISITO"
Miguel Sanó: "BOQUETÓN"
Sano is plenty loud and boisterous, but the slugger says that the name "Boqueton," meaning "large mouth," actually actually referred to a nickname he was given as a young player.
Jonathan Schoop: "MAMBA"
It should come as no surprise that Schoop is a big fan of Kobe Bryant.
"I was watching him, always playing in the backyard, always doing anything that he would do," Schoop said. "I wasn't even close, but I was thinking I was Kobe Bryant."
Devin Smeltzer: "CATCHCANCERLOOKING"
Smeltzer, a survivor of childhood cancer, works to support children dealing with that terrible affliction. Read more here.