Here's how Angels could use freed-up salary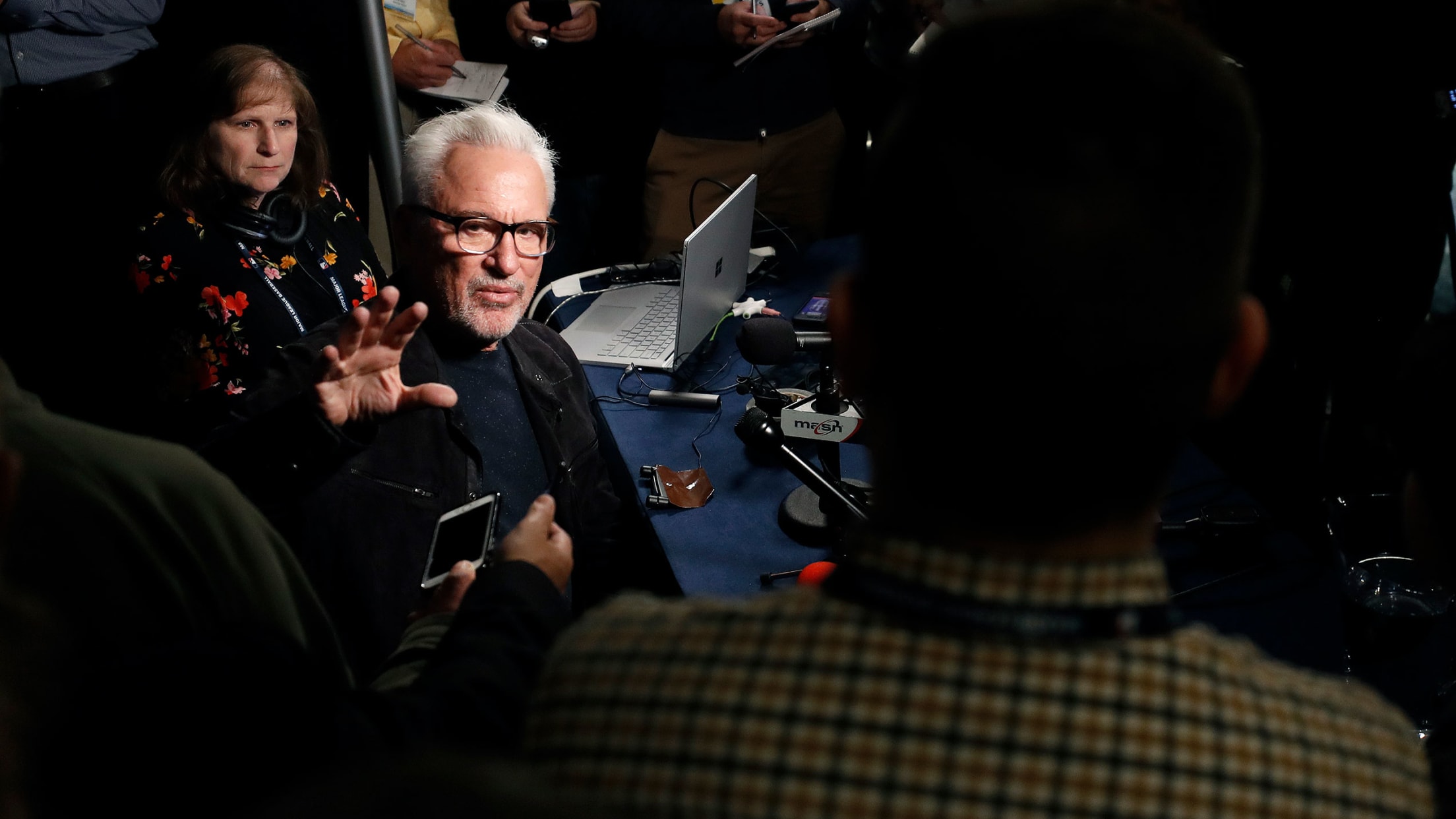 SAN DIEGO -- The Angels made signing Gerrit Cole their top priority this offseason, but after he agreed to terms with the Yankees on Tuesday, they'll have to pivot and find other ways to improve the roster.The Angels were aggressive in pursuit of Cole but decided not to match New
SAN DIEGO -- The Angels made signing Gerrit Cole their top priority this offseason, but after he agreed to terms with the Yankees on Tuesday, they'll have to pivot and find other ways to improve the roster.
The Angels were aggressive in pursuit of Cole but decided not to match New York's nine-year, $324 million offer. The Angels ultimately believe they have too many other holes on the roster and weren't one piece away like the Yankees, who won 103 games last year.
The club cleared nearly $13 million in salary by trading Zack Cozart to the Giants on Tuesday, leaving them roughly $20 million behind last year's payroll and about $65 million to $70 million below the projected luxury tax, per Cot's Contracts. So the Angels still have money to spend, but now the question is: How will they spend it?
Here's a look at a few options that could make sense for the Angels, now with Cole and other top starters (Stephen Strasburg, Zack Wheeler) out of the mix:
Trade for Price
The Red Sox are looking to shed payroll, and a trade for veteran lefty David Price could make sense, but he is due $96 million over the next three seasons. The Angels could decide to take on his contract and wouldn't have to offer too much in return, or they could send better prospects if Boston decides to eat some of Price's salary. Either way, don't expect top prospect Jo Adell to be in the deal.
Price, 34, has history with manager Joe Maddon from their time with the Rays and would be an upgrade to the rotation, even though he's dealt with injuries the past few seasons. After throwing 230 innings in 2016, Price has combined to throw 358 frames over the past three years, posting a 3.75 ERA with 381 strikeouts. Price had surgery after the season to remove a cyst from his left wrist, but he is expected to be ready on Opening Day.
Sign a solid starter
The top class of starting pitchers has already signed, but there are still some intriguing free agents out there, including lefties Hyun-Jin Ryu and Madison Bumgarner. Signing one or even possibly both starters would be huge for the rotation, especially considering the Angels are likely to need six starters throughout most of the season, with Shohei Ohtani pitching once a week.
Ryu, 32, is coming off the best season of his career, posting a 2.32 ERA in 182 2/3 innings with the Dodgers, and he has a 2.21 ERA over his last 44 starts dating back to 2018. Durability has been an issue for Ryu, who has only made 30 starts in a season once in his career but there's no doubting his effectiveness.
Bumgarner, 30, has a more impressive track record than Ryu, especially considering his postseason heroics with the Giants in 2010, '12 and '14. He's also much more durable, making 34 starts last season, and topping 200 innings for the seventh time in his career. But he posted a career-worst 3.90 ERA last year and dealt with injuries in '17 and '18.
The Dodgers figure to be the Angels' top competition for both lefties, as they were also in on Cole. But adding either Ryu or Bumgarner would make a lot of sense for the Angels.
Add an impact bat
It came as a bit of a surprise on Tuesday that the Angels have interest in free-agent third basemen Anthony Rendon and Josh Donaldson. The Angels have infield depth, and adding pitching is their top priority. But there's no doubt that Rendon or Donaldson would greatly improve the lineup, and both play strong defense at third base.
The Rangers are also interested in Rendon and Donaldson and have a greater need for a third baseman. Rendon, 29, is coming off an MVP-caliber season with the Nationals, while Donaldson, 34, is coming off an impressive bounce-back year with the Braves.
If the Angels sign Rendon or Donaldson, they could get creative on the infield with the versatility of David Fletcher, Tommy La Stella and Luis Rengifo. La Stella could also see more action at first base in that scenario, sharing time with Albert Pujols, while Fletcher could see time in the outfield.
Acquire a catcher
Even before Cole decided to sign with the Yankees, the Angels were in need of a catcher after non-tendering Kevan Smith last week. They've targeted a few backstops in free agency, including Jason Castro and Martín Maldonado -- both make sense as defensive-minded veterans who work well with pitchers.
But if the Angels decide they want to go all-in at catcher, they could look to trade for the Cubs' Willson Contreras, who is reportedly on the market and has obvious ties to Maddon from their time in Chicago. Contrera, though, would require a significant haul because the 27-year-old is under team control through 2022 and is one of the better all-around catchers in the game.
The Angels don't seem willing to part ways with Adell in any trade, but there's a chance they could build a package around fellow outfield prospect Brandon Marsh. They've been aggressive in trades recently, sending four prospects -- including two players drafted in 2019 -- to the Orioles for Dylan Bundy last week. They also traded away 2019 first-rounder Will Wilson to the Giants on Tuesday to clear Cozart's salary. So you can't rule out the Angels dealing away more prospects as they try to build a winner in 2020.