Which AFL breakouts could join the Top 100?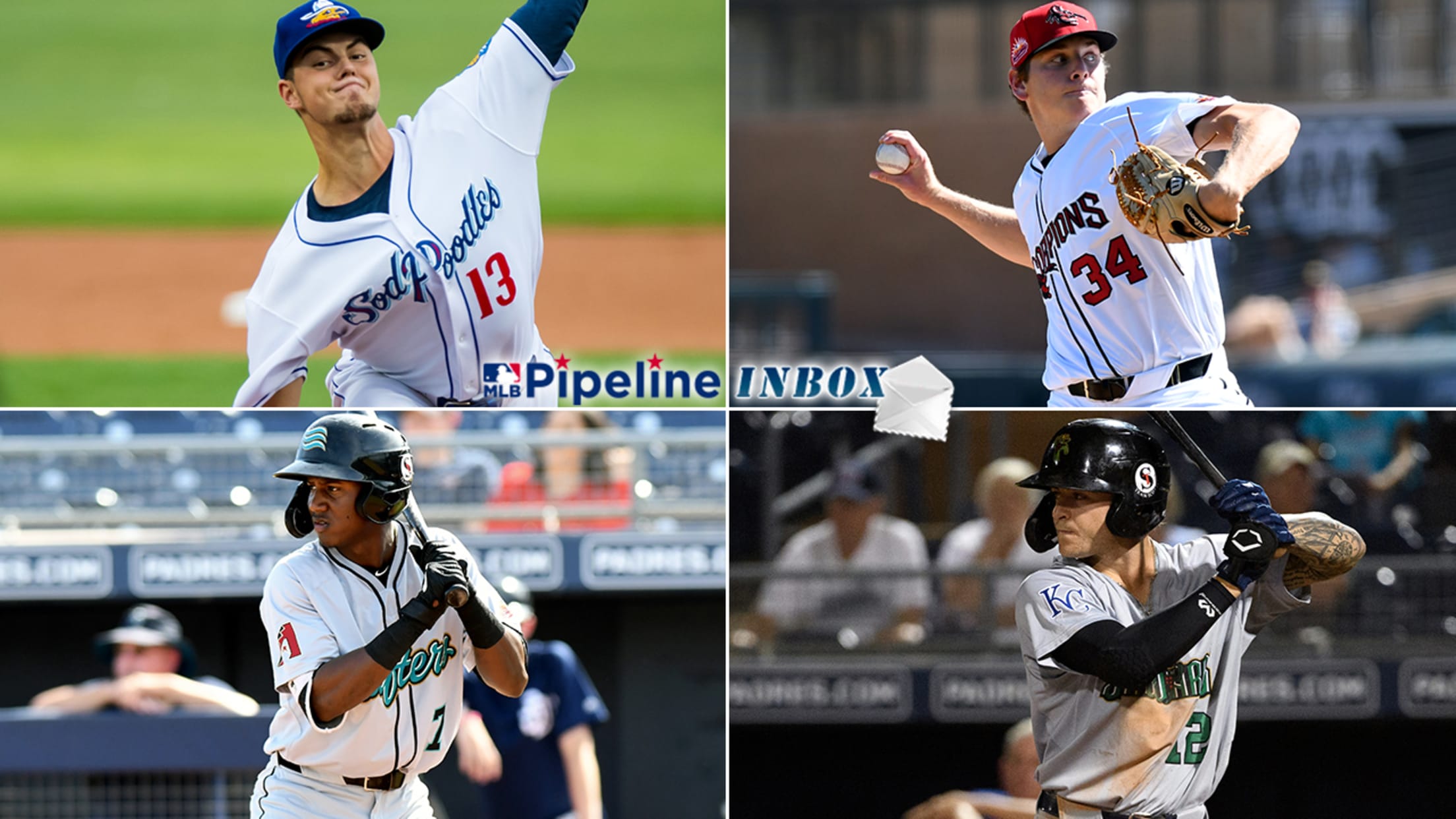 Happy Halloween, everyone! No tricks or treats here, just responses to reader questions.
Happy Halloween, everyone! No tricks or treats here, just responses to reader questions.
How close is Geraldo Perdomo to the Top 100 Prospects List after an impressive stint in the AFL?

— Andrew (@supersoxfan79) October 29, 2019
It was déjà vu all over again with a D-backs shortstop opening eyes with his performance in the Fall League. Following in the footsteps of since-traded Jazz Chisholm, Perdomo showed the upside of solid or better tools across the board. A switch-hitter with an advanced offensive approach for a just-turned-20-year old, he hit .316/.417/.418 for the champion Salt River Rafters.
Personally, I'd like to see Perdomo realize more of his power potential before I'd add him to the Top 100. But he definitely has put himself on our radar and I could see him making the list if he builds off his AFL momentum and performs well at the start of 2020. Signed for just $70,000 out of the Dominican Republic in 2016, he looks like a steal.
Considering Kyle Isbel's performance in the Arizona fall league is it possible he could enter the top 100 prospects next season, if someone graduates?

— WhitShouldBeAlwaysRoyal (@jediliz) October 29, 2019
Isbel also helped himself in the AFL, batting .315/.429/.438 and leading the league in on-base percentage after a regular season marred by a hamate injury. He's further away from the Top 100 than Perdomo is, but there's a lot to like.
A Royals third-round pick out of Nevada-Las Vegas in 2018, Isbel's bat, speed and center-field defense all could turn into solid tools. He also has average power potential and enough arm to play all three outfield spots. Once scout who saw him in the Fall League compared him to Brett Gardner.
Who was the most impressive pitcher you saw? Shane Baz seems to be getting a lot of love, as well as Spencer Howard?

— T.K. Smith Jr. (@TK_Smith3) October 28, 2019
I'm working on our annual Arizona Fall League Top 25 Prospects list, which will go online at the end of this week. There were four pitching prospects who stood out this year and I'll list them alphabetically so as to not steal thunder from the Top 25: Shane Baz (Rays), Spencer Howard (Phillies), Daniel Lynch (Royals) and Forrest Whitley (Astros). Lynch is the lone left-hander in that group.
Based on what I saw from each of them first-hand, Howard was the most impressive AFL pitcher. I caught two of his starts and watched him hit 99 mph multiple times while sitting in the mid-90s. His changeup might have been the best in the developmental circuit, diving and fading as it approaches the plate, and his hard slider gives him the potential for a third plus offering.
Of all the rebuilding teams last year, who do you think has the best chance to succeed next year?

— Trentoff (@t_mercado10) October 29, 2019
Defining "rebuilding teams" as "anyone who didn't finish .500 or better in 2019," I'll take the Padres. Teams stacked with young talent often contend faster than expected -- the 2015 Astros and Cubs, 2017 Brewers and 2018 Braves are recent examples with staying power -- and San Diego fits that profile.
The Padres hinted at what they might become by going 30-27 in the first two months of this season, and their 40-65 fade over the final four months can't obscure their upside. The lineup has a pair of cornerstones in Fernando Tatis Jr. and Manny Machado, Hunter Renfroe is a useful slugger and I still believe in the potential of Luis Urías and Francisco Mejía. Maybe Josh Naylor takes a step forward next year and San Diego has its best offense in years.
I'm even more bullish on the Padres' pitching. Chris Paddack and Dinelson Lamet are possible frontline starters and two more could arrive sometime next year in MacKenzie Gore and Luis Patino. They have plenty of starting depth, including Joey Lucchesi and Eric Lauer, and have Kirby Yates and Matt Strahm fronting an effective bullpen.
I'd feel better about San Diego if it hadn't saddled itself with excessive contracts for Eric Hosmer and Wil Myers, but it's still set up nicely for the immediate and long-term future. The farm system continues to produce quality talent that gives the Padres trade ammunition if they need it. They won't make up the 36-game gap between them and the Dodgers, but a Wild Card berth is doable.