Inbox: Should Rox pursue reliever at Deadline?
Beat reporter Thomas Harding answers questions from Colorado fans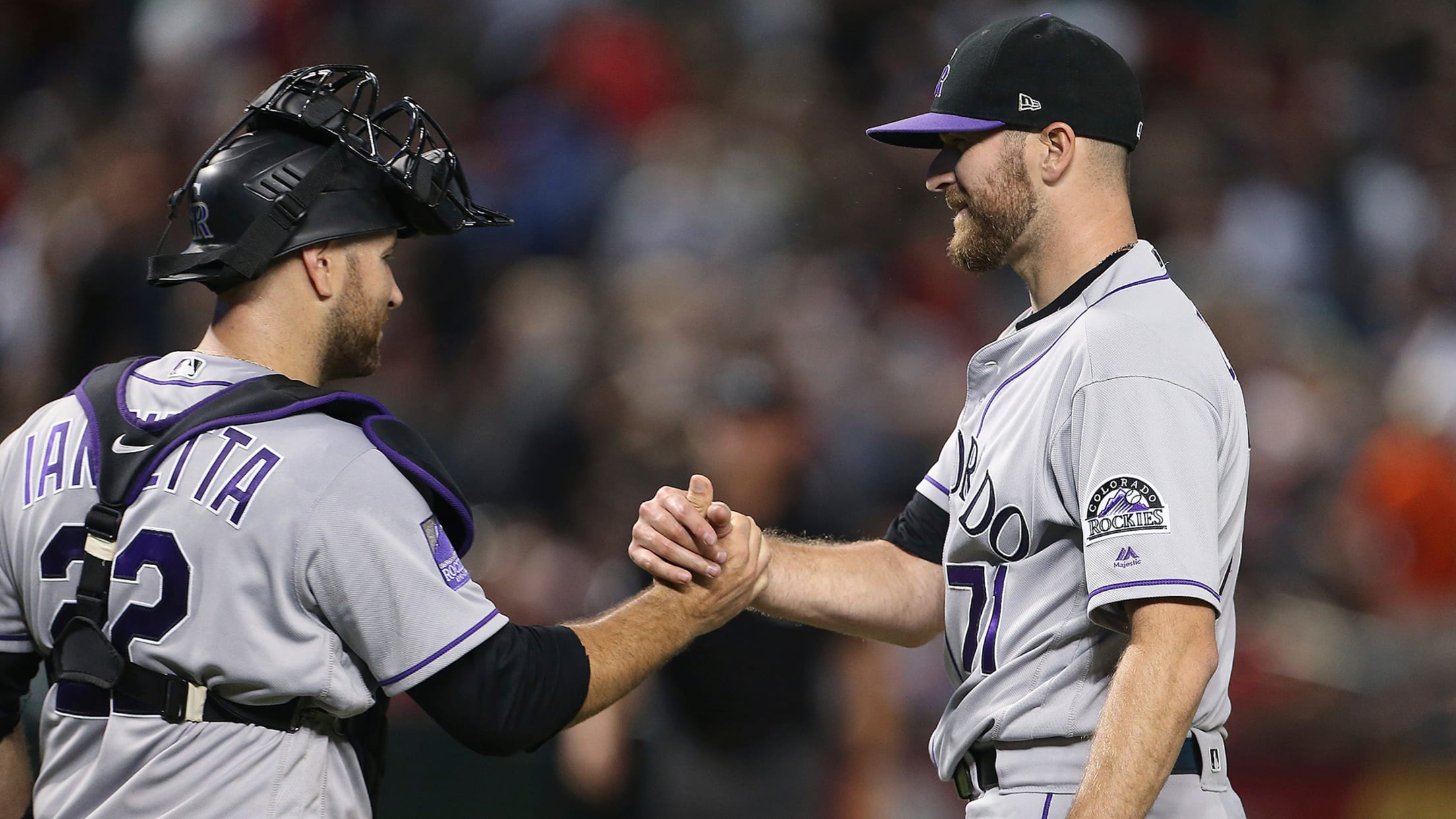 DENVER -- The most likely way the Rockies will pick to keep their surge going is to improve the bullpen by the July 31 non-waiver Trade Deadline -- or at least that's the way I'm answering the first question in the Edward Jones Beat Reporter's Inbox.
DENVER -- The most likely way the Rockies will pick to keep their surge going is to improve the bullpen by the July 31 non-waiver Trade Deadline -- or at least that's the way I'm answering the first question in the Edward Jones Beat Reporter's Inbox.
With all the money spent on the bullpen this offseason, yet it still seems to be a need for this team; is there any chance they make a move to acquire a reliever at the deadline?

— Eric Swanson (@Eric_C_Swanson) July 23, 2018
This question is the biggest one that the Rockies are likely to address. In doing so, let's address exactly what the need is.
First, I'll determine what's pertinent, and any stat for any reliever that takes into account the season is not.
I'm going to look at the Rockies' bullpen starting June 28, the beginning of the club's current 15-4 run. The full bullpen is 7-2 with a 3.34 ERA over that period, but even that doesn't tell us the exact areas of strength and need.
Let's zero in on key individuals, working from the ninth inning to earlier innings (more or less), starting June 28:
• Closer Wade Davis: nine innings pitched, 1.00 ERA, .129 batting average against, 11 strikeouts, two walks
• Righty Adam Ottavino: 10 2/3 IP, 3.38 ERA, .318 BAA, 14 SO, 5 BB
• Righty Scott Oberg: 10 IP, 1.80 ERA, .278 BAA, 10 SO, 1 BB
• Righty Bryan Shaw: 4 1/3 IP (since his return from a right calf strain), 2.08 ERA, .188 BAA, 6 SO, 2 BB
• Lefty Chris Rusin: 7 1/3 IP, 6.14 ERA, .323 BAA, 4 SO, 3 BB
• Lefty Jake McGee: 5 2/3 IP, 6.35 ERA, .273 BA, 6 SO, 3 BB (.905 OPS against)
So this gives the Rockies two ways to shore up the back end of the bullpen.
Rusin and McGee so far haven't found consistency. One boost could be lefty Harrison Musgrave when he returns from a right hip flexor issue. He's a rookie who doesn't have great command, but he has held lefties to a .209 average and righties to .186. Or the Rockies could seek experience in a trade.
A bigger move would be to acquire another team's primary setup man or closer. No one expected Ottavino to keep up his incredible first half, and the numbers lately could merely be a natural difficult patch. Nonetheless, Ottavino, Oberg and Shaw could benefit from another experienced setup man. Hard-throwing but relatively inexperienced Carlos Estevez is an option at Triple-A Albuquerque.
@harding_at_mlb I feel missing the playoffs this year makes Nolan's free agent departure almost certain. That said, shouldn't Bridich think big at the deadline, like Realmuto or DeGrom big? At worst it doesn't work they can just trade Arenado next year and re-load the farm

— Casey monaghan (@Caseymonaghan5) July 22, 2018
As the Rockies showed last year by relying on homegrown pitching depth and are showing now by getting contributions from homegrown bench players (and, they hope, fill-in second baseman Garrett Hampson), their multiple spare parts are valuable. So giving up multiple players for one has to be done carefully.
If Jacob deGrom is truly available, the Rockies owe it to themselves to explore -- but do it with their depth in mind. Catching is difficult to acquire and J.T. Realmuto seems to be available, but it's the same story.
As for how this fits with Nolan Arenado, who is eligible for free agency after next season, that can't be the front-burner issue. That's simply because Arenado has every right to let the next year-plus play out, and he could test the market even if the Rockies win both World Series. And the Rockies must look at him in an overall payroll context, meaning they have to see what the cost would be and could they continue to be competitive after committing to it.
Look at the Royals teams that played in the 2015 World Series and won it in '16. Many of those guys aren't there anymore. The Rockies' priorities have to be protecting their competitive window as long as possible, whether or not they can retain Arenado.
Assuming he keeps doing what he did last night, where do you see Hampson fitting in once LeMahieu comes off the DL?

— Meredith Wills (@Bbl_Astrophyscs) July 22, 2018
Saturday was an impressive debut for Hampson, just up from Albuquerque, and the Rockies hope his offensive approach and speed will help tide the lineup over until DJ LeMahieu can return.
No telling if any holes will materialize between now and when LeMahieu returns. But the Rockies prepared Hampson for a multi-position role at Double-A Hartford and Albuquerque by playing him for 48 combined games (all starts) at second base, 37 games (all starts) at shortstop and eight games (six starts) in center field.
Those are positions where the Rockies have mainstay players, but the depth paid off when LeMahieu suffered his injury. Also, last season, manager Bud Black used Raimel Tapia and Mike Tauchman as reserves for hitting and baserunning, and running is one of the right-handed-hitting Hampson's strengths. So there would still be use for him after LeMahieu returns.