Inbox: What does Taylor's injury mean for Nats?
Sizing up position needs and potential roster moves as Opening Day approaches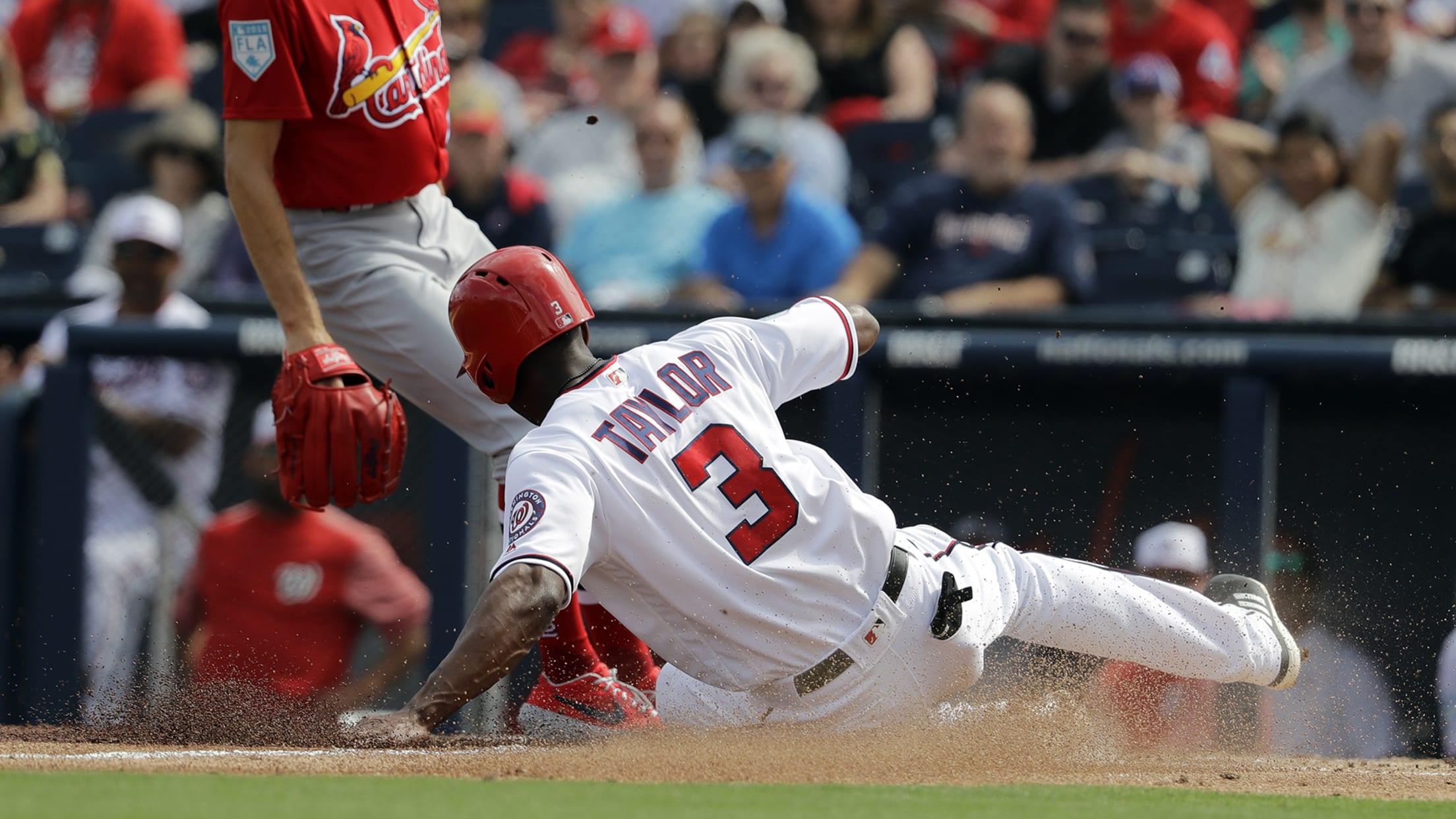 WEST PALM BEACH, Fla. -- One week from Monday, the Nationals will be preparing for their first 2019 game in D.C. It'll be an exhibition matchup against the Yankees, one last dress rehearsal before they open the season against the Mets. So with Grapefruit League play coming to a close,
WEST PALM BEACH, Fla. -- One week from Monday, the Nationals will be preparing for their first 2019 game in D.C. It'll be an exhibition matchup against the Yankees, one last dress rehearsal before they open the season against the Mets. So with Grapefruit League play coming to a close, it's time to once again open up the Nationals' Inbox. Today's Inbox begins with the injury to Michael A. Taylor and wonders whether the Nats could seek to replace him in free agency.
How serious does the front office seem about staying in house for the fourth outfielder while Michael A. Taylor works back from injury?
-- Miles S., Washington
It does not appear Washington is searching for help outside of the organization at the moment. Two sources with knowledge of the situation told MLB.com the team is comfortable with its in-house options -- namely Andrew Stevenson -- to fill in as the club's fourth outfielder while Taylor recovers from his sprained left knee and hip. General manager Mike Rizzo has a reputation for aggressively checking in on multiple players when he feels there is a void on his team, so while I wouldn't be surprised to see him kick the proverbial tires on adding a free-agent outfielder, I don't get the sense the Nationals feel the need to do so right now.
Part of the reasoning is their increased optimism with Taylor's status. He took some light one-handed swings off a tee, played catch at about 90 feet and did some light running in the pool on Sunday afternoon. Small steps, but positive steps. When Taylor walked into the clubhouse on Monday morning, he did so without any noticeable limp and later played catch again without a brace. The Nats are unwilling to put a timeline on when he is expected back, but these look like positive indicators that his absence might not be extremely prolonged.
And it's not like the Nationals need a starting center fielder. They still have Victor Robles, No. 4 overall prospect per MLB Pipeline, who seems more than ready to handle the task of playing every day -- .333/.449/.513 slash line with two homers, six stolen bases and more walks (eight) than strikeouts (seven) this spring. What the Nationals would need is a fourth outfielder, and Stevenson gives them someone capable of filling in defensively at all three outfield spots with good speed on the bases.
"He continues to swing, especially against right-handed pitching, swings the bat well," manager Dave Martinez said this past weekend. "He's a good player. I like Andrew. He knows his role. He prepares himself really well. If it happens that we start [the season] with him, he understands he's going to get to pinch-hit here and there, get a spot start."
With two pitchers in rotation looking like five-inning guys, do Nats need a long man in their bullpen?
-- Brendan S., Washington
I don't think they do, mostly because there's not a great candidate to keep in the bullpen. Their next two starting pitchers on the depth chart, Joe Ross and Erick Fedde, are young guys with a history of arm injuries, so I'm not sure they would be better served coming out of the bullpen right now. Instead of the traditional long-reliever role, today's game is more suited toward pitchers capable of throwing multiple innings in a sort of swingman role. Wander Suero, Matt Grace and Justin Miller are all capable of bridging the gap between a short start to the end-of-the-game mix of Kyle Barraclough, Trevor Rosenthal and Sean Doolittle, with Tony Sipp available to match up against any tough lefties along the way.
Carter Kieboom has looked like a big leaguer all spring. How long will the Nats really want to keep him in the Minors?
-- Zay
I don't see it happening until there's a clear spot for him. The Nationals have always been adamant they are not calling their top prospects up to sit on the bench, and right now, Brian Dozier and Trea Turner have the middle-infield slots occupied. I received a few questions wondering how much service time would play into decisions for both Kieboom and Robles, and to be honest, the Nats have not really operated that way in recent years. They did not hesitate to call up Juan Soto at 19. Trea Turner earned Super Two eligibility, granting him another year of arbitration, by just two days. "When the player is ready, he'll let us know," Rizzo is fond of saying.
While Kieboom has been impressive this spring at the plate, I caution against reading too much into the Grapefruit League. And there have been more than a few growing pains as he makes the transition to second base -- a position that is still pretty new to him. If Kieboom shows he has mastered the Minors again to start the season, he will only push the Nationals to accelerate his timeline.
Do the Nats possibly need an alternate closer?
-- Joel S., Williamsburg, Va.
I think, ideally, Rosenthal would fill that role for Washington, giving Doolittle a break from closing duties when he needs a day off. The issue might be that Rosenthal needs monitoring himself considering he is coming off Tommy John surgery, but for now he would be the next man up. While the Nats should be wary of overworking Doolittle, last year he proved that, when healthy, he can be one of the best closers in the National League. I don't think he's a huge concern.
Of the players who have been in camp this year but won't make the Opening Day roster, who are we most likely to see in the Majors this year?
-- Brett Whitney, Utah
It would be too easy to say someone like Ross or Fedde, who both seem destined for Fresno but will almost certainly pitch in the big leagues this season, or one of the first group of relievers who seem on track to get promoted should the team go looking for bullpen arms. So I'll go a little outside the box to answer this: I think Aaron Barrett will throw a pitch in the big leagues this year at some point, completing his remarkable comeback story.