Inbox: Who will make Tribe's postseason staff?
Beat reporter Jordan Bastian answers questions from Indians fans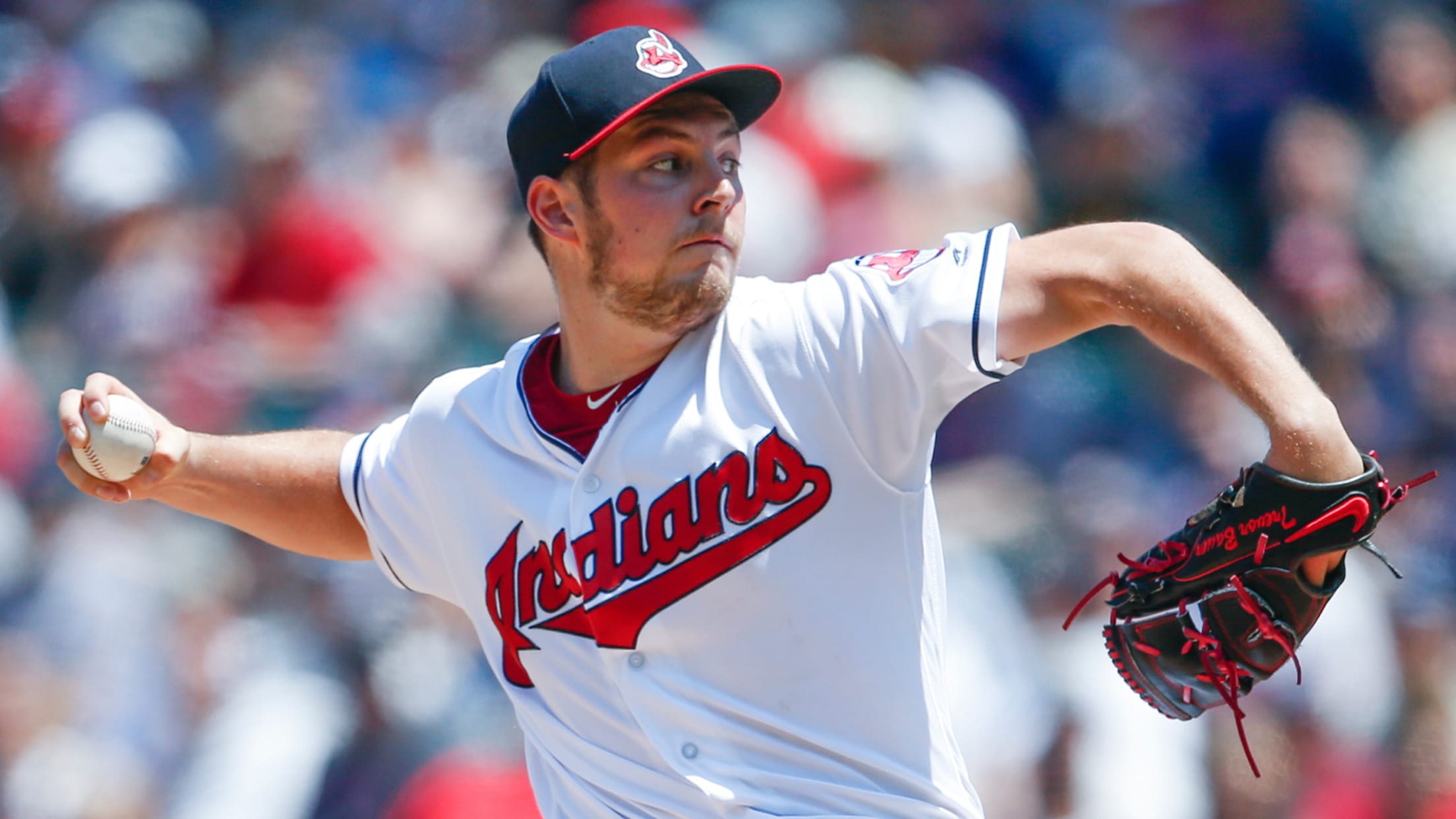 What do you think the Indians' pitching staff will look like in the playoffs? -- @tmtribefanManager Terry Francona made it known last week that his preference will be to go with a four-man rotation. I think that will remain the case whether Trevor Bauer is deemed ready to return as
What do you think the Indians' pitching staff will look like in the playoffs?
-- @tmtribefan
Manager Terry Francona made it known last week that his preference will be to go with a four-man rotation. I think that will remain the case whether Trevor Bauer is deemed ready to return as a starter or winds up in a multi-inning relief role for the American League Division Series.
Corey Kluber is having his schedule worked out to align him for a Game 1 start in the ALDS, which begins on Oct. 5. Barring anything unexpected, Carlos Carrasco and Mike Clevinger would assume two more starting roles. That leaves the fourth spot to either Bauer or rookie Shane Bieber.
As things stand, I think both Bauer and Bieber will be on the ALDS roster in some capacity. Bauer logged 40 pitches in a mound session on Sunday, so there's a chance he can build up in time to rejoin the rotation. At the very least, he would be an intriguing weapon out of the bullpen given his durability. If Bieber gets the fourth spot, Cleveland could turn to Bauer at the first sign of trouble.
:: Submit a question to the Indians Inbox ::
If it turns out that Bauer is ready for a regular rotation role, then Bieber would probably figure into the bullpen mix. He throws strikes and can handle multiple innings. That is valuable, especially given the uncertainty hanging over Bauer's situation at the moment.
Last October, Francona went with a seven-man bullpen, and I have a hunch that will remain the case this year. Bauer or Bieber will take one spot. Then there are four virtual locks in Andrew Miller, Brad Hand, Cody Allen and Oliver Perez. That leaves two spots up for grabs, and there are a number of ways Cleveland could go with those vacancies.
The way I see it, right-handers Adam Cimber and Dan Otero lead the pack, given their ability to handle righty hitters (.610 OPS for Cimber and .698 OPS for Otero this year) and generate grounders. Behind them on the bubble are righty Neil Ramirez and lefty Tyler Olson. The other candidate would be veteran righty Josh Tomlin, who -- like Bieber -- throws strikes and can handle multiple innings, though he doesn't throw as hard and is prone to home runs.
Do you think Greg Allen has performed well enough to guarantee himself a playoff roster spot over Rajai Davis? #IndiansInbox

— Quincy Wheeler (@DreamingBasebll) September 17, 2018
This will be an interesting decision for the Indians, who would have five bench spots up for grabs under the 11-man pitching staff scenario detailed in the previous question. Backup catcher Roberto Perez gets one spot and Brandon Guyer (a versus-lefty corner outfielder who can play center if needed) is a safe bet for one of the other available jobs.
That leaves utility man Erik Gonzalez, corner infielder Yandy Diaz and center fielders Greg Allen and Rajai Davis battling for three spots. Diaz offers a good right-handed complement to Yonder Alonso at first base. Gonzalez offers depth and plus defense at all four infield spots. Allen and Davis offer similar skill sets: An ability to play all three outfield spots and plus speed on the bases.
If the Indians decide that they want to carry both Gonzalez and Diaz, then I do think Allen has performed well enough to get the last spot over Davis. With Jason Kipnis playing center, Cleveland will probably look to upgrade the defense in the later innings. Both Davis and Allen can do that, but I'd give Allen the edge. That said, both could make the roster if the Indians prioritize speed and defense, meaning one of Gonzalez or Diaz would be left off.
The Indians acquired Josh Donaldson with this stretch run and the postseason in mind. It seems highly improbable that Cleveland will be a player for him in free agency this offseason unless the market plays out similarly to when Edwin Encarnacion slipped into the Tribe's operating range. It's more likely that Diaz will get his shot as the third baseman next year.
That said, I do think the Indians will explore the market for Kipnis, who was nearly traded last winter. That probably won't be an easy task, though. Kipnis' future position is now uncertain (will teams view him as a second baseman or an outfielder?) and he's hit .229 with a .697 OPS and 84 OPS+ (16 percent below league average) over the past two seasons combined. Kipnis is also set to earn $14.7 million in 2019, with a $16.5 million salary (or $2.5 million buyout) in '20.
What's the ERA of Cimber, Oliver Perez, Hand, Allen and Miller since August? I asked these because these is the bullpen I visualized on October and I have seen them improving lately. Please correct me if I'm wrong #IndiansInbox

— josue colon (@colon_soler) September 17, 2018
Dating back to the start of August, those five relievers have combined for a 2.96 ERA (25 earned runs in 76 innings). Overall in that time period, the Indians' bullpen has turned in a 3.61 ERA, which ranks fifth in the AL and seventh in the Majors in that span. That's a dramatic improvement over the first four months, in which Cleveland had a 5.00 ERA from its relievers.
Any chance we get Chiz or Naquin back in time to get meaningful postseason playing time?#IndiansInbox

— Christopher Kelly (@bookelly73) September 17, 2018
At this point, it's really hard to envision a scenario in which either Lonnie Chisenhall (rehabbing a calf injury) or Tyler Naquin (rehabbing from hip surgery) could work their way back into the postseason mix this year. The Minor League season is over, making it difficult to get at-bats, and there has been no indication that either outfielder is near being set for that step anyway. It looks like both players are probably prepping for 2019.
How will Oscar Mercado figure into the OF mix next year? #IndiansInbox

— Eric Berkey (@berkeyeric) September 17, 2018
I don't see Oscar Mercado working into the Opening Day mix next year, but the 23-year-old center field prospect -- acquired from the Cardinals prior to the July 31 non-waiver Trade Deadline and ranked No. 14 on the Indians' Top 30 list -- will definitely be on the radar. Looking ahead, though, Leonys Martin will be under team control and both Allen and Naquin will be back. Kipnis could also be in the outfield mix, and Bradley Zimmer (shoulder surgery) might be back by midseason.