Inbox: Does it make sense to trade Kluber?
Beat reporter Jordan Bastian answers questions from fans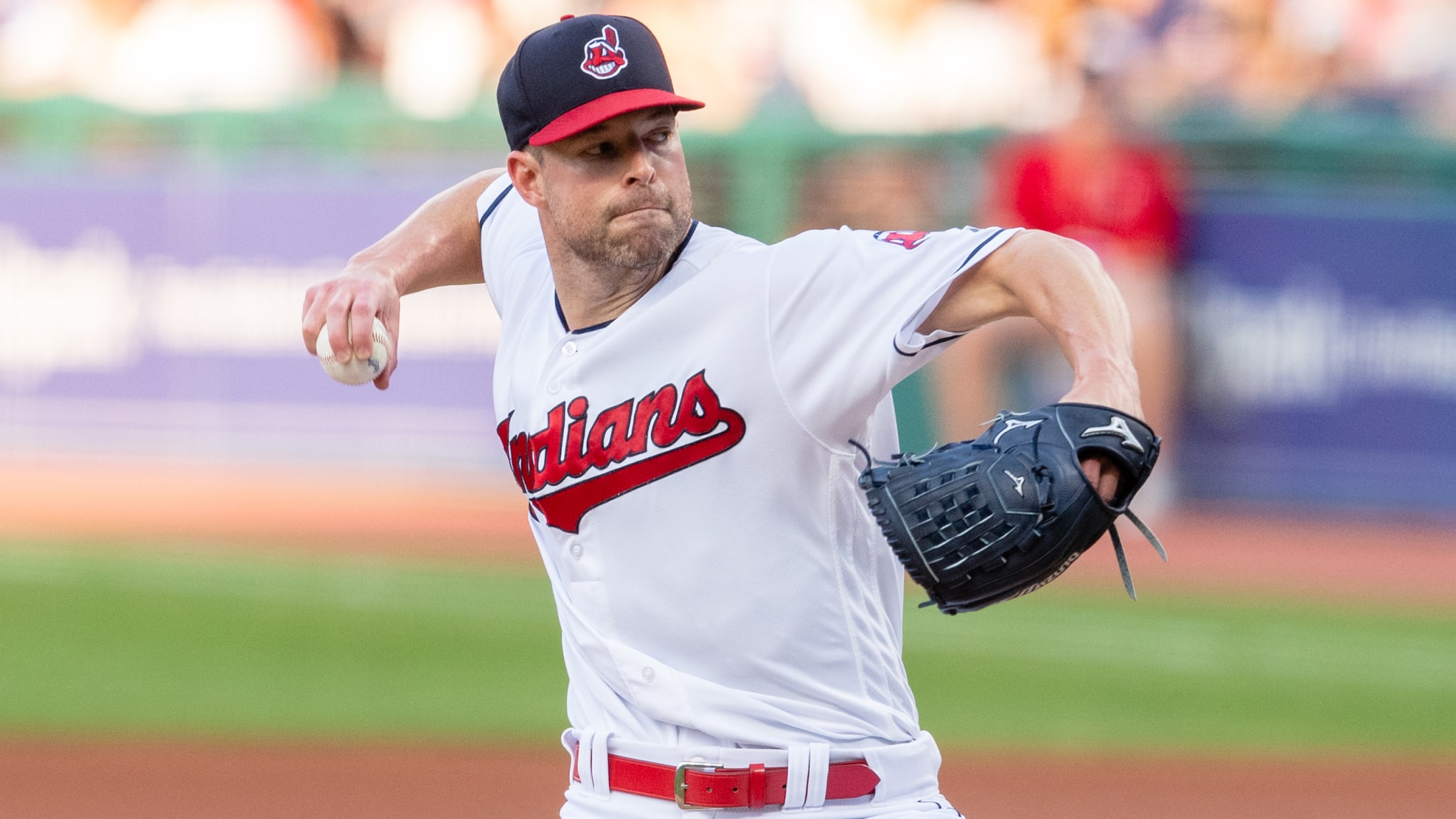 CLEVELAND, OH - AUGUST 31: Starting pitcher Corey Kluber pitches during the first inning against the Tampa Bay Rays at Progressive Field on August 31, 2018 in Cleveland, Ohio. (Photo by Jason Miller/Getty Images) (Jason Miller/Getty Images)
Does it make sense to trade Corey Kluber? He racks up a lot of regular-season wins, but given his past two postseasons, does he make sense for the Indians? Could Cleveland win the division without him and get a proven outfield bat and solid reliever via trade? --Adam S.At the
Does it make sense to trade Corey Kluber? He racks up a lot of regular-season wins, but given his past two postseasons, does he make sense for the Indians? Could Cleveland win the division without him and get a proven outfield bat and solid reliever via trade?
--Adam S.
At the bare minimum, I do think it makes sense to listen to what type of offers might be out there for Kluber or perhaps Carlos Carrasco. But I don't think Cleveland should consider trading Kluber based on any of the reasons you outlined in your question. Let's start there.
• Submit your question to the Inbox
True, Kluber has a 10.20 ERA in his past four playoff outings. That said, I don't think it's really fair to clump all of those starts together. What happened in 2016 has nothing to do with what happened a year later, and it certainly isn't linked to what took place another year after that. Let's not forget that Kluber spun a 0.89 ERA in five postseason starts in leading the depleted Indians rotation to Game 7 of the World Series in '16.
In Kluber's Game 7 outing against the Cubs in the 2016 Fall Classic, the ace had shouldered all he could for a month and fatigue finally caught up with him. In the '17 American League Division Series, Kluber was battling an unspecified physical ailment and tried to pitch through it. In this year's ALDS against the Astros? Well, that just looked like a clunker. If there was a health issue, no one will say so.
Now that we've got that out of the way, back to the idea of exploring a trade.
This offseason, the Indians have a list of needs, with outfield help and bullpen reinforcements at the top. Cleveland's rotation is an area of depth and strength, so it makes complete sense to explore what teams may offer for arms like Kluber (signed through '19 with club options for '20 and '21) or Carrasco (club options for '19 and '20). It would potentially be a way to acquire controllable assets, while freeing up some payroll.
Kluber, specifically, will see his salary in 2019 bump up to $17 million if -- in reality, when -- he finishes in the top 10 in voting for this year's AL Cy Young Award. That would also increase the value of his team options to $17.5 million for '20 and $18 million for '21.
The danger in this strategy rests in the lack of depth behind the Tribe rotation's front five, and that is why I do not think Cleveland will trade any of Kluber, Carrasco, Trevor Bauer, Mike Clevinger or Shane Bieber this winter. Adam Plutko is currently the sixth starter. Behind him are Cody Anderson (returning from Tommy John surgery on his right elbow) and Danny Salazar (did not pitch in '18 due to a right shoulder injury). Top prospect Triston McKenzie will be on the radar in the near future, but it seems like 2020 is more realistic for his arrival.
As Tribe fan of over 50 years, my main question all year was: Why don't we hear much about the Tribe's record against above-.500 squads? I believe we were almost 10 games under .500 vs. those teams. It seemed to me that was the clearest predictor of a likely tough slog in the posteason.
--Pete L., Boca Raton, Fla.
The Indians had a .426 winning percentage against teams with a .500 record or better, which was actually above the MLB average (.399). Better than pure win-loss record is a stat called tOPS+, which shows performance in a split relative to overall production. Cleveland's pitchers had an MLB-worst 121 tOPS+ and the Tribe's hitters had an MLB-worst 80 tOPS+ against above-.500 teams. Simply put, when facing teams with a .500 record or better, Indians pitchers were 21 percent worse than usual and Indians hitters were 20 percent worse than usual.
Now, does that have anything to do with Cleveland's quick October exit? There are differing opinions on that subject. First off, a team can only play its schedule. But did so many games against a mostly-rebuilding AL Central hurt the Indians' readiness for a playoff series? Maybe, maybe not. Count Bauer among those who think it had some sort of impact.
"I do think our division hurt us a little bit, given that we weren't pressed all year," Bauer said in an interview with MLB.com last week. "We never went through the fire to figure out when we face adversity, what's our response as a team? How much fire do we have and where are we really at? But that's not an excuse.
"That's just to say we need to be better as players and as a leadership group on the team -- the guys that have been there a long time -- at holding people accountable to that level of intensity, that level of play, that level of energy throughout the whole season. So that's something that we're going to get better at."
#IndiansInbox Yonder Alonso had a very difficult second half. Do you foresee the Indians trying to trade him or giving Yandy Diaz a chance to win the first base job from him in Spring Training?

— Quincy Wheeler (@DreamingBasebll) October 26, 2018
While I do think the Indians will be open to the idea of trading Alonso (under contract for $8 million in '19 with a $9 million team option for '20), the more likely scenario is that Diaz gets his chance at third base. At the season-end sit-down with reporters, manager Terry Francona emphasized that Cleveland needs to give Diaz a shot. The most natural way to do that would be to have him play third and keep Jose Ramirez at second. If Michael Brantley is not re-signed, Jason Kipnis would then become an option for left field.
#IndiansInbox Know the obvious choice in trade discussions is Kipnis, but what about listening for offers on Yan Gomes. Yes, he had a very good year. but can it be repeated. Is his value the highest now for trade?

— jay smith (@dirtyolcrowe) October 26, 2018
Now that former Indians catching prospect Francisco Mejia is now wearing a Padres uniform, I think Cleveland will continue to lean on both Gomes and Roberto Perez in '19. Eric Haase got a taste of the big leagues last year, but he does not yet have the same rapport that Gomes and Perez have built up with the veteran pitchers. On a team built to win now, the emphasis is on defense behind the plate and guiding the staff. In that way, it makes sense to stick with the tandem of Gomes and Perez, especially to have built-in safety net for injuries.
#IndiansInbox
What do you think the chances of Lonnie Chisenhall returning to the Indians as a free agent?

— Matt Bretz (@MattB_WOF) October 26, 2018
I think the odds of Lonnie Chisenhall being re-signed by the Indians are slim to none. Tyler Naquin offers a similar skill-set and does so at a much lower pricetag for now. Naquin has played center field, but profiles better as a right fielder and -- last season's struggles and health issues aside -- has a decent career track record against righty pitching.