Monday's best: Mejia, Bradley power Akron to win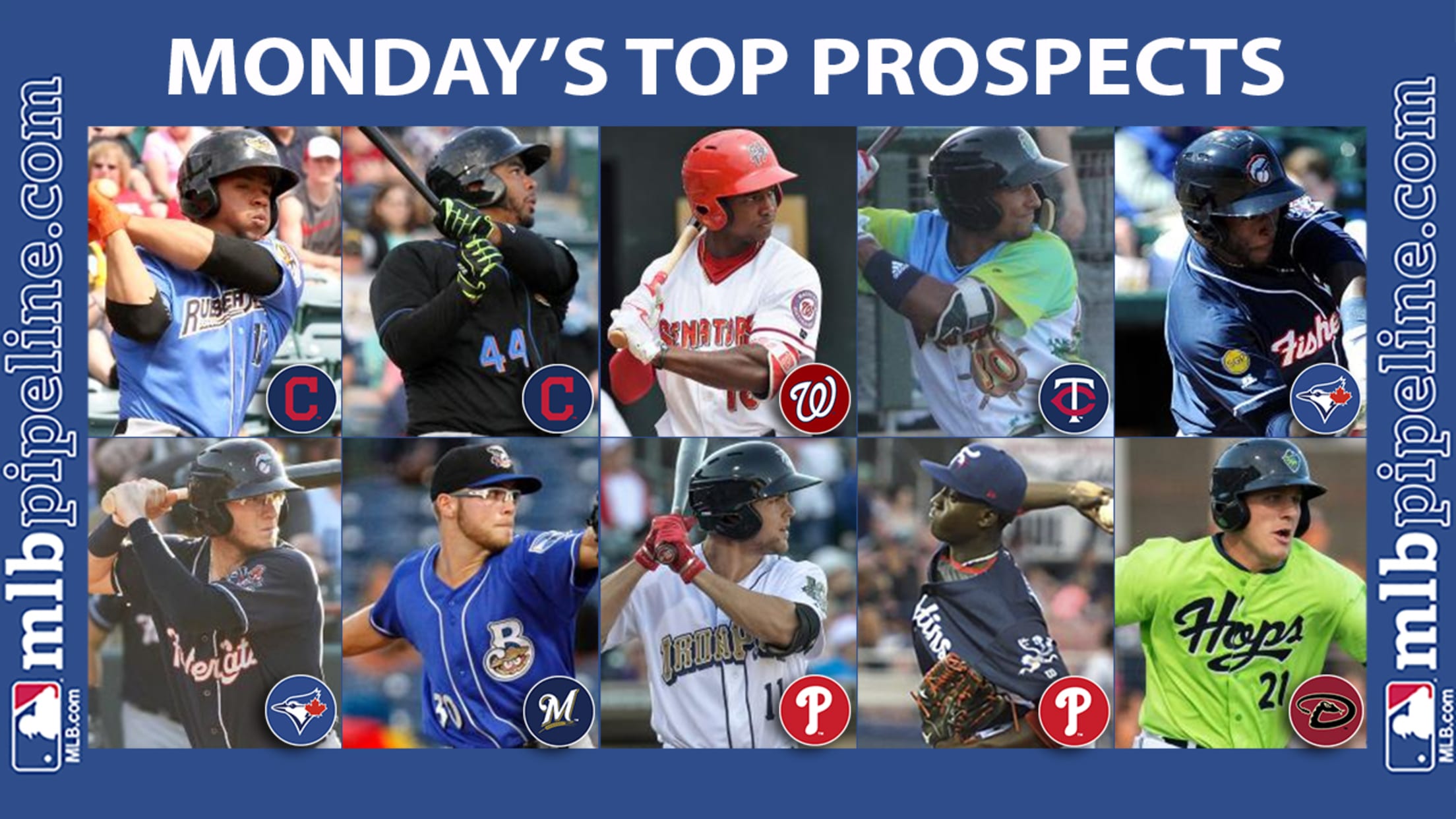 Indians prospects Francisco Mejia and Bobby Bradley helped bring Akron's five-game losing streak to an end on Monday as the duo combined for five extra-base hits, five runs and six RBIs in a 13-5 victory against Harrisburg.Mejia, MLB Pipeline's No. 16 overall prospect (Indians' No. 1), paced the Rubberducks' offense
Indians prospects Francisco Mejia and Bobby Bradley helped bring Akron's five-game losing streak to an end on Monday as the duo combined for five extra-base hits, five runs and six RBIs in a 13-5 victory against Harrisburg.
Mejia, MLB Pipeline's No. 16 overall prospect (Indians' No. 1), paced the Rubberducks' offense with a 3-for-4 performance and three runs scored. Batting third for Akron, the 21-year-old catcher hit back-to-back doubles in his first two at-bats before connecting on a solo shot to right-center field in the sixth inning.
Mejia had been mired in a minor slump of late, as he entered the contest with a .161 average (5-for-31) over his previous seven games. It's done little to diminish what has been a career season for the switch-hitting backstop. In 84 games, he's posted a .307/.358/.509 batting line with a career-high 13 home runs.
Bradley (Indians' No. 3), meanwhile, accounted for the duo's remaining extra-base hits, going 2-for-5 with a double and a home run en route to four RBIs. Both the homer and double were the 21st of the season for the 21-year-old first baseman, who has made considerable strides with his plate discipline to post 107 strikeouts against 52 walks over 117 games in his first Double-A campaign. In 2016, Bradley struck out 170 times compared to 75 walks in 131 games with Class A Advanced Lynchburg.
MILB Video - Title: Watch: Bradley goes yard - Url: http://www.milb.com/r/video?content_id=1757398683
The rest of the best performances from top prospects Monday
• No. 5 overall prospect Victor Robles' (Nationals' No. 1) outstanding speed was on display as he raced around the bases for an inside-the-park leadoff home run for Double-A Harrisburg. He would go on to add a double and a stolen base before finishing 3-for-5. The 20-year-old center fielder has a hit in 10 straight games, including five straight multihit games, during which he's improved his Double-A slash line from .268/.333/.402 to .320/.375/.505.
MILB Video - Title: Robles' inside-the-park homer - Url: http://www.milb.com/r/video?content_id=1756759383
• No. 31 overall prospect Royce Lewis (Twins' No. 1) connected on his first Class-A home run, as his three-run blast in the fifth inning proved the difference in Cedar Rapids' 5-4 win over Beloit. It was the fourth home run this season for the 2017 No. 1 overall Draft pick, who's hitting .385 (15-for-39) with four multihit efforts over nine games in the Midwest League.
MILB Video - Title: Lewis goes yard - Url: http://www.milb.com/r/video?content_id=1756113783
• No. 49 overall prospect Anthony Alford (Blue Jays' No. 3) extended his hitting streak to 13 games with a home run off of a rehabbing Matt Harvey. He also hit a double and stole a base in the contest, finishing 2-for-5 with two runs scored. The 23-year-old outfielder is batting .383 with 11 runs scored and five steals during his streak.
• Speaking of hitting streaks, No. 56 overall prospect Scott Kingery (Phillies' No. 3) extended his to 19 games with a walk-off single in extra innings for Triple-A Lehigh Valley. After going 0-for-4 through the game's first nine frames, Kingery ultimately kept his streak alive as he came through with a bases-loaded single in the bottom of the 10th inning. The 23-year-old second baseman has hit safely in 45 of his 49 games with the IronPigs.
MILB Video - Title: Kingery walks it off - Url: http://www.milb.com/r/video?content_id=1756596683
• Blue Jays No. 18 prospect Danny Jansen hit a pair of home runs and a triple in a perfect 4-for-4 night at the plate for Triple-A Buffalo. The 22-year-old backstop connected on a pair of solo homers, the second a game-tying shot in the top of the ninth inning before Buffalo tacked on three more runs to win, 6-3. The big performance gives Jansen a .500/.591/.917 slash line through 12 Triple-A games, during which he has eight extra-base hits, eight walks and just one strikeout. Overall, he's slashed .341/.418/.516 in 95 games across three levels.
MILB Video - Title: Jansen ties it up - Url: http://www.milb.com/r/video?content_id=1756613183
• Brewers No. 7 prospect Corbin Burnes was masterful in a no-decision for Double-A Biloxi, allowing two hits over a career-high eight scoreless innings. The 22-year-old right-hander struck out the side in his final inning of work to finish with eight strikeouts against two walks. He also generated nine ground-ball outs, throwing 60 of his 94 pitches for strikes. The performance stood out in what has been a breakout year for Burnes, who ranks second in the Minors with a 1.57 ERA after the performance. His WHIP, meanwhile, sits at 0.89, thanks largely to his 136-to-28 strikeout-to-walk ratio and .195 opponents' average in 137 2/3 innings (24 starts).
MILB Video - Title: Watch: Burnes notches 8th strikeout - Url: http://www.milb.com/r/video?content_id=1757395783
• D-backs No. 5 prospect Daulton Varsho racked up a career-high 10 total bases in a 3-for-5 game for Class A Short Season Hillsboro. The 2017 Competitive Balance Round B pick went deep twice, hitting a two-run homer in the first inning and a solo shot in the sixth before rounding out his game with an eighth-inning double.
• Phillies No. 8 prospect Franklyn Kilome completed a career-high eight scoreless innings as Double-A Reading blanked Bowie, 5-0. The 22-year-old righty allowed more walks (four) than hits (three) in the outing while striking out five and generating another eight outs on the ground. He's posted a 2.25 ERA over 20 innings in Double-A while showing improvements in each of his three starts.
MILB Video - Title: Kilome fires eight scoreless - Url: http://www.milb.com/r/video?content_id=1756552283
• Pirates No. 9 prospectNick Kingham allowed one earned run on six hits over 8 2/3 innings en route to his fifth win in six starts for Triple-A Indianapolis. Throwing 73 of his 110 pitches for strikes, the 25-year-old righty registered five strikeouts and 11 ground-ball outs while walking one.
MILB Video - Title: Watch: Kingham notches 5th strikeout - Url: http://www.milb.com/r/video?content_id=1757264383
• Yankees No. 10 prospectJorge Guzman allowed three hits and struck out seven over six innings in his second straight scoreless start for Class A Short Season Staten Island. The 21-year-old flame-thrower has been a force in the New York-Penn League, where he paces all hurlers with 78 strikeouts and ranks third with a 2.03 ERA.
MILB Video - Title: Guzman's seventh strikeout - Url: http://www.milb.com/r/video?content_id=1757163283