Wednesday's best: Mejia has career day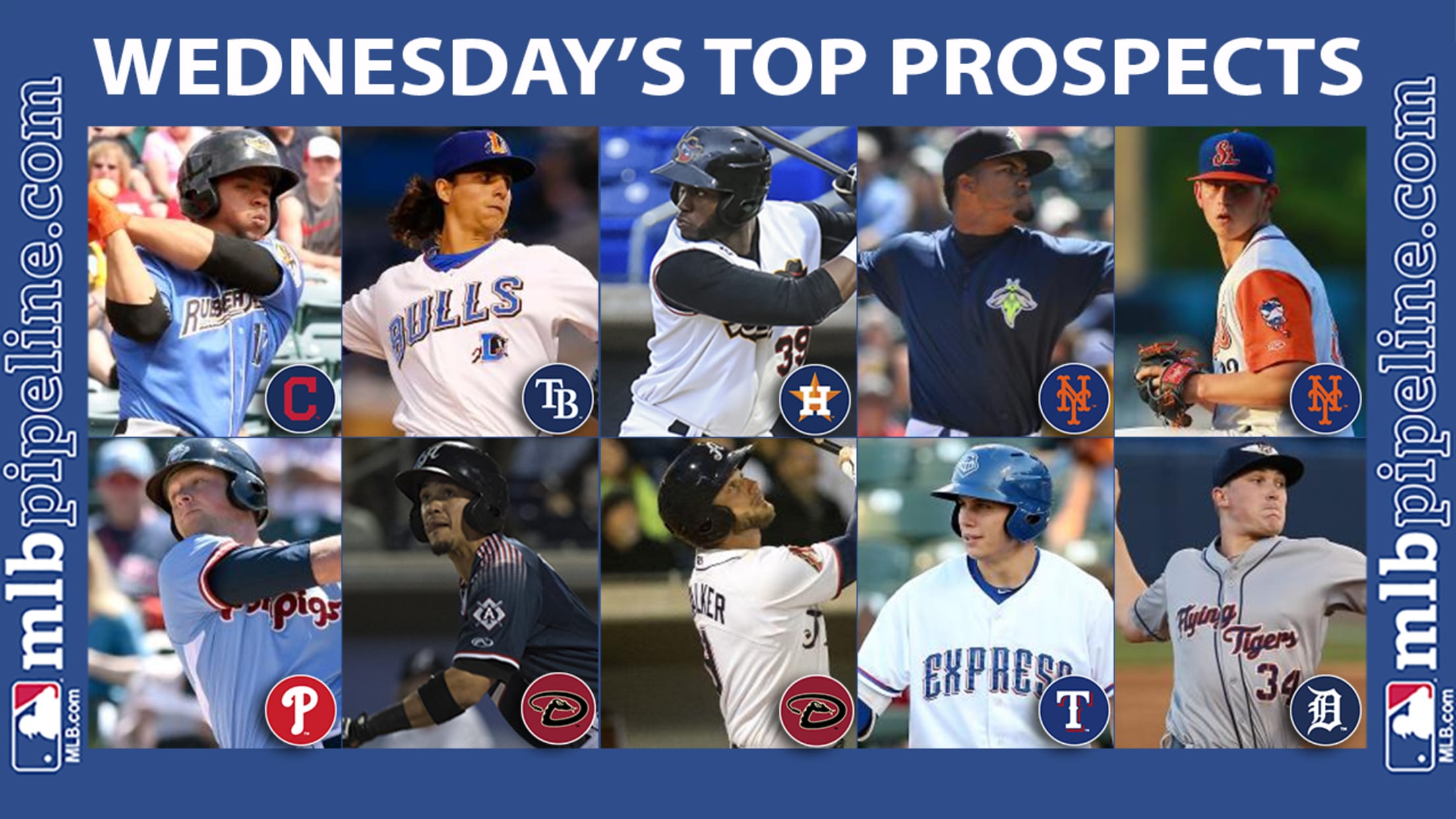 All nine starters for Double-A Akron collected at least one hit on Wednesday in the RubberDucks' 21-4 rout of Portland in game one of a doubleheader. None of them, however, put on a hitting display quite like Francisco Mejia.Batting third in Akron's lineup, the Indians' No. 2 prospect (No. 35
All nine starters for Double-A Akron collected at least one hit on Wednesday in the RubberDucks' 21-4 rout of Portland in game one of a doubleheader. None of them, however, put on a hitting display quite like Francisco Mejia.
Batting third in Akron's lineup, the Indians' No. 2 prospect (No. 35 overall) connected on home runs in the fourth and seventh innings before finishing 4-for-5 with a career-high six RBIs. He also scored three runs and reached once via a walk.
The multihomer performance was somewhat surprising given his all-around hitting prowess and the first of Mejia's career. What's more, the 21-year-old switch-hitter did it from both sides of the plate, as he went deep from the left side in the fourth inning, a two-run shot, before hitting a three-run homer as a righty in the seventh.
MILB Video - Title: Watch: Mejia goes yard - Url: http://www.milb.com/r/video?content_id=1475773983
Scattered between the blasts, Mejia tallied an RBI single in the second and added a second base hit in the sixth.
Mejia has followed up his breakout 2016 campaign -- one that included a 50-game hitting streak across two levels -- by posting a Southern League-leading .344 average with 16 extra-base hits in first 34 games for Akron.
Mejia has been equally impressive behind the plate, too, where his 70-grade arm strength has helped him throw out 9-of-22 (40.9 percent) attempted basestealers.
The rest of the best performances from top prospects Wednesday
• Coming off back-to-back shaky starts for Durham, Brent Honeywell (Rays' No. 2, No. 24 overall) rebounded to throw six innings of one-run ball en route to his fifth Triple-A win in 10 starts (5-5). He scattered seven hits, walked one and struck out nine -- he's posted a 64-to-11 strikeout-to-walk ratio in 53 2/3 innings since being promoted -- in the performance, which also saw him generate six ground-ball outs while throwing 71 of 105 pitches for strikes.
• Astros No. 14 prospectYordan Alvarez extended his hitting streak to 12 games for Class A Quad Cities with his first career multihomer game, going 2-for-5 with four RBIs. It was the fifth straight multihit game for the 19-year-old first baseman, who's now batting .413/.500/.693 with five homers and 20 RBIs through 21 games in his full-season debut. Ronnie Dawson (No. 23) also went deep, his fifth, for the River Bandits before finishing a triple short of the cycle.
MILB Video - Title: Watch: Alvarez launches 2nd homer - Url: http://www.milb.com/r/video?content_id=1476243783
• After posting consecutive four-hit games, D-backs No. 28 prospectIldemaro Vargas connected on his second homer in as many days as part of a 3-for-5 performance for Triple-A Reno. The 25-year-old middle infielder is batting .733 (11-for-17) with nine RBIs and seven runs scored over his last three games. Christian Walker (No. 30) pushed his RBI total to 62 behind his 17th home run, both of which rank atop the Pacific Coast League leaderboard.
MILB Video - Title: Watch: Walker launches homer - Url: http://www.milb.com/r/video?content_id=1473014283
• Mets No. 14 prospect Merandy Gonzalez tossed six scoreless innings, allowing three hits and one walk with five strikeouts, to record his eight win (8-1) in 10 starts for Class A Columbia. The 21-year-old righty has been excellent in his full-season debut and continues to rank among the South Atlantic League leaders with a 1.56 ERA (second) and a 0.90 WHIP (tied-second) in 63 1/3 innings (third).
• Mets No. 23 prospect Chris Flexen went the distance in his Double-A debut as he spun seven scoreless frames for Binghamton in game two of a doubleheader. He scattered five hits, struck out six and induced 11 ground-ball outs. It was the 22-year-old righty's fourth career complete game -- all shutouts.
MILB Video - Title: Flexen completes the shutout - Url: http://www.milb.com/r/video?content_id=1475483483
• Phillies No. 13 prospect Rhys Hoskins was a combined 3-for-6 with three RBIs in Triple-A Lehigh Valley's doubleheader sweep of Buffalo. The 24-year-old first baseman did most of his day's damage in game two, when he went 2-for-3 with his 14th home run -- he's tied with teammate Dylan Cozens (No. 9) for the International League lead -- a double and two RBIs.
MILB Video - Title: Hoskins' 14th homer - Url: http://www.milb.com/r/video?content_id=1475364683
• Rangers No. 23 prospectDrew Robinson hit his fourth home run in three games, a fourth-inning grand slam that helped power Triple-A Round Rock past Colorado Springs. In his last 10 games, Robinson is batting .366 with seven home runs, 17 RBIs and 13 runs scored.
• Rays No. 7 prospect Jesus Sanchez went 2-for-4 with a solo homer and an RBI single for Class A Bowling Green. The toolsy 19-year-old outfielder is opening eyes during his full-season debut in the Midwest League, where he's hit .276/.341/.477 with eight homers while posting 20 walks against 35 strikeouts in 48 games.
• Tigers No. 3 prospect Beau Burrows tossed five strong innings, allowing two earned runs on five hits, to pick up the win in his Double-A debut. Starting game one of Erie's doubleheader, the 20-year-old righty issued four walks and struck out five en route to throwing 87 pitches, 57 for strikes. In the nightcap, slugger Christin Stewart (No. 2) belted a grand slam for his 15th homer in 56 games, putting him halfway toward the total he produced last season over 128 contests.