Indians giving Brantley time to rest shoulder
Left fielder will sit out for a couple of days, but Francona still 'pleased' with progress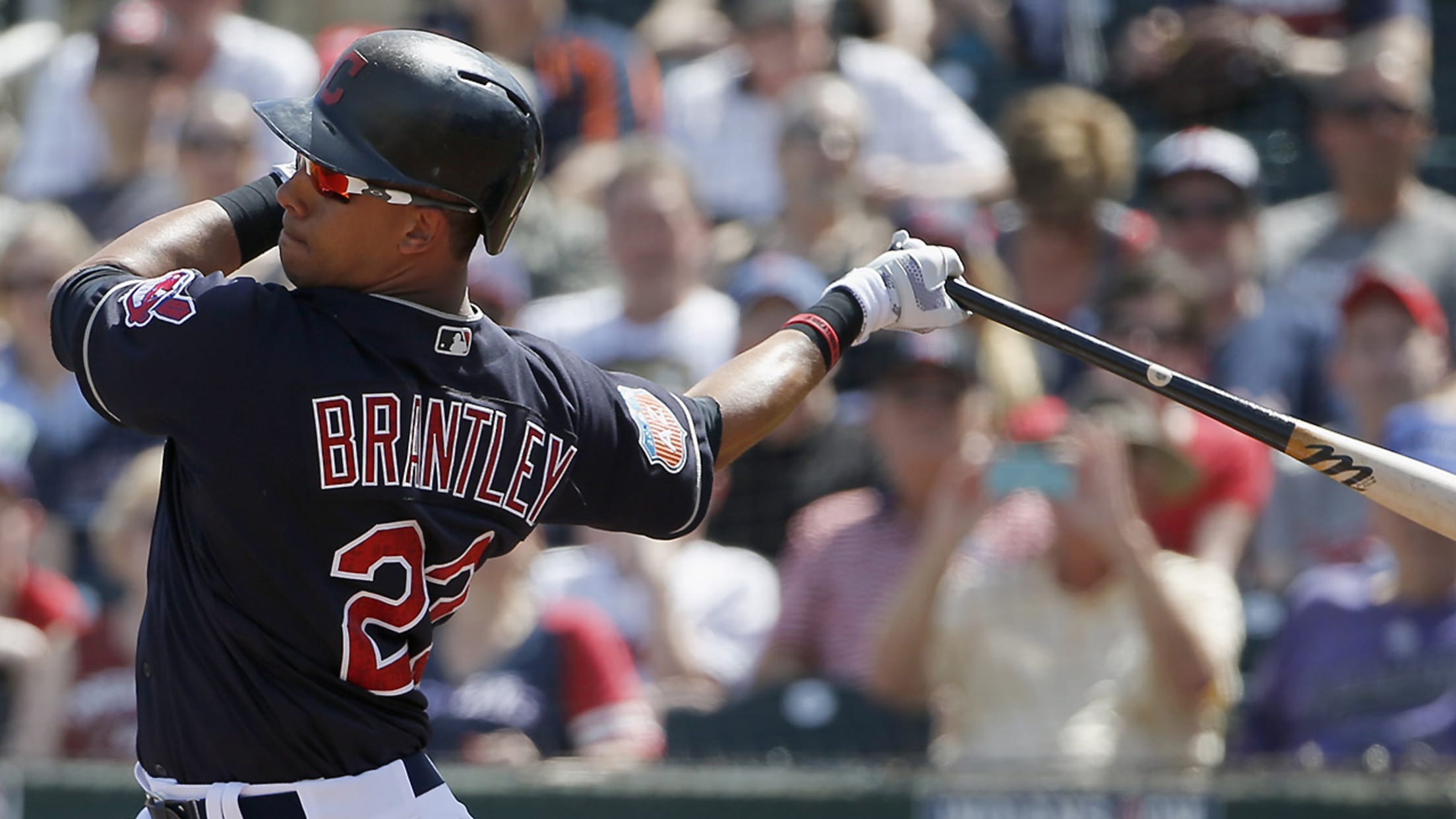 Michael Brantley last appeared in a game on Monday, when the Indians played the White Sox. (AP) (Ross D. Franklin/AP)
GOODYEAR, Ariz. -- Michael Brantley will be absent from the Indians' lineup for a couple of days as he gives his right shoulder time to rest. The left fielder, recovering from offseason shoulder surgery, played in Cactus League games on Saturday and Monday, but his shoulder didn't rebound the way
GOODYEAR, Ariz. -- Michael Brantley will be absent from the Indians' lineup for a couple of days as he gives his right shoulder time to rest. The left fielder, recovering from offseason shoulder surgery, played in Cactus League games on Saturday and Monday, but his shoulder didn't rebound the way he or the club would have liked.
"Just wasn't quite bouncing back like he wanted to," manager Terry Francona said.
Overall, Brantley has been progressing well, and because he is still ahead of schedule, Francona wasn't worried about his status.
• Spring Training:Tickets | Schedule
"I think we're still above and beyond pleased with where he is," Francona said.
Worth noting
• The Indians clarified their roster a bit Wednesday as Francona announced a few moves.
Infielder Michael Martinez was informed that he will start the season with Triple-A Columbus, but he will remain with the club in Major League camp. Catcher Guillermo Quiroz will also remain in camp, but he will start the season in the Minor Leagues.
Right-hander Felipe Paulino was also told that he will not make the team and was sent to Minor League camp.
Right-hander Craig Stammen has an opt-out clause in his contract for Sunday, but he plans to stay with the organization. Francona met with Stammen on Wednesday morning and both parties are pleased with the way things stand.
• Josh Tomlin, who is battling for the fifth spot in the Indians' rotation, surrendered seven hits and gave up five earned runs in five innings in a Minor League game Wednesday.
"He's really been working hard at trying to get his mechanics consistent, because sometimes his margin for error might not be as much as a guy that's throwing 97 [mph]," Francona said.
Tomlin posted a 3.02 ERA in 10 starts for the Indians last season. Regardless of what happens with the Opening Day rotation, the 31-year-old right-hander has showed enough for the club to reward him with a two-year extension.
"There's a lot of confidence in his ability to pitch, he's earned it. He signed a two-year deal, there's a reason," Francona said.
• Yan Gomes was sent home Wednesday as he, like several of his teammates, is battling the flu.