Giants fan Stow 'looks great' in visit to ballpark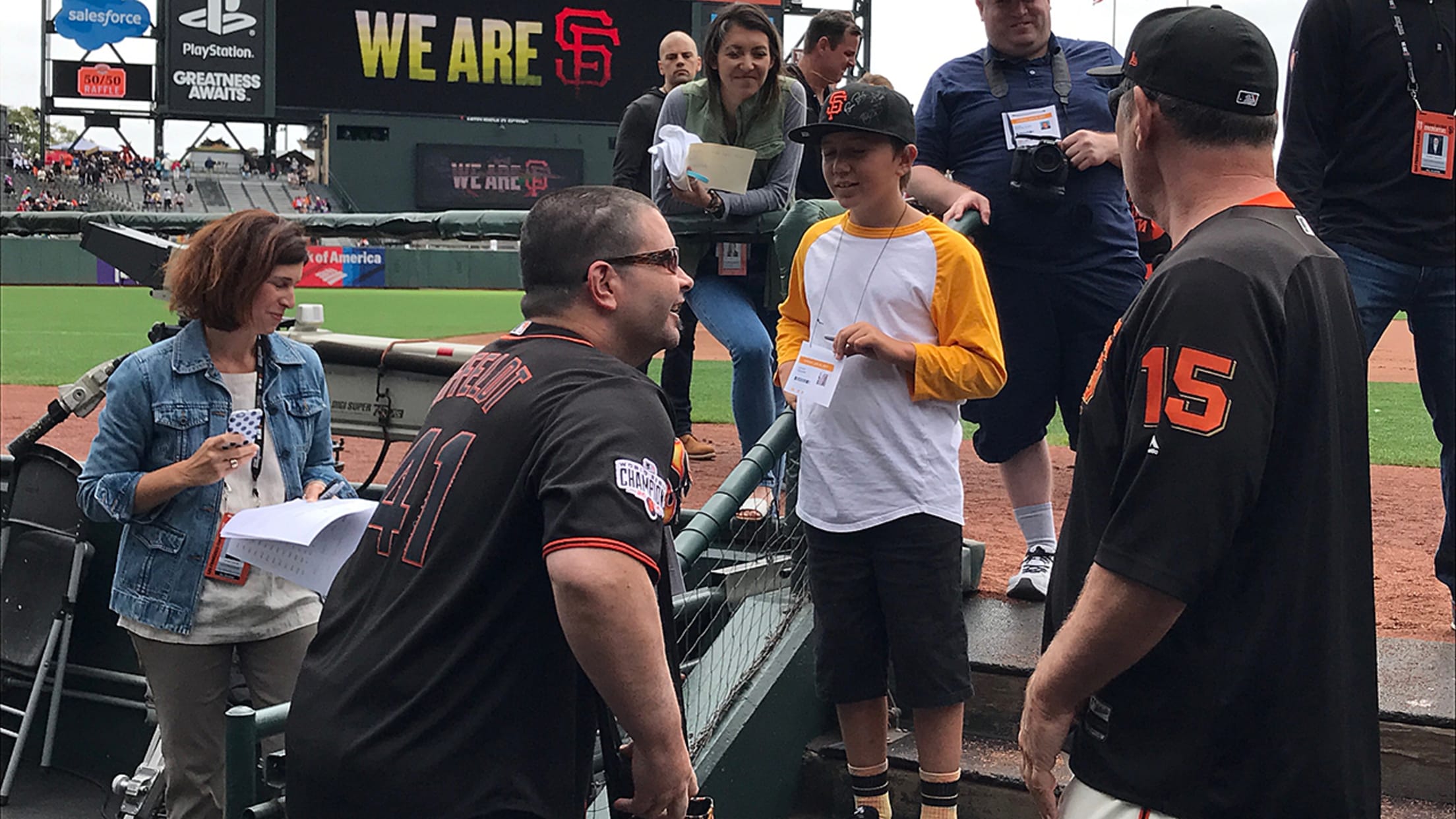 Bryan Stow and Bruce Bochy visit with fans before the game. (MLB.com)
SAN FRANCISCO -- Giants fan Bryan Stow, who suffered traumatic brain injuries following an attack in Dodger Stadium's parking lot on Opening Day 2011, enjoyed behind-the-scenes access for Sunday's series finale against the Mets.Stow wore a Jeremy Affeldt jersey and listened closely during Giants manager Bruce Bochy's radio interview with
SAN FRANCISCO -- Giants fan Bryan Stow, who suffered traumatic brain injuries following an attack in Dodger Stadium's parking lot on Opening Day 2011, enjoyed behind-the-scenes access for Sunday's series finale against the Mets.
Stow wore a Jeremy Affeldt jersey and listened closely during Giants manager Bruce Bochy's radio interview with broadcaster Jon Miller. Bochy joked with reporters about Stow's Affeldt jersey ("He couldn't get a better jersey?") and said Stow's progress is encouraging given how far he's come in six years.
"He looks great, doesn't he? It's good to have him down here," Bochy said. "I've enjoyed talking with him in the dugout."
Bochy added that Stow, 47, and his guests for Sunday were welcome in the Giants' clubhouse.
Bryan Stow chats with Boch, says he's going to help turn things around 👍🏼 #SFGiants pic.twitter.com/OlsrrtDkXr

— San Francisco Giants (@SFGiants) June 25, 2017
Stow spent months in a coma on artificial life support after the attack. That left him weak and bound to a wheelchair but he now uses crutches to navigate his world.
Now functionally independent, Stow utilizes his platform to tell his story in presentations and assemblies. Through his foundation, Stow shares a message of anti-bullying from childhood to adulthood.
Bochy said Stow has enjoyed chatting with some of the Giants' recent callups.
"He lifts your sprits when you talk to him with what he's been through and the battles that he's had," Bochy said. "He's so upbeat and positive. It gives you, as they say, better positive perspective on where you're at."
To learn more about Stow's progress, visit bryanstowfoundation.org.
Jonathan Hawthorne is a reporter for MLB.com based in the Bay Area.