Forget me not: Returning players to watch in 2019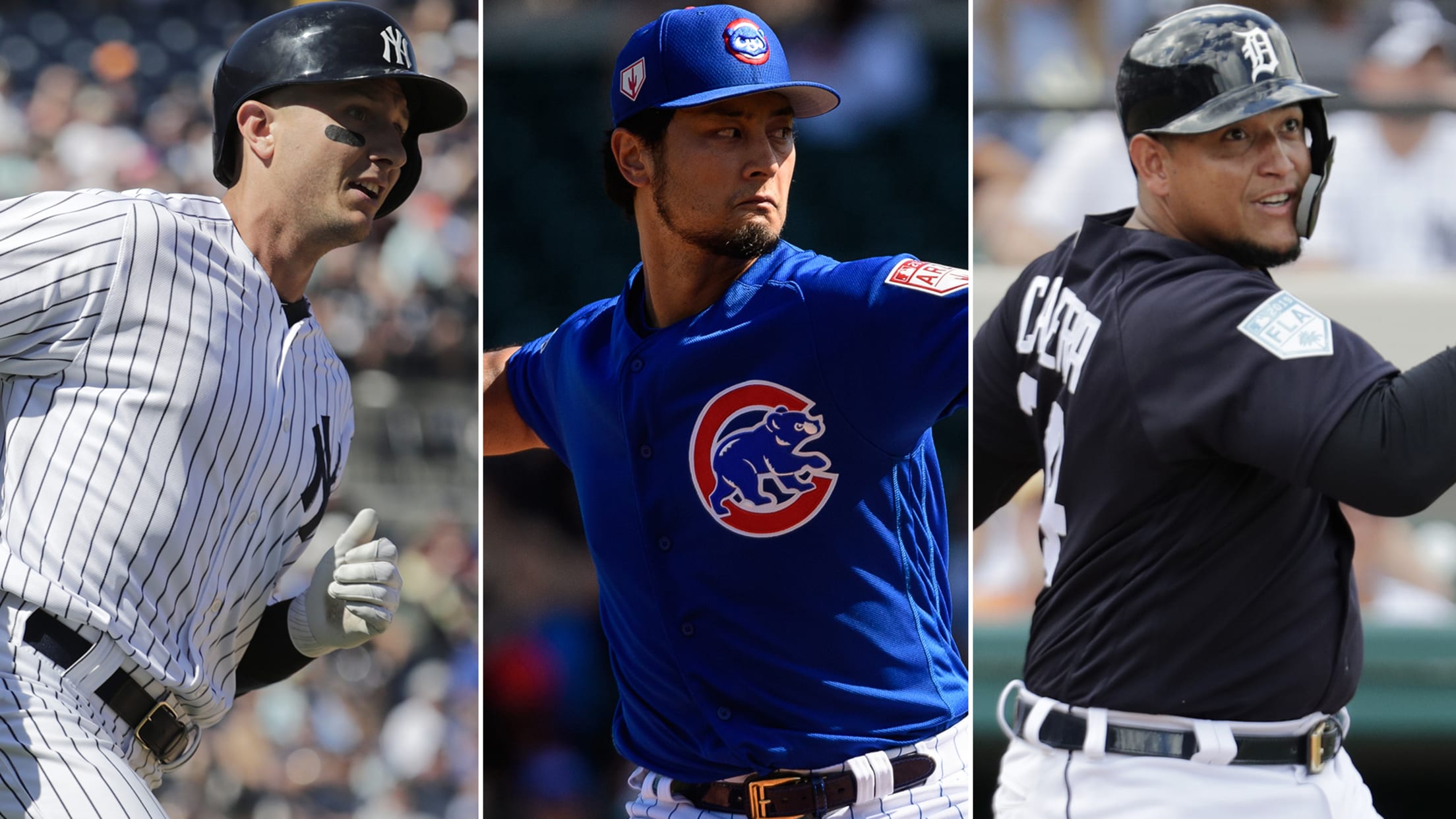 When trying to assess a team's chances for 2019, it's easy to overlook a player who missed most or all of the 2018 season. But there are plenty of players on the road to recovery who are expected to play again in 2019. Here's a look at some of the
When trying to assess a team's chances for 2019, it's easy to overlook a player who missed most or all of the 2018 season. But there are plenty of players on the road to recovery who are expected to play again in 2019. Here's a look at some of the notables who could have a significant impact.
The dates in parenthesis are the last time that player appeared in a Major League game.
Michael Pineda, RHP, MIN (July 5, 2017 for NYY)
Pineda signed as a free agent with the Twins entering the 2018 season, though he was expected to miss most of 2018 and did. Pineda had Tommy John surgery in July 2017. In 2012, Pineda suffered a torn labrum after a strong debut season in 2011 with the Mariners. In 13 games in 2014 with the Yankees when he returned, he had a 1.89 ERA. But in his 76 starts since 2015, he had a 4.56 ERA.
Spring synopsis: Pineda has pitched regularly in Spring Training and has been solid, allowing six runs in 10 1/3 innings of work. He figures to be part of the Twins' Opening Day rotation.
Troy Tulowitzki, SS, NYY (July 28, 2017 for TOR)
Tulowitzki has missed time over the last two seasons with a sprained right ankle and then heel bone spurs, which required surgery. The Yankees signed him to a league-minimum contract this offseason and plan to play him at shortstop. Tulowitzki has played 150 or more games in a season twice in his career and hasn't played in 100 since or more since 2016 (131).
Spring synopsis: Tulowitzki hit a leadoff home run in his first spring game on Feb. 25 and another home run in his next game. He's been playing regularly and has said he's glad with how he's done.
Jimmy Nelson, RHP, MIL (Sept. 8, 2017)
Nelson's 2017 breakout season ended abruptly when he injured his shoulder sliding back into first base in early September. He posted a career-best 3.49 ERA with 199 strikeouts that season prior to getting hurt. He missed all of 2018 recovering from surgery on that shoulder. The Brewers won the NL Central in 2018 without Nelson, and his return, whenever it is, should boost the rotation.
Spring synopsis: Nelson appeared in his first spring games this week and will be pitching every five days moving forward. He won't be on the Opening Day roster for the Brewers, but is expected back early in the season.
Danny Salazar, RHP, CLE (Sept. 27, 2017)
Salazar began the 2018 season on the injured list with shoulder inflammation and underwent surgery in July, which ended his season before he'd pitched in a Major League game for the year. Salazar was an All-Star for the 2016 Indians team that went to the World Series, though he had an elbow injury that season. In 2017, he appeared in 23 games (19 starts) and threw just 103 innings, missing time with elbow and shoulder injuries.
Spring synopsis: Salazar has yet to pitch in a spring game, but he has been rehabbing.
Taijuan Walker, RHP, ARI (April 14, 2018)
Walker had a strong 2017 for the D-backs, whose staff featured four pitchers who made at least 25 starts with a sub-3.50 ERA. But he was limited to just three starts in 2018 before undergoing Tommy John surgery. The D-backs, who had the third-best starters ERA in baseball in 2017 (3.61), ranked ninth in starters ERA in 2018 (3.83), but the team didn't make the playoffs like they had in the previous year.
Spring synopsis: Walker is still recovering from his surgery and isn't expected to return until midseason. He's still rehabbing, and has yet to appear in any spring games.
Corey Seager, SS, LAD (April 29, 2018)
The 2016 NL Rookie of the Year was limited to 26 games in 2018 before undergoing Tommy John surgery for a right UCL sprain. He dealt with an elbow injury late in the 2017 season as well. In August, he had an additional surgery on his left hip. After Seager's injury, the starting shortstop position involved a combination of Chris Taylor and Enrique Hernandez, as well as Manny Machado after a midseason trade.
Spring synopsis: Seager appeared in a Minor League spring game at shortstop earlier this week, his first game action at the position since the injury.
Yu Darvish, RHP, CHC (May 20, 2018)
The Cubs' big free-agent signing entering the 2018 season was limited to just eight starts, initially spending time on the injured list with parainfluenza virus and then missing the rest of the season after his May 20 start with right triceps tendinitis. He made two Minor League starts on his way back to the Majors in 2018, but ultimately had elbow debridement surgery in September instead.
Spring synopsis: Darvish has looked healthy and has been hitting 94-96 mph consistently with his fastball in Spring Training. The Cubs haven't announced their rotation yet, but if he pitches the second or third game of the season against the Rangers, he would get to do so at the ballpark he used to call home in Texas.
Byron Buxton, CF, MIN (May 29, 2018)
After leading the Twins in WAR in 2017 and winning a Gold Glove, Buxton appeared in just 28 Major League games last season, hitting .156 with a 30 percent strikeout rate. He spent time on the Major League injured list with migraines and a fractured left toe, and also missed time while in the Minors with a sprained left wrist. The Twins did not call him up in September, instead shutting him down for the rest of the year.
Spring synopsis: Buxton has been one of the hottest hitters in Spring Training. He has four spring home runs in fewer than 15 games after hitting four home runs in 64 total Major and Minor League games in 2018.
Alex Reyes, RHP, STL (May 30, 2018)
Reyes debuted in 2016 and threw 46 innings with a 1.57 ERA. But in February 2017 he had a sore elbow and needed Tommy John surgery, which kept him out for all of 2017 and the beginning of 2018. After four rehab starts in the Minors, he made his 2018 season debut on May 30, but suffered a strain in that start and ended up needing surgery to reattach a tendon in his right lat, which ended his year.
Spring synopsis: Reyes has been pitching in Spring Training and is being considered for a relief role at the Major League level or a starting role in Triple-A.
Miguel Cabrera, 1B, DET (June 12, 2018)
Cabrera missed time with two separate injured list stints last season, the first for a right hamstring strain and the second, which ended his season, for a ruptured left biceps tendon. Before 2018, he'd had just two IL stints in his career, in 2015 and 2017. In the 38 games he did play last season, Cabrera looked better than he had in 2017, when he had a number of career-lows, including batting average, on-base percentage and slugging percentage. It was a smaller sample, but his 94.4 mph exit velocity in 2018 was his highest in a season since Statcast began tracking in 2015.
Spring synopsis: Cabrera has been playing regularly in Spring Training and seems to be back to his former self, hitting and slugging the ball well. He's been having fun, too, pulling off a hidden ball trick against the Twins.
Zack Cozart, 3B, LAA (June 13, 2018)
Cozart signed a three-year, $38 million contract with the Angels prior to 2018 but played in just 58 games. He suffered a left shoulder injury when diving for a ground ball, and ultimately had season-ending surgery for a torn labrum. He had a .219/.296/.362 slash line in those 58 games, a far cry from his .297/.385/.548 with the Reds in 2017, when he was elected the starting shortstop for the NL in the All-Star Game.
Spring synopsis: Cozart played in three games at the beginning of Spring Training, but has been limited with a calf strain since. He hit in a Minor League spring game Friday, but did not play the field.
Julio Urias, LHP, LAD (2018 WS Game 3)
Urias had season-ending left anterior capsule surgery in June 2017 after sustaining an injury while pitching in Triple-A. That kept him out until July 2018, when he began rehabbing in the Minors. After eight Minor League games across three levels, the Dodgers called him up in mid-September. He pitched in three games in the regular season and another seven in the postseason, where he had a 2.84 ERA in 6 1/3 innings.
Spring synopsis: Urias has looked good in Spring Training. It's unclear how the Dodgers plan to use him in 2019, but he'll likely have some sort of innings limit.
A few others to keep an eye out for:
Jharel Cotton, RHP, OAK (Sept. 24, 2017)
Cotton missed all of 2018 after undergoing Tommy John surgery. He's rehabbing but has yet to see game action.
Travis d'Arnaud, C, NYM (April 8, 2018)
d'Arnaud played in just four games for the Mets in 2018 before suffering a partially torn UCL and requiring Tommy John surgery. He's played in a handful of Spring Training games, and recently caught in a game for the first time since the surgery.
Jason Castro, C, MIN (May 4, 2018)
Castro played in just 19 games for the Twins in 2018 before undergoing surgery to repair the meniscus in his right knee.
Juan Lagares, CF, NYM (May 16, 2018)
Lagares played in just 30 games for the Mets last season before having season-ending surgery to repair a torn left toe ligament.
Franchy Cordero, OF, SD (May 27, 2018)
Cordero started the season on the IL with a left abductor strain and then landed on it again in late May with a right forearm strain that ended up requiring elbow surgery to remove a bone chip.
Jorge Soler, RF, KC (June 15, 2018)
Soler fractured his right toe in June and missed the rest of the season. He had a .820 OPS and nine home runs in 61 games for the Royals before the injury. He has four home runs this spring.
Adam Wainwright, RHP, STL (Sept. 28, 2018)
Wainwright missed most of the season for the Cardinals, starting eight games, four of which were in September. He was limited by right elbow inflammation.
Matt Shoemaker, RHP, LAA (Sept. 30, 2018)
Shoemaker made just seven starts in 2018, missing time with a right forearm strain before returning in September.