Reyes in contention for Cardinals bullpen role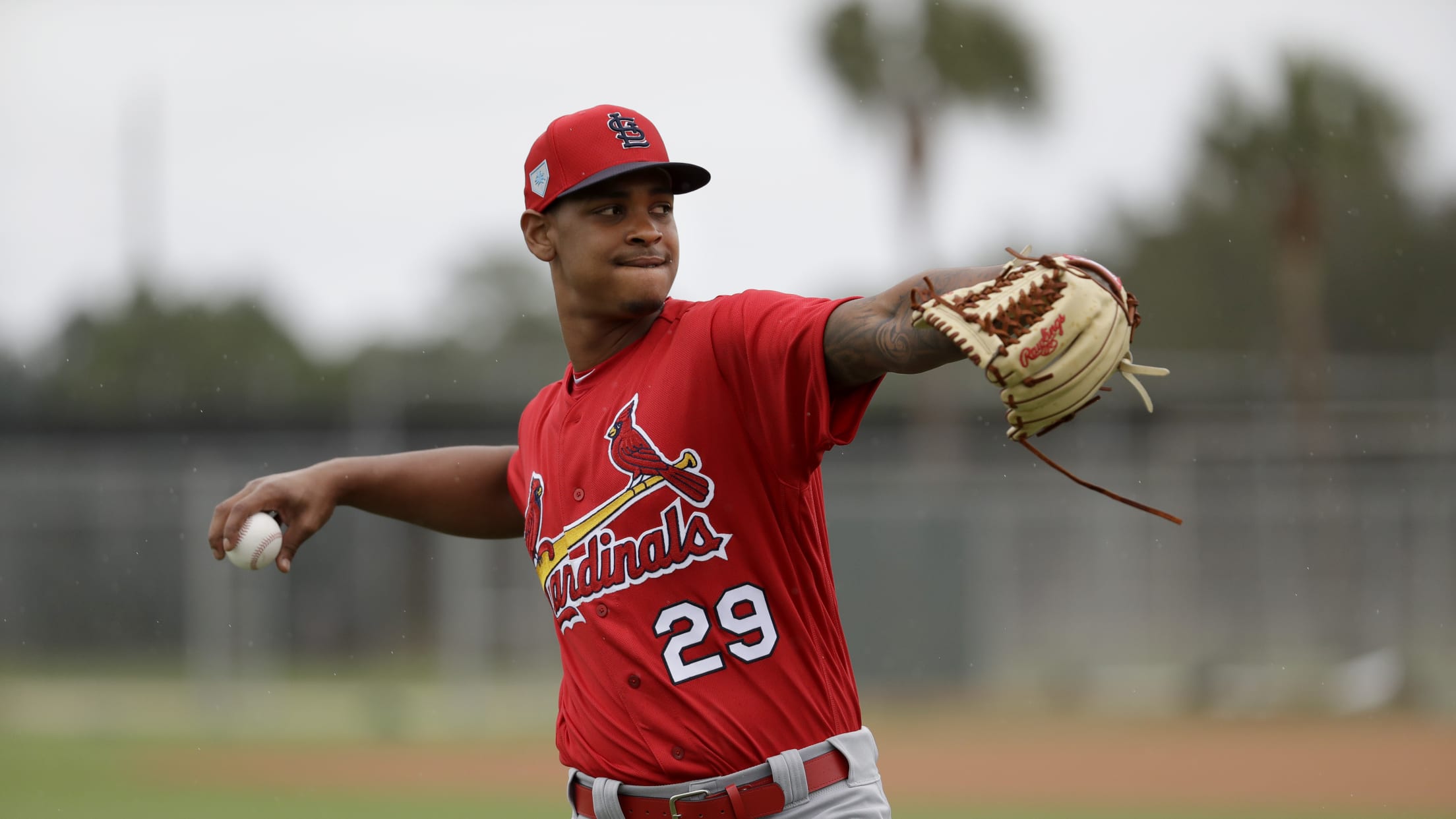 LAKE BUENA VISTA, Fla. -- The myriad paths that Alex Reyes' spring showing could have nudged him toward has been whittled down to two, manager Mike Shildt confirmed shortly before Reyes' scoreless appearance in Tuesday's 5-0 loss to the Braves. One would lead him to St. Louis as a member
LAKE BUENA VISTA, Fla. -- The myriad paths that Alex Reyes' spring showing could have nudged him toward has been whittled down to two, manager Mike Shildt confirmed shortly before Reyes' scoreless appearance in Tuesday's 5-0 loss to the Braves.
One would lead him to St. Louis as a member of the Opening Day bullpen. The other would take Reyes to Memphis as a Triple-A starter.
That Reyes is under consideration for the Major League bullpen -- and not the open rotation spot -- is hardly a surprise, given his schedule. Reyes didn't appear in a Grapefruit League game until March 5, and has made three one-inning appearances since.
There's simply not enough time left on the calendar for him to build up enough arm strength to be a big league starter.
But utilizing Reyes in relief to open this season would not preclude the right-hander from working his way into the Cardinals' rotation by the end of the year. Nor does it signal a shift in how the Cardinals view his long-term fit.
It's merely the most expedient way to ensure that one of the organization's top pitchers makes the biggest impact.
"We want our best arms with our team to compete here at the big league level," Shildt said. "Again, it gets back to what's best for our team? We obviously want what's best for our players, but it says 'Cardinals' on the front. That's what it's about."
While the club intends to give Reyes serious consideration for his first career Opening Day roster spot, the onus does remain on the team's No. 1 prospect, according to MLB Pipeline, to show that he's ready. Command issues -- four walks in two innings -- plagued him early. That he was able to wiggle out of jams with only one run scoring, however, reaffirmed an impression.
"Alex Reyes has a wonderful trait that a lot of good big leaguers have … and that is getting better when situations get a little hairy," Shildt said. "In Alex's case, he doesn't create any anxiety. He actually bears down and is able to execute. That's a huge trait. It's a winning trait."
Then there was his showing on Tuesday. Reyes looked much more comfortable, easing through the seventh inning on 14 pitches, 11 of which were strikes. He induced four swing-and-misses -- including a pair on two-strike curveballs. The only runner to reach against him did so via an error, and he was promptly erased, trying to advance on a ball in the dirt.
Alex Reyes tossed a perfect frame that featured a pair of strikeouts. #CardsSpringTraining 🌴 pic.twitter.com/wEcuXgeRAd

— St. Louis Cardinals (@Cardinals) March 12, 2019
"I'm hesitant to use the word dominant, but that was pretty impressive, right?" Shildt said afterward. "All pitches in command. Late breaking ball. Fastball, good velocity. Good location. A lot of soft, no contact. That's pretty special stuff. That's Alex Reyes."
It was another example of why the Cardinals see Reyes fitting so seamlessly into the bullpen, where he'd be considered for a variety of roles. Reyes would offer the Cards a multiple-inning option, as well as a late-inning one alongside Andrew Miller and Jordan Hicks. The wealth of back-end relief options could also include Carlos Martinez, whose season role is still taking shape, and Dakota Hudson, if he doesn't crack the starting rotation.
There are other layers to this conversation, too. Utilizing Reyes -- who is coming off a pair of arm surgeries and two mostly lost seasons -- out of the bullpen could make it easier for the Cardinals to monitor his season workload.
"I feel like my stuff will play out of the bullpen or as a starter," Reyes said. "Whatever the organization feels is right, I'm down for. And if that's in the bullpen or as a starter, I'm excited to be a part of the team in whatever role."
Making such a move would also be a stamp of confidence with the rest of the organization's rotation depth.
The club still boasts four contenders -- John Gant, Hudson, Austin Gomber and Daniel Ponce de Leon -- for its final rotation spot. Gant and Hudson remain the frontrunners, with the bullpen as a fallback option for each. The other two will likely open the season in Memphis' rotation.
Up next
The Cardinals return to Roger Dean Chevrolet Stadium on Wednesday to face the Marlins in a 12:05 p.m. CT "road" game. Hudson will continue his audition for the team's fifth rotation spot as he starts against right-hander Jose Urena. Hudson threw four scoreless innings his last time out. Hicks, who hasn't appeared in a Grapefruit League game since March 5, is scheduled to pitch in relief.
Jenifer Langosch is a senior content manager at MLB.com. She previously covered the Pirates (2007-11) and Cardinals (2012-19). Follow her on Twitter.