Yankees option relievers Pazos, Rumbelow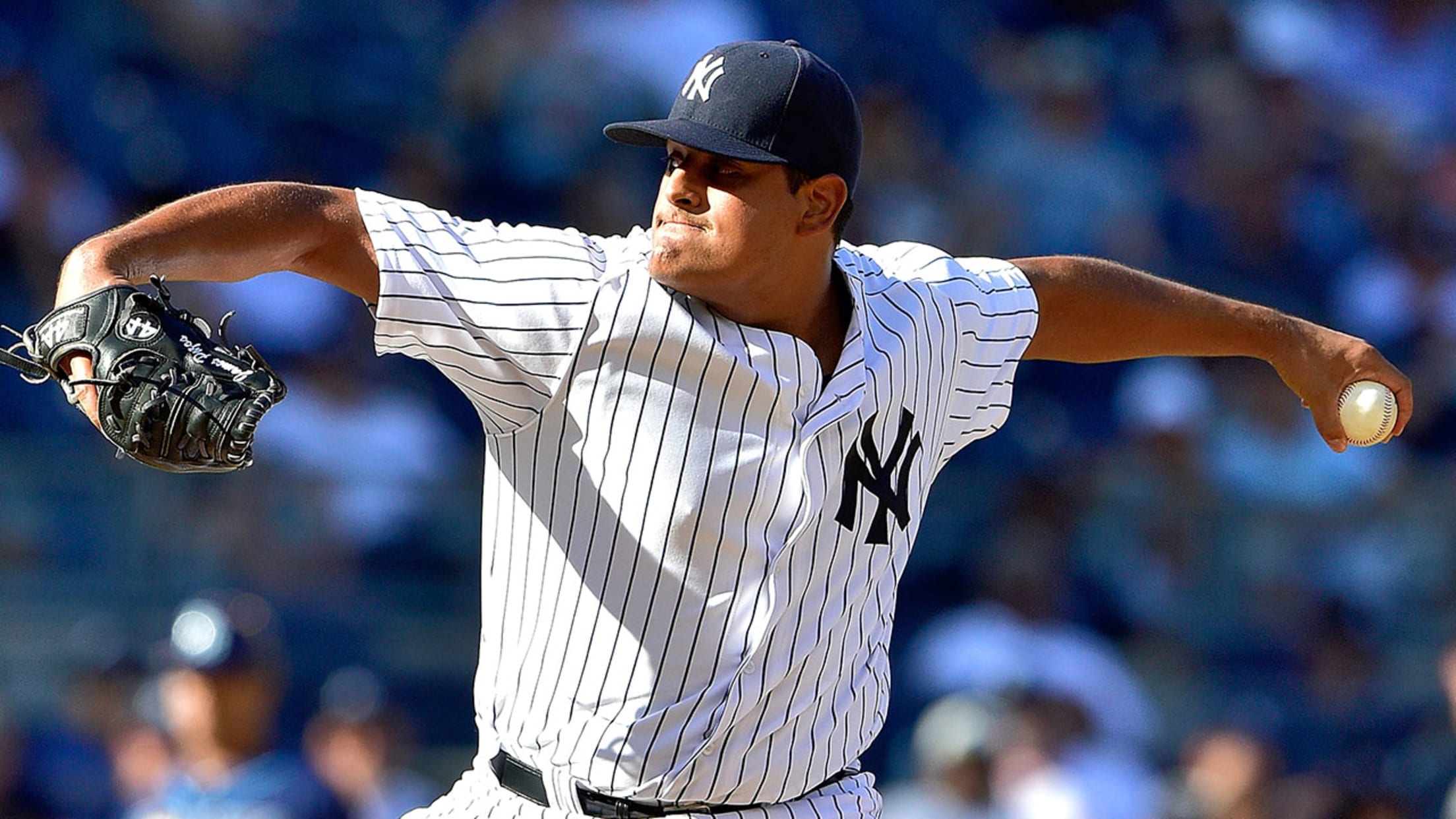 James Pazos allowed six runs (three earned) and five hits in 5 2/3 spring innings. (Getty)
DUNEDIN, Fla. -- The Yankees' bullpen picture became a little bit clearer on Saturday morning, as left-hander James Pazos and right-hander Nick Rumbelow were optioned to Triple-A Scranton/Wilkes-Barre.That trimmed the young arms from what appears to be a competition for three Opening Day roster spots, with the Yankees attempting to
DUNEDIN, Fla. -- The Yankees' bullpen picture became a little bit clearer on Saturday morning, as left-hander James Pazos and right-hander Nick Rumbelow were optioned to Triple-A Scranton/Wilkes-Barre.
That trimmed the young arms from what appears to be a competition for three Opening Day roster spots, with the Yankees attempting to whittle down the names who will pass the ball to Dellin Betances, Andrew Miller and eventually Aroldis Chapman.
• Spring Training:Schedule | Tickets | Gear
"These were two kids who came up and got experience last year and pitched well," Yankees manager Joe Girardi said. "Their command has struggled a little bit in Spring Training. We felt like, to get them going, we thought it was best to send them down and make sure they're in a constant routine, maybe go multiple innings at times."
With left-hander Chasen Shreve thought to have secured a spot and the loser of the CC Sabathia or Ivan Nova rotation battle expected to serve as a long reliever, the Yankees will pick three names from a competition that includes Johnny Barbato, Luis Cessa, Nick Goody, Diego Moreno, Tyler Olson, Branden Pinder, Anthony Swarzak and Kirby Yates.
Girardi also suggested that it is possible the Yankees carry the long reliever plus Bryan Mitchell, who allowed one hit over four scoreless innings in his start against the Blue Jays on Saturday. Mitchell has held opponents to one run through his first 14 2/3 spring innings, prompting speculation that he could serve in the swingman role that Adam Warren filled last year.
"We're definitely closer, but there's still a lot of work left to be done," Girardi said.
Pazos, 24, made 11 scoreless appearances for the Yankees last September, leading to his inclusion on the roster for the American League Wild Card Game. He allowed six runs (three earned) and five hits in 5 2/3 spring innings (4.76 ERA), spanning seven appearances.
The 24-year-old Rumbelow was 1-1 with a 4.02 ERA in 17 appearances for New York last season and appeared to have a good chance at a roster spot, but he permitted five earned runs and 15 hits in 8 2/3 spring innings (5.19 ERA).
"We believe that they're going to help us at some point this year, but sometimes it's different coming to Spring Training when there are a lot of jobs to earn and there's an expectation," Girardi said. "I think they're better than what they pitched, though."
Worth noting
• The Yankees reassigned first baseman Chris Parmelee to Minor League camp after Saturday's 4-3 win against the Blue Jays.