Astros add Hughes to 'pen mix on Minors deal
Correa healthy; Bregman cuts weight; Reddick's shoulder recovering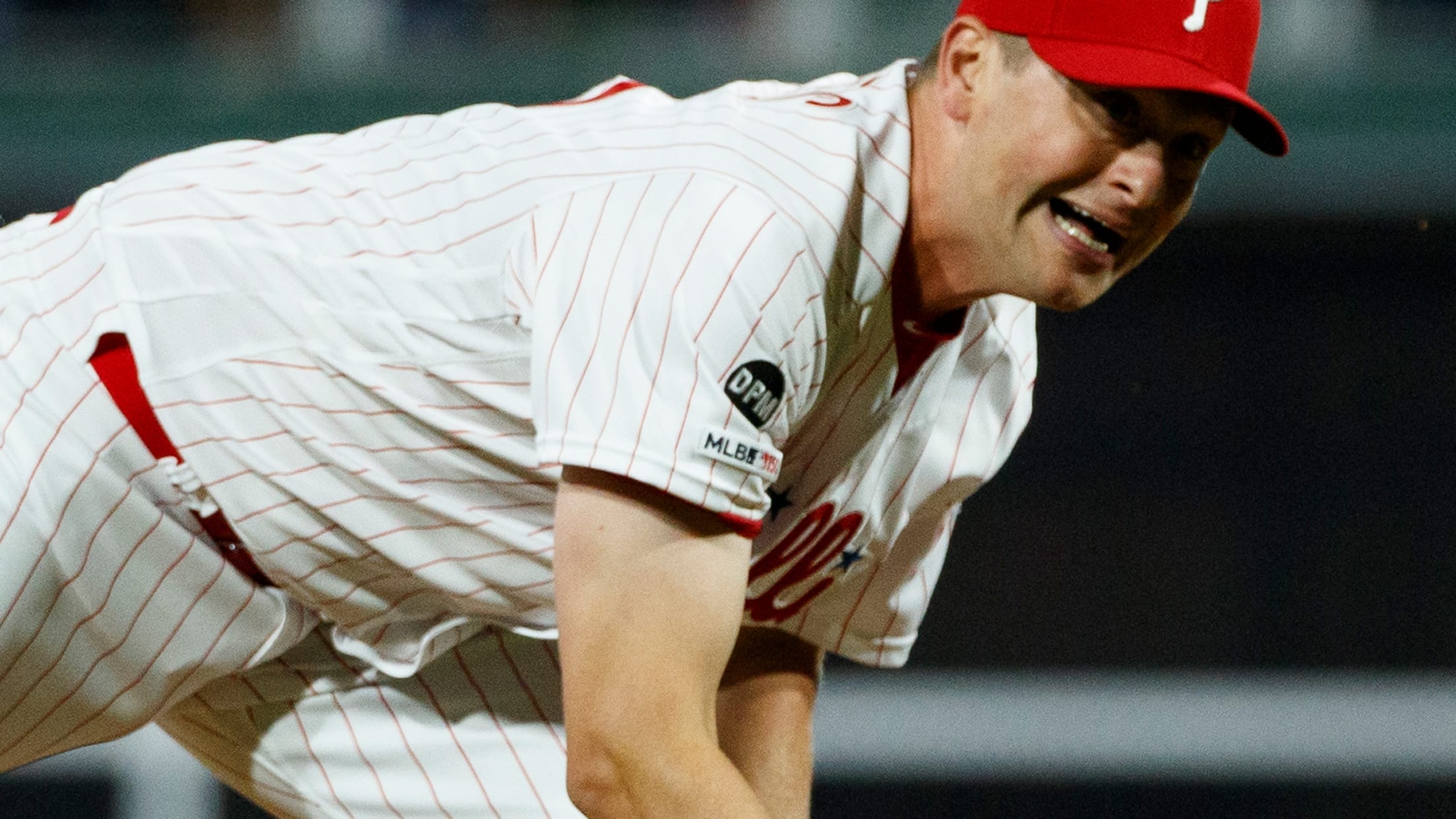 WEST PALM BEACH, Fla. -- The Astros signed veteran right-handed pitcher Jared Hughes to a Minor League contract with an invite to Spring Training on Monday. Shortly after the club made the announcement, the 6-foot-7 Hughes had a locker at camp and was eager to join his new team on
WEST PALM BEACH, Fla. -- The Astros signed veteran right-handed pitcher Jared Hughes to a Minor League contract with an invite to Spring Training on Monday. Shortly after the club made the announcement, the 6-foot-7 Hughes had a locker at camp and was eager to join his new team on the field.
"I'm a Texan," said Hughes, who lives in Dallas. "I live in the state of Texas with my wife and children. I love the state of Texas and the people in it, and the opportunity to come and play for the Houston Astros is something I just couldn't miss. It's a dream come true."
Hughes is a nine-year MLB veteran with a 2.88 ERA in 524 career games, all in relief. He split the 2019 season between Cincinnati and Philadelphia, making 72 appearances with a 4.04 ERA and 54 strikeouts in 71 1/3 innings. He previously spent six seasons with the Pirates and one with the Brewers.
Hughes is friends with former Astros pitchers Charlie Morton and Gerrit Cole, both of whom took their careers to new levels in Houston. Hughes spoke to both them about coming to the Astros and heard good things.
"I went to breakfast last year with Gerrit when they rolled through Cincinnati, and he had nothing but good things to say about the pitching department here and what they were teaching him," Hughes said.
Correa seeking healthy season
After being limited to a career-low 75 games last season following two prolonged stints on the injured list with a broken rib and a back discomfort, Carlos Correa came to camp aiming to play a full, healthy season for the first time since 2016. Correa changed his diet and workout and sleeping habits to help him stay on the field.
"I never trained like this in the offseason, never eaten like this in the offseason," he said. "I did everything right for me to go out there and play this whole year."
Correa took a blood test to determine which foods were better for his body.
"I think I was just being informed and knowing what's good to strengthen my back and my whole body and being able to be stable so I can go out there and perform," he said. "I want to be able to be there for a whole season for my teammates. That's my main goal. Play a whole season and everything will be taken care of."
Bregman sheds weight
After reporting to camp last year at about 215 pounds, Alex Bregman said that he weighed in at 195 pounds this year, which was by design. Bregman has been a slow starter in each of his four years in the big leagues and says he was too heavy to start last season.
"I was super tight and then finally I would lose the weight and get back to being loose and that's when I started to play well," Bregman said. "I really focused on mobility and kind of trying to keep that weight off this year, so that way I feel like midseason form when the season starts."
In addition to a better diet, Bregman said that he tried to not lift weights as much.
"I just tried to work on more mobility and flexibility," Bregman said.
Reddick's shoulder on mend
Astros outfielder Josh Reddick spent much of the season recovering from left shoulder surgery that he underwent in November. The procedure addressed the AC joint in Reddick's non-throwing shoulder and put him on track to enter camp with no restrictions.
Reddick started last season hot at the plate but faded as the season went on. He didn't want to make excuses and blame his offensive struggles on his shoulder, but he said it would flare up after games. Reddick required a cortisone shot during the regular season and again in the postseason.
"Could be a pain-related issue," Reddick said of his second-half struggles. "But I'm not going to lean on that and say it's the whole reason because I still could have done better. I just have a lot to do to go out there and stick to my routine and not overwork myself. The shoulder feels really good now and I've got to do everything I can to make sure the body feels right and stays healthy."
Reddick thinks that he may have injured the shoulder when he collided with the Mets' Pete Alonso last spring.
"That gave me a jolt," Reddick said.