Weaver takes inspiration from Lackey's path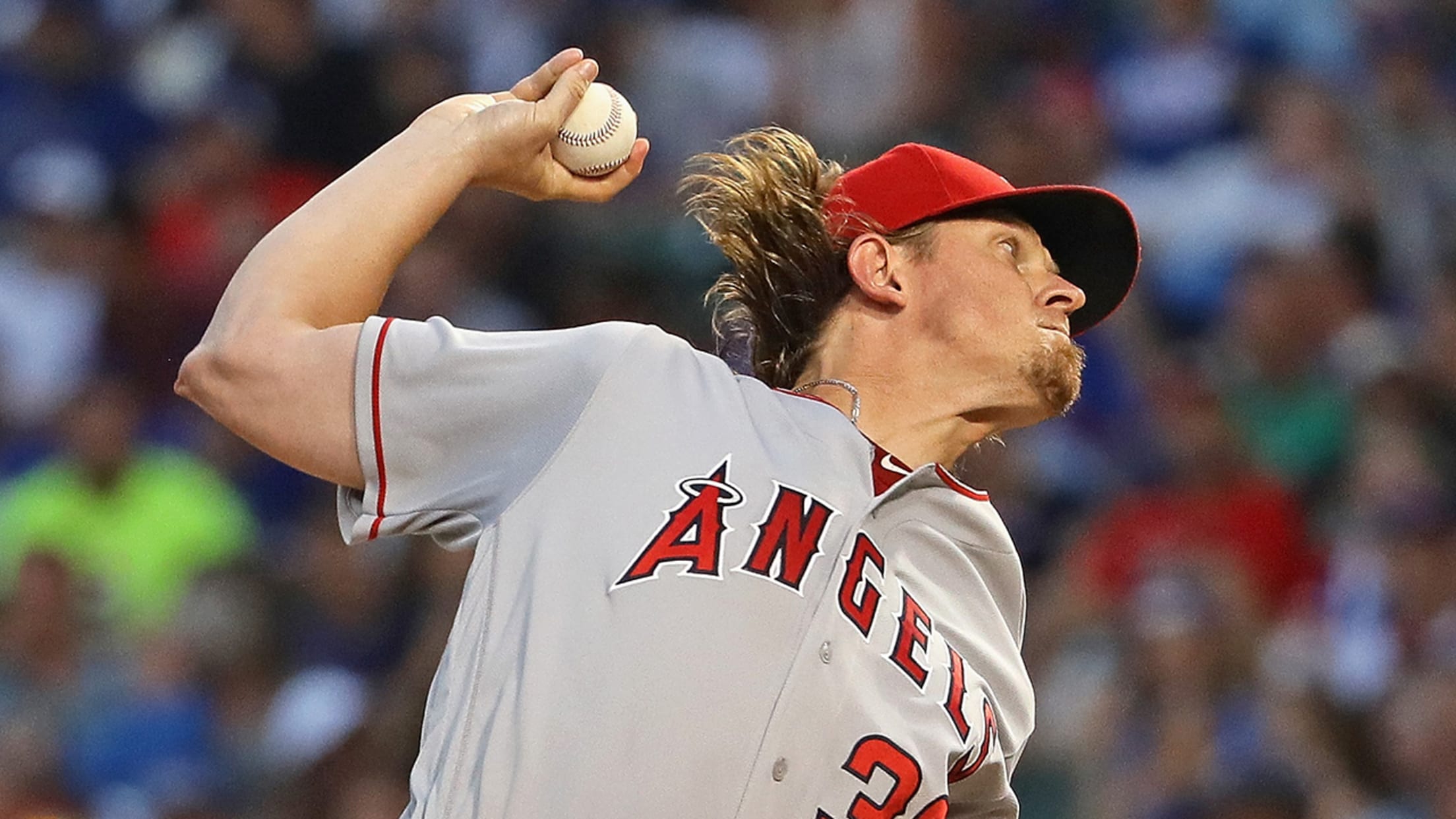 Jered Weaver and John Lackey were teammates with the Angels from 2006-09. (Getty)
CHICAGO -- They didn't exchange any playful banter, but Jered Weaver and John Lackey did trade smiles as Weaver headed to the batter's box for the first time Tuesday night at Wrigley Field.The at-bat, which started the third inning in the Angels' 5-1 loss to start a two-game Interleague set, ended
CHICAGO -- They didn't exchange any playful banter, but Jered Weaver and John Lackey did trade smiles as Weaver headed to the batter's box for the first time Tuesday night at Wrigley Field.
The at-bat, which started the third inning in the Angels' 5-1 loss to start a two-game Interleague set, ended with Weaver striking out looking. It was one of Lackey's six strikeouts in eight innings to earn the win, but it was also by a pitcher who has served as a motivation for Weaver to continue battling through physical issues that have plagued him the past couple years.
Lackey, who became friends with Weaver while spending four seasons atop the Angels' rotation with him (2006-09), has regained his effectiveness after Tommy John surgery in 2011, despite being 37 years old.
"He's a hard worker and I knew once he got that [elbow] healthy, he was going to keep doing what he was doing [before]," said Weaver, who went five innings and allowed five runs (four earned). "Obviously, he's feeling good and has had a tremendous career, even after that."
It's something Weaver can look at in his own health struggle, which included back problems last season and a deteriorating vertebrae issue in his neck that was diagnosed this past spring. The Angels have said there's no surgery that can fix the vertebrae issue, but Weaver said he's starting to feel healthier and is getting his command back with each start.
"It's getting better," he said. "Each and every time it gets better. Each and every time I go out, it feels different, but definitely my body is feeling a lot less restrictions going out there. So, I've kind of been working against myself with getting stronger and getting flexibility back, but one day it's all going to click."
Earlier this season, Weaver got a text message from Lackey that was basically a pep talk of sorts.
"It's hard to talk to people, and it's one of those things where not everybody has felt what I've been kind of going through," Weaver said. "He sent me a text and said that he loves how I still go out there to compete, and that's pretty much all I've got right now, until I can get healthy again. Like I've been [saying], I'm not going to go out there and hang my head. I'm going to go out there and keep battling and keep grinding, and try to keep us in games."
Weaver's fastball velocity has taken a big drop the past two seasons and he's sometimes paid the price for it with some rough lines in box scores. Look no further than his outing Tuesday, when rookie catcher Willson Contreras tagged a fastball for a long solo homer in the third and Kris Bryant blasted a breaking ball onto Waveland Avenue for a solo shot in the fifth. Weaver committed an error later in the fifth, dropping the potential third out on a close play at first base that allowed Anthony Rizzo to make it 5-1 by scoring from second base.
"I don't think he pitched as poorly as his line is going to go down," Angels manager Mike Scioscia said of Weaver. "We let some things get away from us a little bit, but just a couple mistakes he made, those guys hit them out. He had good stuff. He just used a lot of pitches to get to that part of the game, it was hot, and those guys hit a couple out."
Brian Hedger is a contributor to MLB.com based in Chicago and covered the Angels on Tuesday.