Jeffress 'comfortable' since returning to Crew
Pitching coach Johnson believes Milwaukee is 'a really good fit' for right-hander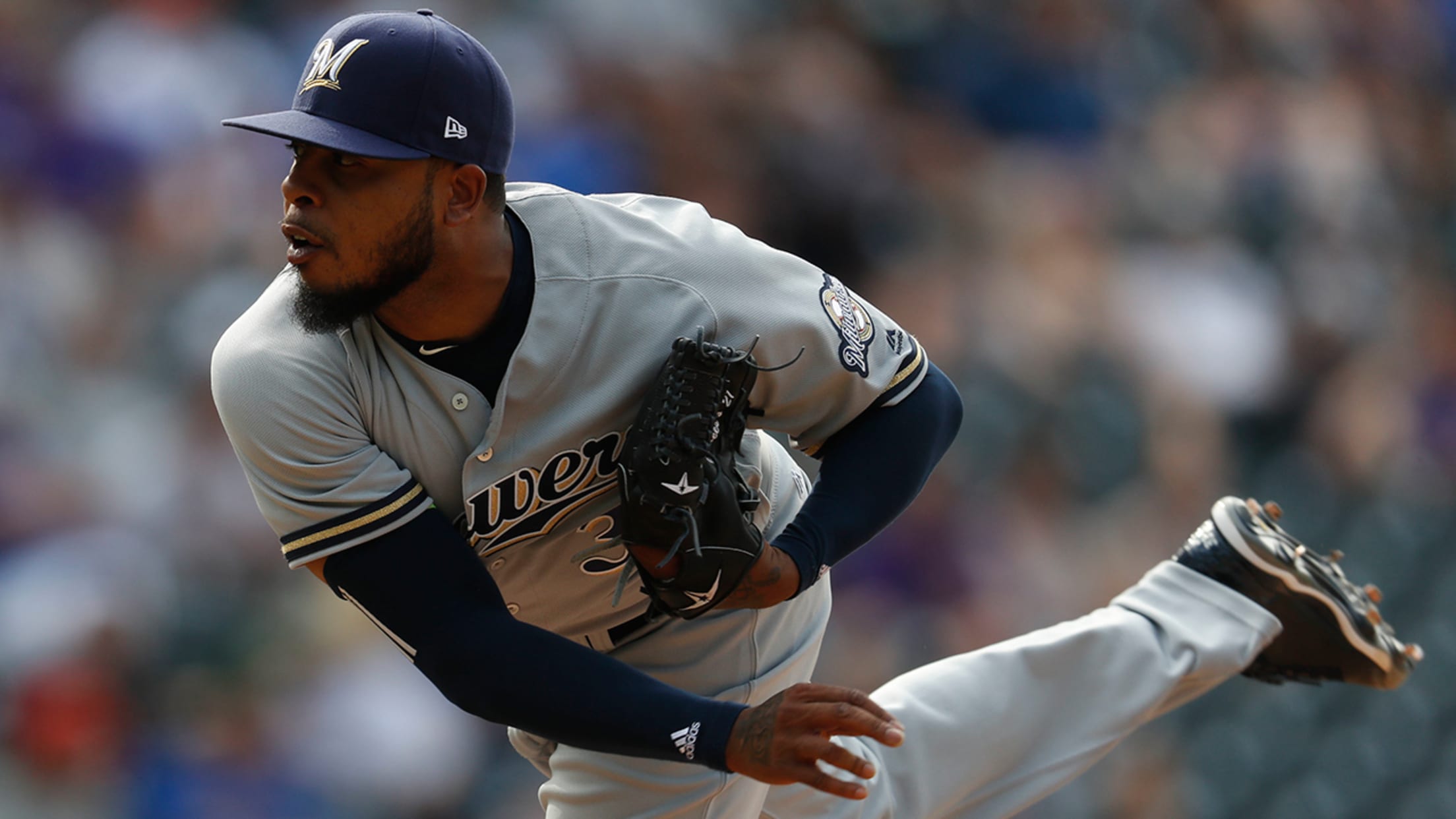 Jeremy Jeffress has held opponents to a .211 average since returning to Milwaukee. (AP)
MILWAUKEE -- So far, so good in the second of Jeremy Jeffress' Brewers homecomings.Jeffress, a former first-round Draft pick-turned-journeyman who resuscitated his career upon returning to the Brewers organization three years ago, is bidding to do so again after a tough tenure with Texas. Since the Brewers reaquired Jeffress in
MILWAUKEE -- So far, so good in the second of Jeremy Jeffress' Brewers homecomings.
Jeffress, a former first-round Draft pick-turned-journeyman who resuscitated his career upon returning to the Brewers organization three years ago, is bidding to do so again after a tough tenure with Texas. Since the Brewers reaquired Jeffress in a trade on July 31, Jeffress has not been scored upon -- earned or unearned -- in eight of 10 appearances while holding opponents to a .211 average in that span.
Jeffress has walked too many batters -- eight in 10 innings -- but he has upped his strikeout rate from 6.4 per nine innings in Texas to 8.1 per nine innings with Milwaukee.
"I think [Brewers GM] David [Stearns] and [assistant GM] Matt [Arnold] did a really great job of kind of thinking of what it could be again," said Brewers pitching coach Derek Johnson. "The fact of the matter is, he had 27 saves for us last year. I think it was a really good fit. It was him just getting back and getting comfortable."
That process included a refinement of Jeffress' tempo. Johnson and bullpen coach Lee Tunnell noticed the rhythm of his delivery had slowed a bit, and after overcompensating in his first Brewers outing, Jeffress has settled back into a natural groove.
"The other thing we wanted to get after a little bit was his split, because we think it's a good pitch," Johnson said. "He's used that a lot. I think it could be a dominating pitch, not to mention the fact he has a 95 mph sinker."
Jeffress has tinkered with a split-finger fastball since 2015, his first full year back with the Brewers, and Johnson's first season as the team's pitching coach. Jeffress threw it sparingly in '16 while closing games for the Brewers before being packaged with catcher Jonathan Lucroy in a blockbuster trade with Texas, but he has featured it prominently this year.
This season with the Rangers, Jeffress threw that pitch about 10 percent of the time. In his first 10 Brewers outings, he threw it nearly 19 percent of the time, per FanGraphs.
"I felt comfortable here, all my playing years here," Jeffress said. "There's a comfortability in being able to be myself. Nobody is going to judge me. In other places, I felt like I had to keep looking over my shoulder.
"That wasn't always a bad thing, but it was like I always had to be correct. I couldn't just be me. Here, I can be me."
Last call
• Brewers third baseman Travis Shaw and catcher Manny Pina were both out of the lineup Wednesday, and they remained day to day with injuries. Pina tweaked his right hip diving for a pitch in the dirt, and he would have been off Wednesday anyway, manager Craig Counsell said. Shaw, dealing with a painful right foot, might sit out Thursday's game as well, in part because left-hander Giovany Gonzalez is scheduled to start for the Nationals at Miller Park.
Shaw has been hobbled lately after fouling a series of pitches off his right foot and leg.
"They're going to try some arches in my shoe to try to take some of the pressure off it," Shaw said. "And I'm wearing a guard now. If I hit it again -- I can't even imagine."
• Counsell said right-hander Brandon Woodruff will be among the Brewers' September callups, and he will start Saturday night against the Nationals.