Jeffress back on track after hamstring strain
Brewers No. 4 prospect Hader gets good experience; camp cuts coming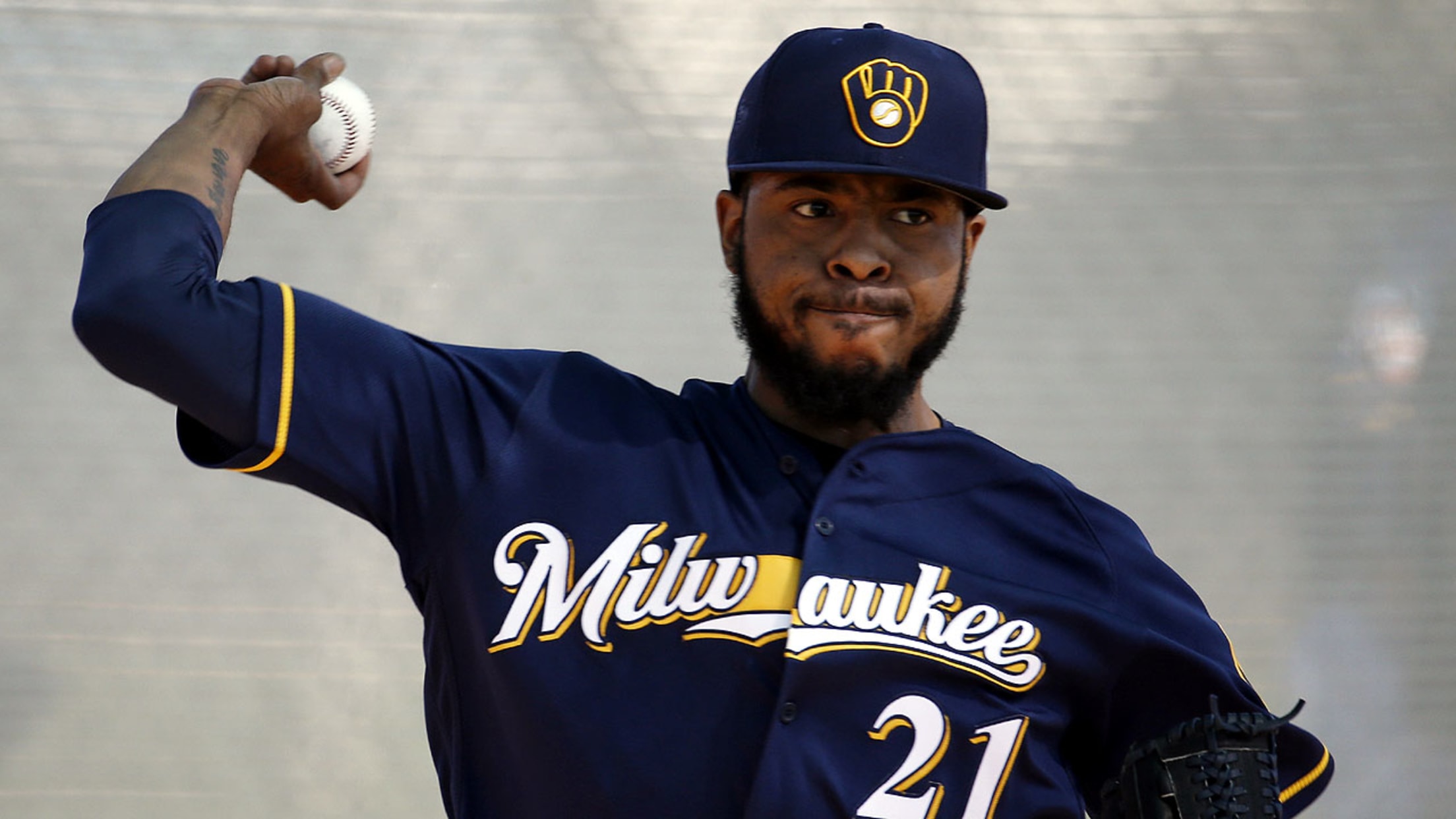 Jeremy Jeffress: "I'm ready to rock." (AP)
SURPRISE, Ariz. -- A particularly motivated Jeremy Jeffress is scheduled to throw another bullpen session Thursday as the Brewers reliever looks to get back on schedule after suffering a right hamstring strain earlier in camp.Jeffress already threw off the mound successfully once this week. Assuming no setbacks on Thursday, the
SURPRISE, Ariz. -- A particularly motivated Jeremy Jeffress is scheduled to throw another bullpen session Thursday as the Brewers reliever looks to get back on schedule after suffering a right hamstring strain earlier in camp.
Jeffress already threw off the mound successfully once this week. Assuming no setbacks on Thursday, the next step would be facing hitters in live batting practice over the weekend, followed by an inning in a Cactus League game.
"I'm ready to rock," Jeffress said. "If I can get seven, eight innings down here, I'm good. It's all about your body and arm being ready."
With Francisco Rodriguez traded to Detroit, Jeffress or Will Smith are likely to serve as Brewers closer this season. Manager Craig Counsell has left open the possibility of using co-closers (Jeffress is right-handed and Smith is a lefty), but it's just as possible that one of those players will seize the role.
Jeffress is eager to battle with his good buddy.
"I set a couple of personal goals," Jeffress said. "Last year, night game [versus] day game split wasn't that good. I'll try to get that a little better. Get some more rest, I guess.
"And then, if I'm in the closer role, another is to get a good amount of saves. That's a personal goal. But my biggest goal is just to finish the season healthy and help this team do whatever we can do."
Hader hit hard
The Brewers' No. 4 prospect, Josh Hader, faced the heart of the Royals' lineup over two tough innings of Wednesday's 7-5 loss, allowing two runs (one earned) on three hits, including Eric Hosmer's home run. Hader escaped more damage when Paulo Orlando's would-be grand slam fell into left fielder Michael Reed's glove at the warning track.
"I think that's a great experience for Josh Hader," Counsell said. "It's nothing but a great learning experience for him. It's just the situation you want him to pitch in, facing very good hitters, and how his stuff lines up, and what he can improve on. A perfect learning situation."
"Obviously, it wasn't his best day," said Royals outfielder Alex Gordon, who singled off Hader in the fourth inning. "But coming out of his hand, he's got good stuff. We've heard a lot about him, kind of like a Chris Sale -- tall, lanky, kind of slings it. Good fit for them."
Cuts coming
The Brewers are more than halfway through their second turn through the spring starting rotation, meaning the first round of camp cuts are not far away.
"As starters start to get to the third time through," Counsell said, "the innings start to disappear, yeah."
The first cuts are often starting pitchers ticketed for assignments in the Minor Leagues, a handful of whom -- Hader, Adrian Houser and Jorge Lopez -- pitched in Wednesday's game against the Royals. It will mark Counsell's first time delivering such news. He did not take over as Brewers manager until last May.
"I'm not looking forward to it, believe me," Counsell said.
• Lopez, inspiring son helping each other in life
Last call
• Scooter Gennett participated in throwing and hitting drills Wednesday, a day after the Brewers announced an MRI scan of his sore right shoulder revealed no structural damage.
• Rule 5 Draft pick Zack Jones threw a bullpen session on Wednesday for the first time since complaining of a sore right shoulder. His arm has been healthy for a few days, but Jones was delayed by a bout of the flu.