Owens' only career HR memorable off Halladay
Former Sox outfielder, Pierzynski share memories of deceased hurler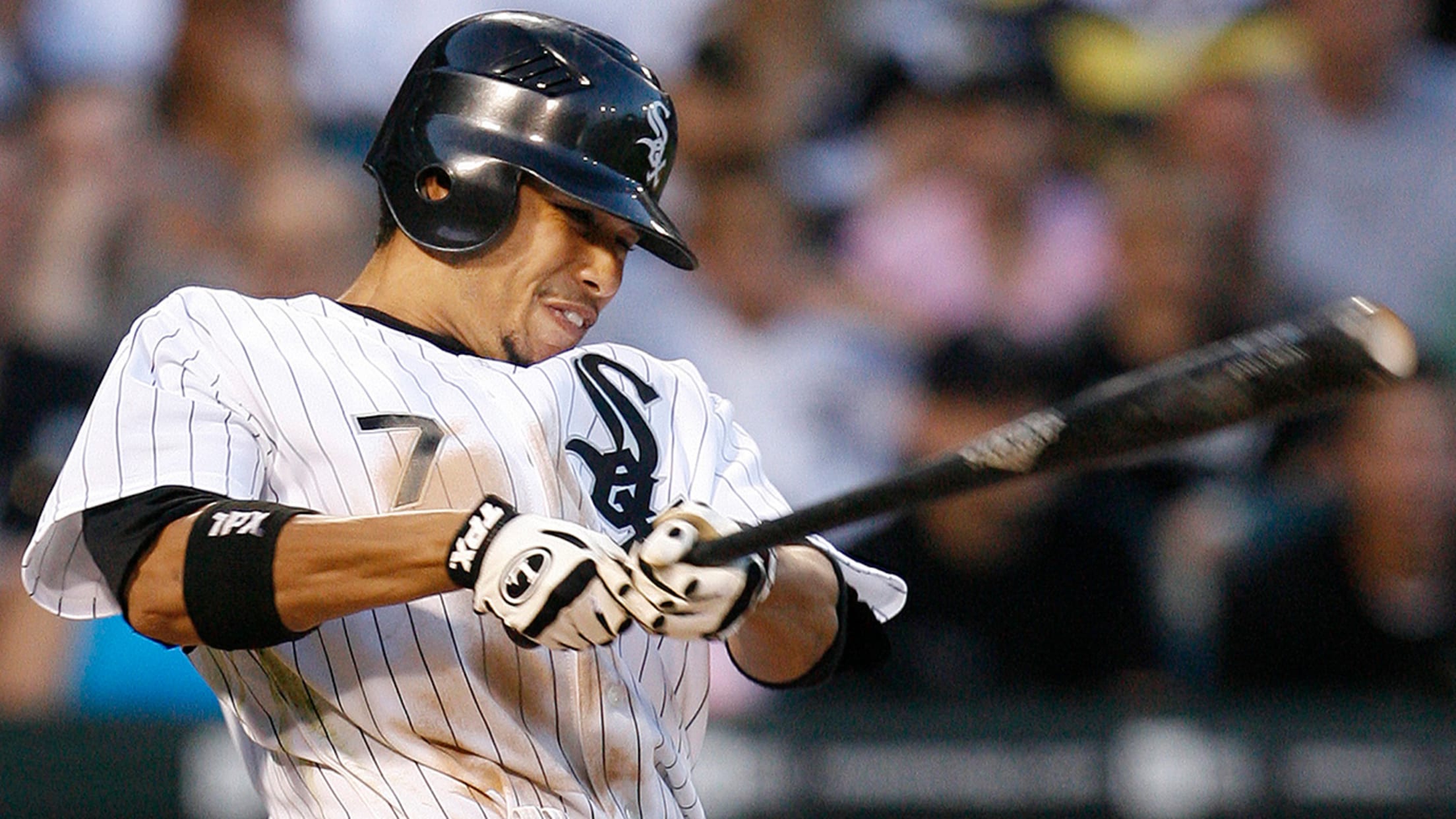 Jerry Owens' only career HR was a game-deciding shot off Roy Halladay in 2007. (AP)
CHICAGO -- It doesn't take Jerry Owens very long to recount his Major League home runs.In fact, the 36-year-old -- who played four seasons with the White Sox and was known for his speed -- cleared the fences exactly one time over 430 plate appearances. That long ball came as
CHICAGO -- It doesn't take Jerry Owens very long to recount his Major League home runs.
In fact, the 36-year-old -- who played four seasons with the White Sox and was known for his speed -- cleared the fences exactly one time over 430 plate appearances. That long ball came as a rookie and as the game-winner on July 28, 2007, in the seventh inning of a 2-0 White Sox home victory highlighted by eight scoreless innings thrown by Mark Buehrle.
The opposing pitcher for Owens' connection was Roy Halladay, who passed away last Tuesday at the age of 40 when a small plane he was piloting crashed off the Florida coast. With a celebration of life for Halladay taking place at Spectrum Field in Clearwater, Fla., on Tuesday, Owens shared precise memories of his special moment against one of the game's greatest pitchers and greatest competitors.
:: Roy Halladay, 1977-2017 ::
"I remember like it was yesterday," said Owens, who retired last November and served as bench coach for Triple-A Columbus in the Indians' organization last season. "I can still see the pitch.
"Earlier in the game, he had gotten me out on cutters. He actually struck me out my first at-bat on a pitch away, and then, if I'm not mistaken, I got two hits off of him that night. One was a blooper to left field, and it was on a cutter.
"And it jammed me, I hit it off of my thumb, and it barely made it to the outfield and fell in," Owens said. "I remember thinking that last at-bat like I'm going to sit on that pitch, because I know he's trying to come in there."
Owens hit the first-pitch cutter to right for a two-run homer. He quipped that if the ballpark fences were 336 feet instead of 335, it wouldn't have been a home run.
"They are 335, so I will take it," said Owens. "It snuck right down the line and right inside the foul pole and right over the fence."
Halladay threw a 126-pitch complete game in a contest covering 2 hours, 7 minutes. On May 31 of the same season, in Toronto, Buehrle threw a complete game in a 2-0 loss to Halladay. Buehrle allowed solo home runs to Frank Thomas and Aaron Hill but no other baserunners in a dual mound masterpiece lasting 1 hour, 50 minutes.
A.J. Pierzynski caught both of the games for the White Sox. Unlike Owens, who never personally knew Halladay, Pierzynski was friendly with one of the game's most respected individuals on and off the field, and he was left at a loss for words after Halladay's sudden death.
"At 40 years old, and out doing something that he apparently loved, to just end like that, it's horrible," Pierzynski said. "What do you even say? People were texting me, 'You know him,' and I was like, 'Yeah, there are not even any words to imagine that.'"
Said Owens: "We lost a great player, a great competitor and, from what everybody has said, all the comments and notes, a great person. He had the stuff, but he's really that guy you want on the mound, the epitome of what you want in a big league pitcher."