Chavez's scoreless streak ends on walk-off walk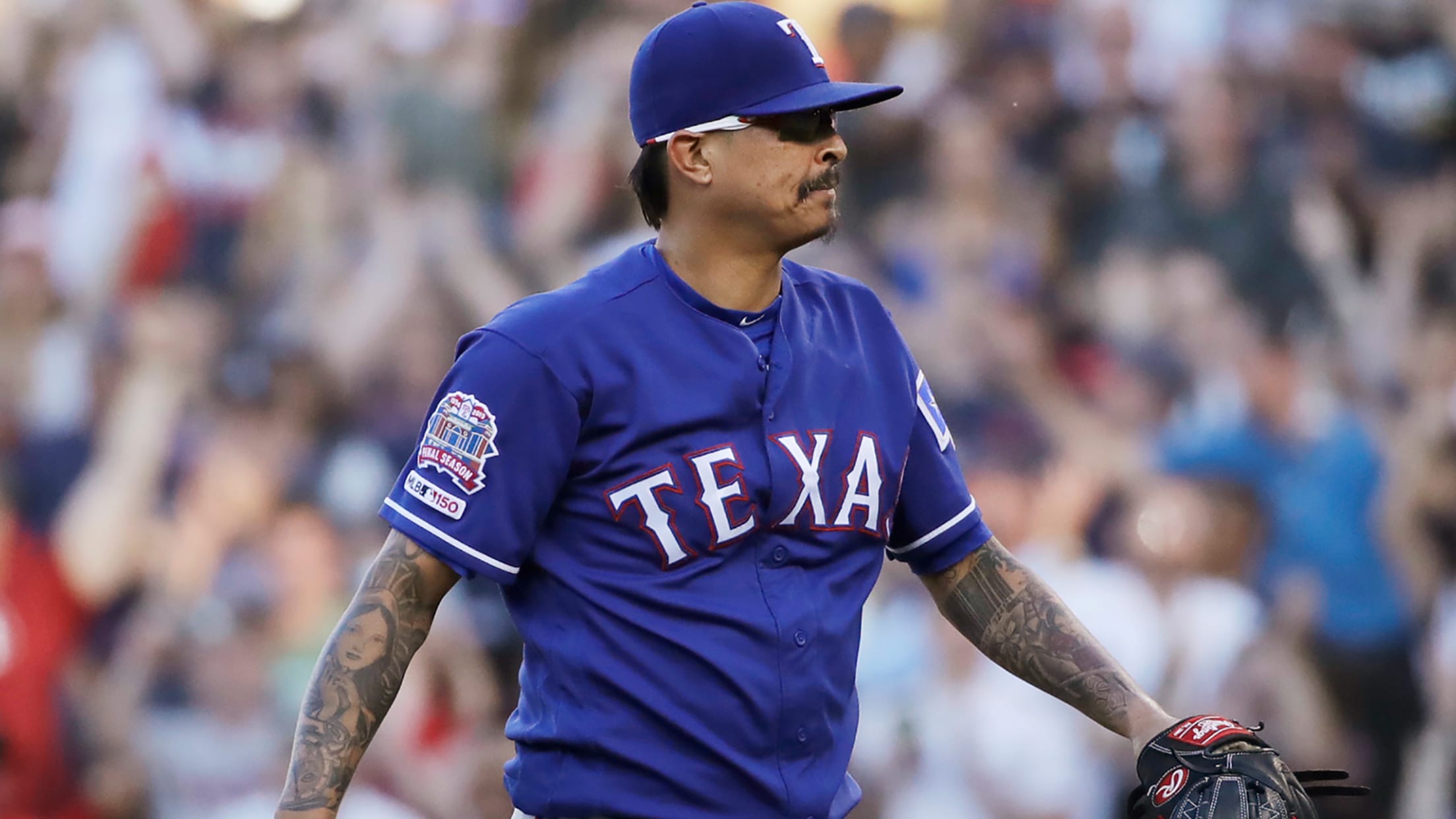 BOSTON -- Jesse Chavez's moustache was gone almost as soon as his 22 2/3-inning scoreless streak had ended. He shaved the recognizable facial hair, which he began growing during his impressive stretch of pitching, shortly after he walked consecutive batters in the bottom of the ninth on Wednesday, including a
BOSTON -- Jesse Chavez's moustache was gone almost as soon as his 22 2/3-inning scoreless streak had ended.
He shaved the recognizable facial hair, which he began growing during his impressive stretch of pitching, shortly after he walked consecutive batters in the bottom of the ninth on Wednesday, including a bases-loaded free pass to Mookie Betts to seal the Rangers' 4-3 walk-off loss at Fenway Park.
Chavez explained the way he broke the streak wasn't reflective of who he is as a pitcher, and so the moustache was no longer a fit.
"I was just missing by a little bit," Chavez said. "I don't know, I think I was trying to be too fine in that situation, where I don't know why I should. Trust myself and let it play. Just let them put the ball on the ground and let the defense do their work. Today was the day I wasn't able to do it in a situation where we needed it, for sure."
Jesse Chavez shaved his moustache after his scoreless inning streak ended. He talked about the Rangers loss to the Red Sox. pic.twitter.com/GziSAEglJK

— Jessica Camerato (@JessicaCamerato) June 12, 2019
With the game tied 3-3 in the bottom of the ninth, Chavez gave up a ground-rule double to leadoff batter Christian Vazquez, followed by a single to Jackie Bradley Jr. He issued his first walk to Michael Chavis on four straight pitches to load the bases with no outs.
Chavez got Betts to foul off the first pitch, an 89 mph cutter, but missed the mark on his next four pitches, a mix of cutters and two-seam fastballs.
"I was pretty confident knowing the situation that he had," Betts said. "He had to kind of come to me at that point. He was in trouble, so I was pretty confident about that."
Chavez had not allowed a run since April 30 against the Pirates. His streak of 22 2/3 innings had been the longest active stretch in Major League Baseball, and it was the longest for a Rangers pitcher since Cole Hamels threw 24 consecutive scoreless innings in 2017.
So what does Chavez's loss mean for manager Chris Woodward moving forward?
Absolutely nothing.
Woodward emphasized his confidence in the 12-year veteran and noted Chavez "doesn't get rattled."
"Chavez has been unbelievable for us," he said. "To put it on his shoulders, obviously not. I'm going to put it right back into his hands tomorrow. He's had a heck of a run up to this point, and everything has to come to an end at some point."
Less than an hour after the game ended, Chavez already was ready for the next one. The Rangers close the series against the Red Sox Thursday night at Fenway Park. If Chavez pitches, it will be his seventh appearance in 12 days.
"[I] put my body in position to be able to throw every day, and it's good to know that he [Woodward] has that confidence in me," Chavez said. "I'm just going to show up tomorrow and do what I can, learn from what I did today, fix those mistakes and get out there tomorrow."
This game marked the Rangers' fifth walk-off loss of the season. They had not lost a game on a walk-off walk since September 16, 2002, against the Mariners. Ichiro Suzuki scored the winning run in that one.