Slumping Aguilar gets breather in LA opener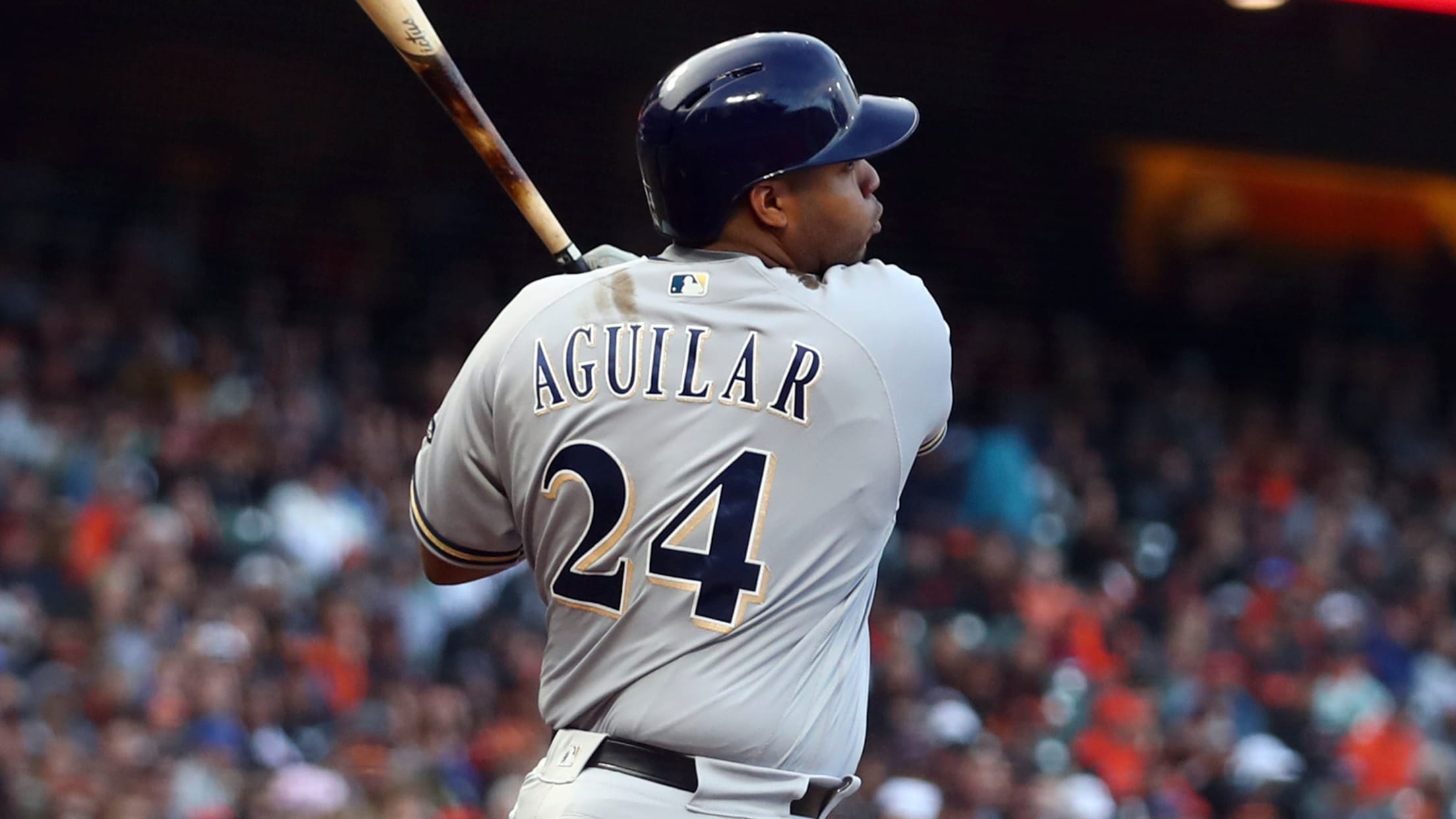 LOS ANGELES -- Travis Shaw stuck a strip of athletic tape to the dugout wall at AT&T Park the other day, found a black marker and scribbled All-Star teammate Jesus Aguilar's mantra in block letters for Aguilar and everyone else to see: STAY POSITIVE.It's a sentiment Aguilar has been trying
LOS ANGELES -- Travis Shaw stuck a strip of athletic tape to the dugout wall at AT&T Park the other day, found a black marker and scribbled All-Star teammate Jesus Aguilar's mantra in block letters for Aguilar and everyone else to see: STAY POSITIVE.
It's a sentiment Aguilar has been trying to keep at the forefront of his mind as he fights a hitting funk that left him with six hits in his last 47 at-bats through Sunday's 0-for-4 showing in San Francisco. Over the past two weeks, his hard-hit rate -- 43.8 percent this season -- is 28 percent.
It was time for what manager Craig Counsell said would be a one-day break. Well, a partial break. Aguilar came off the bench and delivered a pinch-hit RBI single in Monday's 5-2 win over the Dodgers.
"I've already passed [this test] before," said Aguilar. "Being in Triple-A for three years, it was tough. It kind of you prepares you for things. … Baseball is up and down, and right now I'm a little bit down. But we're winning games, and that's the most important thing. Now we've got to keep pushing."
Aguilar, who entered Monday second in the National League with a .582 slugging percentage and tied for second with 25 home runs in spite of his recent lull, has been pushing hard. That may be part of the problem. He had three hits in Miami on July 11, the day he learned he'd won the NL's All-Star Final Vote after a busy week of campaigning, then went 2-for-15 while the Brewers were swept in a five-game series at Pittsburgh leading into the All-Star break.
He traveled to Washington, D.C., and took part in the T-Mobile Home Run Derby, followed by two at-bats in the Midsummer Classic itself. Aguilar and the rest of the Brewers traveled back to Milwaukee the next day and had one full day of rest before resuming regular season play on July 20.
Whether there's cause and effect there is impossible to say. But when he was asked whether the week leading into the "break" played a role in his mini-slump, Aguilar said, "Maybe. Maybe. It was a lot of stuff before the All-Star Game and after. But I've got to go through it. I've got no choice. We're really close in the standings, so we've got to keep pushing. It's not just me. We're a team."
The Brewers are better positioned to give Aguilar an occasional break with the arrival of another bat over the weekend in Mike Moustakas. Ryan Braun, Moustakas, Shaw and Eric Thames all can man first base.
"A lot has happened in a short amount of time for him, and he's handled everything wonderfully -- kind of like it's no big deal to him," said Counsell. "But it's changed for him, for sure, and I think he's done a great job with that. As we go on the rest of the season, he's going to get some days off. That's part of how I think Jesus is going to be the best player."
Checking in
Right-hander Jimmy Nelson and catcher Stephen Vogt were scheduled to visit with Dodgers team physician Dr. Neal ElAttrache this week at Dodger Stadium. ElAttrache performed shoulder surgeries on both players, and the visit was characterized as just a checkup with the Brewers in town.
Vogt is about 11 weeks post-surgery. At the 12-week mark, he expects to increase his activity. Counsell said there was no significant update on Nelson, who remains in a throwing program.