Soria makes his 'opener' debut vs. Angels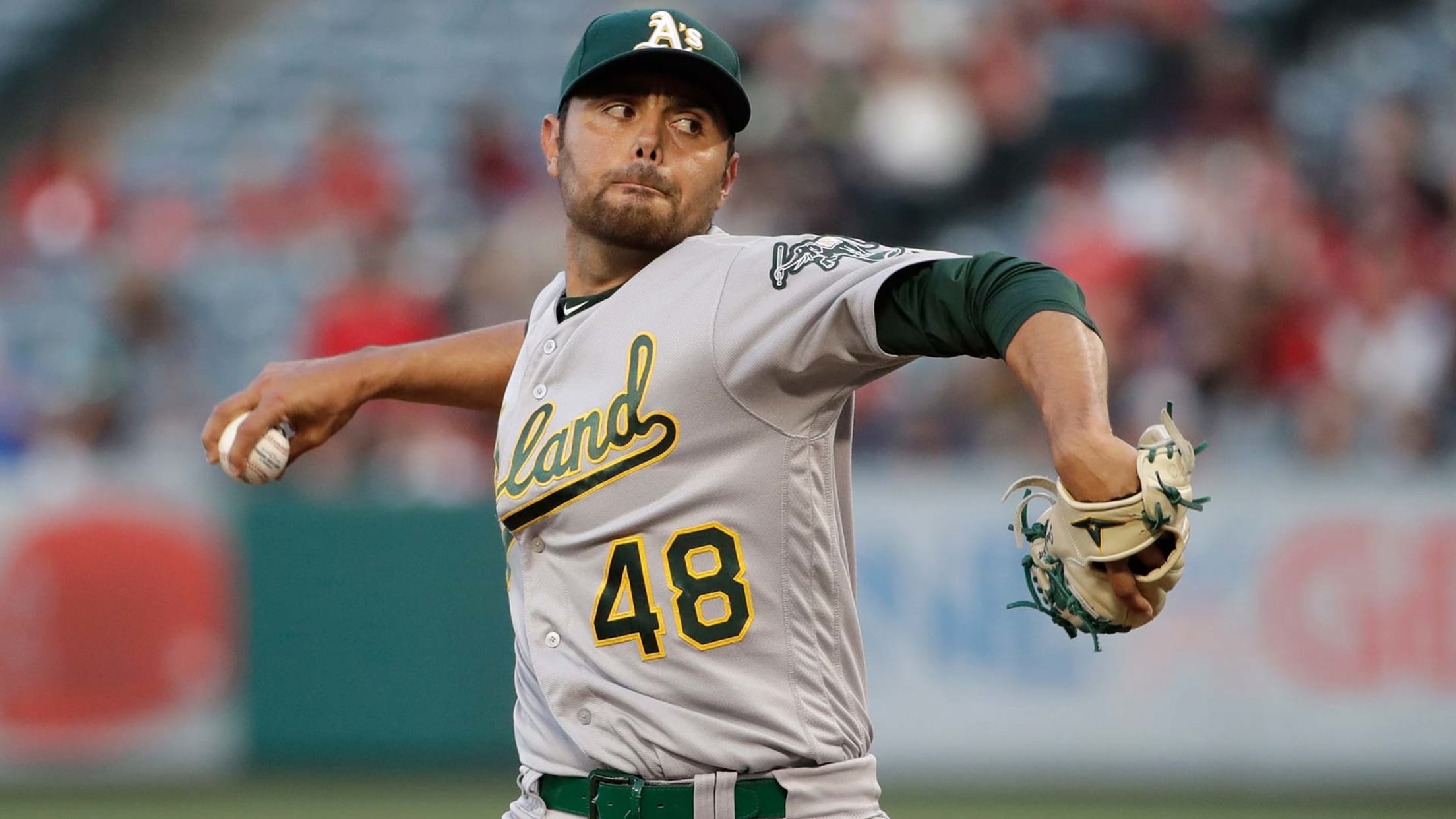 ANAHEIM -- There aren't many possible new firsts for A's reliever Joakim Soria, but Wednesday's game gave him a new feat to add to the resume of his 12-year MLB career. Soria opened for the A's on Wednesday night against the Angels, marking the first time he's ever started a
ANAHEIM -- There aren't many possible new firsts for A's reliever Joakim Soria, but Wednesday's game gave him a new feat to add to the resume of his 12-year MLB career.
Soria opened for the A's on Wednesday night against the Angels, marking the first time he's ever started a game in the Majors. He surrendered a leadoff home to Tommy La Stella and allowed two hits and one run, to go with two strikeouts.
Liam Hendriks had been the A's opener the first two times they implemented the strategy this season, and opened eight games in 2018, but after throwing 20 pitches in the eighth inning of Tuesday's 4-2 win over Los Angeles, the club elected to go with the fresher arm.
"We were leaving it open, depending on how yesterday's game went," A's manager Bob Melvin said. "Liam is the guy that usually does it. We pitched him deeper in the game and didn't use Joakim, so he's the guy today."
With the opener being more of a new-age baseball concept, it might be tougher for a veteran like Soria to get on board with the idea, but Melvin said the right-hander didn't need much convincing before making the decision.
"He didn't seem as surprised as I thought he might be," Melvin said. "He was up for anything. He's been around for a little bit, and he'll just treat it like any inning that he's pitching during the game. I expected him to show around 6 p.m. like a lot of starters do, but he came in at a regular time. It's another notch under his belt throughout a terrific career to this point."
Signed to a two-year deal in the offseason to pitch in the back end of the bullpen, Soria's 5.02 ERA entering Wednesday is not a true representation of the way he's been pitching more recently. A rough start that was highlighted by two outings in which he allowed four earned runs ballooned his ERA over 6.00 through April.
Soria has been more of a reliable option for Melvin as of late, turning in scoreless outings in 10 of his last 13 appearances.
"It was three or four games that affect where his numbers are," Melvin said. "In the other outings, he's been really good. As a reliever, a couple of bad outings early in the season can affect your numbers. But there have been times where he's been really good."
Melvin has also found himself coming around to the idea of the opener, especially with the way the concept has worked for the Rays, who first began to utilize the opener on a regular basis last year, and are off to a good start in 2019 at 35-23.
"I was wondering, just like anybody," Melvin said of his thoughts on the opener role. "I think there's some uncomfortability with it at times, but once you get into it, you realize the reason for it. You look at the success that Tampa has, it's something they rely on heavily."