Lucchesi's scoreless streak ends harshly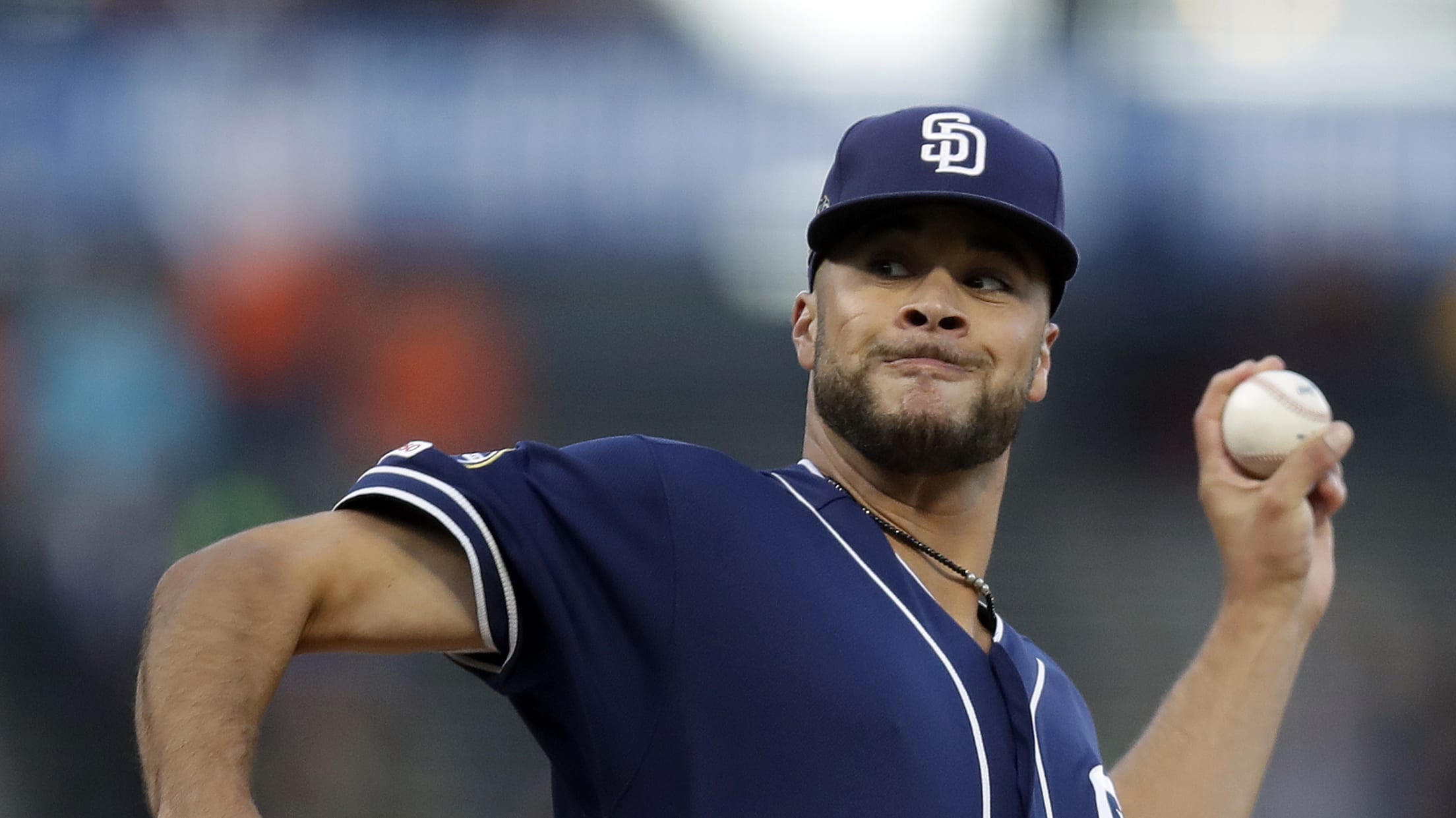 SAN FRANCISCO -- At least Joey Lucchesi had company Tuesday night. Lucchesi and Mets ace Jacob deGrom were the National League's only pitchers to have accumulated at least 10 scoreless innings without allowing a run. Both streaks ended in the second inning of the hurlers' respective games. Of course, the
SAN FRANCISCO -- At least Joey Lucchesi had company Tuesday night.
Lucchesi and Mets ace Jacob deGrom were the National League's only pitchers to have accumulated at least 10 scoreless innings without allowing a run. Both streaks ended in the second inning of the hurlers' respective games. Of course, the only pitcher the Padres cared about was Lucchesi, who endured one of the roughest outings of his Major League career in a 7-2 loss to the Giants.
Lucchesi, who entered the game with 10 1/3 innings in two starts, cruised through a 1-2-3 first inning. Then the offensively challenged Giants, who ranked next-to-last among Major League clubs with 30 runs in 11 games before Tuesday, collected four consecutive hits to spark a six-run outburst. It wasn't just the Giants' highest-scoring inning of the season; it also matched their most fruitful output for a game.
Neither Lucchesi nor Padres manager Andy Green was overwhelmed by the Giants' prowess.
"A little weird inning there," said Lucchesi, who lasted four innings and matched a career worst established last Sept. 23, when he allowed seven runs to the Dodgers. "I felt like I got a little unlucky, to be honest. But it did happen, so it's my fault. You just got to move on, man."
Lucchesi added, "I felt like I gave up only three hard hits."
Of the six hits, at least two were bloops: Yangervis Solarte's RBI double and Tyler Austin's run-scoring single. And left fielder Hunter Renfroe tried to play Kevin Pillar's bases-loaded line drive on a hop but allowed the ball to get past him. The result was a three-run double.
Lucchesi, 25, had relished the opportunity to start this game. This marked his fourth career appearance against the Giants, but his first at Oracle Park -- a little more than a 30-minute drive from his hometown of Newark. A Padres spokesman said that Lucchesi (2-1), who graduated from Newark Memorial High School and attended Chabot College, left 16 tickets for relatives and friends.
Lucchesi said that he grew up rooting for the A's but felt "pretty excited" to pitch at Oracle Park. "I felt comfortable," he added.
Padres hitters had no answer for Giants left-hander Derek Holland (1-1), who surrendered one run and five hits while striking out nine in seven innings.
"He pitched on the edges. A few of those were just right off the edges," Green said, reserving extra praise for Holland's two-team fastball.
"He executed it well against us today. A few guys took some good passes at it. Overall, though, we were taking it for called strikes."
One of the few Padres to solve Holland was Renfroe, who smacked his fourth home run of the season in the seventh inning. It was the right-handed-batting Renfroe's first home run off a left-handed pitcher this season. In his last seven games, Renfroe is hitting .391 (9-for-23) with three doubles, four home runs, three walks and seven RBIs.
Chris Haft has covered the Major Leagues since 1991 and has worked for MLB.com since 2007. Follow him on Twitter at @goodforball.