Yadi aside, Cards don't expect limited players
Mozeliak gives updates with spring camp set to open next month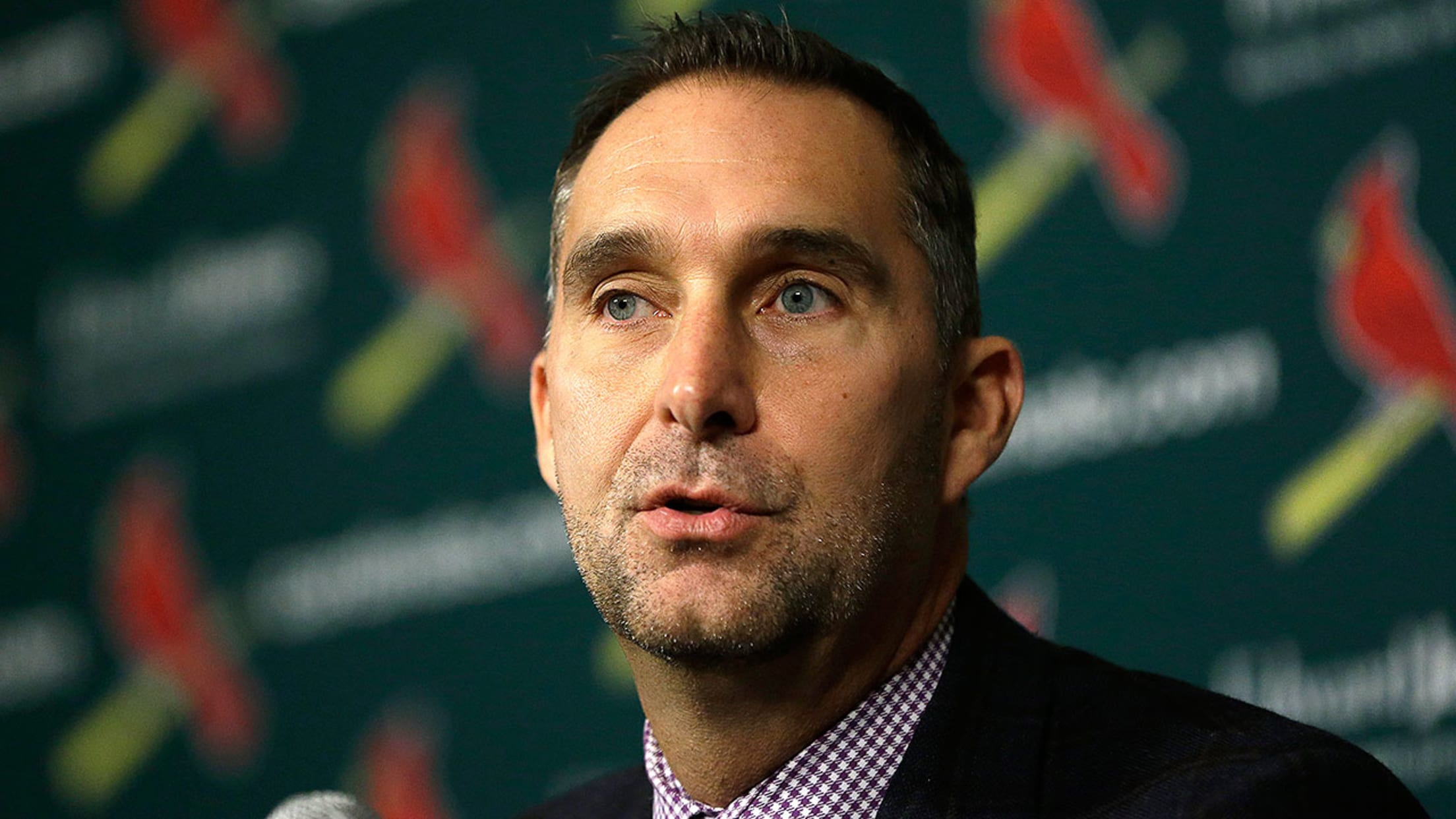 GM John Mozeliak discussed injuries, arbitration and more at a Monday news conference. (AP)
ST. LOUIS -- Aside from catcher Yadier Molina, who continues to recover from a second thumb surgery, the Cardinals do not anticipate any of their players being limited next month when the club opens spring camp, general manager John Mozeliak said on Monday.The Cardinals have their first pitchers and catchers
ST. LOUIS -- Aside from catcher Yadier Molina, who continues to recover from a second thumb surgery, the Cardinals do not anticipate any of their players being limited next month when the club opens spring camp, general manager John Mozeliak said on Monday.
The Cardinals have their first pitchers and catchers workout scheduled for Feb. 18, and they will hold their first full-squad workout on Feb. 23.
• Spring Training workout dates announced
Randal Grichuk, who underwent a sports hernia surgery in December, has resumed physical activity without issue. The Cardinals also have received encouraging reports on reliever Jordan Walden, though the team is approaching his status a bit more cautiously given that he missed the final five months of the 2015 season with forearm and shoulder issues.
That's one of the reasons the Cardinals were aggressive in pursuing South Korean right-hander Seung Hwan Oh, whom they introduced on Monday.
"I know he has been working with a physical therapist all offseason," Mozeliak said of Walden. "The reports are that he feels good and is definitely in a better spot than he was a year ago. But having said that, I still think there are reasons for why we had today, and why we have a fair amount of questions about what we're going to get out of him moving forward."
If all continues well with Walden's offseason rehab, he is expected to be throwing when Spring Training opens.
Molina's timetable remains fluid, and he continues to wear a cast on his left thumb to protect it during the healing process. That cast is expected to come off later this month, at which time the medical team will get a better feel for how much strength Molina will need to regain.
• Cards face catching questions as Yadi recovers
While the Cardinals anticipate Molina being limited for much of Spring Training, Mozeliak has said the club is optimistic the veteran catcher will be behind the plate by Opening Day.
In addition to spending some time discussing injuries and the acquisition of Oh, Mozeliak offered a few other notable updates during a Monday news conference:
• Mozeliak acknowledged that left fielder Matt Holliday has been taking some grounders at first base, but he nevertheless downplayed the exercise.
"Again, I don't think we're anxiously looking at, necessarily, a position change," he said. "But I think the most important thing is he feels good, and he's had a real productive offseason as far as from the physical standpoint."
• Manager Mike Matheny will go back to wearing No. 22 after a season as No. 26. Jason Heyward's departure made No. 22 available again. The number shuffle also included Oh, who took No. 26 for himself.
• The deadline for teams and unsigned arbitration-eligible players to file their figures for a 2016 salary is Tuesday, and those numbers will be exchanged between the two sides on Friday. Mozeliak said he did not have a good feel for whether the Cardinals would sign any of their outstanding arbitration players before that date. The Cardinals have four players -- Brandon Moss, Matt Adams, Trevor Rosenthal and Seth Maness -- who fall in this category.