Russell fills in as Buck attends grandson's birth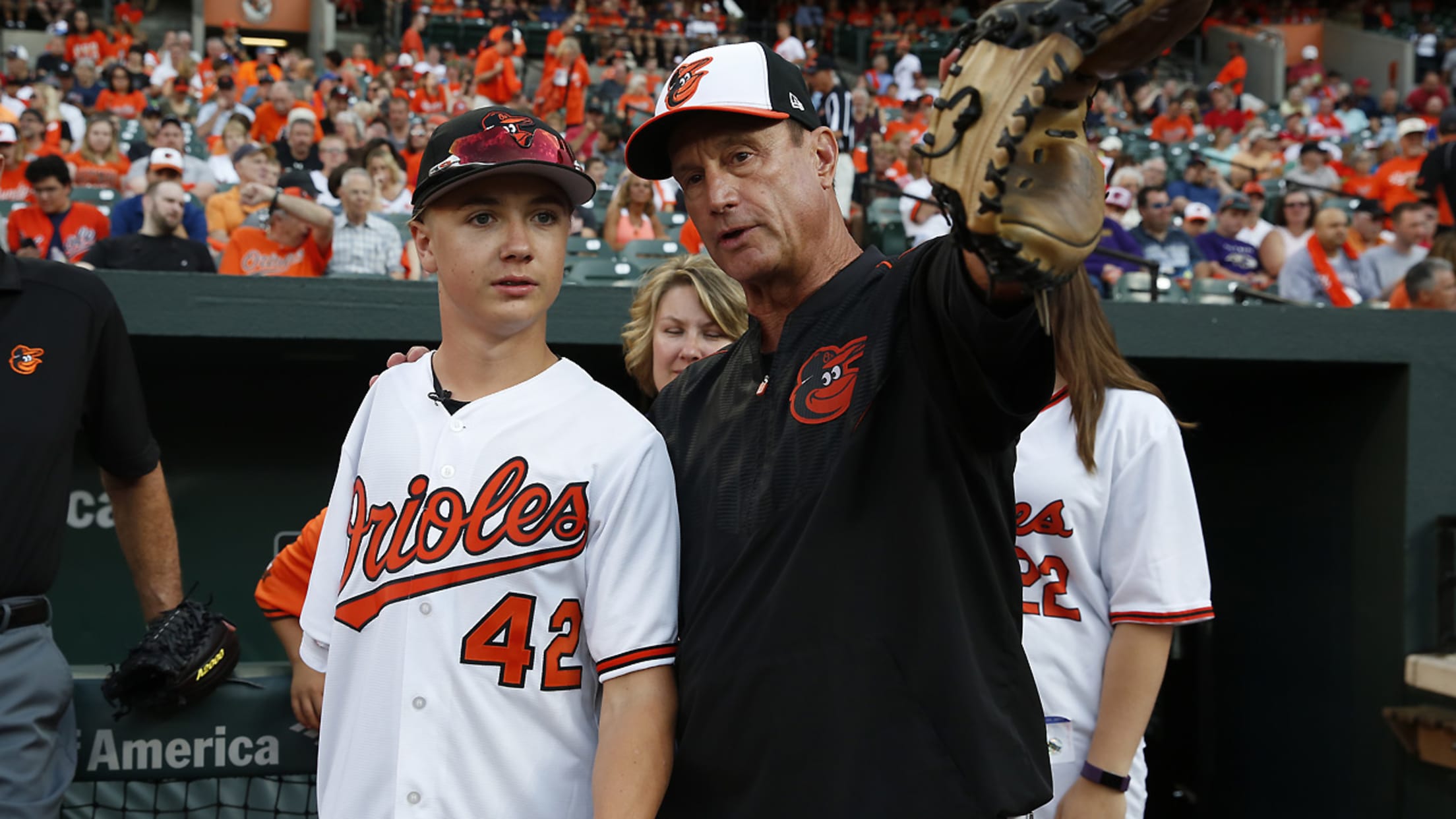 A day after spending time with one-armed catcher Luke Terry, bench coach John Russell filled in as the O's manager Thursday. (Orioles)
BALTIMORE -- Manager Buck Showalter was not in Baltimore for the Orioles' series finale against the Indians on Thursday, as he was with his family in Dallas for the birth of his first grandchild -- a boy weighing 9 pounds, 1 ounce. Bench coach John Russell filled in for the
BALTIMORE -- Manager Buck Showalter was not in Baltimore for the Orioles' series finale against the Indians on Thursday, as he was with his family in Dallas for the birth of his first grandchild -- a boy weighing 9 pounds, 1 ounce. Bench coach John Russell filled in for the skipper.
Russell, who filled in for Showalter three times previously, including once last season, was the manager of the Pittsburgh Pirates from 2008-10. Prior to the O's 6-3 loss to the Indians, Russell said the biggest challenge filling in for Showalter was managing the bullpen.
"One game could affect a team for the next three to five days," Russell said. "Our bullpen has been taxed. [It's] trying to piece together where you can keep guys as fresh as you can to make sure you have coverage for the next day."
Indeed, the Orioles have struggled on the mound lately. When the Indians' Erik Gonzalez homered in the sixth inning Thursday, it marked the 19th straight game the Orioles had allowed at least five runs. Russell used two relief pitchers -- Richard Bleier and Gabriel Ynoa -- for the final four innings after Wade Miley was chased by a leadoff single in the sixth.
The O's should have replacements coming soon.
Russell confirmed that right-hander Darren O'Day is on track to be activated from the 10-day disabled list Friday. O'Day (right shoulder) experienced no setbacks in a simulated game Wednesday.
O'Day should provide another reliable arm in the bullpen upon returning; he allowed just two earned runs in May after a rocky April. Closer Zach Britton (left forearm) has also been making progress and tossed a scoreless inning in a rehab outing for Class A Delmarva on Thursday.
Joshua Needelman is a contributor to MLB.com based in Washington.