Zimmermann struggles again in loss to Twins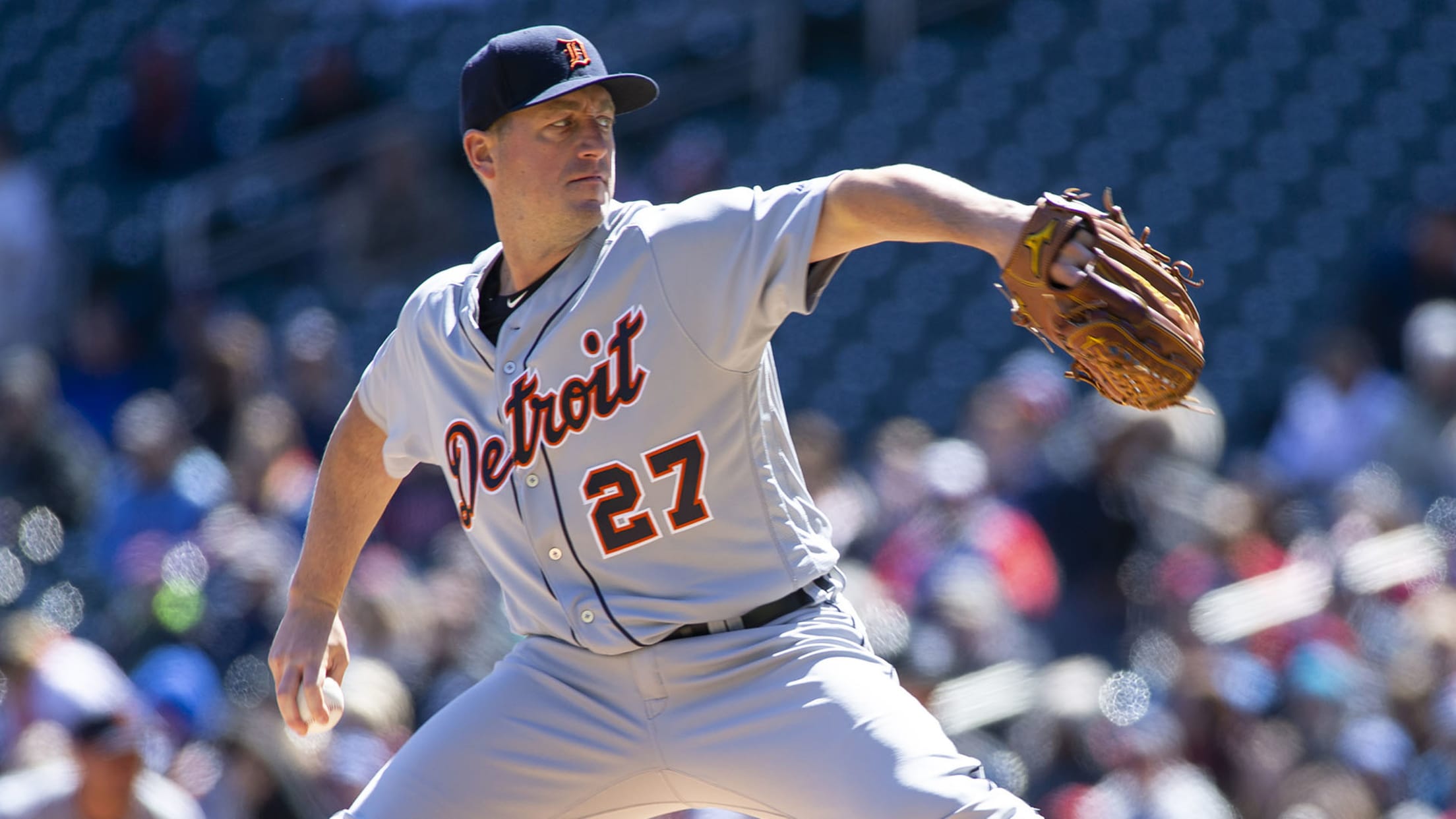 MINNEAPOLIS -- The sports world spent Sunday fascinated with Tiger Woods' comeback story at the Masters. Another Tiger's career rebound, however, had a disappointing ending this afternoon. Two starts into the season, Jordan Zimmermann looked like a potential Comeback Player of the Year candidate, having tossed 13 2/3 innings of
MINNEAPOLIS -- The sports world spent Sunday fascinated with Tiger Woods' comeback story at the Masters. Another Tiger's career rebound, however, had a disappointing ending this afternoon.
Two starts into the season, Jordan Zimmermann looked like a potential Comeback Player of the Year candidate, having tossed 13 2/3 innings of one-run ball in Toronto and New York while flummoxing hitters with a nasty slider and deceptive curveball. He looked healthy, after neck and back issues hampered him over the last few years, and was using a better mix of pitches around his fastball rather than focusing only on that pitch.
Two starts and two early exits later, the enthusiasm has been tempered, fastballs and sliders have been hit and the veteran right-hander needs to figure out some necessary adjustments in the wake of Sunday's 6-4 loss to the Twins at Target Field.
"For whatever reason, my slider's not doing what it's supposed to do right now and just spinning," Zimmermann said. "I don't know if it's me not getting out front or what it is, but I'm going to have to go look at the film and figure some things out. Really, it's my best pitch and I need that pitch. And if I don't have it, this is the type of stuff that happens."
It doesn't mean this Tiger's comeback is dashed, just as two great starts didn't mean Zimmermann was automatically a front-line starter again. But how Zimmermann responds is important, whether or not the Tigers continue their encouraging start.
Detroit remains over .500 at 8-7, but has four losses in its last five games, all against expected AL Central contenders Twins and Indians. Both games in Minnesota were close, with the Tigers putting the tying run in scoring position in the ninth on Sunday. With Matt Moore set to undergo right knee surgery that will sideline him for at least 4-6 weeks, and Daniel Norris entering the rotation in his place, the Tigers need outs and innings from Zimmermann to help preserve a bullpen that has been effective in part because it has been so selectively used.
Much like his start Tuesday against the Indians, Zimmermann did not have a feel for his slider or curveball Sunday, and he struggled to finish off hitters after getting ahead in counts. Unlike Tuesday, he said cold weather wasn't a factor. He used 30 pitches over six batters in a two-run, three-hit opening inning, but went on to throw just nine pitches over five batters as the Twins tacked on another run in the second.
"Just the command of all his pitches have been a tick off the last couple of outings," Tigers catcher Grayson Greiner said. "He had a great bullpen before the game, came out there and just missed a few spots. Some days they miss your mistakes, some days they hit it."
Zimmermann hung an 0-2 breaking ball for a double after Mitch Garver took back-to-back fastballs in the zone, then Byron Buxton pounced on a first-pitch slider over the plate for an RBI double. Both balls hit off the left-field fence. By contrast, C.J. Cron's third-inning home run off a 1-1 slider went out on a line over the fence in left.
"It's one of those days where it seemed like everything I threw in there, they knew what was coming," Zimmermann said. "I'm not saying they know. Could I be tipping pitches? Yeah, maybe. But it's just one of those days where no matter what I threw in there, it felt like they knew what was coming."
Five of the eight hits off Zimmermann had exit velocities of 105 mph or harder, according to Statcast. His 16 sliders drew one swinging strike, two called ones, and seven balls in play. His fastball had a harder average exit velocity (100.2 mph) than pitch speed (90.5).
"I tried getting some quick outs to get back to where I had a reasonable pitch count," Zimmermann said. "Ball one, come back with another pitch, base hit, double. Double, homer. It just happened quick. Just one of those days where no matter what I threw up there, it seemed like it was going to get hit hard."
That was a difficult route for recovery.
"These guys are just free-swinging enough," Detroit manager Ron Gardenhire said. "Normally when a guy like Jordan, a guy that locates the ball in and off the plate, doesn't go too wide, always around the plate, just nibbling around like he does, he's so good at it. With these guys, they're such free swingers, that hurt him a little bit here."
The Tigers had been looking for an opportunity to stretch out Norris' pitch count after his scheduled Friday start was snowed out. Sunday's early damage presented the chance. Zimmermann exited with five runs on eight hits over three innings, plus a walk and strikeout. Norris threw three innings of one-run ball, allowing six hits.
Zimmermann's next start will take place against a White Sox offense that roughed him up for a 7.11 ERA in five starts last year, but struggled in their last meeting over five scoreless innings last September in Chicago. This year's White Sox entered Sunday batting .238 with more strikeouts (127) than hits (105), so the opportunity for a rebound is there if Zimmermann can recapture his off-speed arsenal. With high temperatures forecast to reach the 60s in Detroit, he should have more favorable weather. But that's the least of his worries.
"It's weird how that can happen, where you have two really, really good starts and then have a long layoff and it almost feels like you're lost out there," Zimmermann said. "But we have a day off coming up and I'll go in the video room and see if I can figure some things out and be ready to go next time."