Berríos achieved two of three goals in strong '19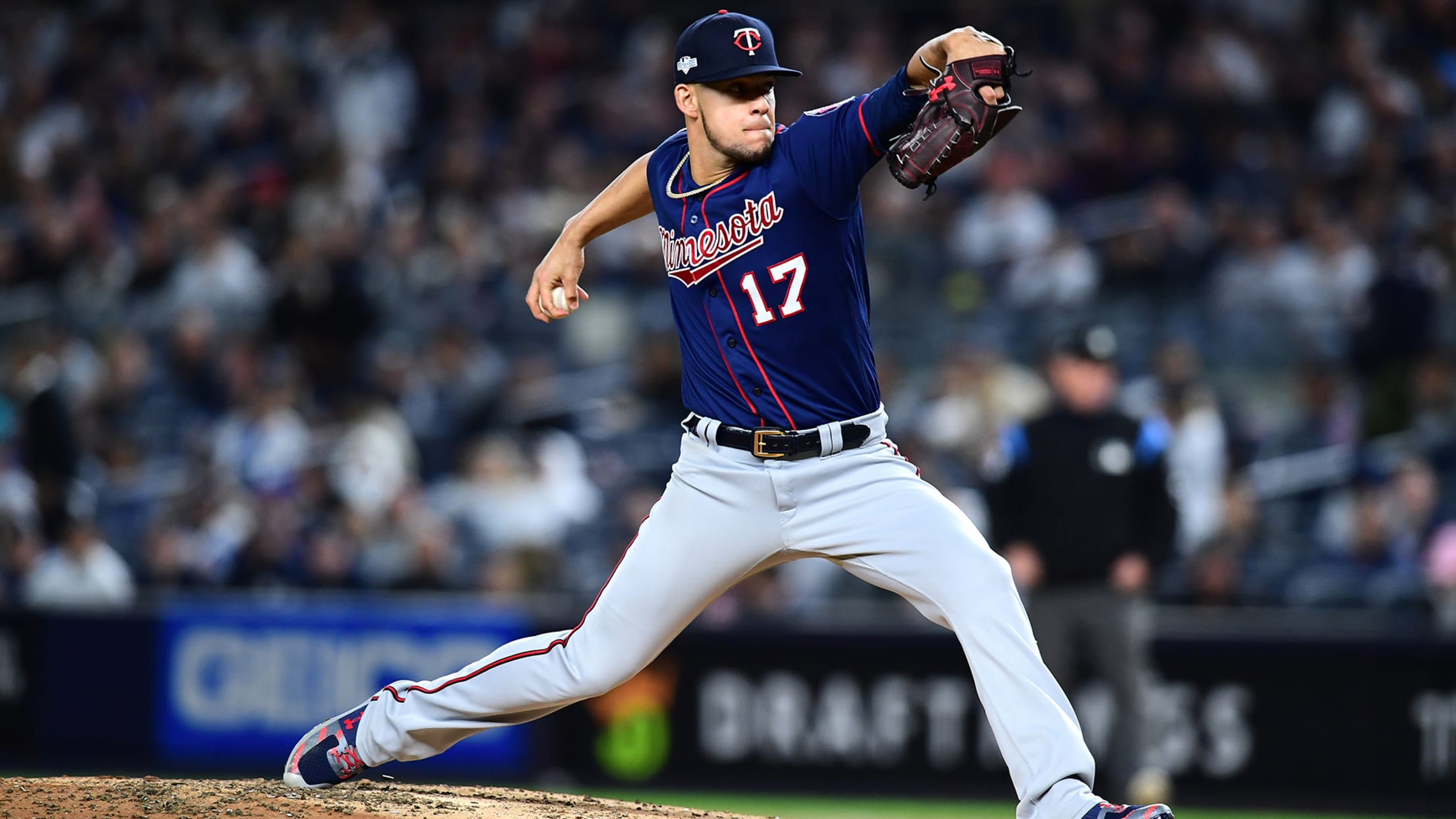 During the offseason leading into his 2019 campaign, José Berríos wrote down his goals in the notebook that he carries with him -- as he always does. The deeply ambitious Berríos wanted to win 20 games. He yearned for a return to the All-Star Game. And most importantly, he hoped
During the offseason leading into his 2019 campaign, José Berríos wrote down his goals in the notebook that he carries with him -- as he always does. The deeply ambitious Berríos wanted to win 20 games. He yearned for a return to the All-Star Game. And most importantly, he hoped to lead the Twins back to the postseason.
In that regard, Berríos went 2-for-3 in those goals this season, marking a largely successful campaign that saw the right-hander take another meaningful step in his development and his establishment atop the Twins' starting rotation.
And yet, despite the fact that Berríos improved upon his ERA, innings pitched and walk rate for a third straight season and finished seventh in WAR among American League starting pitchers (according to FanGraphs), the 2019 season showed that the 25-year-old still hasn't fully realized his lofty potential, as he experienced a prolonged stretch of inconsistency in the second half that ballooned his previously dominant season numbers.
But manager Rocco Baldelli felt that Berríos did push through the struggles and made the necessary adjustments to return to form by the end of September, and that's the version of the young ace that the Twins will need as they look ahead to 2020 due to the projected turnover and uncertainty in the starting rotation.
"I think he looks like a tremendous version of himself," Baldelli said of Berríos towards the end of the regular season. "I think he's looked as good recently as I've ever seen him. Stuff's way up, the command's up, the execution has been very good. ... In addition to that, he looks very confident. I love what we've been seeing from him and just going to let him go."
What went right?
At his best, Berríos' stuff baffled some of the best lineups in the league. When the right-hander was on his game, he turned in such outings as a 10-strikeout, shutout performance in 7 2/3 innings on Opening Day against Cleveland; seven suffocating innings against the Astros in May; or a 10-punchout, eight-inning masterpiece against Boston in June.
Berríos' command of two fastballs and his frisbee curveball proved potent weapons, as expected, but much of his progress derived from the continued improvement of his changeup, which was a focus of his work during Spring Training. His changeup usage spiked from 9.1 percent in 2018 to 15.9 percent in '19, and his 27 strikeouts with the pitch this season more than quadrupled his previous career-high. Opponents only slugged .349 off the changeup this season, way down from .565 last season.
That development of another trusted offspeed pitch to complement his curveball -- particularly against left-handed hitters -- helped Berríos earn a spot on the AL All-Star roster for the second straight season. He trailed only Gerrit Cole, Lance Lynn, Justin Verlander, Charlie Morton, Shane Bieber and Lucas Giolito in WAR among AL starters.
Berríos didn't quite accomplish his final preseason goal of becoming a 20-game winner, but he moved the goalposts late in the season, hoping instead to reach the 200-inning mark for the first time in his career. With nine strikeouts in six strong innings at Kauffman Stadium on Sept. 27, he reached that milestone and roared in triumph as he strode off the mound with 200 1/3 innings to his name.
"Thank God for the opportunity to reach that goal," Berríos said following that start. "That's one of the goals I wrote. I like to write my goals before the season starts, and that's one of the ones I had last year."
What went wrong?
Berríos lowered his season ERA to 2.80 after dominating the Marlins to the tune of two hits and 11 strikeouts in seven shutout innings on July 31, but as the calendar turned to August, "La Makina" hit a snag.
In his next outing, he snapped a streak of 12 straight starts of allowing three or fewer earned runs when he let up nine runs against the Braves, which began a six-start skid during which he posted an 8.07 ERA. As part of that stretch, he allowed five runs in a start to the lowly Tigers and six runs to the Red Sox as his fastball velocity briefly dipped and he lost his command.
The culprit, Berríos felt, was that he was opening up with his front shoulder in his delivery too quickly and not staying back on his heel, throwing his mechanics out of whack. Even after he identified the issue and began making the necessary mechanical adjustments, it took him several starts before he once again fully returned to form in a Sept. 10 start against the Nationals.
"I mean, everyone's season is going to go up and down in some way," Baldelli said in September. "That's going to happen. When you're an All-Star and you've done that multiple times and you're a young guy and you're doing tremendous things on the field, if you're not doing a great job the entire time, people always end up asking questions and things like that. That's a heavy burden to carry all the time."
Best moment
Berríos certainly got a kick out of facing brother-in-law Javier Báez in the All-Star Game in Cleveland and retiring the Cubs infielder for the second straight Midsummer Classic. But the highlight of Berríos' season came immediately on Opening Day at Target Field, when he outdueled Cleveland ace Corey Kluber with 10 strikeouts in 7 2/3 shutout innings to lead the Twins to a 2-0 win over their primary rivals for the AL Central crown in front of a sellout crowd of 39,519.
"José's effort out there today kind of speaks for itself," Baldelli said after the game. "It deserved probably more than a handshake. Probably could have given him a little hug out there and that probably wouldn't have done the thing justice, either.
"He's a guy that everyone on this team -- pitchers or position players -- they look to. He's a leader, that's what he is. Yeah, that's kind of special, because you see guys grow into that. He's growing into that younger than most."
2020 outlook
If you've seen any of the videos of Berríos pushing cars around as part of his intense offseason workouts on the beaches of Puerto Rico, it's clear that his work ethic and determination are unparalleled, even when he's not on the mound.
But with Berríos hoping to be a consistent 200-inning pitcher moving forward, he and the Twins began to make some adjustments to his routine in September, and chief baseball officer Derek Falvey said after the season that Berríos' offseason work could also change to better prepare him for the rigors of a full season.
"José's always been a worker," Falvey said. "That's never been in question. ... Now, adapting kind of to how much push-pull there is there, where at times we kind of peel back the kind of aggressive work over the course of a 200-inning season, and he did that. He did that late in the year, and I think that helped him down the stretch to return a little bit closer to form that we saw earlier in the year."
Berríos' stuff will likely continue to be among the best in the league as he anchors the Twins' rotation next season. But the young right-hander has posted worse numbers following the All-Star break in all three of his full seasons at the Major League level, and finding a way to carry his performance over an entire year could be the next meaningful step in his development.