Urena expected to make final start Friday
Marlins Opening Day starter exited last outing due to muscle tightness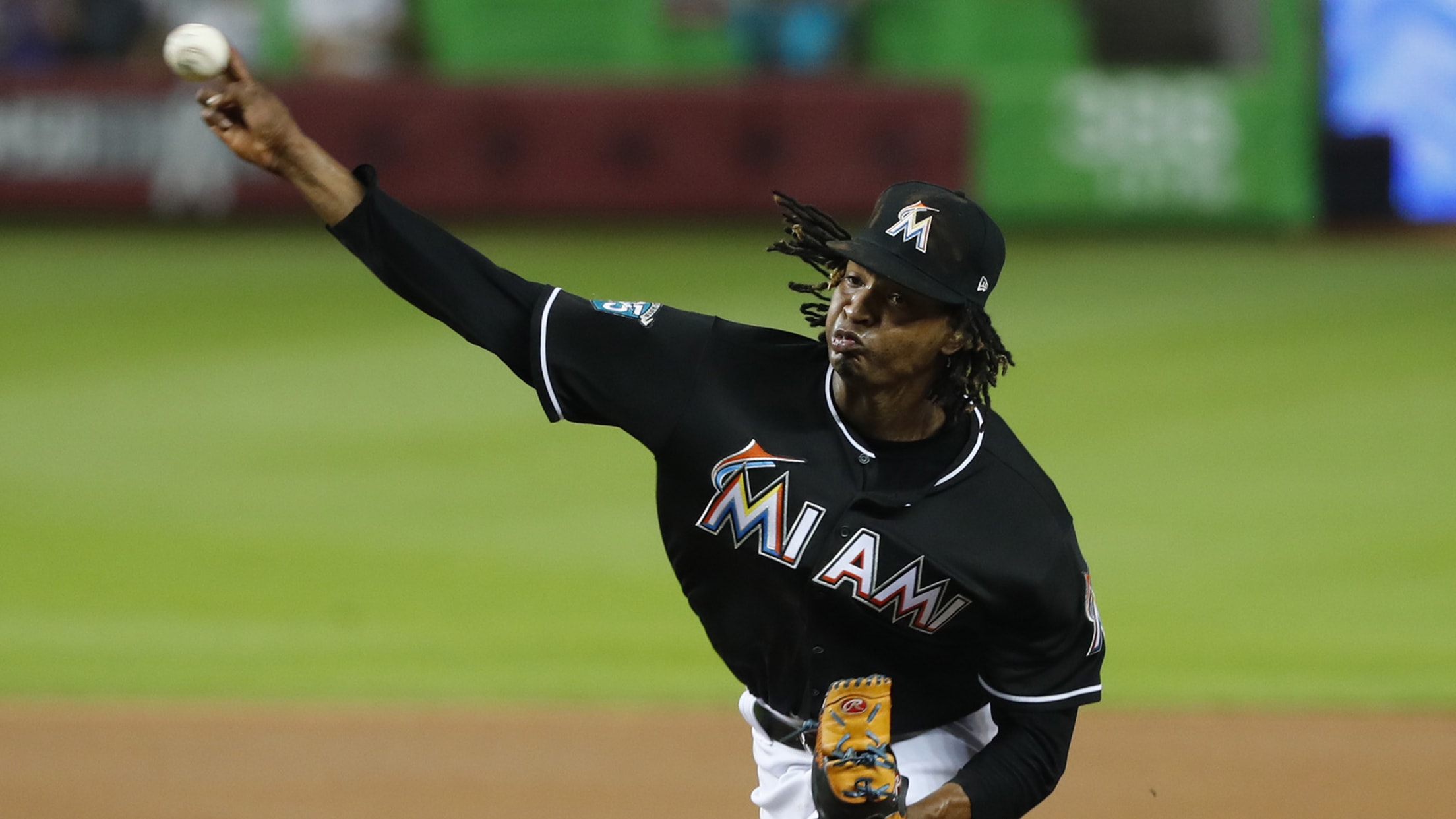 Miami Marlins' Jose Urena pitches during the first inning of a baseball game against the Cincinnati Reds, Saturday, Sept. 22, 2018, in Miami. (AP Photo/Wilfredo Lee) (Wilfredo Lee/AP)
WASHINGTON -- Despite seeing his last start shortened by a niggling injury, Marlins right-hander Jose Urena remains scheduled to take his final turn in the rotation this Friday, manager Don Mattingly said.Urena pitched 5 2/3 scoreless innings Saturday before being lifted with muscle tightness in his right thigh. With an
WASHINGTON -- Despite seeing his last start shortened by a niggling injury, Marlins right-hander Jose Urena remains scheduled to take his final turn in the rotation this Friday, manager Don Mattingly said.
Urena pitched 5 2/3 scoreless innings Saturday before being lifted with muscle tightness in his right thigh. With an extra day's rest before the Marlins open their last series of the season on Friday at the Mets, Mattingly didn't expect any lasting issues.
"He ran yesterday," Mattingly said of Urena on Monday. "He looks like he's going to be fine. He's a pretty heavy workout guy. We're trying to lighten him up this week, make sure he felt fine doing everything. As of right now, he's going to start his game. He's getting an extra day anyway. I think he'll start."
Urena has pitched to a 1.13 ERA in September and has thrown 168 innings so far in his fourth Major League season -- two shy of his career high set last year.
Loft-y praise
After outfielder Magneuris Sierra posted the first consecutive multi-hit games of his Marlins career, Mattingly offered a flattering comparison for the 22-year old Dominican Republic native.
"Some people compare him to [former Marlin Juan Pierre]," Mattingly said. "I compare him to Kenny Lofton. Kenny Lofton was a really good player. He could really bunt, he could really run, he was a good base stealer, he had a little short stroke. But Kenny knew who he was. He wasn't trying to hit homers. He hit a few, but he was a line drive, slashing, bunting machine. And that's what I think Mags could be something like."
A six-time All-Star, Lofton played parts of 17 seasons in the big leagues, collected 2,428 hits and posted a career slash line of .299/.372/.423. Acquired as part of the package that sent Marcell Ozuna to the Cardinals last December, Sierra entered Monday with only 70 games under his belt. He's currently hitting .198 this season, though Mattingly sees a long future ahead.
"He's going to play here [in the bigs]," Mattingly said. "Absolutely. He runs too good, throws too good, he's got good hand-eye coordination, he's got a pretty good swing. That can always get better. But the kid's going to be good. He's a young 22. This is a kid that you feel like is an 18-year-old honestly playing up here, which is OK. He's going to be a player."
Worth noting
As Monday's game against the Nationals began, second baseman Starlin Castro departed the visiting clubhouse at Nationals Park to return to South Florida, where his wife had gone into labor. He had been listed on the bench for the game.
Ian Quillen is a contributor to MLB.com based in Washington.