How Nats' title started with 1992 Draft
The first step toward a trophy came when Sean Doolittle was 6 years old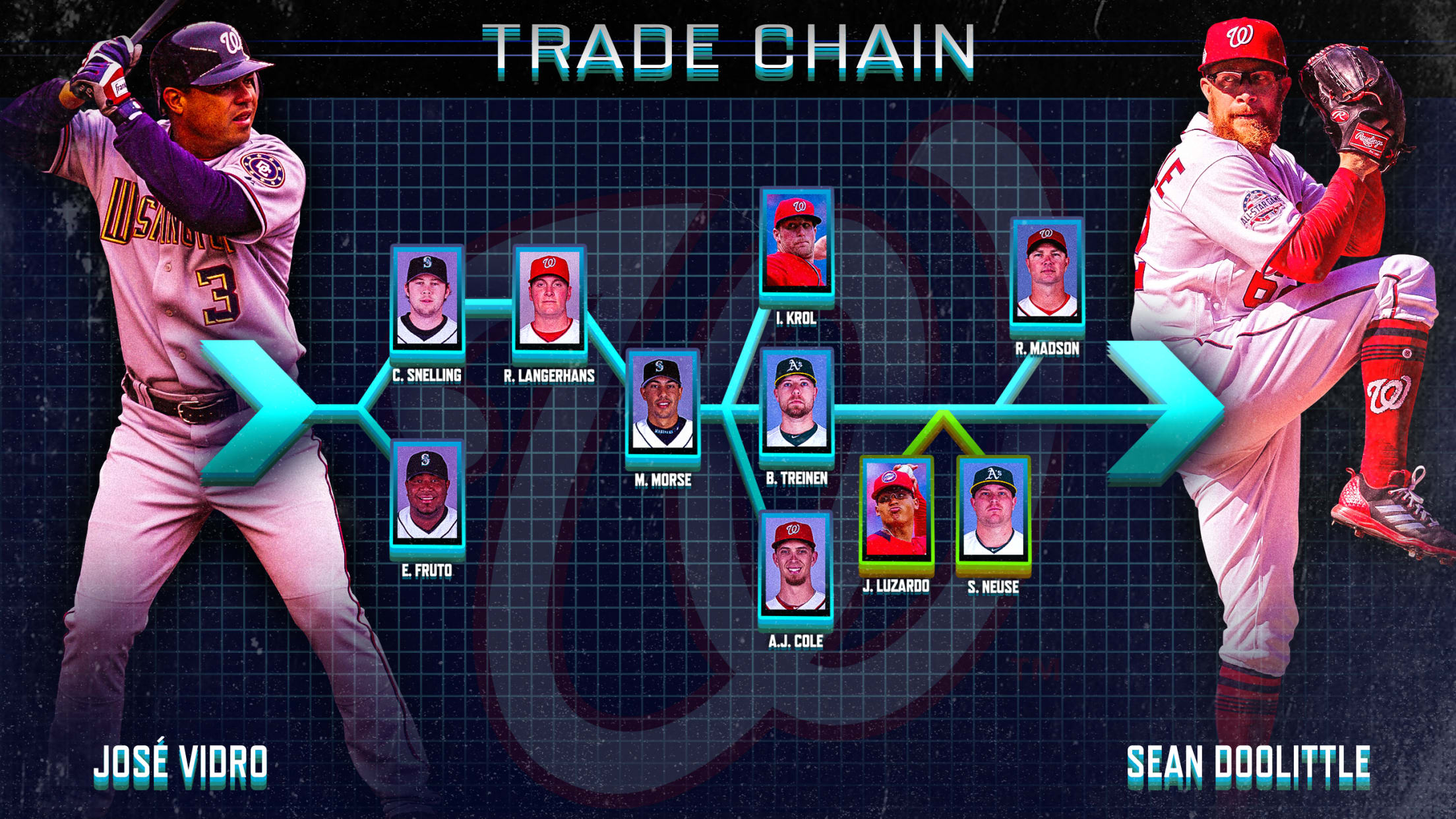 Last October, Sean Doolittle helped the Nationals erase years of frustration and bring a World Series trophy to Washington. The process of building a champion in the District began, in some ways, when the Expos moved from Montreal after the 2004 season and became the Nationals. What followed were several
Last October, Sean Doolittle helped the Nationals erase years of frustration and bring a World Series trophy to Washington.
The process of building a champion in the District began, in some ways, when the Expos moved from Montreal after the 2004 season and became the Nationals. What followed were several lean years, the opening of a new ballpark, the building of a competitive roster, then several more years of October flameouts and regular-season disappointments before Doolittle and his teammates finally broke through and beat the Astros in a seven-game Fall Classic.
But in another way, the title -- specifically, Doolittle's role in securing it -- can be traced back much further. It all began in 1992, before the left-hander turned 6 years old and six years before teammate Juan Soto was born.
Let's trace this chain of events from the beginning.
June 1, 1992: Expos select Jose Vidro in 6th round of Draft
Vidro, taken out of a high school in Sabana Grande, Puerto Rico, was signed for a $30,000 bonus. It would turn out to be an incredibly savvy investment. While the Expos got essentially no value out of the rest of their 1992 picks, Vidro worked his way up the ladder and debuted in Montreal in '97.
After a couple of years adjusting to the Majors, the switch-hitting second baseman took off and batted .313/.374/.489 (119 OPS+) over the Expos' final six seasons, averaging 39 doubles, 17 homers and 3.1 WAR while making three NL All-Star teams. While toiling for the Expos kept Vidro largely out of the national spotlight, he established himself as a stellar contributor.
"He's a good test to give a baseball fan," Expos shortstop Orlando Cabrera told Sports Illustrated for a profile of Vidro in 2002. "Do you know who José Vidro is? No? Then you don't really know baseball as well as you think you do."
Dec. 18, 2006: Nationals trade Vidro with cash to Mariners for Emiliano Fruto and Chris Snelling
In May 2004, with the Expos' future in flux, Vidro signed a four-year, $30 million contract extension. But no matter Vidro's hopes, he wouldn't stay in Montreal. Nobody would. The franchise moved to Washington for the '05 season -- just as Vidro entered his 30s and years playing on Olympic Stadium's artificial turn took its toll on his knees.
Vidro had right knee surgery late in the 2004 season. While he was the Nats' original starting second baseman and scored the team's first run in its home debut (on a Vinny Castilla triple), he sustained a serious ankle injury that May and missed two months. After he returned, he posted only a .709 OPS with three homers in 59 games.
In the ensuing offseason, the rebuilding Nationals took the opportunity to unload much of Vidro's salary and free up space for infielders Felipe López and Cristian Guzmán. Vidro went to Seattle to be a DH, and the Nats took a shot on two young players.
May 2, 2007: Nationals trade Snelling to A's for Ryan Langerhans
As it turned out, neither of those players even spent a full season with the organization. Fruto never pitched for the Nats and was traded to Arizona in August, and by that point, Snelling was already gone.
The outfielder had been a Top 50 prospect before the 2002 and '03 seasons, according to Baseball America, but had trouble staying healthy. He hit .204/.361/.327 in 24 games for the Nats before the club flipped him to Oakland for Langerhans, a more defense-oriented outfielder. Washington previously had wanted Langerhans when he played in the NL East for Atlanta, and Langerhans' trade to Oakland just days earlier opened up an opportunity.
June 28, 2009: Nationals trade Langerhans to Mariners for Michael Morse
Langerhans didn't make a big impact in 176 games for Washington and was spending the 2009 season back at Triple-A Syracuse when he drew interest from Seattle. A front office led by Mike Rizzo, then the interim general manager before getting the official job later that year, identified Morse as a top target. Stuck at Triple-A Tacoma, Morse was a 27-year-old without a position and all of 107 big league games under his belt, but with a strong 6-foot-5, 245-pound frame and a demonstrated ability to hit.
"He wasn't the first guy they wanted to give up, but we stuck on him," Rizzo later told The Washington Post.
That determination paid dividends. Morse batted .294/.343/.514 (130 OPS+) in four seasons with Washington, hit 31 homers as part of a career year in 2011, and played a significant, fan-favorite role on the '12 squad that gave the Nats their first postseason berth.
Jan. 16, 2013: As part of a three-team deal, Nationals trade Morse to Mariners, receive Blake Treinen, A.J. Cole and player to be named later (Ian Krol) from A's
Earlier in the 2012-13 offseason, the Nats acquired outfielder Denard Span from the Twins and re-signed first baseman Adam LaRoche as a free agent. Those moves left Morse without a spot. Rizzo quickly was able to turn that surplus into young pitching talent, reacquiring Cole (a prospect shipped to Oakland a year earlier for Gio González) and two other Minor League arms.
While Cole and Krol did spend some time in Washington, it actually was Treinen who was the biggest catch. Then 24 and yet to reach Double-A, Treinen went on to debut with the Nats in 2014 (actually starting seven of his 15 games) and became an effective if inconsistent reliever, whose tenure included a 2.28 ERA across 73 appearances in 2016.
July 16, 2017: Nationals trade Treinen, Jesus Luzardo and Sheldon Neuse to A's for Doolittle and Ryan Madson
And here we are. After that brilliant 2016 performance, Treinen got the chance to take over the vacant closer job in '17, but he struggled early and was removed from the ninth-inning mix. The righty never got it going, and while the Nats held a large division lead in early July, their bullpen didn't seem fit for October baseball. (Sound familiar?) The solution was the Nats' frequent trading partner in Oakland, which was headed for a last-place finish.
Doolittle and Madson were both accomplished veterans with strong track records and closing experience. While the Nats avoided dealing their top five prospects at the time, they shipped off Treinen with a pair of top-10 chips in third baseman Neuse and left-hander Luzardo.
The A's appear to have done well, getting a sensational 2018 season from Treinen (0.78 ERA, 38 saves) that helped them reach the playoffs, before he fell off again and was non-tendered this past offseason. Neuse reached the Majors in '19, but more importantly, so did Luzardo, who is MLB's No. 12 prospect entering '20 and profiles as a potential ace.
Even if Luzardo is the next Clayton Kershaw, though, the Nationals won't regret the trade. Flags fly forever, and now Washington has one. It didn't happen in 2017, or '18 (when Madson was traded to the Dodgers), but '19 was the Nats' year. It wasn't necessarily Doolittle's best, but he was an integral part of the team, saving 29 games, plus two more in the playoffs, when he allowed just two runs over 10 1/3 innings.
And to think, it all started with a sixth-round Draft pick made 27 years earlier.