How Donaldson restored his free-agent value
Former MVP back on market after stellar '19 with Atlanta
Every part of Josh Donaldson's 2019 union with the Braves was a win-win. Atlanta took a one-year, $23 million flyer on a former MVP Award winner, hoping he could regain elite form. And for a then-32-year-old Donaldson, it was a chance to distance himself from significant injuries that plagued him
Every part of Josh Donaldson's 2019 union with the Braves was a win-win. Atlanta took a one-year, $23 million flyer on a former MVP Award winner, hoping he could regain elite form. And for a then-32-year-old Donaldson, it was a chance to distance himself from significant injuries that plagued him from 2017-18 and re-establish his value -- all while playing for a contender.
Mission accomplished for both parties.
As expected, Donaldson turned down the qualifying offer that he received from Atlanta and hit the market seeking a multiyear deal. And while he is one year older -- he'll be 33 on Opening Day -- Donaldson should net a longer-term offer, potentially for an average annual value of the $23 million (or more) that he's earned in each of the past two seasons.
Donaldson not only re-established his durability by starting 148 games at third base, fifth most in MLB, he also showed tangible improvements at the plate. A few of those improvements are outlined below, along with some reasons why Donaldson is arguably the market's top position player not named Anthony Rendon.
He crushes the ball as hard as anyone
Donaldson's 37 homers reveal his power on paper, but how he makes contact offers credibility that those numbers aren't just a byproduct of a league-wide homer surge. Donaldson's line-drive/fly-ball rate hovered around his mark of 49.1% since 2015, but he made far more hard contact (anything 95+ mph) on those batted balls last season: 68%, up from 56.7% in '18.
Highest hard-hit rate on line drives + fly balls, 2019
Min. 100 LD + FB (274 hitters)
1) Aaron Judge (NYY): 71.3%
2) Miguel Sano (MIN): 70.5%
3) Mitch Garver (MIN): 68.3%
4) Josh Donaldson (ATL): 68.0%
5) Nelson Cruz (MIN): 67.5%
Hard-hit rate: percentage of batted balls hit 95+ mph
Donaldson also elevated his average exit velocity on fly balls and liners to a career-best 98.1 mph, which was the fifth highest in MLB in '19 and the 11th highest of any player season since Statcast came online in '15.
Donaldson also connected for 62 barrels, a designation that reflects the most optimum contact. League-wide, barrels averaged an .816 batting average and 2.827 slugging percentage. Roughly 82% of the Majors' record 6,776 homers were classified as barrels, including 35 of Donaldson's. And his 15.7% barrel rate ranked in MLB's top 4%. More barrels directly equate to more damage.
And that segues us to …
There aren't many holes in his swing
… and he further closed a big (and vital) one last season. In addition to possessing elite bat speed, Donaldson has been a well-chronicled posterboy of the launch-angle revolution. But as many hitters like Donaldson have created more lift in their swings, pitchers have adjusted back by throwing more up in the zone.
The elevated fastball, heaters thrown in the upper third and above, have become pitchers' most glaring counter punch, particularly among those who possess high spin and velocity. Gerrit Cole, Justin Verlander and Max Scherzer have pitched their way to Cy Young Award consideration by generating elite swing-and-miss with four-seamers up in the zone. Elevated fastballs accounted for 16% of all pitches thrown in 2019 -- a league high since pitch tracking was implemented in '08.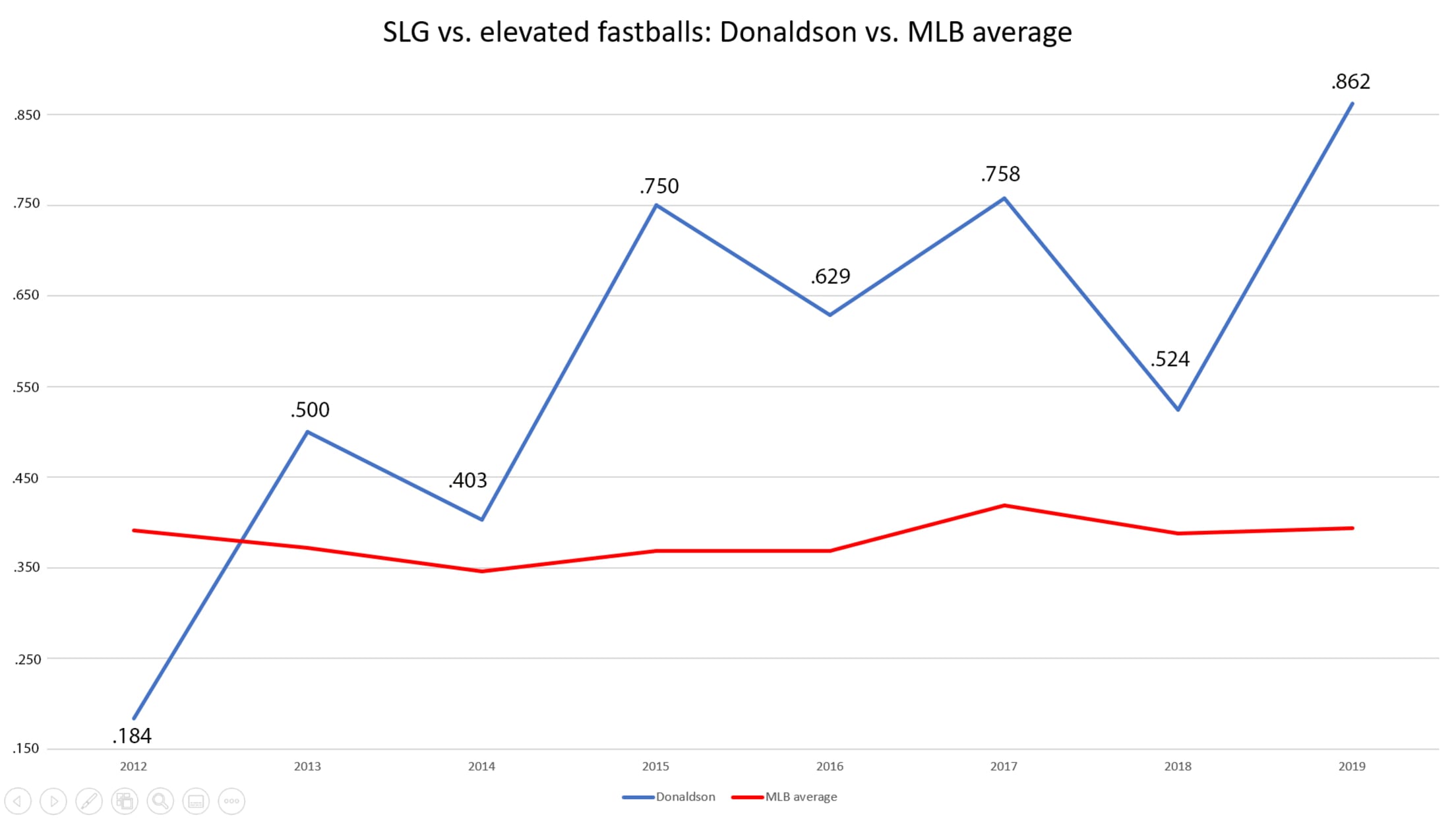 All of this is context for the fact that Donaldson has been among the most effective hitters against high heat -- and he reached an even more elite level last season. Donaldson hit .369 and slugged .862 on those pitches, with nine homers, tied for third-most in MLB.
Here's one against a 95.7 mph offering from Junior Guerra on his hands that he turned on and dispensed into the second deck at Miller Park:
Highest SLG vs. elevated fastballs, 2019
Min. 25 such at-bats (350 hitters)
1) Mitch Garver (MIN): 1.375
2) Tom Murphy (SEA): .900
3) Josh Donaldson (ATL): .862
4) Trey Mancini (BAL): .791
5) Carson Kelly (ARI): .789
He swings freely, but shows discipline
Donaldson chased 23.1% of the out-of-zone pitches he saw and struck out 23.5% of the time for 155 punchouts -- by far a career high. Those are numbers that he's probably not thrilled about, but then again, MLB set a single-season strikeout record for the 12th straight season, so punchouts are up for everyone.
Yet despite the whiffs, Donaldson still posted a .379 on-base percentage, which was in the 86th percentile and by far the highest among hitters who struck out as often as he did. Obviously, his power plays a correlating factor in his OBP. But he also walked 100 times for a 15.2% rate, the ninth highest among the 135 hitters who qualified for the batting title. That represented an improvement from '18.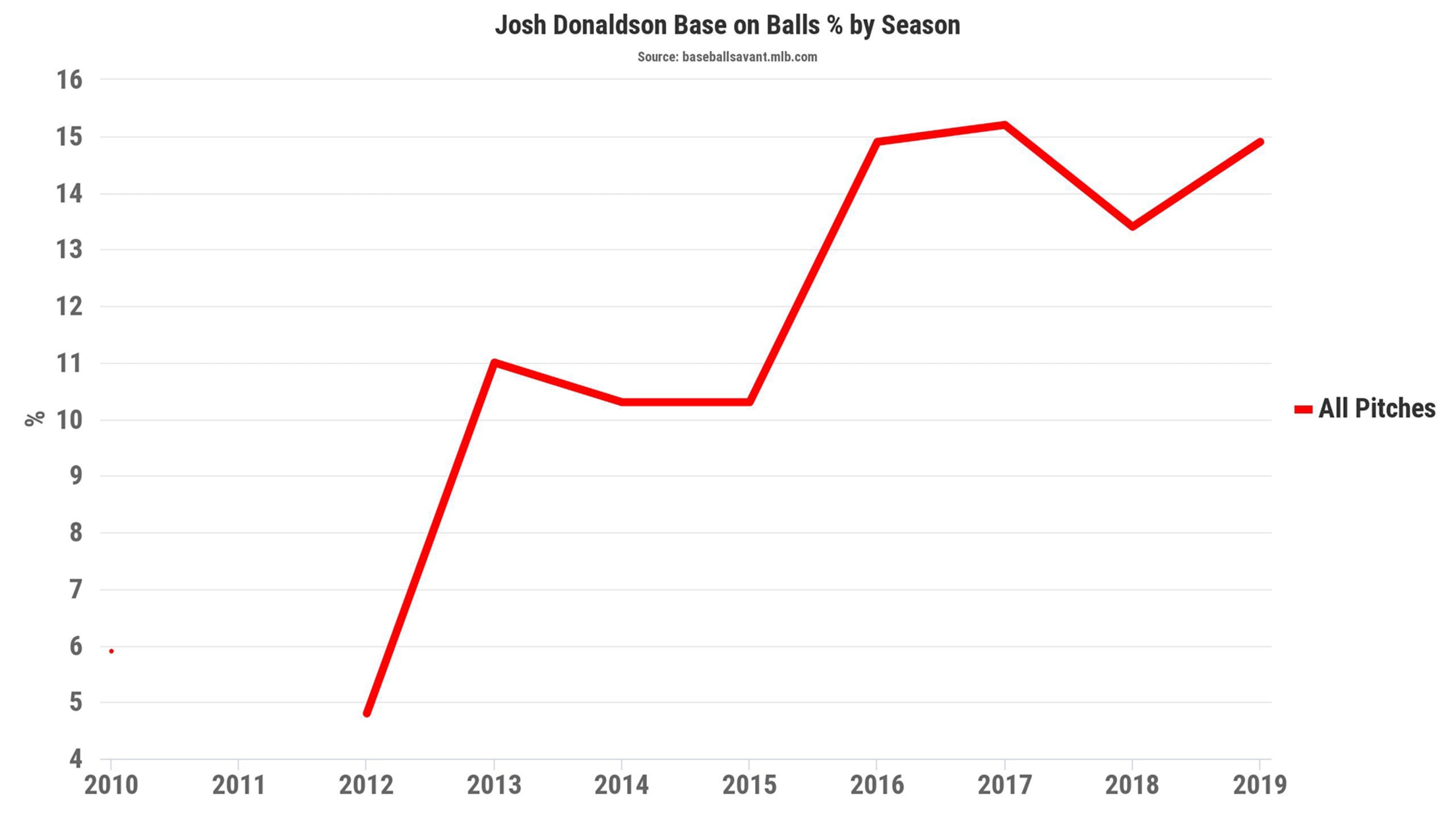 He still plays elite defense
Donaldson plays a position that's manned by the Platinum Glove Award winner in each league, both of whom have been touted as among the best defensive third basemen ever. So, it'll be hard for Donaldson to claim Gold Glove hardware against Nolan Arenado and Matt Chapman. But he was a finalist for the NL honor this year -- and deservedly so.
By most advanced metrics, including Inside Edge Fielding metrics from FanGraphs, Donaldson ranked above average on more difficult plays. His arm strength was more middle-of-the-pack, with an 84.7 mph average on competitive throws. But what stood out most was Donaldson's run value.
Most Defensive Runs Saved among infielders, 2019
1-T) Matt Chapman, 3B (OAK): 18
2-T) Nick Ahmed, SS (ARI): 18
3) Trevor Story, SS (COL): 17
4-T) Josh Donaldson, 3B (ATL): 15
4-T) Javier Baez, SS (CHC): 15
Donaldson is older than his counterparts on this leaderboard, so how his defensive athleticism plays over the life of a multiyear contract is a warranted question. But he should at least offer above-average play at third in the immediate.
***
Donaldson's bounceback was among the most distinguished in 2019 -- so much so that he is a finalist for the NL Comeback Player of the Year Award. His age and injury history are certainly factors that interested clubs will consider, as is the Draft pick compensation attached to him if he signs with anyone but the Braves. But he proved last season that he presents far more reward than risk.