Pirates call upon Harrison's versatility at 3B
Kuhl has 'inside track' on spot in Opening Day rotation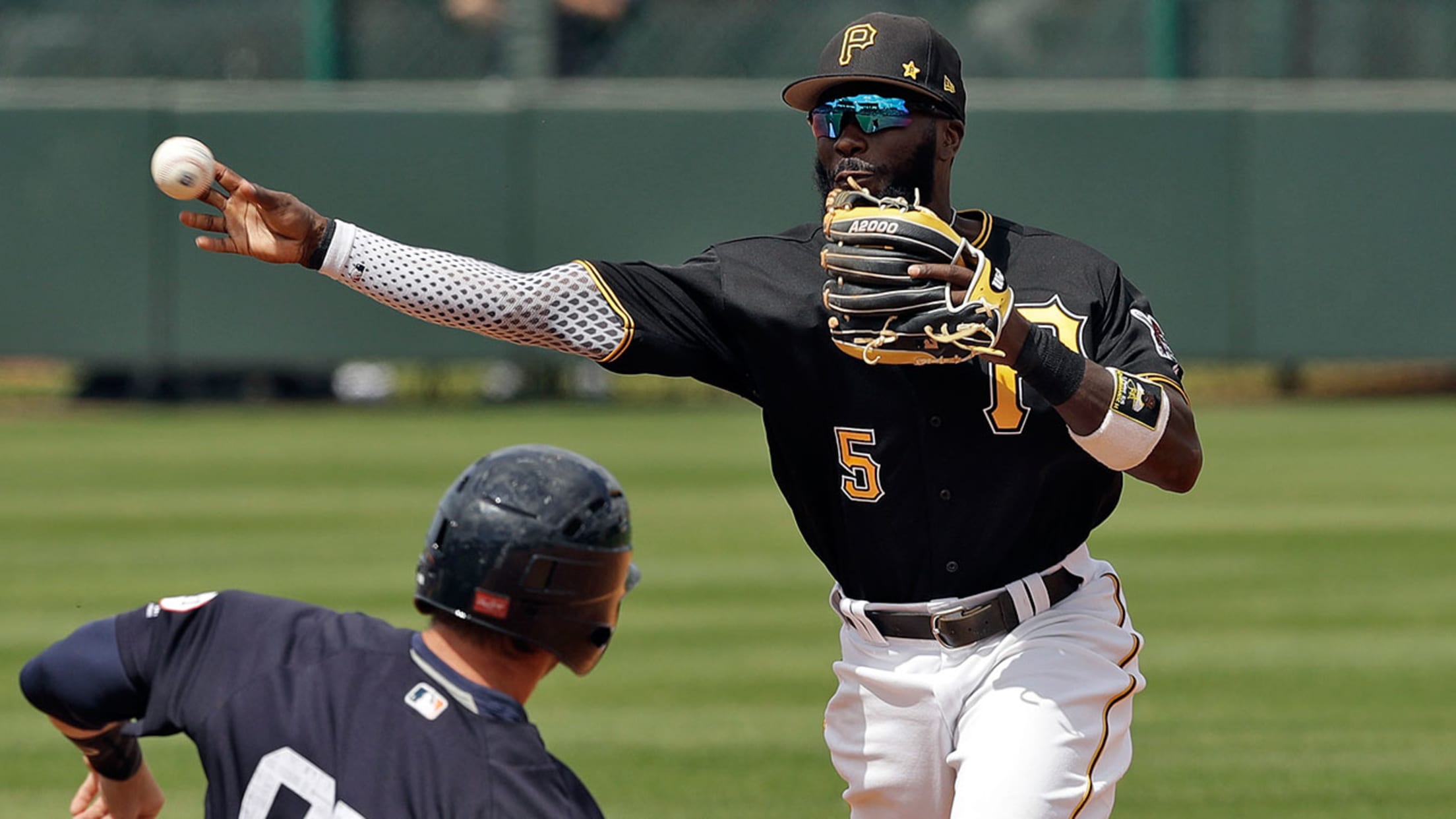 Pirates infielder Josh Harrison found a home at second base during the 2016 season. (AP)
BRADENTON, Fla. -- Since the beginning of camp, the Pirates have mentioned the possibility that Josh Harrison could bounce around the field, once again taking on some of his former super-utility responsibilities.Harrison had been away from the Pirates most of Spring Training as he played for Team USA in the
BRADENTON, Fla. -- Since the beginning of camp, the Pirates have mentioned the possibility that Josh Harrison could bounce around the field, once again taking on some of his former super-utility responsibilities.
Harrison had been away from the Pirates most of Spring Training as he played for Team USA in the World Baseball Classic. But they put their plan into action Monday night at LECOM Park, as Harrison started at third base in a 4-1 win over the Twins.
Harrison settled in at second base last season and figures to be a regular there this year, but his flexibility gives manager Clint Hurdle another versatile defender on a roster full of them.
"If need be, I can still do it," Harrison said. "I've still got it in my bag of tricks. … At the end of the day, I'm still on the field.
"I got a little comfortable playing second base every day last year, getting a chance to really hone in on one position. But baseball's unpredictable. I've said it time and time again. I know situations arise for me where I may have to bounce around, and if that's the case, I'll always be ready for it."
Adam Frazier, also a super-utility player, started the game at second and finished at shortstop. But he spent the entire night in the leadoff spot, the same place he's been in each of his Spring Training starts, and homered in his first at-bat against Phil Hughes. That should continue when Frazier is in the regular-season lineup.
"We'll definitely have him in the lineup, when he's playing, up top. Absolutely," Hurdle said. "He's done pretty well with it."
But it is unclear how often Frazier will start. The Pirates have an opening at third base as long as Jungho Kang remains in South Korea, and they have a handful of options at second and third. David Freese is expected to get regular playing time at third, while Harrison, Frazier, Phil Gosselin and Alen Hanson can play multiple positions, including second and third.
"I like our versatility. They've all played the positions before," Hurdle said. "I just like the fact that we can flex different ways with different guys."
Around the horn
• Chad Kuhl threw 97 pitches over six innings in a Minor League game at Pirate City on Monday. Kuhl said the outing went well, and several of his innings had to be extended due to his efficiency. Kuhl's next scheduled appearance is Saturday in Montreal, the second of two exhibitions against the Blue Jays.
"Ready to go," Kuhl said.
That would put Kuhl in line to start April 6 at Fenway Park, Pittsburgh's third game of the season. The Pirates have not yet confirmed that Kuhl has a spot in the rotation, but general manager Neal Huntington often said Kuhl is on the "inside track" for that job.
• Catcher Chris Stewart (left groin discomfort) hit and caught pitches delivered by a machine. Stewart said he ran but did not fully test his sore groin. Stewart and Gregory Polanco (left shoulder) were out of the lineup Monday night. Starting catcher Francisco Cervelli, removed from Sunday's lineup, is scheduled to start Tuesday night at LECOM Park vs. the Red Sox.
• The Pirates have won 19 Spring Training games for just the second time since moving to Bradenton in 1969, according to club records. They also went 19-10 in 1994.