Tomlin's dad continues to be an inspiration
After time in spotlight during WS, Jerry still working hard to walk again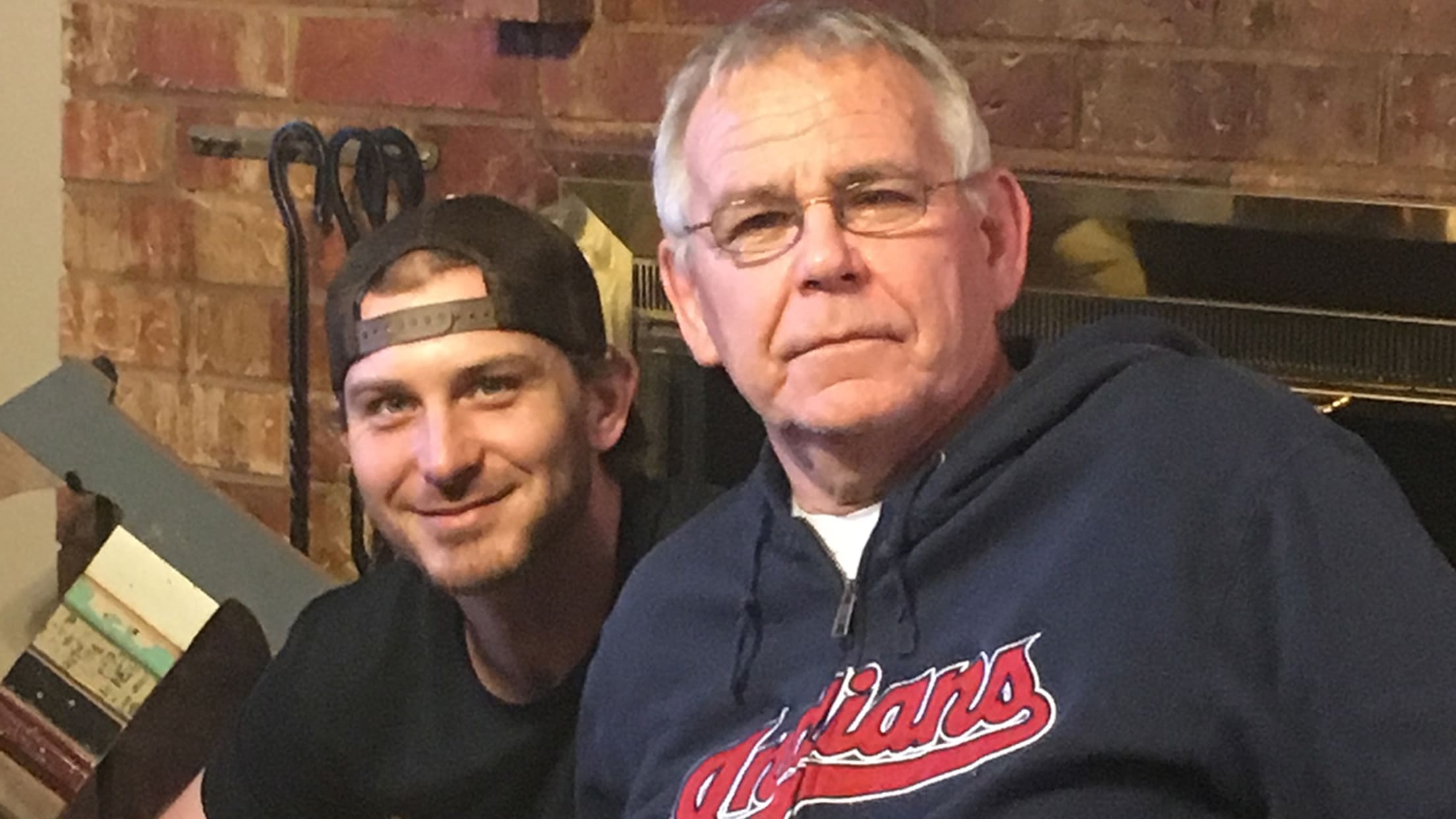 "[My dad] never says, 'If,'" Josh Tomlin explained. "He will walk again." (Tomlin family)
GOODYEAR, Ariz. -- The letters have poured in since the World Series. Fans from across the United States have written to Indians starter Josh Tomlin, sharing their own stories after learning about the ongoing battle of the pitcher's father, Jerry. Josh always sends the letters to his dad."I like those
GOODYEAR, Ariz. -- The letters have poured in since the World Series. Fans from across the United States have written to Indians starter Josh Tomlin, sharing their own stories after learning about the ongoing battle of the pitcher's father, Jerry. Josh always sends the letters to his dad.
"I like those stories," Jerry Tomlin said. "Those are the stories that lift my day up."
It has been more than four months since the Tomlin family found the national spotlight for more than just the Indians' run to the Fall Classic against the Cubs. That is when the world met Jerry Tomlin, whose trip to Game 3 of the World Series at Wrigley Field was far more daunting than anything Cleveland overcame en route to the American League pennant.
• Spring Training: Info | Tickets | Schedule | Gear
The letters that Josh puts in Jerry's hands show that the father's goal -- to walk again -- is not an impossible one.
Last August, the elder Tomlin suffered an arteriovenous malformation -- a tangling of blood vessels -- on his spinal cord. He underwent an emergency procedure that saved his life, but it left him paralyzed from the chest down. Speaking on the phone from his home in Whitehouse, Texas, Jerry's energetic tone, laced in his southern drawl, reveals how far he has come in the months since the Fall Classic.
"Everything's been going pretty good, man," he said. "I'm ready to get back at it and try to get back to a regular routine, you know what I mean?"
There is nothing regular, however, about Jerry's daily routine these days.
The alarm clock in the Tomlin home goes off at 5 a.m. each weekday morning. Jerry's wife, Elana, then helps him get ready for his job at the power plant at University of Texas at Tyler. Elana assists her husband in getting into their Lincoln MKX and drives him to work in the morning, and then picks him up when his shift is over. Jerry is hoping to get his driver's license again -- and hopefully a modified vehicle -- to ease some of the burden off his wife.
"It's hard on her. It's a little bit hard on me," Jerry said. "But we're making it work."
Late last month, Jerry was cleared to return to an eight-hour work day, which lifted a weight off his shoulders. His bosses at the power plant altered his role, allowing Jerry to run the computerized heating and cooling systems, among other tasks. Jerry has been at the plant for more than a decade, so being back around his work family has been a welcomed change.
Elana owns and operates a barber shop in Whitehouse, but she has reduced her hours in order to help her husband.
"She's a saint," Josh said.
The entire community has seemingly come to their family's aid, too.
Jerry noted that a relative of his, along with some friends, helped remodel his home, adding a workout room and altering other spaces around the house. If their lawn needs mowing, someone comes over and takes care of it. Since Jerry has moved his rehab to his home, people have been dropping off equipment for him to use.
"I've got so much stuff here, man, I could open a gym," Jerry said with a chuckle.
It has been good for Josh to hear his dad laughing like that again.
When the Indians right-hander learned last August about the sudden stomach pain that led to the emergency procedure for his dad, the club allowed him to leave in time to be there when his dad woke up from surgery. At that time, the Tribe was on its way to a division title, but Josh was laboring through an abysmal month on the mound.
Jerry hated becoming a distraction for his boy.
"I knew what was going on with him," said Jerry, his voice cracking. "But the kid don't ever make excuses, and he just went out there and did his job and tried his best. But he had a lot of things on his mind. When I finally did get to see him, when he came down there to see me, I said, 'Hey, man, get it out of your mind, because we're going to be OK.'"
On Oct. 19, the Indians punched their ticket to the World Series with a win over the Blue Jays in the AL Championship Series. That just so happened to be Josh Tomlin's birthday, and the pennant was not his only gift that night. It was also the same day that his father was released from the Baylor Institute for Rehabilitation in Dallas.
Josh was going to the World Series, and Jerry was going to do everything in his power to be there, too.
For Game 3 of the Series, Josh held the Cubs off the scoreboard for 4 2/3 innings in a 1-0 win for the Indians. Throughout his outing, the pitcher would glance up to Section 122 at Wrigley Field, where his dad was watching from a wheelchair, with Elana at his side.
"I still tell the story at work every day," Jerry said. "I love talking about it. It still hasn't sunk in, I don't think, completely. But to sit there and watch your son and their team go as far as they did, the year they had, it's just unbelievable, brother. There's no words to explain it, man."
Josh said there is one word that does not exist in the Tomlin home.
"He never says, 'If,'" said the pitcher. "He will walk again."
In bed every night, Jerry will reach down and grab his legs, pulling one up and then the other. He is trying to create that muscle memory, hoping and praying that he will feel movement again. The letters that his son sends him keep fueling that hope. People have beaten this. Jerry plans on doing the same.
And while Jerry fights his own battle back home, he looks forward to watching Cleveland push for another shot at the World Series.
"If we get back there," Jerry said, "we're going to come out on top of it this time. I promise you."