Tuesday's best: Soto perfect at plate, drives in six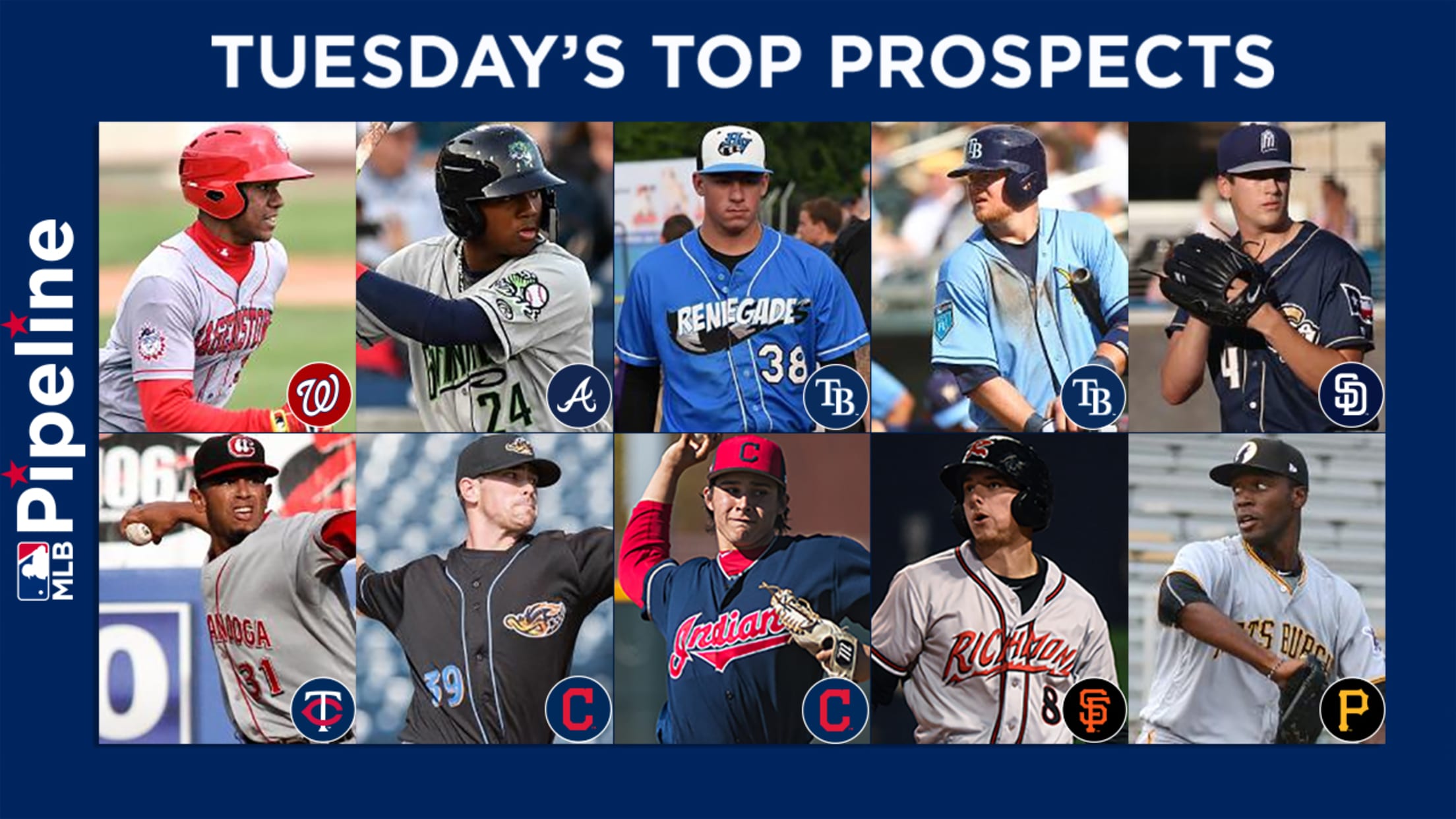 Juan Soto is off to a fast start this season, and if Tuesday's performance is any indication, the No. 29 overall prospect isn't slowing down anytime soon.Soto, the Nationals' No. 2 prospect, reached base in all five plate appearances and collected a career-high six RBIs as he led Class A
Juan Soto is off to a fast start this season, and if Tuesday's performance is any indication, the No. 29 overall prospect isn't slowing down anytime soon.
Soto, the Nationals' No. 2 prospect, reached base in all five plate appearances and collected a career-high six RBIs as he led Class A Hagerstown to a 9-3 win over Columbia.
Soto set a career-high with four RBIs as part of a four-hit effort on Sunday, but that personal record only lasted two days. Soto walked in his first and fourth trips to the plate on Tuesday, but when he got pitches to hit, he didn't miss them.
The 19-year-old capped a three-run third with a two-RBI single, hit a two-run homer in the fifth and drove in two more runs with an eighth-inning double to cap a perfect day at the plate.
The big game brings Soto's average to .391 (9-for-23) through six games, but he's not just collecting hits, he's also showcasing some power.
Soto's fifth-inning homer was already his third this season, which matches his total from 2017 (32 games) and is approaching his career high of five, which he set over 51 contests in 2016.
Other top prospect performances from Tuesday's action:
• No. 2 overall prospect Ronald Acuna Jr. (Braves' No. 1) was going to break out eventually, and that moment finally came with Triple-A Gwinnett. After a Spring Training during which Acuna was unstoppable, the phenom went 0-for-12 to start the season. However, the skid stopped in the fourth inning when Acuna doubled to left. He later added another hit, finishing 2-for-4.
MILB Video - Title: Acuna doubles for first hit - Url: http://www.milb.com/r/video?content_id=1925329383
• No. 25 overall prospect Brendan McKay (Rays' No. 3) continues to make his case as a two-way player for Class A Bowling Green. McKay, who struck out four over two perfect innings on Monday, went 2-for-4 with an RBI at the plate on Tuesday. McKay has two or more hits in three straight games and is batting .538 through four games with the Hot Rods.
• No. 40 overall prospect Cal Quantrill (Padres' No. 4) made another strong start for Double-A San Antonio. The 2016 first-round pick gave up one run on three hits and struck out seven over six innings. Quantrill has made two starts this season and surrendered two runs over 9 2/3 innings.
• No. 68 overall prospect Fernando Romero (Twins' No. 2) was lights-out in his Triple-A debut while coming out of the bullpen for Rochester. Romero, who posted a 3.53 ERA over 24 games (23 starts) with Double-A Chattanooga in 2017, gave up a pair of unearned runs while scattering five hits across five innings.
• No. 82 overall prospect Christian Arroyo (Rays' No. 6) is starting to heat up for Triple-A Durham. The shortstop struggled early out of the gate, going 0-for-12 over his first three games, but has since caught fire. Arroyo went 3-for-4 at the plate and now has four hits in his past seven at-bats.
• Giants No. 24 prospect Ryan Howard put together his third straight multihit game, going 3-for-5 for Double-A Richmond. Howard, who is batting .360 through six games, also hit his first homer of the season, a solo blast in the third.
• Indians prospects Shane Bieber (No. 8) and Elijah Morgan (No. 28) put together impressive outings for Double-A Akron and Class A Lake County. Bieber picked up his first win of the year and extended his scoreless streak to 13 as he struck out eight and fired seven scoreless frames for Akron. Meanwhile, Morgan, who was stuck with a no-decision for Lake County, gave up one run over six innings and struck out nine.
MILB Video - Title: Bieber's eighth strikeout - Url: http://www.milb.com/r/video?content_id=1925656883
• Pirates No. 11 prospect Taylor Hearn was nearly unhittable in his Double-A debut. The 23-year-old lefty gave up one hit -- a second-inning single -- over five one-run innings as Altoona topped Harrisburg. Hearn, who fired 46 of his 80 pitches for strikes, walked three, struck out four and retired nine of the final 11 batters he faced.
• Rockies No. 18 prospect Brian Mundell led the way with four hits, but he wasn't the only Rockies prospect to put together a solid performance. Mundell went 4-for-5 with two runs scored for Double-A Hartford, while his teammate Brendan Rodgers (Rockies' No. 1, No. 14 overall) hit his second homer of the season as part of a 1-for-5 performance. Out in the California League, Colton Welker (No. 4) boosted his average to .579 with another big day at the plate. Welker finished 3-for-4 and has two or more hits in four of his six games this season.
MILB Video - Title: Rodgers blasts off - Url: http://www.milb.com/r/video?content_id=1925973883
• A trio of Twins prospects led Class A Cedar Rapids to a win over Peoria as Alex Kirilloff (No. 6) and Ben Rortvedt (No. 24) combined to go 6-for-9 at the plate and Tyler Watson (No. 22) gave up one run on three hits over 5 1/3 innings on the mound. Rortvedt was a perfect 4-for-4 at the plate while Kirilloff went 2-for-5 with three RBIs.
• White Sox prospects Gavin Sheets (No. 11) and Luis Alexander Basabe (No. 13) continued to swing hot bats, lifting Class A Advanced Winston-Salem to a win over Myrtle Beach. Sheets, hitting .368 this season, went 3-for-4 with an RBI, while Basabe, batting .350, went 3-for-4 with a triple and two RBIs.