Miller receives treatment for back pain
Martinez: 'A healthy Justin Miller will be in our bullpen'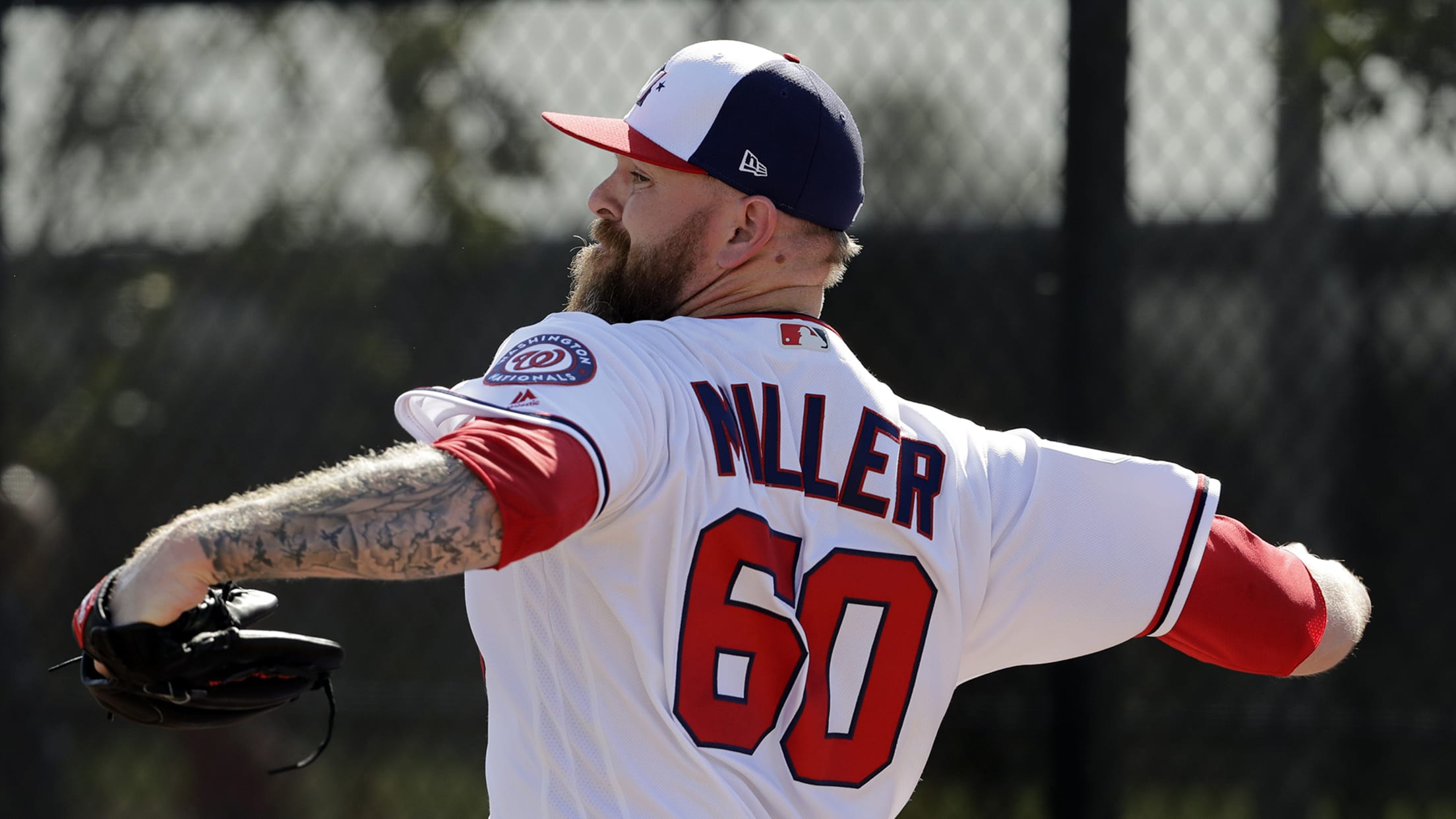 WEST PALM BEACH, Fla. -- Nationals reliever Justin Miller was given a Toradol injection Saturday, an anti-inflammatory shot to help relieve the pain in his stiff back. Miller felt better Tuesday morning and planned to attempt playing catch later in the afternoon for the first time since he received the
WEST PALM BEACH, Fla. -- Nationals reliever Justin Miller was given a Toradol injection Saturday, an anti-inflammatory shot to help relieve the pain in his stiff back. Miller felt better Tuesday morning and planned to attempt playing catch later in the afternoon for the first time since he received the injection.
Miller, 31, said his back began tightening up on him last Wednesday, although he was not sure why. He has never battled back issues in the past.
"At like 3:30 in the morning, it just locked up on me," Miller said. "I don't know what happened, what it did. It was just something out of nowhere."
Miller's status for Opening Day is still unclear, but manager Dave Martinez said he wanted the back issues to completely pass before he put Miller back into a Grapefruit League game. The Nats are counting on Miller to be a major piece of their middle relief, fresh off a surprise ascension to their bullpen a year ago, where he posted a 3.61 ERA and 10.3 strikeouts per nine innings in 51 appearances.
There is plenty of time for Miller to still be ready to start the season on time, and if so, he is expected to have a spot in Washington.
"A healthy Justin Miller will be in our bullpen," Martinez said Tuesday.
Now the focus is on getting Miller healthy. He is expected to continue rehabbing and strengthening his back during the next days as he attempts to resume throwing. Miller has been limited to just one game this spring, when he tried to pitch through the back injury Saturday and gave up a pair of runs and hits in an inning of work. His back was aching the entire time.
"There was no way I could finish a pitch," Miller said. "Everything was flying open. I was leaving [the ball] up and saw on the [radar gun], the velocity was way down. I was throwing all arms, couldn't use my lower half at all."
Scherzer ready to hit
When Max Scherzer crossed paths with his manager in the hallway early Tuesday morning, hours before the Nationals matched up with the Red Sox, Martinez mimicked a batting stance to Scherzer.
"You ready?" Martinez asked his ace.
Scherzer responded with a wide, giddy grin, "Ohh yeah."
"I've taken some BP, been working in the cage with [hitting coach Kevin Long]," Scherzer said after his latest Grapefruit League outing -- four strikeouts but five runs allowed on four hits and one walk in 3 1/3 innings in an 8-4 loss to the Red Sox. "With only four starts left, I haven't seen any pitching whatsoever since September. Just wanted a chance to get back in the box and just try to go out there and see pitches, because I have no idea where the strike zone's at. It's a chance for me to start trying to dial it in."
That's a three-time Cy Young Award winner trying to get dialed in at the plate on March 5. Scherzer, the Nats' first starting pitcher to hit for himself this spring, struck out during his only plate appearance on Tuesday. The team had been using its option for a DH all spring and will continue to do so now for most of its starting pitchers. Scherzer is not most pitchers.
"He's been hitting since day one of camp," Martinez said with a laugh.
Scherzer enjoys the challenge of hitting and transformed himself into a capable hitter compared to most pitchers around the National League. Last year, Scherzer batted .243/.274/.271, a career-best 45 OPS+ with six RBI and eight runs scored. He even successful stole the first base of his career, after years of lobbying to do so.
"He's been real big into the whole game," Martinez said. "Not just the pitching portion, but he loves to hit, loves to run the bases, loves just playing the game."
Up next
The Nationals have their first off-day of the spring on Wednesday before they return to action Thursday against the Mets. The two teams have a B-game scheduled at 10 a.m. ET in order to get some younger players more at-bats and innings, where Wil Crowe -- the Nats' No.5 prospect -- will make the start. Stephen Strasburg will take the mound at 1:05 p.m. ET at the Ballpark of the Palm Beaches for his second start of the spring.