Smoak reflects on first half, young stars' arrival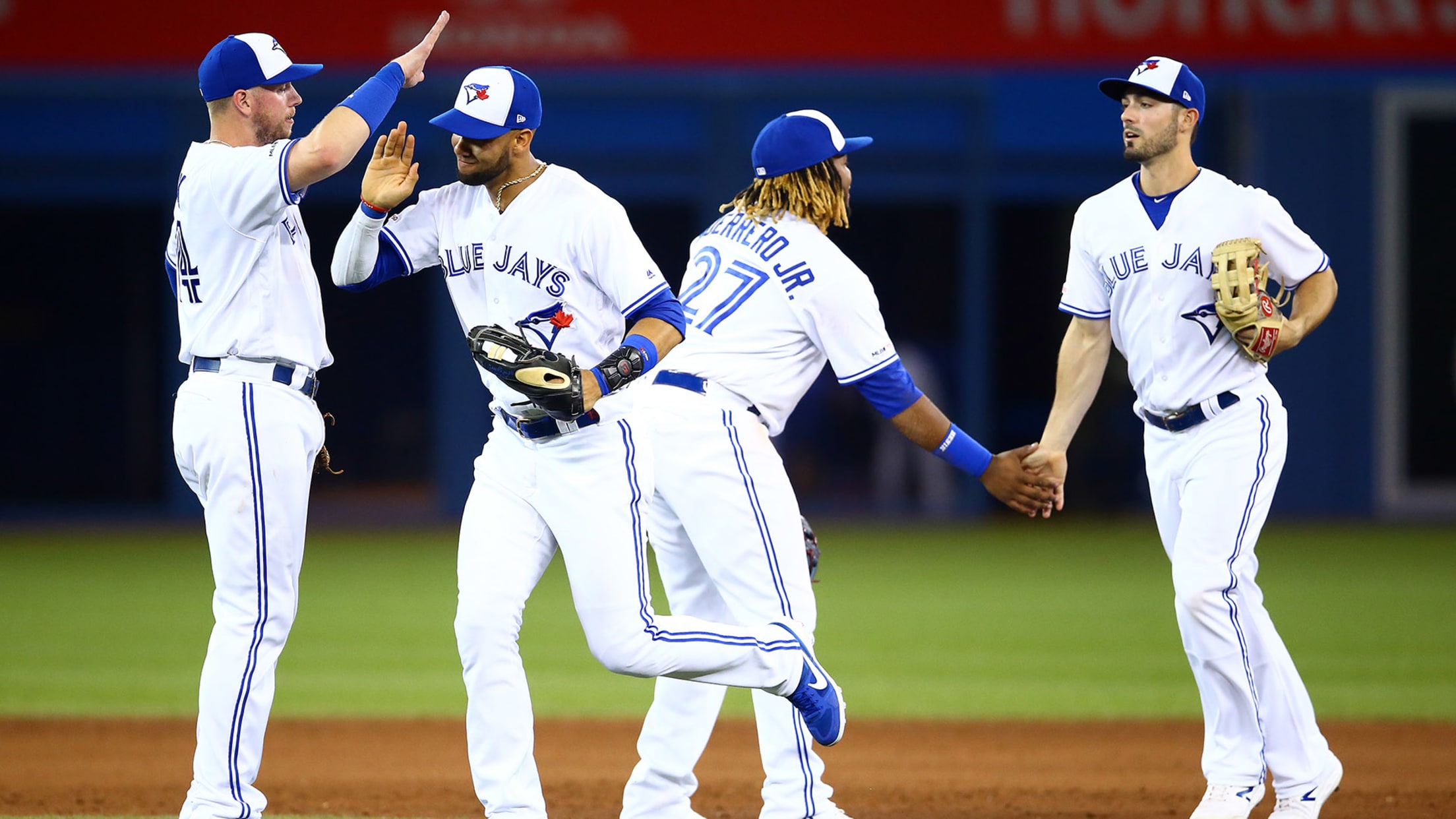 TORONTO -- Justin Smoak remembers his days as a fresh-faced rookie. The 32-year-old first baseman made his Major League debut in 2010 with the Rangers, but was traded to a young Mariners lineup midway through his freshman season, and understands the challenges many of his teammates might be facing as
TORONTO -- Justin Smoak remembers his days as a fresh-faced rookie.
The 32-year-old first baseman made his Major League debut in 2010 with the Rangers, but was traded to a young Mariners lineup midway through his freshman season, and understands the challenges many of his teammates might be facing as they find their ways in the big leagues.
"The biggest adjustment is just relaxing more than anything," Smoak said. "I think at times it's harder to tell yourself how good you actually are when you're trying to figure things out. I feel like we have a lot of young hitters who are really, really good hitters, so hopefully they can continue to get better."
Though it's difficult to pinpoint what realistic expectations might be for the young players highlighting Toronto's lineup right now, Smoak believes the future is bright and can't wait to see what they might have in store.
"We definitely have some guys who could really be superstars in the game," the 10-year big leaguer said. "[Lourdes] Gurriel has showed that, Vladdy [Guerrero Jr.] at times has showed that, but I mean Vladdy is 20 years old -- this guy is going to do whatever he wants in this game for a very long time.
"And another guy, Teoscar [Hernandez], he can do anything on a baseball field that he wants to do, so that's something that once it clicks for him, it's only going to get better. And [Cavan] Biggio's probably had some of the best at-bats we've had in the last few weeks or since he's been here. And Danny Jansen's starting to swing it so hopefully top to bottom, these guys just continue to get better."
In the team's final game before the All-Star break, a 6-1 win over the Orioles at Rogers Centre, those players highlighted the box score for the home team. Gurriel had two hits, including his team-leading 16th home run, all of the long balls coming in the last six weeks.
Guerrero had a 2-for-4 day with a double, and now ranks third in the American League with 13 two-baggers as a rookie this season. Hernandez added a two-run single, while Jansen's two-hit day added to his recent hot streak, through which the catcher has not struck out in 45 consecutive plate appearances, the longest active stretch in the Majors.
"As of late, we've definitely been playing better baseball, so hopefully that can continue," Smoak said. "I feel like guys are starting to swing the bats, hopefully I can contribute to that starting in the second half and we'll go from there."
Smoak has slashed .217/.358/.418 this season, getting into 71 games around a quad injury. While he hopes for better for himself as the season continues, he also looks forward to a second half for the team with more ups than downs, after a rollercoaster first half.
"Which I feel like is going to happen for a young team," Smoak said of the ups and downs. "I feel like we've definitely underperformed early on for sure. I thought we were going to be better offensively than what we were and honestly over the last few weeks, the last month, as a team we've definitely been playing better baseball."
Smoak's own rookie experience taught him just how difficult it can be to maintain a sense of confidence in order to find consistency as a first-year Major Leaguer. But he believes his young teammates have turned a corner and he looks forward to what more they have in the tank.
"More than anything, it's tough trying to figure things out on a young team," the five-year Blue Jays infielder said. "I feel like I was in that in Seattle when I was there, being a young guy, a lot of the guys in that lineup were young players and I feel like that's definitely not easy.
"So hopefully some of these guys after the first half, after the last month, have made those adjustments and I feel like it's definitely showed here over the last few weeks."
Blue Jays manager Charlie Montoyo shared his first baseman's sentiment and is excited for what the second half of the season may hold.
"We're playing good baseball," he said. "Pitching needs to get better, our starting rotation, the bullpen's been good, so we're playing good baseball. Going into this break, I like the way our team is playing."