Kelenic shows off hitting skills at Tournament of Stars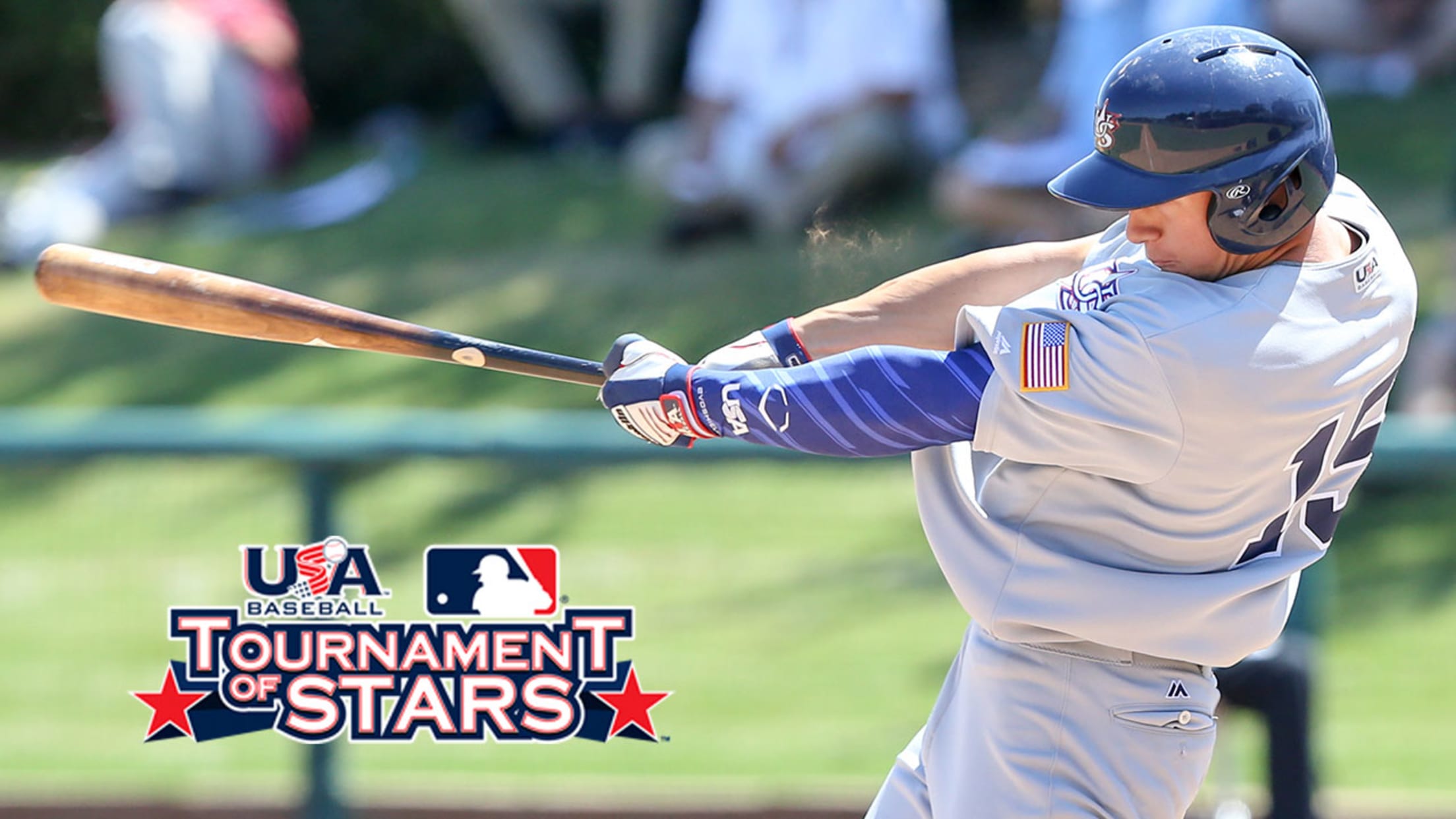 CARY, N.C. -- While the first two days of the Tournament of Stars featured a ton of quality pitching, the bats came out for the first game of Thursday's doubleheader.Team Free beat Team Brave, 9-7, with a total of 19 hits between the two squads. The ball doesn't typically carry
CARY, N.C. -- While the first two days of the Tournament of Stars featured a ton of quality pitching, the bats came out for the first game of Thursday's doubleheader.
Team Free beat Team Brave, 9-7, with a total of 19 hits between the two squads. The ball doesn't typically carry at USA Baseball's National Training Complex, but it flew out of Coleman Field, the main stadium, with three home runs in this game.
One of the best projected hitters in the 2018 Draft class, Jarred Kelenic (Waukesha HS, Wisc.) had shown a good approach at the plate over the first two days, but he didn't have a ton to show for it. The left-handed hitter changed all of that on Thursday, first with an opposite-field single in the opening inning and then with the tournament's first home run in the bottom of the seventh, a blast measured at 367 feet by Trackman with an exit speed of 101.9 mph.
I hit better than I pitched🤙🏽💣 pic.twitter.com/gC0pYqzCGT

— Jarred Kelenic (@JKelenic_1019) June 29, 2017
The Free squad had built a 3-0 lead in the opening inning. Kelenic's single in the opening frame came after Brice Turang (Santiago HS, Corona, Calif.) drew a walk and Bobby Witt Jr. (Colleyville Heritage HS, Texas) singled. That loaded the bases for third baseman Rece Hinds (Niceville HS, Fla.), an athletic and projectable infielder with a strong arm. Hinds unloaded a bases-clearing double off of Cole Wilcox (Heritage HS, Chickamauga, Ga.). Hinds also followed up Kelenic's home run with one of his own in the seventh.
:: 2017 MLB Draft coverage ::
At the same time, Free got some defensive help. Catcher Austin Wells (Bishop Gorman HS, Henderson, Nev.), who has had some solid at-bats, threw out Preston Meadows (Grayson HS, Ga.) twice trying to steal.
The Brave was down 9-1 heading into their final turn in the ninth when their bats came alive. They scored six times, with all runs charged to Kelenic, who started the inning on the mound. The big blast, and third home run of the game, came off the bat of Adrian Del Castillo (Gulliver Prep, Miami), a two-run shot that landed in almost the same place as Kelenic's home run.
The second game of the day resorted to the previous script with an assortment of intriguing arms. Simeon Richardson (IH Kempner HS, Houston) tossed four innings of one-hit, shutout ball, walking one and striking out three for the Pride. He threw his fastball in the 90-93 mph range throughout and mixed in an effective 76-77 mph breaking ball, coming from an athletic and repeatable delivery.
Richardson was followed by lefty Jonathan Childress (Forney HS, Texas), who struck out six and walked none over four scoreless frames of his own. Childress' best weapon was his curveball, which was responsible for most of his strikeouts. He also threw his fastball up to 90-91 mph and even mixed in a few solid changeups, but that breaking ball might be the best one of the tournament.
United starter Cole Winn (Silver Creek HS, Longmont, Colo.) got tagged with the loss, a 3-0 final, after giving up three runs in four innings, but he also impressed with his stuff and delivery. He was up to 92 mph with a decent mid-70s breaking ball as well. Mike Vasil (Boston College HS, Wellesley, Mass.) came in next and certainly raised his profile. The right-hander was 92-94 mph in his first inning of work, though he settled into the 90-91 mph range in his second frame. He showed a good feel to spin a breaking ball, though some would like to see him throw it a bit harder (It was more of a slow curve at 72-73 mph).
Trackman leaders
After two games, here is what the Trackman leaderboard looks like (with some added categories):
Maximum fastball velocity: John Ginn, RHP, Brandon (Miss.) HS, 97.0 mph; Slade Cecconi, 96.7 mph; Kumar Rocker, RHP, North Oconee HS (Watkinsville, Ga.), 95.8 mph
Average fastball velocity: Ginn, 94.6 mph; Mason Denaburg, 94.2 mph; Ethan Hankins, 93.5 mph
Maximum fastball spin rate: Cecconi, 2713 rpm; Joseph Menefee, LHP, George Ranch HS (Richmond, Texas), 2582 rpm; Hankins, 2565 rpm
Maximum breaking ball spin rate: Carter Stewart, RHP, Eau Gallie HS (Melbourne, Fla.), 3474 rpm; Davis Sharpe, RHP, Mill Creek HS (Dacula, Ga.); 2866 rpm; Landon Marceaux, RHP, Destrehan (Ga.) HS, 2863 rpm
Top exit speeds: Elijah Cabell, OF (Winter Park, Fla.), 108.2 mph; Jeremiah Jackson, INF, St. Lukes Episcopal HS (Mobile, Ala.), 107.3 mph; Alek Thomas, OF, Chicago Mount Carmel HS, 106.2 mph
Home run derby participants
There are no games scheduled for Friday, with a workout day scheduled along with a home run derby. The participants, a mix of TOS players and 11U players here for the Futures Invitational, are expected to be:
Navy
Tristan Casas, Brave
Ty Southisene, LV Rebels
Trevor Baumler, Midwest Select
Rece Hinds, Free
Jose Mendoza, San Diego Show
Josh Atomanczyk, Austin Crawdads
Nolan Gorman, Pride
Kai Caranto, Top Tier Americans
Conner Boyd, Wilson Sandlot
Joe Gray Jr, Brave
Duce Robinson, 3D Gold
Christian Ovecka, Mid-Atlantic Royals
Red
Elijah Cabell, United
Tegan Melanson, CBA
Caleb Mility, Team Florida
Ryder Green, Brave
Nick Montgomery, Top Tier Americans
Landon Victorian, Piranhas Baseball
JP Gates, Pride
Matt Champion, Team California
Andrew Williamson, TBSA Patriots
Jarred Kelenic, Free
Ethan Surowiec, West Florida Hammerheads
Esteban Garcia, NY Phenoms