In Sonoma, Girls of Summer have arrived
Women play pro ball for first time since '50s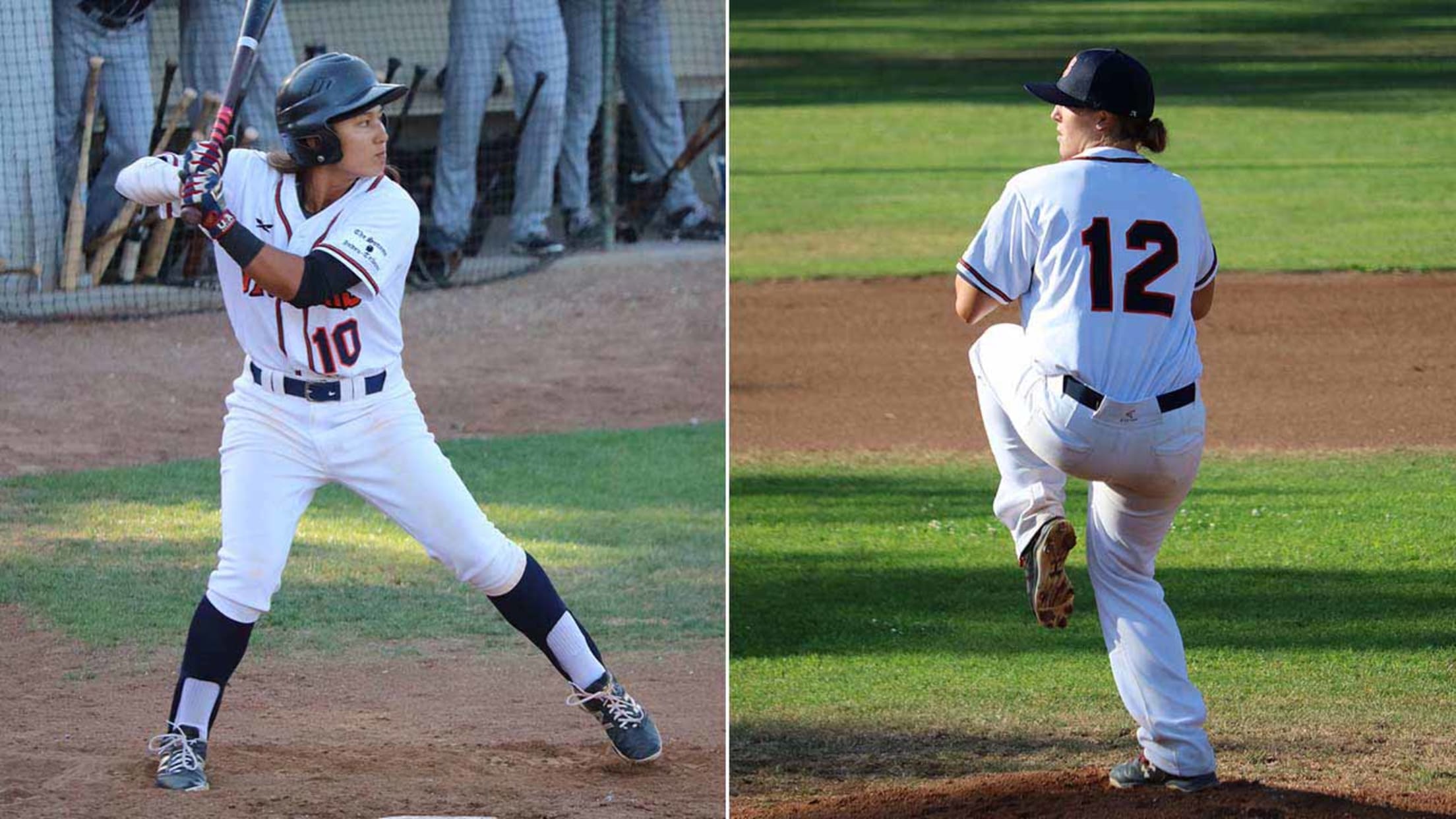 Kelsie Whitmire, left, started in left field Friday night for the Somona Stompers, and Stacy Piagno started and pitched into the third inning.
SONOMA, Calif. -- Under a cloudless sky on a warm opening evening of the Fourth of July weekend, the crack of the bat and pop of the glove meant one thing in particular: The girls of summer had arrived.Playing right next to the boys of summer on the Sonoma Stompers
SONOMA, Calif. -- Under a cloudless sky on a warm opening evening of the Fourth of July weekend, the crack of the bat and pop of the glove meant one thing in particular: The girls of summer had arrived.
Playing right next to the boys of summer on the Sonoma Stompers independent league squad, 17-year-old Kelsie Whitmore and 25-year-old Stacy Piagno stepped between the lines of a professional baseball game Friday and showed they can compete with men -- a milestone moment that will last beyond just one night.
When the Stompers met the San Rafael Pacifics in a Pacific Association game in this Wine Country city north of the Bay Area, there was Whitmore in left field and Piagno on the mound. They became the first women to play professional baseball since the Negro Leagues of the 1950s and, before that, the "League of Their Own" All-American Girls Professional Baseball League in the '40s and '50s. But that was a long time ago.
What the dual debut Friday night meant to the many young girls in attendance and the women who share their love for baseball was this: They now have two living, breathing examples that women can play the game.
"I never really had a role model or any other older baseball players that were girls to look up to, but I think I can be one," said Whitmore, who played baseball in high school in Temecula but will go to Cal State Fullerton on a softball scholarship.
Still, like any ballplayer does, they're keeping their focus on the job at hand -- contributing to the ballclub, making plays when they're supposed to and helping the club win games.
"We're doing this because this is the game we love," Piagno said. "We're not really trying to come out and set records. It just comes with the territory, so it's good both ways, I guess."
The first night of their pro careers went just fine for both players. Piagno started the game and lasted into the third inning, throwing 39 pitches and allowing three hits, two walks and three unearned runs. Whitmore made a few plays in left field, took a walk her first time to the plate and struck out swinging in her final at-bat.
Piagno threw the first pitch at 6:11 p.m. local time for a called strike, and the ball was removed from the game for posterity. She got the third out on a flyout to left as Whitmore calmly hauled it in.
"I was very honored to be out here," Whitmore said. "It's very exciting for me because I've always wanted to go to another level in baseball, so this is something I'm enjoying a lot."
The Stompers will continue their schedule into the summer, with Whitmore and Piagno expected to play until the end of the month before Whitmore goes to college and Piagno begins teaching. First, both will go to South Korea to represent the U.S. in the Women's World Cup baseball tournament.
Sure, the Stompers sold more tickets for Friday's game with the women making their debuts, but general manager Theo Fightmaster said this venture had to be more than that. Legendary filmmaker and winemaker Francis Ford Coppola, whose brainchild it was to bring women into professional baseball in this way, insisted on it. Coppola invited Fightmaster to his Geyserville winery last summer to broach the idea, and he has been supportive of the search for the two best women to step into this situation.
"It was really important to me and to the Stompers and to Francis Ford Coppola, who was sort of the brains behind all this, to make sure we did this the right way and that we did it with some integrity," Fightmaster said. "That's what's been so rewarding watching it."
Piagno said she was presented the opportunity at tryouts for the World Cup team, and Whitmore said she was contacted by Justine Siegal -- a pioneer herself as the first female coach hired by an MLB club, serving in the instructional league with the A's. Whitmore has spent the last couple of weeks with the Stompers in preparation for her debut.
In that time, she has been taken in as a little sister of sorts. But it's her skill on the field that really has impressed.
"It's all there," says Matt Picucci, a left-handed pitcher for the Stompers. "It's crazy, because I have a 17-year-old brother, and she's more athletic than my brother. She moves out there like a seasoned pro. She can play baseball."
And fortunately for both young women, the young men on the team see them as teammates, first and foremost.
"It's definitely a new adventure for everybody on our team, and it's something cool where they can get out here and show everybody the skills that they have," said third baseman Caleb Bryson.
What it does along the way is give any aspiring girls of summer hope that someday they, too, can take the field with the boys. Simple as that.
"It's good for baseball," said Picucci. "If you're a baseball fan, then you can appreciate what's going on here. Baseball can be enjoyed by everybody."
And, as Whitmore and Piagno showed Friday night, played by everybody.
"Keep playing baseball if baseball is what you love to do," Piagno said. "Keep doing what you love to do, whether it be baseball, whether it be dancing or singing, keep doing what you love and don't let someone tell you that you can't, and see where it takes you."
Whitmore knows what she is and what she loves. She's a baseball player, and she loves the game.
"I feel like I've always been a baseball player," she said, "and I never want to lose who I am as a baseball player. I hope I never do."
John Schlegel is a national reporter for MLB.com. You can follow him on Twitter @JohnSchlegelMLB.