Kela returns to Bucs following suspension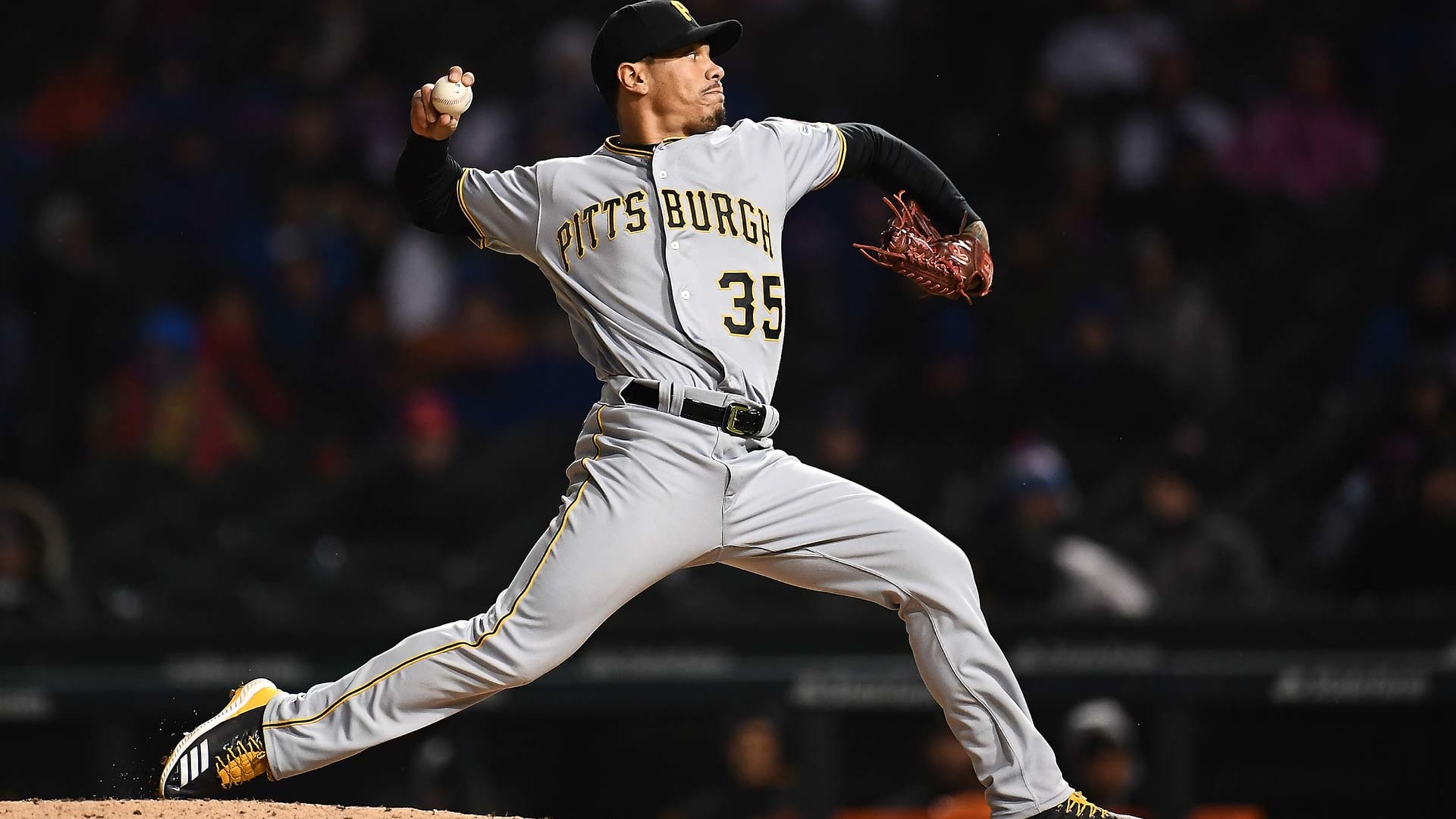 ANAHEIM -- Right-hander Keone Kela was available for the Pirates for Wednesday's series finale at Angel Stadium following the completion of a 10-game suspension. Kela received the discipline for his role in the bench-clearing brawl between Pittsburgh and Cincinnati at Great American Ball Park on July 30. During his time
ANAHEIM -- Right-hander Keone Kela was available for the Pirates for Wednesday's series finale at Angel Stadium following the completion of a 10-game suspension. Kela received the discipline for his role in the bench-clearing brawl between Pittsburgh and Cincinnati at Great American Ball Park on July 30.
During his time off, Kela continued to throw in order to stay as sharp as he could without being able to pitch in a game setting. Manager Clint Hurdle noted pregame that with three of his relievers unavailable, having Kela back in the mix is a big boost for Pittsburgh.
"He's thrown three different sim games, aggressive bullpens," said Hurdle. "We did the best we could do to get him ready for this. He was in such a good spot when he went out -- he was pitching really, really well -- so we'll definitely look to find him an inning today."
Kela got into the game Wednesday in the sixth inning, picking up a strikeout in a clean frame of work. Since returning from a bout of right elbow inflammation on July 24, Kela has thrown five scoreless innings in as many games, striking out seven and walking one.
Although they've got Kela back, the Pirates will continue to work with a 24-man roster, as José Osuna dropped his appeal and began his five-game suspension on Wednesday, also for his role in the altercation. Osuna, who's hit .317/.358/.618 with eight homers in 58 games for the Pirates this season, will next be able to play on Tuesday at home against the Nationals.
Hurdle jokingly speculated that Josh Bell was the player most affected by the move. Bell had served as the Pirates' designated hitter for the first two games of the series, but he was back at first base on Wednesday.
"He's been absolutely crushing as a DH," said Hurdle with a smile. "So he's probably eyeballing me a little bit. But I think he's fine. He's played first base before."
The Pirates get an extra player for Sunday's Little League Classic game in Williamsport, Pa., a spot that will almost definitely go to a position player given Osuna's absence.
Stallings scratched
To further complicate matters for the Pirates, catcher Jacob Stallings was removed from Wednesday's starting lineup due to a migraine. He did not make an appearance in the Pirates' 7-4 loss to the Angels. Losing him left the Pirates with just one available substitute position player, Pablo Reyes.
"This may be the shortest bench I've ever had," said Hurdle. "And this is part of when you figure out how it works, when it works, why it works. [Fortunately] it's a DH game, there are not many moves made."
Elias Diaz, who was originally in the lineup as a DH and batting sixth, instead started at catcher and moved down to the seventh spot. He went 1-for-3 with an RBI and run scored.
Other injury updates
• Catcher Francisco Cervelli, rehabbing with Triple-A Indianapolis as he continues his recovery from a concussion sustained on May 25, "continues to report no symptoms whatsoever," according to Pirates director of sports medicine Todd Tomczyk.
• Right-hander Richard Rodríguez, on the 10-day injured list retroactive to Aug. 10 with right shoulder soreness, has resumed playing catch on flat ground. Tomczyk said that Rodriguez has responded well to the brief period of rest and the treatments he has received, and is projected to throw a side session on Friday.